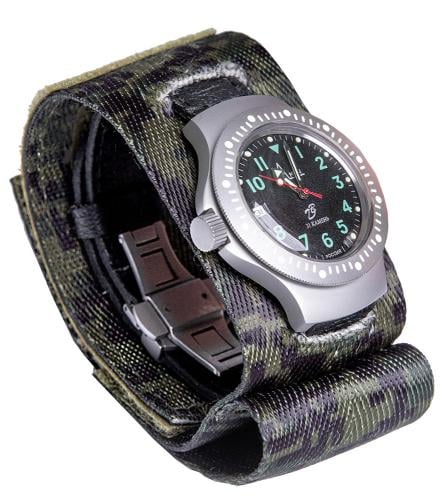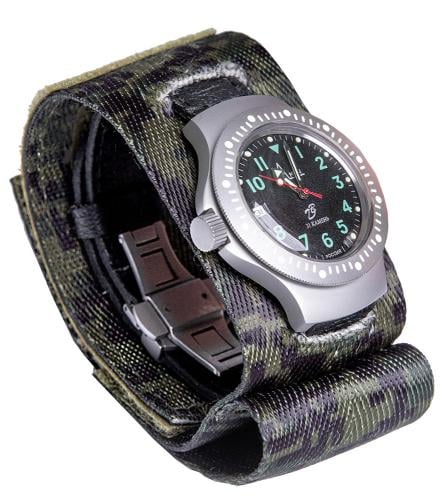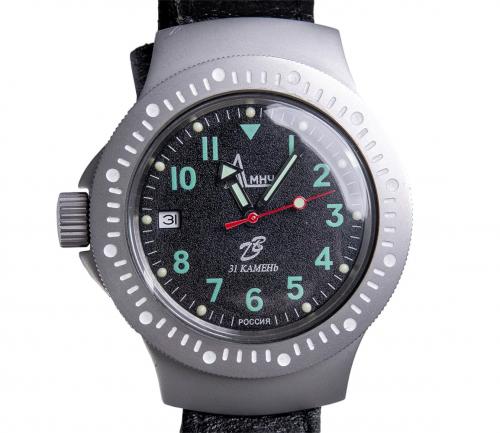 The hands and dots behind the numbers glow in the dark. Thanks, Radium!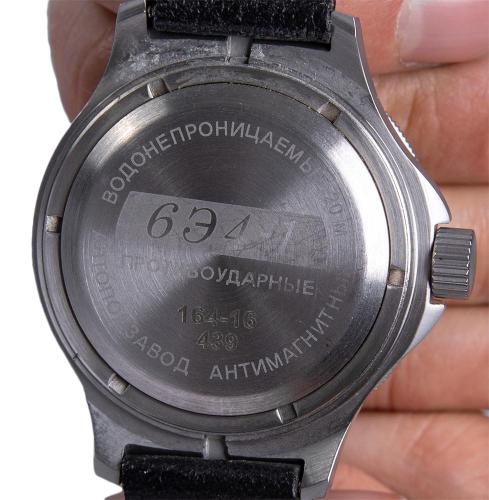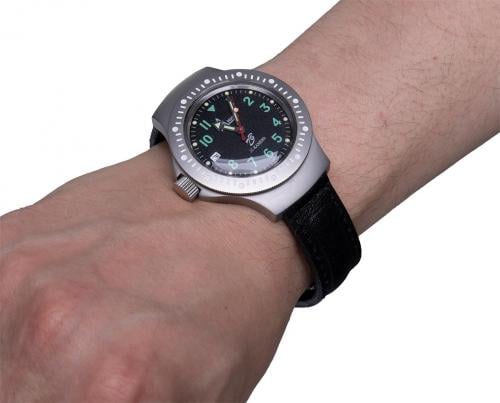 The watch can also be used without the camo wristband.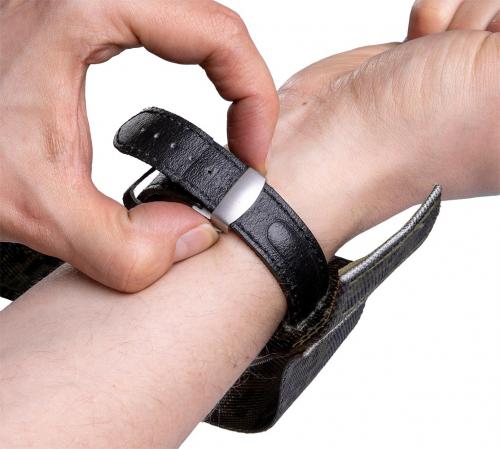 The wristband unlocks by pushing from the sides.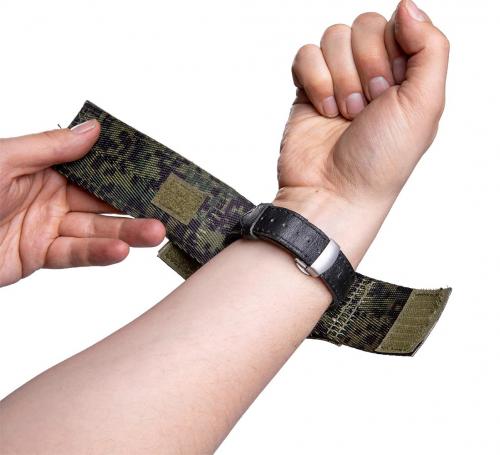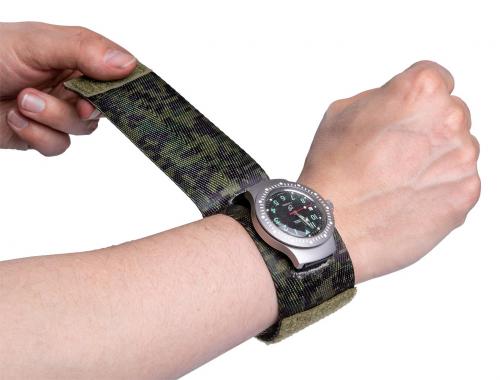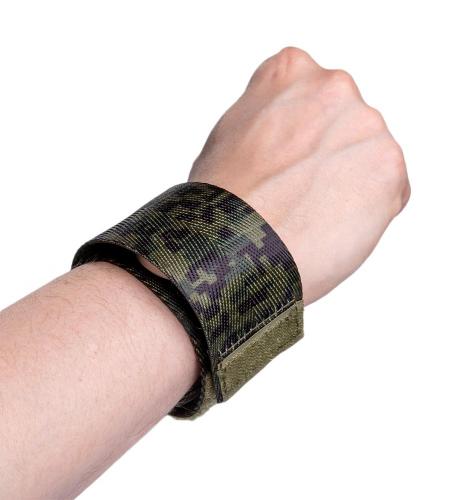 With the wristband closed the watch is hidden.
Soviet Union and Russia
Russian Ratnik 6e4-1 watch, Digiflora
Price 129.99 USD
excluding sales tax
While Ratnik does indeed sound like some East European movie bad guy, it's actually the new Russian combat kit system. A part of it is this automatic wristwatch, which is sturdy enough to be used as a weapon on its own.
This product is unlikely to be restocked and will be hidden from our website once it's out of stock.
We don't know when this product will be restocked. With surplus the restock date is unknown due to sometimes poor availability. Request restock notification and we will email you as soon as this product is available.
Trouble with the metric system? Try our converter: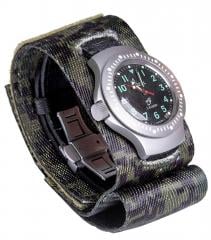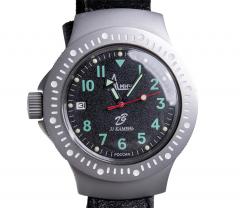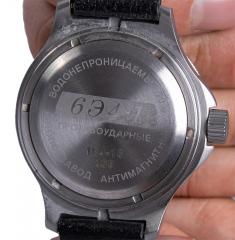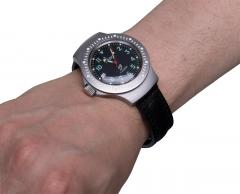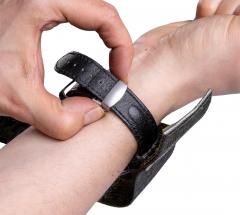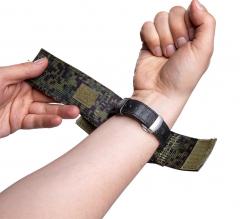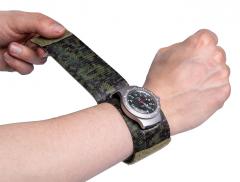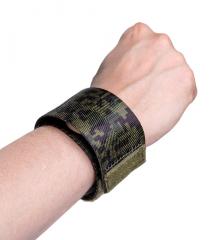 While Ratnik does indeed sound like some East European movie bad guy, it's actually the new Russian combat kit system. A part of it is this automatic wristwatch, which is sturdy enough to be used as a weapon on its own.
Do you like watches? Have you ever dreamt of one that can withstand an electromagnetic pulse and a 9 mm bullet? Do you consider a camouflaged commando bracelet a nice bonus? If you answered "yes" or "maybe" to any of these, then this watch is for you! This ain't no toy and is actually pretty damn affordable for an automatic watch.
Teknik!
Automatic watch, which means all wrist movements wind the mechanism - no need for batteries. This also grants the benefit of the watch being EMP-proof! When the apocalypse comes, at least your watch works.
Developed to work anywhere, be it hot, cold, moist or dusty. Operation range from +100 to -100 Celsius (-148 F to 212 F). For those who use other systems, +100 degrees Celsius (212 F) is the boiling point of water.
Waterproofness rating 3 ATM, submersible up to 20 meters / 65 ft.
Shockproof to ridiculous specs: the Russian army claims the watch can take a 9 mm bullet in the face from 15 metres / 50 ft. Even if it was 50 meters / 164 ft, it's still quite impressive.
The hands and dots are fluorescent so you will be able to read this in total darkness. Necessary in Russia.
A commando wristband is included. This is of course Digiflora camouflaged. you can either cover the watch or keep it visible.
Materials and dimensions
Made of stainless steel, strap made of leather
Case measurements 4.5 x 5 x 1.5 cm / (1.7" x 2" x 0.6")
Weight with cover wristband 240 grams / 8.5 oz.
Made in Russia
These are just the same stuff the Russian army uses. The condition is usually brand new.
Remove Russia
Our old product descriptions include ironic praise of our eastern neighbor and it used to be good fun. Does it piss you off? We understand and agree. However, we won't whitewash the old product descriptions. Instead, we have decided to stop buying Russian products. We sell what we have in stock and that's it.
All products: Soviet Union and Russia
Recommendations
Loading products...
Reviews
You have already submitted a review. You can edit your text by clicking on it. You can filter the reviews by clicking on the elements of the summary.
Log in and write a review. You can filter the reviews by clicking on the elements of the summary.
Remove filter
Suomi
(1)
English
(3)
I would recommend for a friend
Kari S.

01.09.2019

Verified purchase
No nyt on kunnon Kello isolla K:lla.
Eipä oo monella tällästä ranteessa. Kyllä Neuvostoliitossa osataan!
On kestävä ja hiano. Ei edistä eikä jätätä (ainakaan mun Kelllo).
Näppärä kellonhihna kun tottuu, otin omasta ton Digiflora rannekkeen pois ja pidän ihan
vaan simppeliä nahkahihnaa.
Täytyy sanoo että tästä tuli heti mun suosikki kello.
Huomion arvoinen asia:
Täytyy pitää ranteessa jotta käy.
Noin 1/2 vuorokautta(?) pöydällä ni virta loppuu..(ku ei oo sitä patteria)
10
2
I would recommend for a friend
Ashish B.

07.01.2020

Verified purchase
I would recommend for a friend
Stephen C.

06.03.2020

Verified purchase
I'm a collector of Russian watches and this one is particularly cool. In a lot of ways it is standard fare for a Russian watch; if you've got a Vostok, you probably know how this works. It has an auto-wind mechanism that seems to work but is *really loud*. I can hear it jingle now and then when I move my arm. All automatic mechanisms make noise as far as I know, but this is the loudest of the lot.

Also the outer ring on my watch is super lose. It's not going to fall off, but it spins freely and won't stay in place. That's okay, though, because there's no *marker* on it in order to use the outer ring. Usually there's a red dot or something so you use it, but, this is just a uniform set of dots and dashes. I'd consider painting one of the dots red, but, the ring spins too easily to make it worth while.

That all being said, it's a Russian watch, so you go into it expecting to buy two in case one of them arrives broken. In the grand scheme of things, this is pretty well put together and I don't feel like it's going to break on me. The face is exceptionally readable and it is an attractive watch. It does come out of the wrist band (with a little effort, it's not exactly casual) and once out it is a pretty normal looking thing with a very interesting clasp mechanism that does a good job.

Perhaps the best thing about it is it is an *actual* Russian military watch and not a trinket-watch like so many of them out there are, which is pretty cool. I'd say this is a must-have for collectors, and a reasonably good choice for someone who wants a basic watch and would like something more interesting than your usual thing.
10
0
I would not recommend to a friend
Arian W.

15.03.2021

Verified purchase
Cool collectors item and i have worn it for quite a while just because it is cool. It has serious problems tho, it definitely doesnt make russia look very smart.

Pros:
Its automatic,
its damn near indestructible,
it has a certain appeal look wise,
its a nice collectors item.

Cons:
it runs out in about 20 hours if you arent wearing it.

The date only shows the day and has to be manually corrected every month.

What time is it? +/- 15 minutes per week.... seriously how is this a military tool, if i relied on this watch to catch the train i would be screwed.

Sharp buckle, itchy strap, it has all the discomforts a russian soldier could not have asked for.

Night time visibility? for 10 minutes maybe, the luminescent paint only works for a short time and only if you lay it out in the sun all day.

Get this watch for fun or to collect, but if you want something useful get a Casio or better yet a finnish made suunto core.
0
0