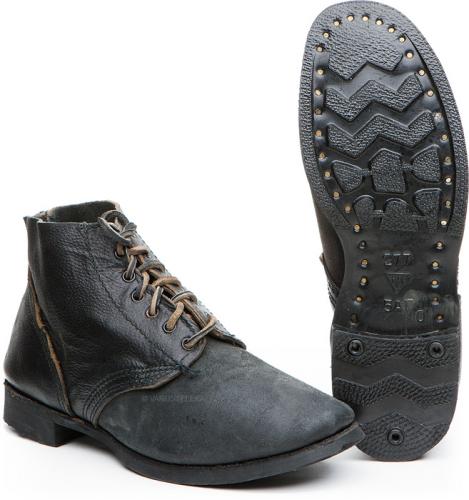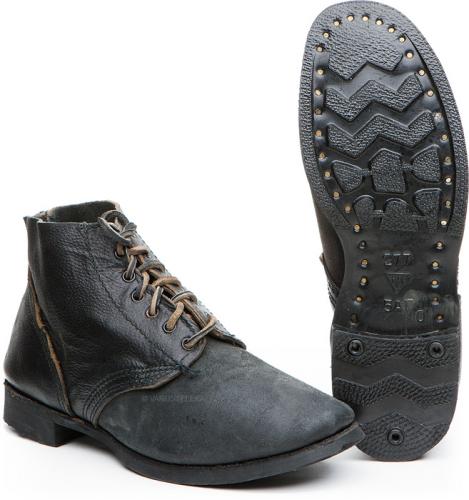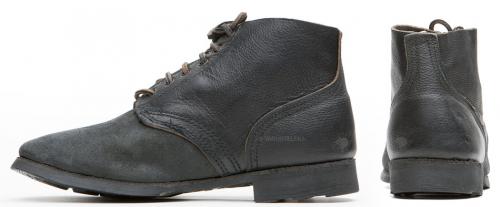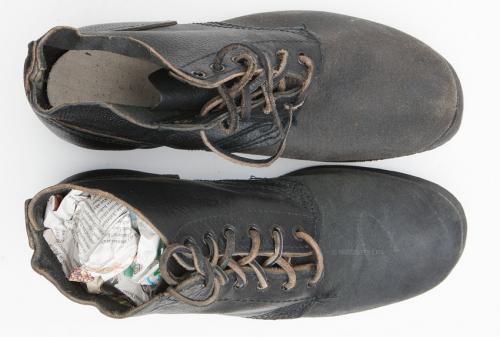 Note the cloth covered cardboard insole.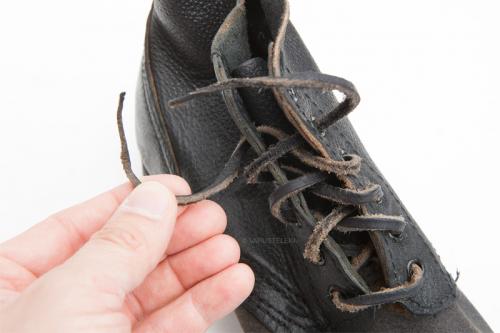 Sometimes the laces are leather. Usually too short also.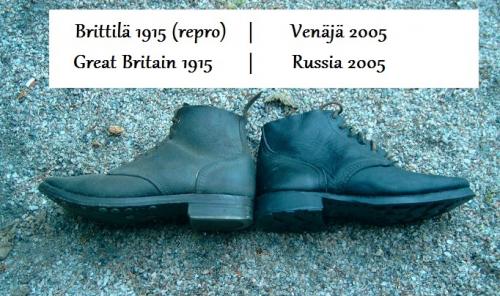 The Great War model British boots are only slightly more comfortable!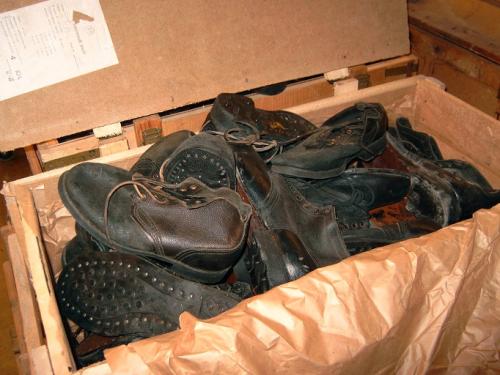 This is how they arrived to us.
Soviet Union and Russia
Russian navy shoes, with rubber soles, surplus
Price 24.99 USD
excluding sales tax
Sometimes you encounter stuff that's so horribly wonderful you just can't help yourself but buy it all. Such articles are these Soviet/Russian navy service shoes. The Veshmeshok of the footwear world - rugged, rough, and look very much like something out of the early industrial era. Probably still used by Russian sailors, but these examples are unworn.
Loading products...
Trouble with the metric system? Try our converter: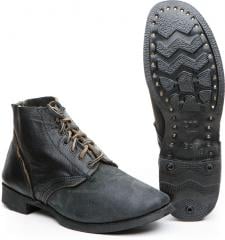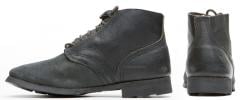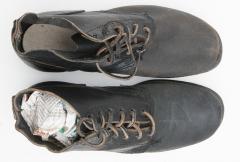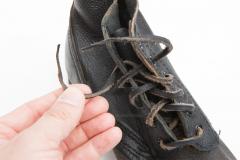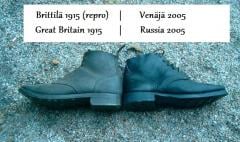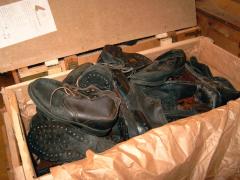 Sometimes you encounter stuff that's so horribly wonderful you just can't help yourself but buy it all. Such articles are these Soviet/Russian navy service shoes. The Veshmeshok of the footwear world - rugged, rough, and look very much like something out of the early industrial era. Probably still used by Russian sailors, but these examples are unworn.
Like a regular men's shoe, but from the Soviet Union, or Russia, whatever. Meant for military use, so the materials are tough (thick leather mostly, roughout style on the nose), details of the workmanship sloppy, and the whole thing is modeled probably after some 19th-century clog. These will probably break you in overtime. The soles are NAILED on, no cheap glue trickery here. Comes with either a leather insole, cardboard/leather insole, or no insole at all, we can't really say which is the worst.
A slick salesman could say you can really see the healthy signs of handcrafting in these, and he wouldn't be actually wrong either. To us these paint vivid images of early industrial era cobblestone streets, lice, and bad work conditions in unheated factories. You really don't get stuff like this from regular clothing stores! In all honesty, these do have way more character than the Chinese injection molded polyurethane floppies filling the shelves these days, and definitely do not meet any CE standards.
The sole is solid rubber, so there's no cushion and no worries of it wearing off during a lifetime. It's probably a bit on the slippery side during winter, so better start learning to walk better.
Suggested use
Being a very old-fashioned-looking piece of footwear, these would fit all kinds of historical re-enactment quite well. Moreover, the basic durability is better than on most reproduction boots and we probably don't have to say anything about the price. Also, no hobnails, so these can be used indoors too...
We would recommend getting a new pair of laces to go with these (80-100 cm). The originals might be horrible or too short or something.
Size info
Sizes in standard EU/French size, in the brackets the recommended foot length. These are meant to be worn with thick socks. You could also cheat a bit and add two insoles on top of each other.
Condition
These are unissued and unworn but don't expect perfection, these are pretty damn crude. Possibly a one-off lot. The manufacturing years seemed to circle around 2005. Makes you think.
Some comments from our employee
Blinded by the sweet marketing talk, I was conned into buying these. After measuring my foot, I just trusted the Soviet size, and oh, the fit was perfect. Well, as perfect as it can be on a pair of shit shoes like these. In all honesty, the last is shaped more like human feet than many modern alternatives.

We're really not bullshitting with the talk of crudeness - my shoes had an uneven number of eyelets straight outta the box, and what's more, I had the pleasure to bang flat a few nail-like thingies poking from the heel. It's the joy of doing stuff yourself and trying to cope with the hand you're given that sets these apart from most modern stuff.


Henri L.


Remove Russia
Our old product descriptions include ironic praise of our eastern neighbor and it used to be good fun. Does it piss you off? We understand and agree. However, we won't whitewash the old product descriptions. Instead, we have decided to stop buying Russian products. We sell what we have in stock and that's it.
All products: Soviet Union and Russia
Recommendations
Loading products...
Reviews
You have already submitted a review. You can edit your text by clicking on it.
Log in and write a review.
Remove filter
Suomi
(2)
English
(1)
I would not recommend to a friend
Ville H.

26.07.2016 (Edited 27.07.2016)
Tämmöset tuli hankittua, koska kuvan ja henkilökunnan kokemusten perusteella kiinnosti nähdä kuinka hirveät tekeleet nämä voivat olla.

Ihan hirveäthän nämä ovat ja luultavasti lahjoitan tämänvuotisen Puntala-rockin jälkeen jollekin crustille tai pelastusameijalle.
Tässä kuvia saamistani kengistä pesun jälkeen: http://imgur.com/a/NjYta
Työn jälki tosiaan odotetun karua, esittelyteksti eikä henkilökunnan kommentti liioittele ollenkaan. Täytyy myös lisätä että armeijatavaralle ominaiseen tyyliin nämä on käsitelty hyvin tutulla, mutta silti käsittämättömällä mönjällä joka ei irtoa polttamallakaan. Epäilen, että sormeni tippuvat piakkoin.

Lestihän näissä on aivan todella leveä. Nykykenkiin paksun sukan kanssa tottunut kyllä yllättyy. Leveä jalka on itsellänikin, muttä kyllä tänne jalkarätti tahi pari mahtuisi. Millimetrimitat pitävät paikkansa pituuden suhteen, eikä kenkien välinen heitto ole kuin joitain millimetrejä. Kärkiosat ovat parissani eri väriset, mutta eipä tässä oikein muuta voinutkaan odottaa. Sen sijaan että olisin saanut parin kenkiä, sain kaksi kenkää.

Pisteitä annan yhden tähden, koska nauratti niin helvetisti. Nyt ehkä ymmärrän itänaapuria paremmin.

all in all, tuote vastasi aika pitkälti odotuksia enkä koe tulleeni huijatuksi.
3
1
I would recommend for a friend
Diego A.

11.08.2016 (Edited 07.09.2016)
I got myself two pairs of these boots this month and I've got to say it's met most expectations I had of it. That said here are some pros and cons about it;

Pros
-They feel really sturdy and robust. I don't "feel" any structural weaknesses in its construction.
-They are pretty affordable, even after heavy customs duties on my end.
-Extremely waterproof (at least my pair), I wore these on a 2km straight brisk walk through stormy weather and by the end of it only my feet stayed dry.
-Lots of possibilities when it comes to reenactments.

Cons
-Receiving them the laces were tied in crazy knots; spent a good 30 minutes of hard labour trying to take them apart and even considered just cutting them. Worked out in the end though.
-They were in rougher shape than in the pictures, though an hour of hard polishing and waxing made them look almost brand new.
-The pair I got was a size 40 (my size) and it fit just right, too right in fact while wearing thin socks. Wearing anything thicker and you may want to order a size up from what you usually wear. Bit on the narrow side.
-They take some time getting used to. Part of the "sturdy" feeling I get perhaps come from the whole "you won't break this, this will break you" concept I experienced with my previous pair of Soviet Jackboots. They are painful at first, but after a week of wearing mine out they are getting comfier, or do I just not feel the pain anymore? XD

In the end these are basic, honest ankle boots. The best being the enemy of good enough when it comes to military design I would say that these fit the bill exactly, no more no less.

It may not be too nice but it doesn't have to be. It takes labour (cleaning and polishing) and some getting used to. Do not order these if you expect it to look/feel good straight out of the box.
1
0
I would recommend for a friend
Samuli M.

20.01.2017 (Edited 31.05.2021)
Näyttivät todella karmeilta, kun ne lätkäistiin tiskiin. Norsulauman talloma kaulitaan-ja-käännetään-nahkataikina. Mutta vot, kun kyllästin nämä popot "vihaisella määrällä lankkia" ja tungin sanomalehtitullerot sisään palauttamaan terhakan venäläisen ulkomuodon, näistä sukeutui tyylikäs kenkäpari.

Lesti on mukava, ja räpylä istuu kuin valettu. Päivän näillä sisätiloissa klompsuteltuani uskallan varmasti huomenna firman pikkujouluihin. Ja kuten sanottu, jälki on karkeaa, mutta tukevaa. Povaan näille pitkää ikää, mutta siitä huolimatta haen ensi viikolla muutaman parin lisää samaa kokoa. Ennustan näet, että kävelen näitä muutaman parin loppuun asti.
0
1