Product added to cart
X
Recommendations
Show all Recommendations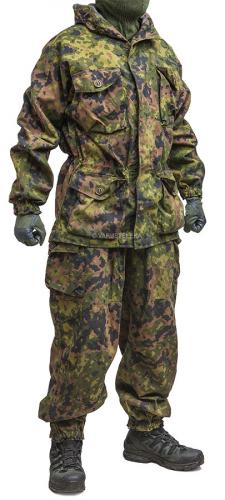 Russian Anglija uniform
Price 137.99 USD excluding VAT
Flat Rate Shipping to USA $9.99
Trouble with the metric system? Try our converter: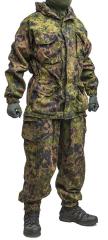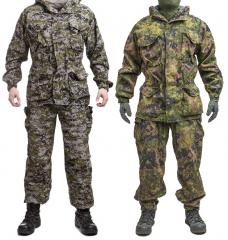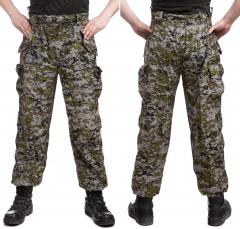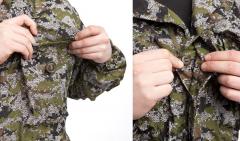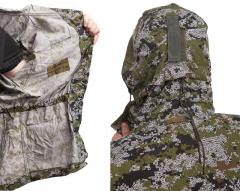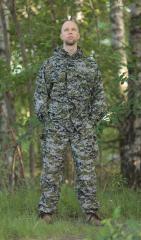 Now here's something special! Combine the British Windproof field uniform with Russian elements and you get this. Add proper materials and decent workmanship and you have something very, very good for outdoor use & hunting.
You might want to consider this as a top layer for camouflage purposes only, with more than enough carrying capacity in the form of large pockets. Wear everything else under it and you're good to go.
Jacket
Button closure, with S95 type buttons. All buttons are covered to prevent snagging.
Four outside pockets, with folding mouths - means that the contents won't fall out too easily. All have large S95 type ("Canada") buttons, which can easily be operated with gloves on.
Elastic cuffs, elastic drawcord inside the waist.
A somewhat roomy hood, with drawcord tightening. The hood is adjustable with a velcro tab to keep it from draping over the eyes.
Reinforced elbows.
Trousers
Elastic waist with about 5 cm belt loops, drawcords and suspender loops. These are designed for the M-1950 type hook suspenders and their Russian copies.
A "closed" waist with button fly. Only one button, no need for more. You pull these on like you would a pair of jogging pants.
Two side pockets, with "feel-through" pockets behind them to access anything worn under.
Cargo pockets, with folding mouths. All of the pockets have the large S95 buttons.
Reinforced seat, knees and leg ends, with elastic cuffs.
Colour options
We mainly get these in the pictured Sumrak camo, but sometimes there are other camo patterns in the mix too. The camo is noted in front of the size number in the drop down menu. This is Jagel, this is Tochka-4 and this is Sumrak.
Material
The material is a surprisingly light cotton fabric (might have some artificial fibers mixed in, who knows). Don't wash, unless you've litterally shat your pants. These are IR-treated, which wears off if washed. The colours also tend to fade if washed, so do it only if absolutely neccessary. Otherwise the quality is typical Russian: there might be slight misprinting in the camo and they certainly didn't count stitches but all in all the overall construction is solid and easily repaired in field conditions too.
Sizing
User height / chest girth / maximum waist. All in centimetres. Russian designation found in brackets.
One way to interpret the sizes is to learn the Russian designation. It's basically Euro size followed by a number representing length, but these Anglija uniforms are generously sized, so we've extended the suggested sizes as follows:
46: chest 92-108 cm, waist 88 cm.
48: chest 96-112 cm, waist 92 cm.
50: chest 100-116 cm, waist 96 cm.
52: chest 104-120 cm, waist 100 cm.
54: chest 108-124 cm, waist 104 cm.
56: chest 112-128 cm, waist 108 cm.
58: chest 116-132 cm, waist 112 cm.
60: chest 120-136 cm, waist 116 cm.
62: chest 124-140 cm, waist 120 cm.
User heights:
1: 158-177 cm
2: 164-181 cm
3: 170-185 cm
4: 176-191 cm
5: 182-197 cm
6: 188-203 cm
Our model in the main picture standing around in the Jagel camo uniform is 175 cm short, with a chest circumference of 95 cm, and wearing Russian size 48-4 (176 / 96 cm), in otherwords his own size by the nominal measurements. As you can see, the fit is loose, this is how it's meant to fit.
Made by Devyatka, commonly known as Tactic-9
The brand name Tactic-9 is one of the more recent things to happen in the world of Russian military kit. In Finland the company is probably most known for their copies of the Finnish M05 camo. Nowadays many Russian special forces etc. have adopted Tactic-9 stuff, their suits being a very common sight these days.
Availability
Availability is a bit unpredictable - we can't give any estimates of restock. Likewise, no idea about the sizes we get. What we do know is that the amounts are small.
Reviews
You have already submitted a review. You can edit your text by clicking on it.
Log in and write a review.
Remove filter
I would recommend for a friend
Sami H.

08.10.2016 (Edited 18.11.2016)
I would recommend for a friend
Anonyymi k.

18.10.2016 (Edited 29.11.2016)
Tämän kanssa pärjää lumelle asti, kun lisäilee villaa alle sään mukaan. Nappeja voi aukoa ja sulkea yhdellä kädelläkin.
1
0