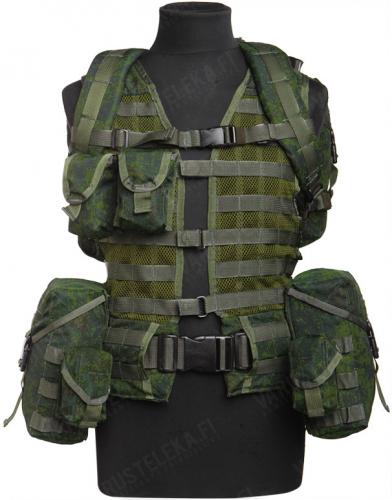 Russian 6Sh112 combat vest w/ daypack, surplus, PKM ammo pouches
Price 219.99 EUR including VAT
Trouble with the metric system? Try our converter: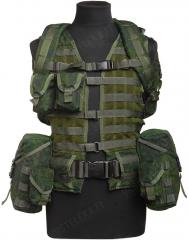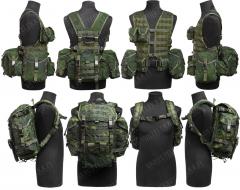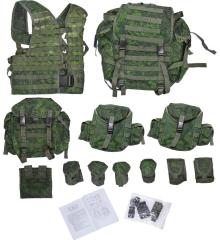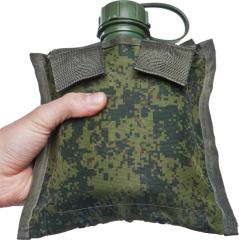 The Russian army invented MOLLE, at last! This is the (almost) latest shit from over there, a very modular, very durable and very good combat vest for PKM gunners. Complete with a daypack. No idea when/if we'll get more, these come and go.
Now made famous by the Crimean Crisis!
Also available with AK magazine pouches: Russian 6Sh112 combat vest w/daypack, unissued, AK magazine pouches
Let's put it straight: if you want a complete solution for a load carrying system and prefer AK series, buy this. Seriously, this is proper warproof stuff and quite reasonably priced for what it is. Along with the combat vest you get a good daypack.
The vest
Consists of three panels attached together with straps also used to adjust the fit. The adjustments are commendable - this fits practically everyone. When you are done, adjust the waistbelt, which runs through the padded waistband.
Front closure with Lift-The-Dot fasteners.
Covered with MOLLE.
Everything possible is made of strong nylon mesh.
Even with the included pouches you still can attach more stuff on the waistband.
The pouches
Two PKM ammo box pouches, PALS-webbing on the sides for attaching extra equipment, size 23 x 17 x 9 cm.
Four grenade pouches, which also take misc. small items.
Two small general purpose pouches.
Field spade pouch, fits the standard issue age old Soviet shovel.
All pouches have MOLLE attachment, so you can place them as you like or remove entirely.
If you have fallen so far from the light to use some other weapon than AK, the pouches can of course be replaced with something else - means you can use a superior load carrying system with your decadent heretical Western product too.
The daypack
About 30-litre in volume, consists of the main space (28 x 47 x 16 cm) and two side pouches (27 x 12 x 6 cm).
All compartments have weather socks.
Side pouches are sewn on only from the sides, so you can attach stuff behind them.
Two flat pockets on the flap, the outer one containing a white winter camo cover which you can pull out.
A huge PALS grid on the front.
Fixed straps on the sides and bottom to attach kit.
Padded and very adjustable shoulder straps with sternum strap.
Padded, stiffened and ventilated backside.
Also included is a small repair & spare parts kit.
Made of "Tetris" camouflaged, army spec tactical nylon.
Unissued Russian, uh, surplus.
These might also interest you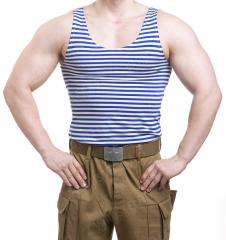 Russian Telnyashka, sleeveless
12.99 EUR
Might be of interest.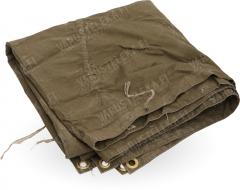 Soviet Plash-palatka, rain cape/shelter half, surplus
27.99 EUR
Buy also. Temporarily out of stock.
Log in and write a review.
Comments
Please send all questions regarding the product via e-mail to [email protected].