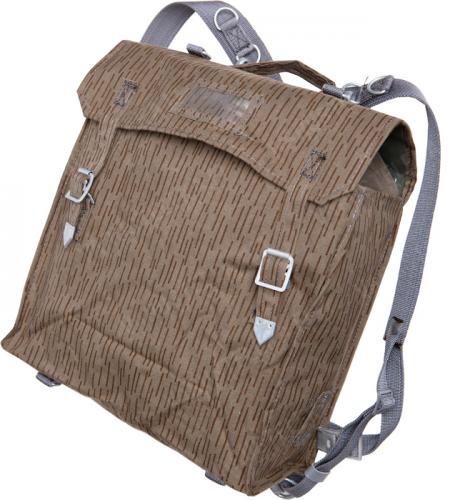 NVA Sturmgepäck combat pack, Strichtarn, with yoke, surplus
Price 6.99 USD excluding VAT
Flat Rate Shipping to USA $9.99
100 % recommends
Army surplus
Sold 55 pcs in the last two weeks
Package includes:
Also available in our walk-in store.
Trouble with the metric system? Try our converter: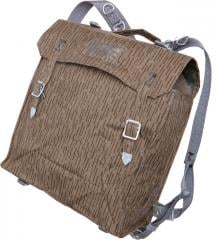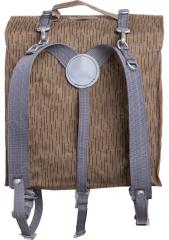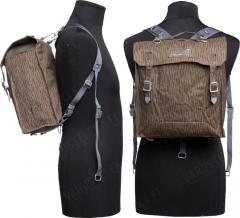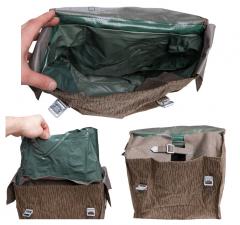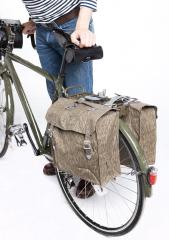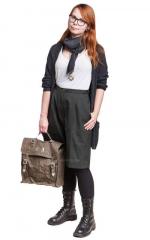 The East German Sturmgepäck (assault pack) is not as bad a piece of kit as you'd think: a simple, square shaped pack made of thick, waterproofed fabric with Strichtarn camo, carried with Y-suspenders or anything you clip it onto. Can also be attached to bike racks with very little work!
To increase the carrying capacity, loops for extra stuff (blankets, Zeltbahns) are provided on the outside. Inside measurements about 30 x 30 x 12 cm (12" x 12" x 5").
All of these are waterproofed in some way, be it a PVC sock style or just rubberized fabric. Please accept that we won't pick, you just get the next in line.
Hey, bicycle fanatics!
Get two of these, attach them to your bike and hey presto, you have pannier bags for much less than the actual ones cost! The cheap price doesn't even reflect quality: these are army surplus kit and made for real use.
East-German surplus
All of these seemed to be unissued, in pristine condition. However, long storage time might be seen in some slight surface rust on a few metal parts.
Recommendations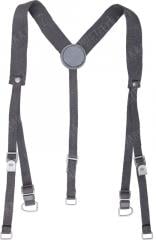 NVA Y-suspenders, gray, surplus
2.99 USD
Often viewed together.

NVA Webbing belt, gray, surplus
6.99 USD
Often purchased with.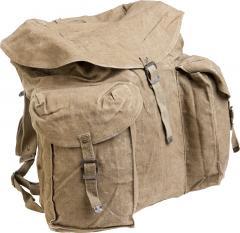 Italian mountain rucksack, surplus
13.99 USD
Often viewed together.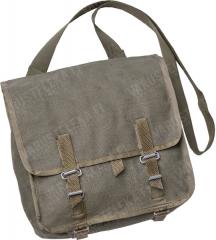 Polish breadbag, surplus
11.99 USD
Often viewed together.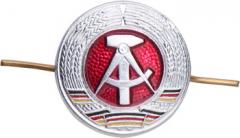 NVA metal cockade, surplus
0.99 USD
Often purchased with.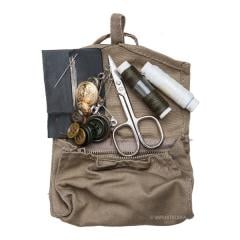 Italian sewing kit, surplus
1.99 USD
Often purchased with.
Reviews
You have already submitted a review. You can edit your text by clicking on it.
Log in and write a review.
Remove filter
Suomi
(1)
English
(13)
I would recommend for a friend
Percy H.

10.04.2018
These are fantastic - I bought two for use as motorcycle panniers, but now I use them for everything. They're each about the right size to use as a weekend bag (They'll take a couple of books, t-shirts, socks, a wooly jumper, and a bottle of wine each) so with two of them you can really pack luxuriously. They're not padded at all, so you'd probably not want to put them in the hold of an aircraft, but they're small enough to carry on. They're waterproof enough that even after a few hours in really driving rain, the only wet things on the inside were from a small trickle that had worked its way down between the many layers of flaps.

Their real strength is the strap system - They come with a detachable yoke, which is a Y-shaped arrangement of straps, but they're covered in attachment points (Four on the front, four on the back, two on the sides, and a carry handle on the top), so they can be worn as a backpack, a shoulder bag, around the waist, clipped onto bits of your bike frame, attached to a service dog's harness or whatever. The d-rings also mean that you can hang other things on the outside of the bag, or clip one of them to the other to lift both at once.

My one complaint is the external buckles that hold the flap down; They work on friction alone, so they're very adjustable, but they also don't feel incredibly secure and sometimes they take a bit of fiddling to get right.

Not only would I recommend these to a friend, I already have, and he bought two and loves them as well.
9
0
I would recommend for a friend
darryl b.

10.05.2018
funky pack, slightly stinky but nothing to write home about. lots of extra straps you can take off or put on as needed.
5
0
I would recommend for a friend
Jason C.

12.07.2018
Maybe it's my Ostalgie, but I love these things and I look for excuses to use them instead of some more practical backpack. The problem is they're so small (12L?), pretty shrimpy even for a trip to the grocery store. But the integrated waterproof bag is a thing of genius--WTF is this not standard on all backpacks--and the East German plastic & vinyl aesthetic is awesome. Plus I love raindrop camouflage. These things do off-gas some kind of evil Communist rubber smell and should cleaned and aired out well, and I don't think I'd want to leave one in a hot car for days on end for fear of stinking it up.
5
0
I would recommend for a friend
Thomas W.

02.11.2018 (Edited 17.11.2018)
While there is the problem of capacity, I find it's mostly a case of packing smarter, not harder. I like it's waterproof lining, which is particularly useful in Irish weather going to school, and It's also a nice piece of Strichtarn if you like collecting it.

Functional and stylish. :)
2
0
I would recommend for a friend
Dallin F.

28.11.2018
THE MOST COMFORTABLE BAG OUT THERE
It was -15 out side in the bush and I was wearin thin Canadian Military combats and this bag kept my back so warm and could carry many useful things inside it was great for carrying my MRE's in when running around.
And I love the rubber bag lining inside overall very good and durable
2
0
I would recommend for a friend
Shiqi H.

12.12.2018
Works GREAT with my old-school 80s' bike. Heavy-duty, waterproof, plus good looking, in this price, this's all you can get.
The yoke works well for preventing the bag from touching the tire (I placed the bag at the front ).
1
0
I would recommend for a friend
Owen D.

21.12.2018
For the price, you cannot beat a deal like this. I bring it to school and get a lot of positive comments on it. It really is a great backpack that works well for how old it is. Only thing was the smell, to get rid of it I put dryer sheets in it, left it overnight and even put it in the dryer for about 15min. Really nice and works well for the job. It even goes on your bike, why pass this thing up?
1
0
I would recommend for a friend
Peter D.

14.02.2019
I got the version with the PVC sleeve. Definitely a very strong plastic sort of smell to it. Works very well in terms of carrying a small amount. For reference, a 6 pack of 720mL bottles of Coca Cola or whatever fit well in it. The pack itself is sturdy, well made, and sits firmly on the back without migrating too much. The problem I have with it is without a sternum strap, which it doesn't come with, I have a lot of problems with the shoulder straps wanting to migrate down my shoulders and sit rather uncomfortably over my biceps rather than under my arm properly. For the price though, it's easy enough to fix, or just deal with. It's certainly held up well to the Ottawa winter thusfar, without having anything from the weather getting into the pack.
1
0
I would recommend for a friend
Bryan M.

07.03.2019
Decadent capitalists will tell you that this pack is probably "outdated" and "smelly". But they are simply hiding the fact that for a mere months wages to the Varusteleka ministry of fashion you get a nice looking, versatile pack that is in excellent shape. The rubberized interior and reliable steel buckles will not fail you despite the enemies best attempts.

I didn't even have to wait in line to enjoy this pack as an emergency kit in the village automobile as well as a bicycle pannier for my work trips to the brown fabric mill. A generous amount of straps and webbing are also included for one's authorized luxuries.
4
0
I would recommend for a friend
Andrés S.

16.04.2019
Once in a blue moon, some military manages to do something right. And boy, that was a huge blue moon.

First of all, it's water proof, whether by interior plastic bag of by a surface treatment on the interior (you can get any of those). Secondly, it offers several ways to carry it: on your back, on your side, on your hand, on a bicycle... And lastly, is fuken stylish. Like... Italian level of style, but in this case, it works flawlessly.
0
0
I would recommend for a friend
Emils P.

29.04.2019
I would recommend for a friend
Nathaniel L.

06.05.2019
I bought one of these a few years ago, not from this website, but from a guy who collects all sorts of things, and this just happened to be in the mix, with the Y suspenders attached to it, but missing the green part on the inside of the bag. Still gets the job done as it should, i'm planning to buy the NVA webbing belt for this later on. I can assure, this bag is tough and gets the job done.
0
0
I would recommend for a friend
tat w.

07.05.2019
yep.
i have one.
i really like it.
0
0
I would recommend for a friend
Jari N.

12.06.2019
Kiva pikku reppu snadisti epämukavilla valjailla - mutta ei anneta jälkimmäisen vaivata, ottaen huomioon kapistuksen hinnan ja kunnon. Saamani yksilö oli näet ihan priima, ja iiihanan gumminkäryinen. :D Seuraaville päiville mukavaa haastetta, kun yritän saada reppuun (ja sen ulkopuolelle) viritettyä mahdollisimman paljon roipetta. Pääsevätpä kohtuullisen hyvät pakkausskillini totiselle koetukselle. :)
0
0
Army surplus
Military equipment is traditionally excellent stuff; it combines durability with very affordable prices. Army surplus finds its way to the civilian market in the following way: the armed forces of one country or other decides to get rid of big batches of perfectly serviceable gear due to cuts in military budgets, said gear becoming obsolete or redundant or some other similar reason. Some of this stuff then finds its way to our storehouse, sometimes directly, sometimes through a third party. Every once in a while we even get random batches of collectibles and rarities from obscure corners of the world.