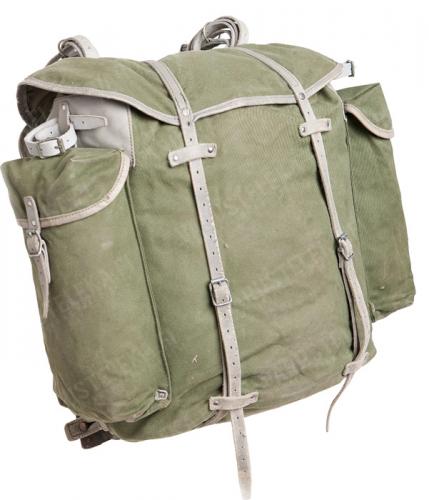 Norwegian rucksack, with steel frame, surplus
Price 36.99 USD excluding VAT
Flat Rate Shipping to USA $9.99
100 % recommends
Sold 2 pcs in the last two weeks
Trouble with the metric system? Try our converter: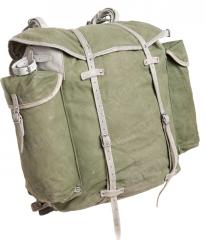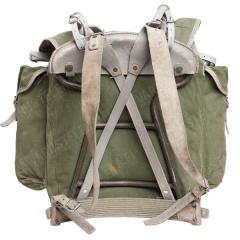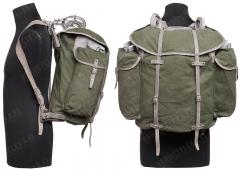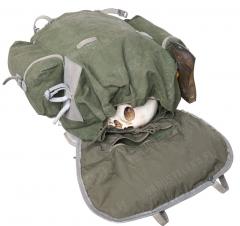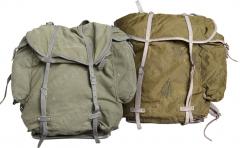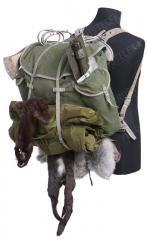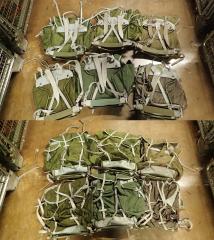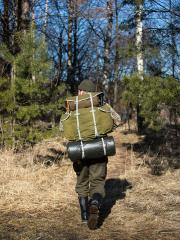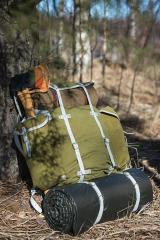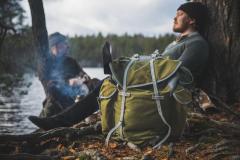 The classic Norwegian army "Telemark" pack, a very basic military backpack with a steel frame. Simple, tough and cheap, an excellent example of proper army surplus kit! Affectionally known as "Ludvig" by norwegian troops, named after a character invented by norwegian author Kjell Aukurust. Originally made by Bergans.
Altough this model hails from somewhere in between the ages of dragons and vikings, it was still issued in the Norwegian armed forces until recently. And why shouldn't it be? This is a really tough, soldier-proof basic rucksack that will surely outlast most modern plastic-fantastic contraptions. Nowadays getting scarce, get yours while stocks last!
Please note: The extra equipment, genuine enemy skull, norwegian snow monster pelts and traditional close combat weapons are not included! Same goes for all the extra straps in the pictures, these we can't guarantee.
Features:
Estimated total volume approx. 40 litres.
One large main compartment and two side pouches.
Large, well covering flaps with leather straps.
Adjustable leather shoulder straps.
Removeable steel frame, which can be carried separately. Things otherwise difficult to carry may be easier to lug around when fastened to a rigid frame.
Leather reinforced bottom.
A small zippered pouch inside the main flap.
Skis or two-handed axes can be carried behind the side pouches, but the straps might not be included. The same goes for any straps that are not permanently fixed to the ruck!
Extra kit can easily be strapped onto the ruck in many places, or directly to the frame. We recommend you stock up some utility straps just in case!
Materials vary a bit, most of these are green nylon, with some brownish ones in the mix too. Some are made of canvas. The straps, frame and style remain the same in all types.
Genuine army surplus
Used, but still perfectly serviceable, even in pretty nice condition generally. Many straps are fixed onto the ruck with multiple rivets, and some of these may have come loose (but this is rare). This rarely causes any trouble and is easily fixed with a couple of stitches or other own patents.
Recommendations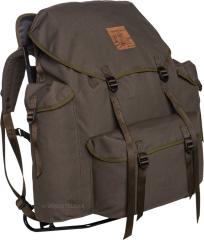 Savotta Rucksack 339
165.99 USD
Viewed together.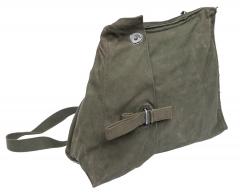 Swedish M51 gas mask bag, surplus
5.99 USD
Viewed together.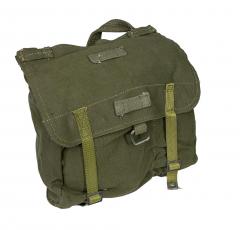 Romanian breadbag, crappier model, surplus
13.99 USD
Viewed together.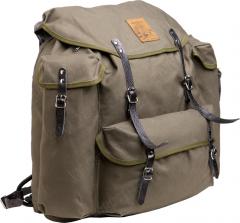 Savotta Rucksack 323
137.99 USD
Viewed together.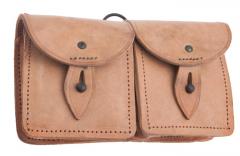 French MAS-49 ammunition pouch, leather, surplus
7.99 USD
Viewed together.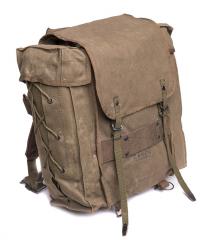 Italian daypack, surplus
32.99 USD
Sometimes purchased with.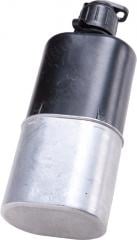 Swiss M84 canteen with metal cup, surplus
9.99 USD
Sometimes purchased with.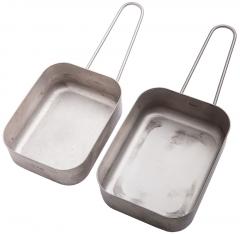 Dutch mess tin, stainless steel, surplus
18.99 USD
Sometimes purchased with.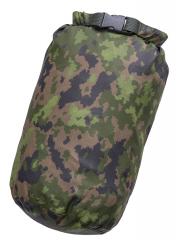 Särmä TST Dry Bag
13.99 - 27.99 USD
Might be of interest.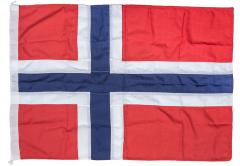 Flag of Norway, surplus
4.99 USD
Might be of interest.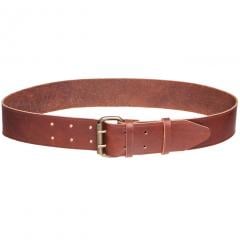 Särmä leather belt, veggie tanned, 50 mm
36.99 USD
Might be of interest.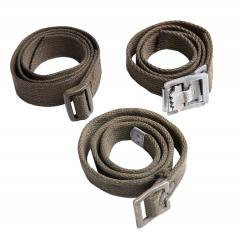 BW general purpose strap, surplus
2.99 USD
Might be of interest.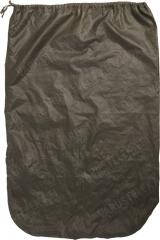 British PLCE bergen liner bag, large, surplus
6.99 USD
Buy also.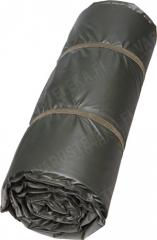 Finnish sleeping mat
55.99 USD
Might be of interest.
Reviews
You have already submitted a review. You can edit your text by clicking on it.
Log in and write a review.
Remove filter
Suomi
(1)
English
(5)
I would recommend for a friend
Anonymous

27.04.2017 (Edited 27.04.2017)
This is a good pack if you have a realistic expectations for it. This means that if you think of going backpacking with it, and loading the pack with a forty pounds of gear you should probably look for something else unless you are a masochist. The steel frame and leather straps are inferior to modern carrying systems and they don't support the weight that well, but if you think of using the pack as a daypack with 10-15 pounds of gear for couple of people go for it, it is actually quite comfortrable to carry.
The condition of my pack was OK but not that great. There were few loose rivets which you can fix with a riveting gun so this was minor, but the nylon sack despite beaing reapaired several times still had some small tears. I think that this was not the fault of the previous user who might had been rough on his equipment but rather a substantial flaw in the choice of materials used to construct the pack. While the frame and the leather parts will probaby outlive me, the nylon used was rather flimsy and prone to punctures and tears. Combine this with a field use and you will have an answer why the pack needed to be repaired several times.
14
2
I would recommend for a friend
Anonymous

27.04.2017 (Edited 27.04.2017)
I would recommend for a friend
STEWART W.

16.08.2017
I bought this for general use and it is a great pack , After a wash and reproof this is a retro vintage pack that gets much attention . I lined it with a roll mat for ease of packing and i find it very comfortable . i treated all the grey leather components with leather spray and it now looks great feels great and i am very happy with this purchase , rugged , tough and looks great A+++++ I am in the UK no problems with posting and i am happy with www.varusteleka.com and will shop again . A++++++++++++++ A multi purpose pack that i now use often from bushcraft,work and motorbike is does the lot ,
6
0
I would recommend for a friend
Jeffrey M.

25.11.2017
Great old-school pack. Mine is a canvas version and came in great shape. One rivet reinforcing a side pocket was missing but I just made a leather washer and used a screw-style rivet. Sure this rucksack doesn't have all the features of my Bundesheer KAZ03 large rucksack...but sometimes you want a smaller, simpler pack. I added the Särmä sternum strap and added three of the Bundeswehr pack straps to the bottom of the frame. Even if you don't want to carry this in the field, pick one up as an addition to your collection...one of these days they will be gone.
0
0
I would recommend for a friend
Harri K.

07.03.2018 (Edited 07.03.2018)
Näppärä ja nostalgiahenkinen satulareppu; yksi parhaista lajissaan. (Toinen hyvä on RVL:n vanha sissireppu) Kantomukavuutta voi lisätä olkahihnojen pehmusteilla, joiden tulee repun tyylin mukaisesti olla nahasta ja huovasta tehtyjä, ei mitään nailon-solumuovihömppää :) Vaikka satulareppujen telineet kehittyivät tässäkin olevan mallisiksi jo 1930-luvulla, ei tämä malli sentään 80-vuotias ole, kuten Mr V-Leka, Valtteri, viime viikonlopun GoExpon "muotinäytöksessä"
väitti. Reppu on vuonna 1953 markkinoille tulleen Bergans Falketind-repun sotilasversio. No on 65 vuottakin kunnioitettava ikä ja tätä valmistettiin ilmeisesti ainakin noin 30 vuoden ajan Norjan armeijalle!
5
0
I would recommend for a friend
Sam t.

08.03.2018
I would recommend for a friend
ivan r.

16.03.2018
Great mid size old school pack.It is in like new condition, beyond my expectation.Canvas is is great condition,no tears, no rips, almost no sign of use and considering it is surplus pack it it excelent.I would recommend it.Great customer service and resonably priced shipping cost.I placed my order 4 days ago and I got the package this morning.Thank you!
1
0