MSA Sordin Supreme Pro-X Headband hearing protectors
Price 202.99 USD excluding VAT
Flat Rate Shipping to USA $9.99
Trouble with the metric system? Try our converter: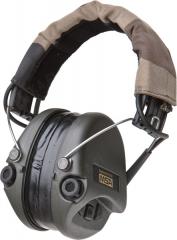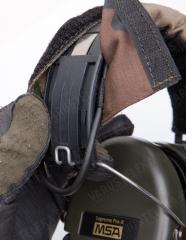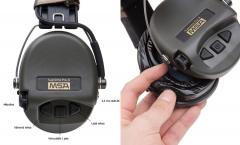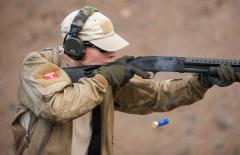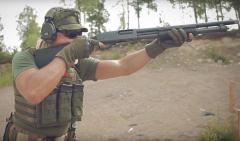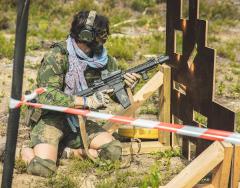 Proper high quality active ear defenders, MSA and Sordin are both pretty well known names in the industry and among sport shooters and LE/MIL personnel alike. Great sound quality, shock and waterproof, perfect for any hell you might want to drag these through. Standard HB model with padded headband.
While normal ear defenders generally get the job done, active electronic ones have one major advantage: you don't have to yell to communicate, provided everyone else has similar protectors. This model is the top of the line:
The standard Supreme Pro is good, but the "X" model is better through being completely waterproof; the electronics, batteries and microphone are all extremely well protected from moisture. However, we do not recommend taking a dive with these.
Muffles loud noises down to 82 dB and amplifies quiet ones, such as speech.
Works with two standard AAA-batteries (included). Battery life according to MSA is 600 hours. When the juice is about to run out, you will be notified with a sound signal.
5 different volume levels.
3,5 mm AUX mono input.
Camouflaged, removable headband.
Adjustable to fit most head sizes.
Folds into a compact package.
Gel cushions instead of the usual foam padding. These work much better with glasses underneath and are much more comfortable to wear for long periods.
Five years warranty for the electronics.
If you intend to use these at indoor ranges, we recommend using ear plugs too. In outdoor use, these are quite enough (provided you aren't operating heavy weaponry.
Factory new, made by MSA.
Reviews
You have already submitted a review. You can edit your text by clicking on it.
Log in and write a review.
Remove filter
I would recommend for a friend
Patrik S.

14.08.2017
Järjettömän hyvät ja toimivat, käytännöllisillä ja elämää helpottavilla ratkaisuilla. Intin taistelut sun muut joissa ei ole aktiivisuojia onnistuu näillä hyvin. Varsinkin kun itseltä löytyy kuulonalenema jonka takia normikupeilla ei kuule mitään. Äänenvoimakkuuden säätö toimii paksutkin hanskat kädessä.

jos teet usein jotain jossa on jatkuva kuulovaurion riski mutta silti tartteisi kuulla kokoajan ovat nämä must hankinta. Toimii metsätöissä, raksalla, ammunnoissa tai vaikka anopin keittiössä.
MSA'n asiakaspalvelukin on aika kultainen heidän lähettäessä uutta kuulokkeista irronnutta osaa.
3
0
I would recommend for a friend
Kristian R.

02.12.2017
Todella hyvät ja laadukkaat aktiivit. Geeli pehmusteet on mahtava ratkaisu.
Ainoa miinus on tosiaan jo aikaisemmin mainittu paksuus versus SA-kypärä.
Myöskin mielenkiintoinen "vika" on että antavat päällä ollessaan (mutta pois korvilta) "sirinää". Korvilla ollessaan ei mitään häikkää.
Ja hinta on todella hyvä.
2
0
I would recommend for a friend
Kimmo S.

13.04.2018 (Edited 23.05.2019)
Olen käyttänyt kaiken maailman aktiiviluureja miltecistä peltoriin. Jokainen on toiminut tehtävässään, osa paremmin ja osa huonommin, joten tuntuu loogiselta lähinnä listata niitä asioita, mitkä saattavat jossain tapauksissa ärsyttää käytössä.

Panta on todellakin nopeasti muista erottuva ominaisuus. Se ei tunnu hyvältä ahtaassa kypärässä, eikä aina yksinään päätä vasten. Se ei myöskään taivu nätisti pakettiin, kuten muilla luureilla, minkä takia nämä eivät pakkaannu kovin kätevään muotoon. Jos kypärässä pantaa ei saa särmättyä pois kontaktista päänahan kanssa, sitä vihaa toden teolla tetsattuaan useita tunteja kesän ainoana hellepäivänä.

Jos kypärässä ei ole reikiä suojaimille, niin nämä ovat ylipäätään epämukavat mahduttaa alle. Ja tarkoitan nyt suomikypäriä. Tosin samaa on havaittavissa saksalaisten komposiittikypärässäkin.

Pituussäätö saattaa olla kestävämpi kuin muiden yleisesti käyttämä ratkaisu, mutta kypärän sisään särmättynä se ei todellakaan ole parempi. Tätä on vaikea sanoin selittää, sen huomaa sitten kun sitä yrittää säätää paikalleen koko viritys päässä.

Kovin monesta luurista ei ole tarvinnut googlettaa parasta tapaa saada se syvemmälle uponnut paristo pois kotelostaan. Tästä piti sekin tehdä. Johtopäätökset voi vetää itse kukin, mitä tämä tarkoittaa.

Luurit toimivat hyvin akkuparistoilla, vaikka ohjeissa niistä varoitellaankin. Sen sijaan netissä varoitetaan alkaliparistoista ja erityisesti niiden jättämisestä pidemmäksi aikaa paristokoteloon. Kun sitten tyhmyyksissäni käytin alkaliparistoja ottamatta niitä välissä pois luureista, niin nämäpä lakkasivat toimimasta millään paristoilla. Annoin kaverille kokeiltavaksi, saako hän noista kalun netin korjausohjeilla ja ostin hieman halvemmat sporttacit tilalle. Kypärässäni on aukot suojaimille, joten sporttacitkin toimivat siinä ihan hyvin. Jotenkin tykkään nykytilanteesta enemmän kuin MSA:n kanssa.

Toivottavasti näistä huomioista on jollekulle apua suojainten valinnassa.
2
1