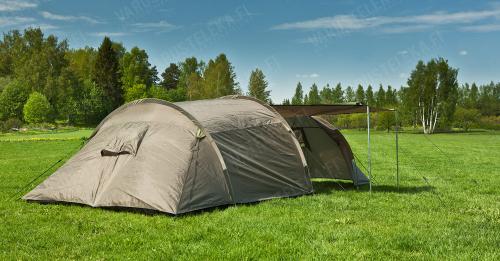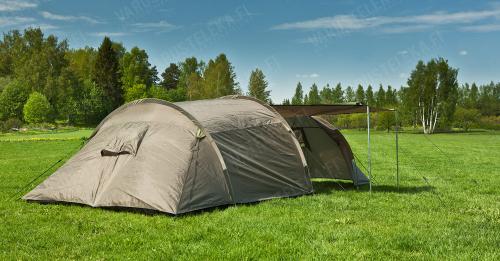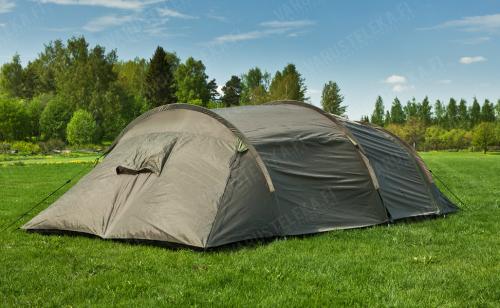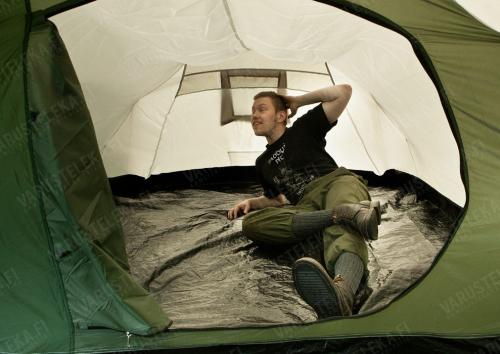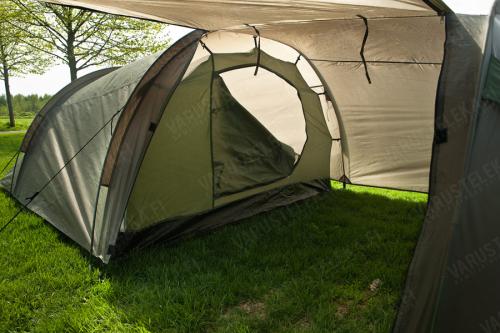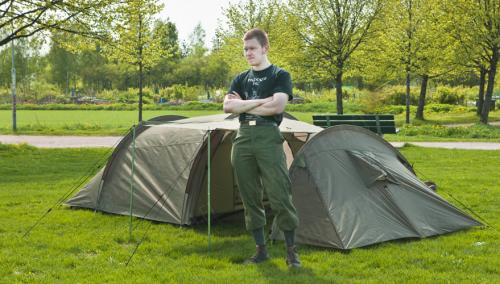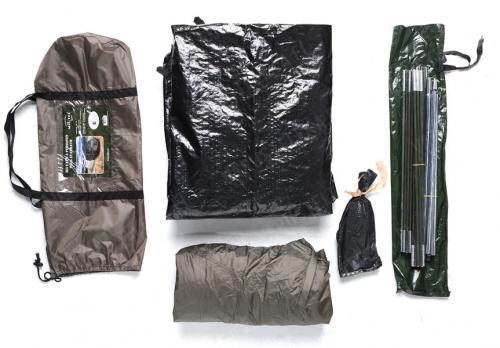 Mil-Tec
Mil-Tec three person tunnel tent, olive drab
Price 79.99 USD
excluding sales tax
A handy three-person tent with a separate closed space for sleeping, and the rest for kit & kids and anything else you don't want to share the sleeping space with.
This product is unlikely to be restocked and will be hidden from our website once it's out of stock.
Discontinued product.
Trouble with the metric system? Try our converter: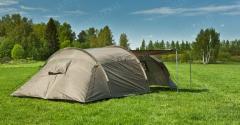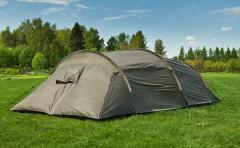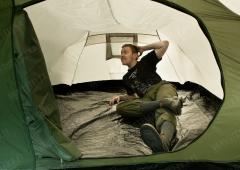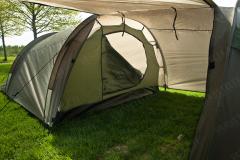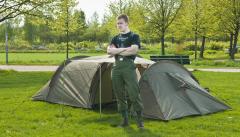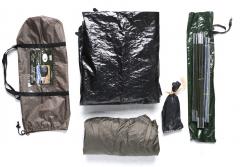 A handy three-person tent with a separate closed space for sleeping, and the rest for kit & kids and anything else you don't want to share the sleeping space with.
Consists of two parts: the main sleeping space for three persons, and the outer fabric (the tent itself) which provides rain shelter for rucksacks and boots. Even with your kit stashed there's still room for cooking. The doorway in the center can be raised to form a canopy. Both ends of the tent have vents with insect nets. These are protected against rain with downward-sloping flaps.
Simple erection instructions are included. We included a picture of those here, just in case, you might lose the paper.
Specs
Measurements erected 415 x 190 x 120 cm / (163" x 75" x 47", 60 x 20 cm / 23.5" x 8" when packed
Inner tent 210 x 180 cm / 82.5" x 71"
Weight about 4,4 kg / 9.6 lbs
Top fabric: 190T polyester, with polyurethane coating
Lower fabric: 170T polyester
Bottom fabric: 125 g/m2 polyester
Water resistance 1200 mm
Glass fibre poles
Factory new, made by Mil-Tec.
All products: Mil-Tec
Recommendations
Loading products...
Reviews
You have already submitted a review. You can edit your text by clicking on it.
Log in and write a review.
Remove filter
Suomi
(9)
English
(2)
I would recommend for a friend
Jere R.

28.08.2016 (Edited 13.06.2017)
Kohtuullinen pystytettävä, mukavan tilava, menee kivasti meillä kaksi aikuista ja kaksi lasta sekä kaikki tavarat. Mahtuu takaisin omaan pussiinsa ilman kiroilua.
24
3
I would recommend for a friend
Ari M.

02.08.2017 (Edited 31.05.2021)
Hinta/Laatu suhde erinomainen. Helppo kasata jopa yksin.
10
3
I would recommend for a friend
Mitchell T.

03.07.2018 (Edited 01.06.2021)
Very simple and decent tent. I've been using it for about a month now and for just me there's perfect space under the fly to have all my stuff including backpacks, clothes in dry bags, my boots, my dog on a long sleeping pad.



Inside the main tent I squeezed in a actual mattress, have room for all my small essentials. Inside the tent it's breathable. It's only gotten down to +10c 50f and I've been cozy in the USMC 3 season sleep system and a woobie.



Not tested in rain or hot nights. I have laid my own ground sheet under the entire tent for protection and cleanliness. Great budget tent and should last if you're careful and take care of it. Zippers seem smooth for now but I've torn a connection or two for the inner tents attachment to the fly.

UPDATE: Tent is waterproof, had it sitting out setup in rain for months and stayed completey dry inside. Just not enough ventilation for warm weather.
18
0
I would recommend for a friend
Ville H.

21.04.2019 (Edited 05.06.2021)
Laatuvaikutelma oli ensi puraisulla vähän ankeahko (lähinnä kamojen ja pakkausten ulkonäkö, sekä ohjeiden minimalistisuus reilusti kalliimpiin vaelluskamohin verrattuna), mutta tuote yllätti ensimmäisellä käyttökerralla kyllä erittäin positiivisesti. Kontekstina lyhyt vaellus Helvetinjärvellä ja yöpyminen n. +-nollassa, kaksi aikuista ja kaksi lasta. Ohjeilla eli yhdellä A4:lla teltta kasattiin tukevaksi vartissa, oli itse asiassa lopulta intuitiivisempi pystyttää ensimmäistä kertaa kuin Fjällrävenit tyyliin kamoissa ei ollut minkäänlaista kikkailua mutta eipä niitä normiolosuhteissa tarvitsekaan. Tilaa oli todella reilusti. Ainoa kehityskohde jonka voisi itse tähän tuunata on lisätä sisäteltan kiinnityksiä ulkotelttaan - kun teltta on täynnä niin reunoilla nukkuvilla sisäteltan kangas valahtaa melkein naamalle. Aikuisten retkellä tilat olisi aivan luksusta. Kestävyydestä paha sanoa mitään yhden reissun kokemuksella, mutta helposti meni takaisin pussiin eikä mitään hajonnut.
5
0
I would recommend for a friend
Richard T.

04.12.2019 (Edited 06.06.2021)
It's fairly light weight which is great for hiking to your camp. I'm 6'4", 230lbs and me my wife and two small boys all fit inside. It's tight but good for when you're only using it to sleep in. If you want a tent to hang out in with others maybe something bigger would be in order.
I first set it up in a 10mph wind. It shook a little but held fast and was deceptivley calm inside. It would be nice if it had better instructions but it's easy enough to figure out. I'm considering buying a second so me and the misses can have some privacy when we're out for more than a couple days when it gets warmer.
Over all it's a nice tent and at the price a great tent.
3
0
I would recommend for a friend
Marko H.

16.12.2019 (Edited 06.06.2021)
Aivan mahtava kapistus hinta/laatusuhteeltaan. Teltta ollut noin 6- 7 vuotta vaikka minkälaisessa käytössä ja hyvin toimii edelleen. Festareita tullut kierrettyä tämän kanssa Suomesta aina Saksaan saakka. Koville on joutunut teltta reissuilla mutta hyvin kestää. Eteisaula on just hyvä kun siihen saa kaikenmaailman kamat talteen hyvin. Ensimmäinen pystytys oli hankala ohjeiden niukkuuden takia mutta kun homman tajusi on seuraavat kerrat olleet nopeita ja vaivattomia. Sadettakin pitää ihan kiitettävästi.
3
0
I would recommend for a friend
Olli S.

19.02.2020 (Edited 06.06.2021)
Ihan hyvä ja toimiva teltta budjettiratkaisuksi, on kestänyt jo useamman kalareissu Inarille. Kolmella isolla miehellä meinaa välillä tulla ahdasta, mutta vielä on hyvin mahtunut nukkumaan, kahdelle oikein passeli kokoinen. Myrskynkin kesto on todettu yhdellä reissulla kun vettä tuli vaakasuorassa eikä järvelle ollut mitään asiaa. Pystytys on yksinkertaista kun logiikan hoksasi, mutta telttaa purettaessa kepit tahtovat välillä irrota omikseen liitoksistaan, jolloin ne eivät meinaa oikein liukua ulos niille tarkoitettujen kujastojen sisältä.
1
0
I would recommend for a friend
Joni T.

01.09.2020 (Edited 06.06.2021)
Kasaus ohjeet saisivat olla paremmat, ehkä joku Varustelekan puolesta voisi tehdä videon tai kuvasarjan kasauksesta? Hetken pähkäilyn jälkeen onnistui kyllä ja mainio tuote muuten.
1
0
I would recommend for a friend
Henri H.

03.10.2020 (Edited 06.06.2021)
Ihan hintaa silmälläpitäen on pakko antaa täydet pisteet. Helppo kasata, joskaan mukana tulevat ohjeet eivät tunnu olevan teltan kasaamista varten, vaan ennemmin jonkun perämoottorin huoltoon tarkoitetut. Tilava ja siihen tilavuuteensa nähden kevyehkö teltta.
2
0