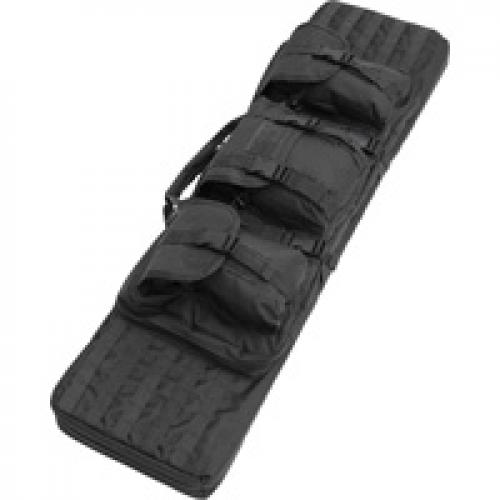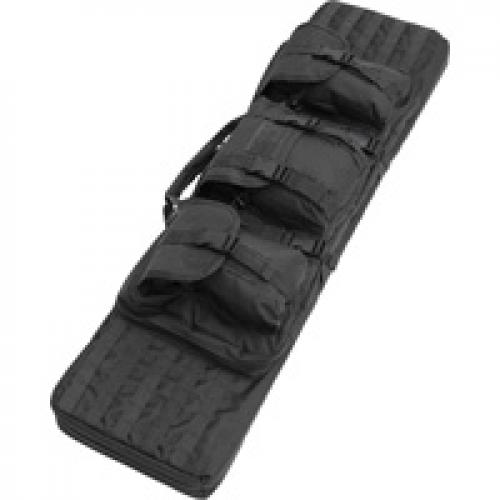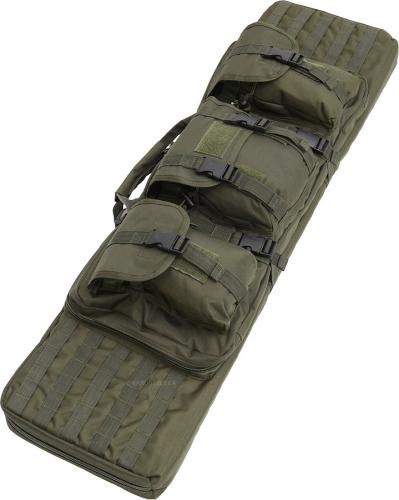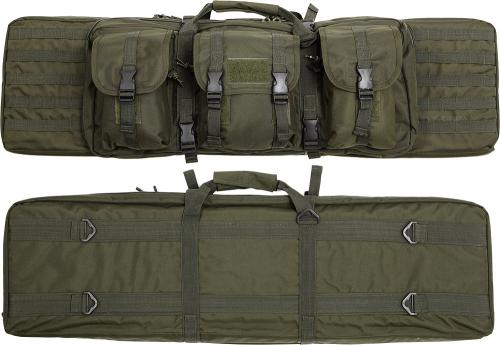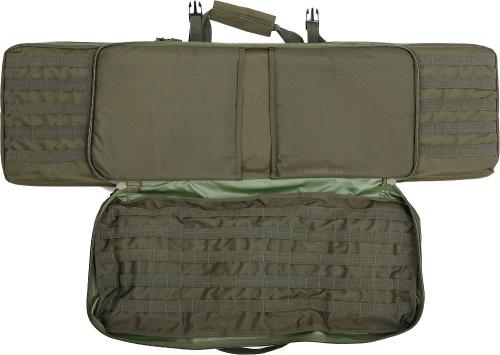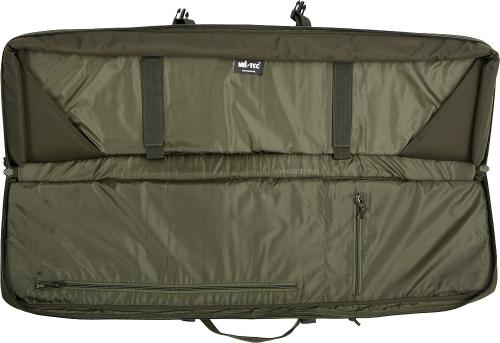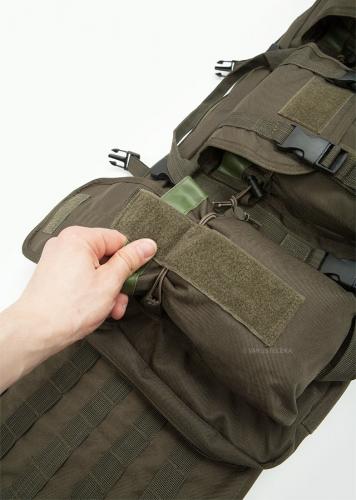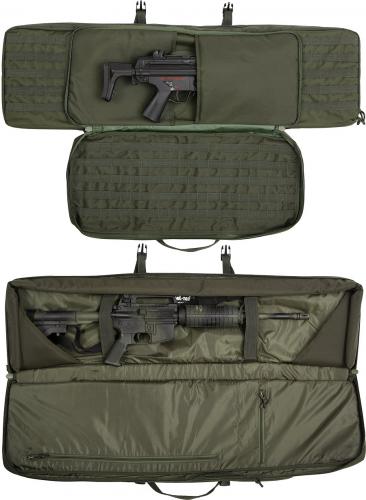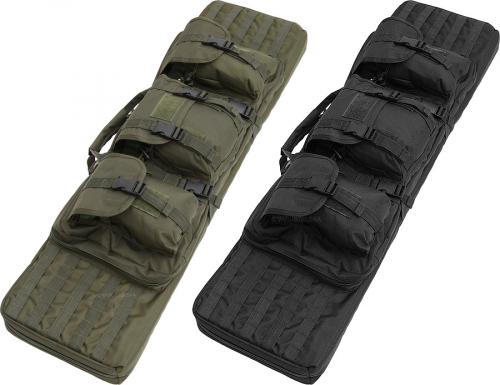 Mil-Tec gun carry bag, big
Price 64.99 USD excluding VAT
Big and black. A good gun carry bag with tons of storage space and a cheap price tag.
Loading products...
Trouble with the metric system? Try our converter: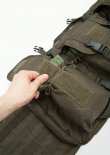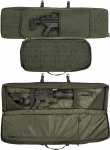 Big and black. A good gun carry bag with tons of storage space and a cheap price tag.
Features:
A large compartment for max 101 cm long firearms.
A smaller compartment for max 65 cm long firearms.
PALS loops on the outside.
Both compartments close with zippers and can be secured with buckled straps.
Three exterior pockets, one larger and two smaller ones.
The carry bag has handles and attachment points for shoulder straps. Straps are not included.
The large compartment will fit at least the following guns: all M16-series, all AK's, H&K G3, FAMAS, G36, FN SCAR, SG 550/551, Benelli M3 Super 90, SPAS-12 and MP5's with fixed stocks.
The small compartment will fit most smaller firearms such as the MP5 series and similar.
NOT COMPATIBLE with at least the following: FN FAL, M14, M1 Garand, Kar98K.
Factory new, made by Mil-Tec.
Employee's comments
My previous rifle and shotgun bags were of the thin and contoured kind, that only fits the firearm and nothing else. While these still have their use, sometimes it's nice to set out to the range without carrying several packs and bags. I usually carry more than one firearm, ear muffs, specs, mags and plenty of ammo - it all fits in this beast.
I was hesitant to buy this at first, because Mil-Tec is not one of the brands I hold in the highest regard. In fact it wasn't until a colleague of mine said a few good words about the bag, that I bothered even to take a closer look. After giving the PALS-webbings and other seams a few solid tugs I decided it's worth a shot. I put US M-1944 straps on mine and it has served me well for the past two years. Even if you usually don't trust Mil-Tec too much, this bag is worth an exception.

Sauli
Recommendations
Loading products...
Reviews
You have already submitted a review. You can edit your text by clicking on it.
Log in and write a review.
Remove filter
Suomi
(5)
English
(1)
I would recommend for a friend
Margo P.

10.12.2016 (Edited 23.05.2019)
Hinta laatu todella OK.
9
1
I would recommend for a friend
Serge S.

19.08.2017
This item is correct in every ways : zipper D, pouches / velcro / buckles, foam protection (even on the sides) and the possibility to carry more then one gun. My Sub-2000 fit perfectly in the small compartiment. And all for a decent price and fast shipping. Too bad they don't make a longer one !
3
0
I would recommend for a friend
Petteri T.

05.10.2017
Parempaa saa hakea kauan, ja ehkäpä vielä turhaan, varsinkin tuohon kuuden kympin hintaan.
4
1
I would recommend for a friend
Kimmo S.

27.04.2018
Tähän mahtuu vaikka mitä. Hyvä hintakin, vaikka lienee kehitysmaan hikipajan tuotoksia.
1
0
I would recommend for a friend
Niko S.

02.10.2018
Tilava, PALS-kujiin saa lisää taskuja ja kestävä. Palvellut yli kymmenen vuotta airsoft-käytössä. Kannossa laukussa on ollut parhaillaan 3 rynnäkkökivääriä (pitkä SPR, lyhyt CAR-15, keskipitkä M4a1 SOPMOD), 4 pistoolia sekä 14 lipasta kuulien ja muiden ohessa. Kassi kestää hyvin ja saa hihnankin hyvin kiinni. Ainoa, mikä on vuosien kuluessa mennyt, on kantokahvaa yhdistävä tarranauha on löystynyt. Tämä pieni miinus annettakoon anteeksi muuten näin kestävässä laitoksessa!
0
0
I would recommend for a friend
Henrik L.

27.11.2018 (Edited 27.11.2018)
Todella hyvä.



-Erittäin hyvät taskut jo valmiiksi edessä.

-Vasemmalle äänenvaimennin, rata-sekä ampumapäiväkirja ja kantohihna, mutta mahtuisi lisääkin.

-Keskellä kuulonsuojaimet

-Oikealla ammuksia.



-PALS-taskuihin olen saanut kiinni myös alunperin vyölle tarkoitettuja pussukoita mm. etäisyysmittarini sekä Leathermanin kotelon, jossa pidän lippaita.



Negatiivisia puoliakin löytyy, mutta niin pieniä, että eivät syö arvosanaa:



-Vetoketjuvetimien otenauhat piti uudelleen polttaa kiinni, olivat vähän irrallaan. Samaa huomasin myös muissakin hyllyn laukuissa.

-Myös irtolankojen siistiminen oli edessä, niitä oli vain pari.



-Laukun suojakerros on tehokas kolhuja vastaan, mutta liian pehmeää kantamiseen olalla ALICE-hihnan kanssa. Laukku taipuu ja paine asettuu silloin aseen rungolle ja piipulle.

Kelpaa lyhyeen matkaan, mutta en lähtisi pitkää matkaa taittamaan, ellei laukku ole aika tyhjä muista varusteista.

Ratkaisuksi kelpaisi jokin omatekemä kovike laukun seinämään.
0
0