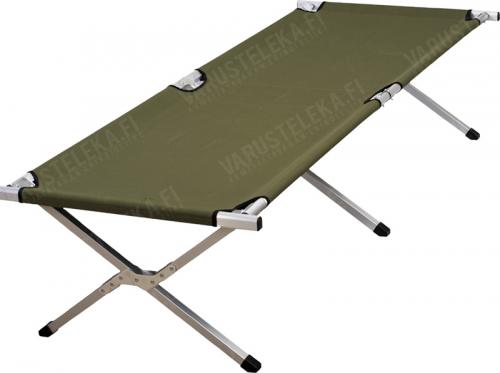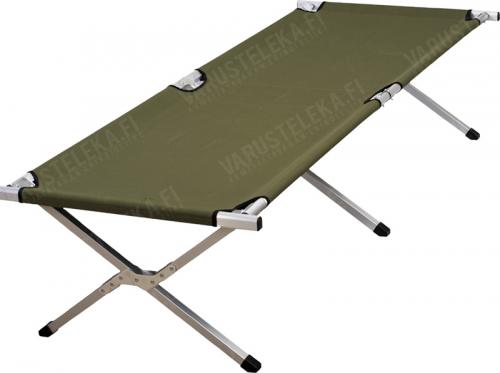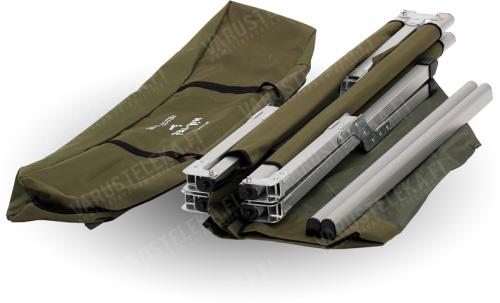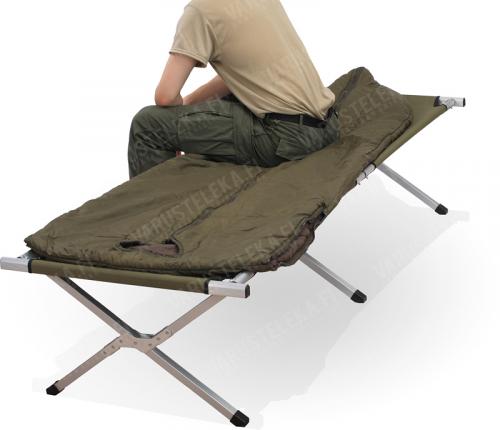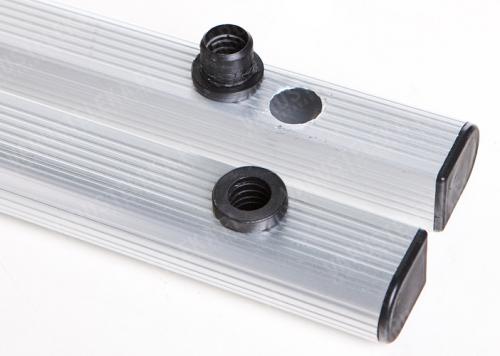 Mil-Tec Field cot, aluminium frame, 192 x 66 x 43 cm, olive drab
Price 52.99 USD
excluding VAT
An affordable and handy field cot. Similar to the US Army model.
Waiting for restock, no estimated time for arrival. Request restock notification and we will email you as soon as this product is available.
Trouble with the metric system? Try our converter: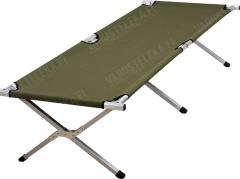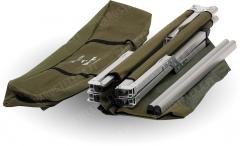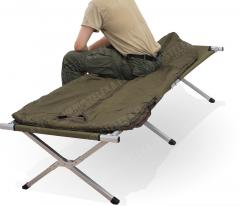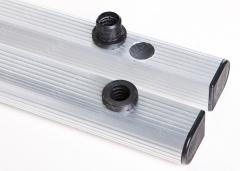 An affordable and handy field cot. Similar to the US Army model.
Note: The plastic grommets of the end pieces are a bit daff. We suggest removing them if you want to be able to assemble the cot.
Dimensions about 192 x 66 x 43 cm / (75.5" x 26" x 17")
Packs into 95 x 20 x 10 cm / (37.5" x 8" x 4") and comes with a carrying bag
Aluminium and polyester fabric construction
Weight about 5.5 kg / 12 lbs.
Maximum load 100 kg / 220 lbs. as stated by the manufacturer. We also stock the Gen II model with 150 kg / 330 lbs. max load.
New production from Mil-Tec.
Recommendations
Loading products...
Reviews
You have already submitted a review. You can edit your text by clicking on it.
Log in and write a review.
Remove filter
Suomi
(9)
English
(1)
I would recommend for a friend
viljo h.

02.02.2017
Sänky on hyvä. Kasauksesta sen verran että mielestäni muovitulppia ei kannata ottaa pois koska reiän terävät särmät syö tapit nopeampaa hajalle. Itse en hoksannut mitä "pitemmillä ulokkeilla" tarkoitettiin mutta sain sängyn kasaan helposti siitä huolimatta kun hoksasi oikean otteen. Kokonaisuutena oikein hyvä tuote.
13
1
I would recommend for a friend
Henri S.

14.03.2017 (Edited 04.09.2017)
Loisto-ostos! Palvellut meikäläisellä jo useamman vuoden niin vierasvuoteena, reissusänkynä ja ompa tuo yhdet kertauksetkin nähnyt. Hyvin on kestänyt ja mukava nukkua, etenkin kun laittaa makuu-alustan päälle. Älkää suotta ottako noita tappeja pois päistä. Aluksi saattaa olla hieman jäykkä kasta, mutta käytössä kangas hieman venyy jne joten on jo parin kerran jälkeen paljon helpompaa. Nuo muovitulpat estävät kiinniketulppien kulumista.
Edit: Näin parin vuoden satunnaisen käytön jälkeen alkanut taittuvien kohtien vierestä kangas rispaantumaan.
10
1
I would not recommend to a friend
Ville K.

08.01.2018
Toimi hyvin muutaman viikon sohvana, mutta yksillä päikkäreillä kangas repesi, enkä ole vielä keksinyt keinoa millä sen saisi korjattua niin että se kestäisi.
Sääli, muuten hyvä nukkua ja kulkee näppärästi mukana kaikkialla.
1
1
I would not recommend to a friend
Markus P.

01.04.2018
Aluksi oikein pätevä peli ja mukava nukkua, mutta jo parin kerran jälkeen alkaa pitämään jumalatonta natinaa. Silloin ei nuku kukaan samoissa tiloissa majaileva...
4
1
I would recommend for a friend
petteri s.

06.04.2018
Muuten hyvä,mutta kantokassin vetoketju hajosi ensimmäisellä käyttökerralla,samaa paskaa kuin kaikki muutkin miltec kamat.
1
1
I would recommend for a friend
Jouni H.

08.04.2018
Aluksi jäykkä kasata, mutta jos on näpissä voimaa niin eipä haittaa.. Nukun tässä pihalla ja nukun hyvin.
0
1
I would not recommend to a friend
Max A.

16.04.2018 (Edited 16.04.2018)
Affordable - but expendable



If you're looking for something to last then pitch in more money because this only lasted a few trips out before bending and snapping. Aluminum has it's benefits like weight but it's way too weak and soft, you have to be very careful when getting on and off and shifting weight around this less your's breaks too. Wouldn't bother buying this, get something sturdier and longer lasting.
4
0
I would recommend for a friend
Kimmo S.

28.04.2018
Hinta-laatusuhteeltaan hyvä laitos. Kestää kevyen veikon painon ja lievittää nukkumisen tuskaa. Muutama huomio:
* kantopussin vetoketju hajoaa heti alkuunsa, hanki irtohihna, jolla kassi pysyy kasassa (tai asenna uusi vetoketju).
* makuualustan tai muun pehmikkeen käyttö parantaa nukkumiskokemusta.
* älä ota 'tulppia' pois, kyllä tämän saa kokoon niidenkin kanssa ja kestää pidempään.
* särmäysvelcronauha turhan oloinen, ota pois ja nykäse vaikka irtohihnalla kunnolla kiinni.
1
1
I would recommend for a friend
Juho R.

01.08.2018 (Edited 01.08.2018)
Hyvä on ollut. Alkanut natisemaan ja nitisemään tässä 6:n vuoden satunnaisessa käytössä (arvio ~80 yötä), mutta itseäni se ei ole haitannut :D Kangas löystynyt ja alkanut saumoista vähän repeilee, kohta varmaan joutuu uutta etsimään. Tekisipä Savotta tälläisen. Vosin maksaa laadusta enemmän.
3
1