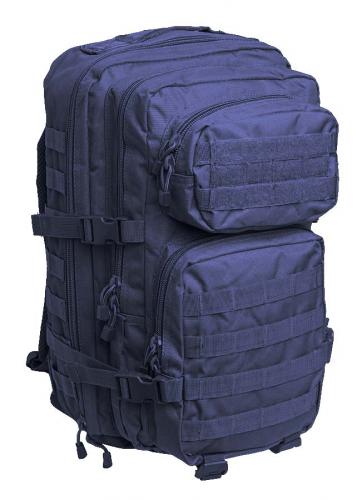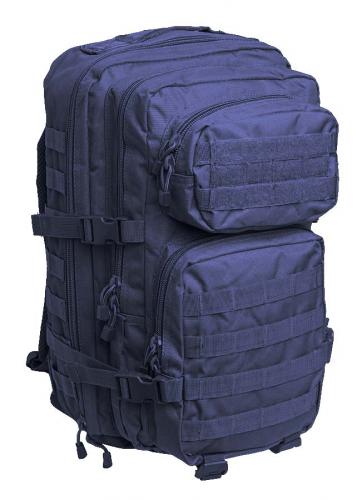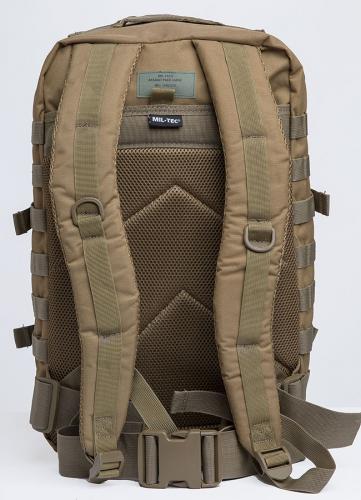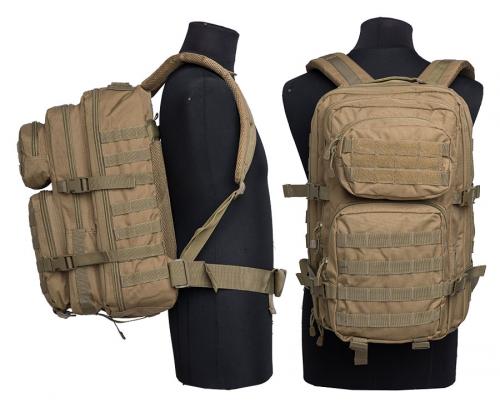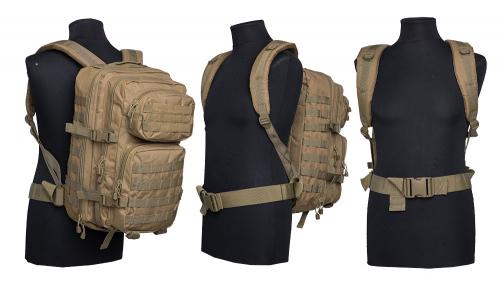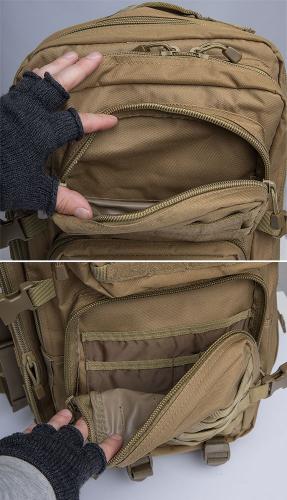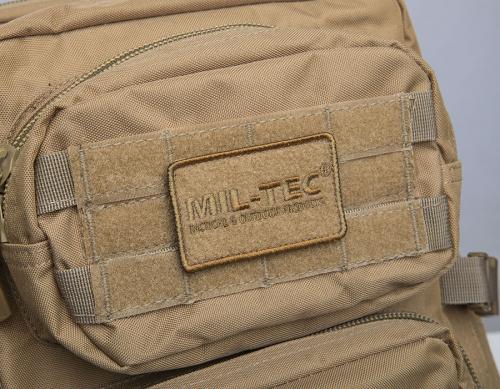 Loops base on top accessory pocket for patches.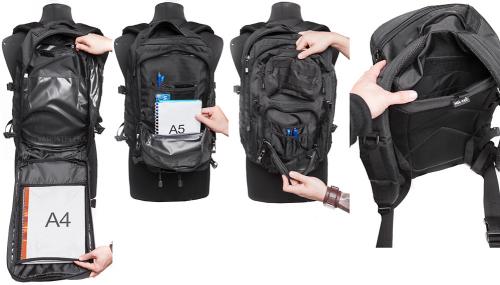 Copious amounts of compartments keep your stuff sorted!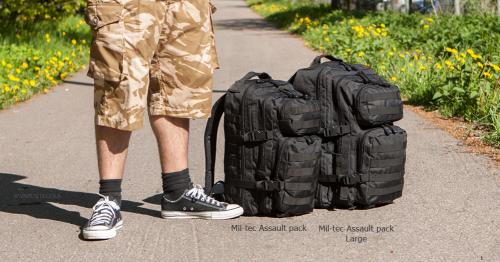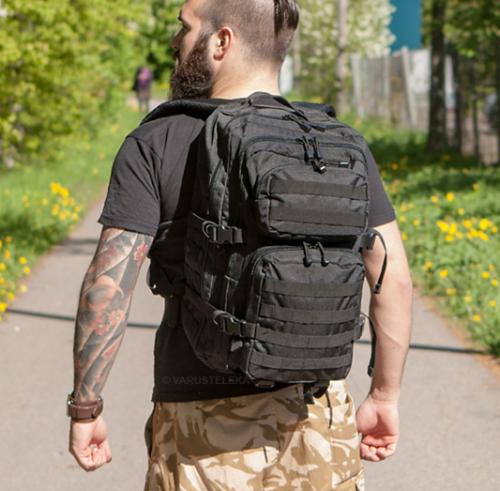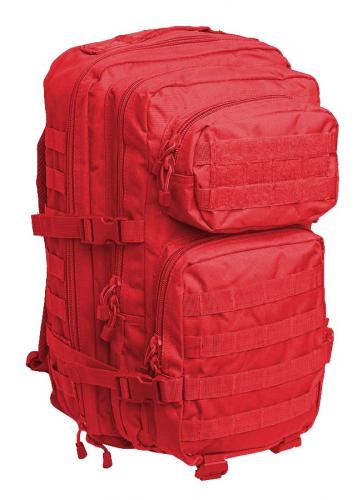 Mil-Tec
Mil-Tec Assault Pack Large
Price 45.99 USD
excluding sales tax
Good and affordable urban rucksack. About 2 million different compartments, compact dimensions but expands to about 35 liters max. If you have a lot of stuff that has to be accessed all the time, this is the thing for you.
Loading products...
Trouble with the metric system? Try our converter: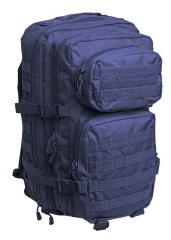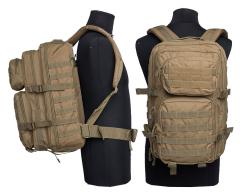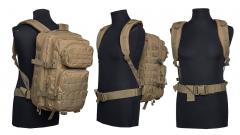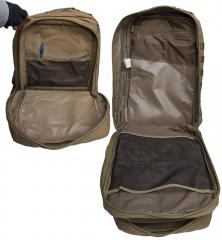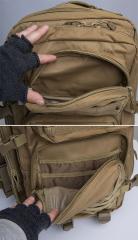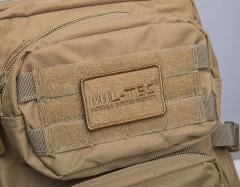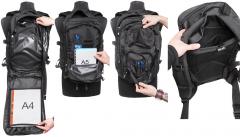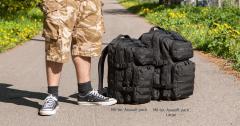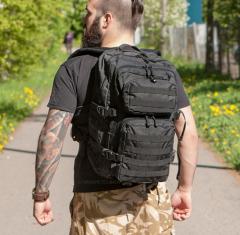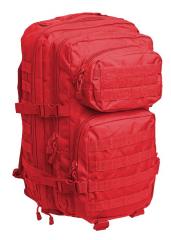 Good and affordable urban rucksack. About 2 million different compartments, compact dimensions but expands to about 35 liters max. If you have a lot of stuff that has to be accessed all the time, this is the thing for you.
The classic small Assault Pack is pretty good, but sometimes a larger one is needed, and the simplest way to make one is just stretching it a bit to all directions. Voilá, here's the Large Assault Pack!
Capasity: approx. 35 litres / 2150 in3
Measurements: 51 x 29 x 28 cm / (20" x 11.5" x 11")
Weight: 1.6 kg / 3.5 lbs
Big main compartment with two little compartments inside - the bigger fits an I-pad, the smaller one is zippered to hold all the small things you carry with you. The main compartment has zippers all the way, so getting something out of even a fully packed rucksack is fast and easy.
A somewhat smaller compartment with sleeves for smartphone-sized items and one larger sleeve.
Two outer pockets, the lower one having pen sleeves and place for a notebook.
Hydration pack pouch on the backside.
Good compression straps, two on each side and two on the underside - this thing can be compressed to the size of a hydration pack. Size compression straps have quick releases, which is a very handy thing. The straps also double as an easy way to strap stuff on to the pack - strapping your jacket onto the pack when moving indoors has never been easier.
The pack is covered with MOLLE compatible attachment loops.
Shoulder straps are well padded and contoured. If you do not need a waist strap, it is very easy to remove.
Note: the colours of the red pack seem to run a bit when exposed to moisture and sweat.
Dimensions when fully packed are 51 x 29 x 28 cm / (20" x 11.5" x 11"), weight 1.6 kg / 3.5 lbs. The pack is made out of very sturdy nylon with PVC coating. The coating makes the fabric waterproof, so the pack is quite splash-proof. It's not waterproof on seams or zippers, and this is intentional - a completely waterproof pack would rot from the inside. If you want the real thing, use stuff sacks or a waterproof cover.
Factory new, made by Mil-Tec.
All products: Mil-Tec
Recommendations
Loading products...
Reviews
You have already submitted a review. You can edit your text by clicking on it.
Log in and write a review.
Remove filter
Suomi
(39)
English
(3)
I would recommend for a friend
Tuomas P.

01.06.2016 (Edited 11.11.2016)
Kaikin puolin toimiva reppu, lisätaskuja (Mil-Tec yleistasku Large) ja lisänä hankittua rinta-remmiä myöten (Särmä rintaremmi).

Mitä enemmän repussa on painoa niin sitä paremmin se istuu selkään ja paino myös jakautuu tasaisesti rintaremmin ja muiden kiristys mahdollisuuksien ansiosta.

Itse käytän reppua pääsääntöisesti työmatkalla, kun saan mahdutettua sinne työ sekä treeni kamat (Shakerit mahtuu Mil-Tec Large lisätaskuihin) ja se istuu tukevasti selkään kun poljen pyörällä.

Mil-Tecin Large kokoiset lisätaskut olen laittanut repun molemmille sivuille ja ne mahtuvat siihen mainiosti. Kiinnittämisessä oli hieman ongelmia, kun repun kiinnityslenkkien ompeleet olivat liian tiukat, eikä lisätaskujen hihnat meinanneet mahtua niistä. Hetken survomisen jälkeen tämäkin onnistui, joten en näe sitä suurena ongelmana.

Annan itse repulle tässä vaiheessa täydet 5/5 pistettä ja tulen myös antamaan arvostelun repun kestävyydestä pidemmän käytön jälkeen.

Vielä kun saan hommattua Mil-Tecin 3litran juomarakon niin se kruunaa tämän kokonaisuuden.
19
0
I would recommend for a friend
Joonas I.

13.06.2016 (Edited 25.05.2019)
Näin nopeasti katsottuna en löytänyt muilta kommenttia että mitä reppuun sopii. Mutta. Kyllä aivan oikein! KOPPAKALJAA mahtuu isoon osaan niin mahtavan hyvin vaikka olisi pahvikoppa. Myös iso läppäri (18.4" näytöllä) mahtuu reppuun ja tilaa jää vielä reilusti. Näitä kahta asiaa varten tämän ostin ja se toimii niihin täydellisesti.

Edittiä: reppu ollut nyt käytössä 3v ja edelleen täysin kunnossa, käytössä lähes päivittäin, kaikki vetoketjut ehjät kuten myös lokerot.
9
0
I would not recommend to a friend
Jaakko M.

03.07.2016 (Edited 06.07.2016)
Päästin kassin tuskistaan leikkelemällä kaikki jatkohyödynnettävät soljet talteen erinäisiä projekteja varten ja pistin loput roskiin.

Kovaa käyttöä reppu hintaisekseen kesti, siitä propsit. Taskujen jaottelu on fiksu ja lisää taskuja on helppo läiskiä kiinni tarpeiden mukaan. Mutta.

MilTec on MilTec: vetoketjut aukeilivat keskeltä, vetimet katkeilivat jo alkuvaiheessa, osa saumoista oli vähän niin ja näin. Isommalla kuormalla muuttui varsin inhottavaksi kantaa vähääkään pidempiä matkoja, mutta tämä johtui varmaankin siitä, että painopiste on helposti melko takana ja alhaalla.

Reppu oli kolmisen vuotta reeni- ja työreppuna, eli kilometrejä kertyi paljon. Metsään en reppua muutamaa kokeilua lukuunottamatta hennonnut ottaa, yllä mainituista syistä.

TL;DR: hintaisekseen ihan kelpo peli kaupungille, mutta luotto ei ihan riitä pidemmille metsäreissuille.
34
15
I would recommend for a friend
Anssi

15.08.2016 (Edited 01.09.2016)
Pätevä reppu ainakin urbaaniin ympäristöön.
8
1
I would recommend for a friend
Pekka H.

05.10.2016 (Edited 11.11.2016)
Hyvä hintaisekseen. Yksi sauma ratkesi noin kuukauden käytön jälkeen, mutta sen korjasi vähemmällä vaivalla itse kuin palautus ja uuden tuotteen hakeminen postista olisi vaatinut. Tilaa on melkein liian paljon, mutta onhan tää Large. Tähän mahtuu mukavasti esimerkiksi kolme viinitonkkaa + muuta sälää.
2
1
I would recommend for a friend
Tuukka P.

06.10.2016 (Edited 11.11.2016)
Hintaansa nähden todella hyvä - kavereilla ollut muutamilla saumojen kanssa ongelmia, mutta omassa kappaleessani ei ole ollut. Tilaa riittää ja etenkin saunareissuille tämä on omiaan: isoon taskuun menee 24-laatikko sihijuomaa ja pienempään taskuun vaatteet ja muut rojut
5
2
I would not recommend to a friend
Kari A.

27.11.2016 (Edited 28.11.2016)
Oikein kätevä ja käytännöllinen rakenne, joskin päätaskun sisällä olevan verkkotaskun suulla voisi olla kuminauha, jotta tasku ei löpsyisi ympäriinsä ja vaikeuttaisi muun päätaskun käyttöä.

Osat ovat (ainakin pari vuotta sitten tehtyissä repuissa) myös selkeästi vähän sekundaa: kaverin kappaleesta hajosi toisen olkahihnan pituussäädin vajaan vuoden käytön jälkeen; omassani taas päätaskun lukot alkoivat löystyä (=ketjut eivät menneet enää kiinni) n. 2,5 vuoden aktiivisen käytön jälkeen, eivätkä olleet korjattavissa kärkipihdellä.

Sanoisin, että hinta-laatusuhteeltaan silti ihan toimiva reppu - "en suosittele"-merkintä lähinnä niitä varten, jotka hakevat pitkäikäisempää kantolaitetta.
9
9
I would recommend for a friend
Antto H.

20.12.2016 (Edited 22.12.2016)
Jos tänne ei viikonlopun tavaroita saa mahtumaan niin ei sitten minnekään. Rintaremmi vielä olisi 5/5. Toisen ison taskun verkko ei valitettavasti kestä meikäläisen kovakouraista käsittelyä. Vika käyttäjässä, ei tuotteessa.
6
0
I would recommend for a friend
juha s.

21.02.2017 (Edited 31.05.2021)
Hyvä reppu. Omaani tilasin vielä pienen ja keskikokoisen lisätasku pullolle ja sadeviitalle. Toimii kokoajan lähtövalmiina olevana kahden yön pakkauksena erinomaisesti. Ilman lisätaskuja mahtui hienosti junan laukkuhyllylle, taskujen kanssa vähän huonommin. Koko antaa mahdollisuuden pakata painavalla tavaralla liian painavaksi, ja silloin rangaton reppu muuttuu kivisäkiksi. Vaatetta ja pikkupurtavaa kantaa kuin unelma.
1
0