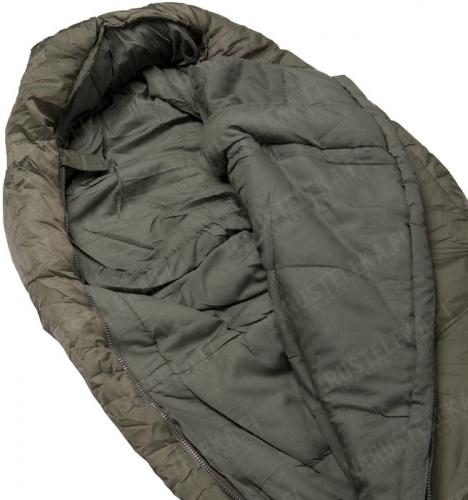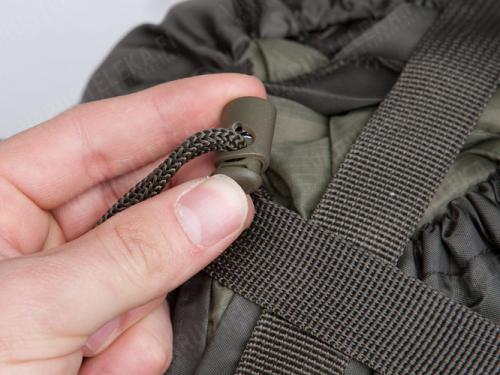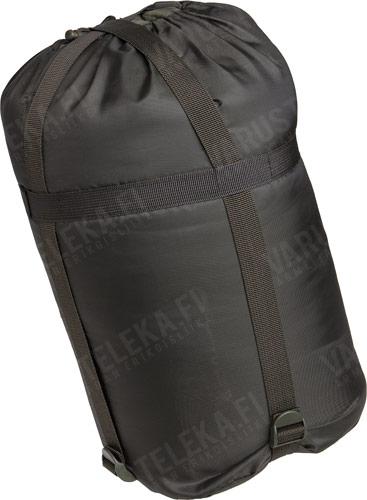 Mil-Tec
Mil-Tec 3D Hollowfiber sleeping bag
Price 54.99 USD
excluding sales tax
This is a surprisingly high-quality three-season bag, complete with a compression sack. A word of warning: if you are big, you will have a hard time fitting inside!
This product is unlikely to be restocked and will be hidden from our website once it's out of stock.
Discontinued product.
Trouble with the metric system? Try our converter: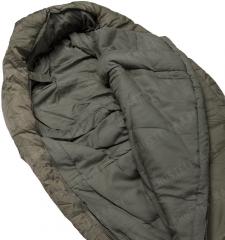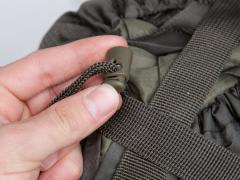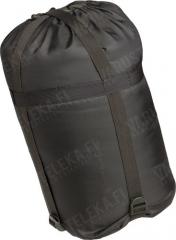 This is a surprisingly high-quality three-season bag, complete with a compression sack. A word of warning: if you are big, you will have a hard time fitting inside!
The Thing with this bag is the construction and the materials: very simple & durable all around, with 3D Hollowfiber filling (two layers), polyamide outer fabric, and polycotton lining. The layered Hollowfiber stuffing simply means better insulation for a reduced thickness.
Other things include a drawcord tightening at the hood and inside on chest level to further increase the insulation. There's also a small pocket inside for all kinds of tiny stuff you might want to keep with you. Outside on the foot end are two loops for hanging the bag.
Measuremets 230 x 70 x 55 cm / (90.5" x 27.5" x 21.5"), compressed about 40 x 25 cm / 15.5" x 10". Weight about 2.05 kg / 4.5 lbs. The 70 cm / 27.5" shoulder width means that you have to be size Small to Medium if you're planning on closing the bag too! Even still this isn't the roomiest model available.
Unfortunately no data on min/max temperatures, but our tests showed this still works up to a few degrees below zero, further down if you know what you're doing.
Wash at 40 degrees Celsius (104 F), air dry only (hang dry). We suggest washing only when it's absolutely necessary, as every wash does harm to the insulation properties. Use a liner bag instead and wash it when it gets covered in sweat and other bodily fluids.
Factory new, made by Mil-Tec.
Staff comments
Considering the price, the quality of this sleeping bag seems amazing. We're talking simple, robust construction with a very efficient 3D Hollowfiber filling, a combination that produces a light and remarkably warm sleeping bag. During field testing, we concluded that in -10 ºC a grown man will get some sleep wearing only a pair of boxers, although things did get a bit chilly in the early morning hours. With some proper thermal wear I feel fairly confident in saying you'd be fine in -20 ºC. For comparison, the FDF sleeping bag, which is considered by many to be a brilliant winter bag, was found to be slightly less warm.
To sum it up: cheap, simple, effective and robust. I'd probably pay some 150 € quite happily for a bag like this in a sports store.
Arne
All products: Mil-Tec
Recommendations
Loading products...
Reviews
You have already submitted a review. You can edit your text by clicking on it. You can filter the reviews by clicking on the elements of the summary.
Log in and write a review. You can filter the reviews by clicking on the elements of the summary.
Remove filter
Suomi
(11)
English
(7)
I would recommend for a friend
Rasmus B.

30.08.2016

Verified purchase
The description of this bag is pretty good. only thing I would add is the fact that it's pretty narrow. Mostly I fit onto an XL both in pants, shirts, jackets etc. But i must choose between zipping this bag all the way or breathing, can't have both.
So far only slept in it at -4 but that was not a problem. I'll click "would recommend" but only if your skinny.
22
2
I would recommend for a friend
Henri S.

03.01.2017

Verified purchase
Hinta-laatu-suhteeltaan oikein pätevä. Tuli ostettua 2015 syysjotokselle, missä yöt meni pakkaselle ja pussi oli erittäin lämmin.
Ainoa miinus on koko. Pussin sulkeminen ja käsien mahduttaminen 182cm ja 90kg jässikälle tuotti tarpeetonta vaivaa ja tuskaista ahtautta. Jos intin pusseissa mahtui ihan hyvin liikuttelemaan raajojaan, niin näissä liikkumavara voi jäädä sormi/varvastasolle. Eli jos et ole H&M-malliston kaltainen kukkakeppi, vaan omaat etenkin kunnon hartiat, niin kannattaa harkita kahdesti.
+ Lämmin ja hyvät materiaalit. (Warm and good materials)
- Ahdas. (Too slim cut)
11
1
I would recommend for a friend
viljo h.

02.02.2017

Verified purchase
I would recommend for a friend
Kari S.

01.04.2017

Verified purchase
Hyvä makuupussi. Pärjää hyvin pienissä pakkasissa. Meikäläiselle ongelmia tuottaa, että on liian kapea, joten ei mahdu mukavasti kääntymään(Olen 185cm pitkä ja hartianleveys on aika normaali). Lisäksi vetoketju on juuri siinä reunassa, jonka kyljellä tykkään nukkua, joten painaa ikävästi. Muuten hyvä peli.
2
1
I would recommend for a friend
Teemu M.

09.04.2017

⚠ Unverified purchase
Hyvä makuupussi materiaaleiltaan. Testasin laavulla -6 pakkasessa. Aluksi lämmin, mutta jalkopäästä lämpö tuntui haihtuvan pakkasen kiriessä. Pussissa on jostain syystä kaksipäinen vetoketju, minkä vuoksi jalkopäähän jää lovi, josta lämpö pääsee karkaamaan. Pakkasta aamuyöstä -6, päällä merinokerrasto + villasukat ja heräsin siihen, että jaloilla oli kylmä. En menis tällä pussilla kyllä -6 astetta kylmemmillä keleillä nukkumaan, mutta 3-vuodenajan pussiksi hyvä.
3
0
I would not recommend to a friend
Lasse R.

09.05.2017

Verified purchase
Vuosi sitten ostin ja 3 yötä ehdin käyttää. Ensinnäkin 90kg ja 180cm kokoiselle todella ahdas. Lisäksi nyt huomasin että vetoketjukin oli mennyt rikki näiden kolmen käyttökerran aikana. Reissu taas edessä, joten pitää ottaa tää sit peitoksi mukaan.
12
0
I would recommend for a friend
Harri V.

17.05.2017

⚠ Unverified purchase
Vaikka luin edellisten käyttäjien kommentit lämpimyydestä, niin en jotenki uskonu tämän hintaluokan pussista. Mutta yks yö kevätkoleassa kelissä riippumatossa näytti että kyllä se pitää paikkaansa. Keli nollassa, eikä kylmä tullu. Hyvä hintaansa nähden!
4
1
I would recommend for a friend
Ville H.

04.07.2017

Verified purchase
Nyt kun on neljän vuodenajan reissuja takana tällä pussilla+sillä parin kympin fleece-sisäpussilla (kombo jonka ostin täysin kokeeksi mentaliteetilla ei voi toimia tähän hintaan), niin uskaltaa jo kehua hintalaatu-suhdetta erinomaiseksi. Tavallaan jo aiemmissakin arvioissa esitettyjä hintaluokalle ominaisia pikkufeeluja löytyy koko ajan lisää, mutta ydinbisnes eli nukkuminen mukavasti kylmässäkin sujuu hyvin. Olen 173 cm lyhyt ja alin lämpötila jossa tällä pussilla olen nukkunut laavussa (merinokerrasto päällä ja sukat jalassa) kertaakaan palelematta oli -12 tai -13 C. Suurin piirtein nollakeleillä tässä pussissa on nukkunut teltassa helposti pelkissä boksereissa, eikä pussi tämän kokoiselle kaverille mitenkään ahdas ole jos ei nyt tilavakaan. Vertautuu tilan puolesta Joutsenen vanhoihin muumiopusseihin.

Niitä pikkufeeluja ovat esim. suojapussin ompeleet, jotka ovat aika heikkoa tekoa. Ekalla reissulla pakkasin aamulla pussia vähän runnoen ja heti tuli pieniä repeämiä, joten sen jälkeen olen vähän varovaisemmin tuota käsitellyt. Toisekseen vetoketju aukeaa hieman epäloogisesti jalkopäästäkin ja on vähän vempula kaikkiin aikaisemmin käyttämääni pusseihin (Joutsen ja Savotta) verrattuna eli nukkumaan mennessä vetoketjun joutuu varmistamaan jalkopäästä hyvin hollille.
6
1
I would recommend for a friend
Teemu H.

22.10.2017

Verified purchase
Yli vuoden käytön perusteella en käyttäisi pussia sellaisenaan, jos lämpötila on alle -1 tai enemmän. Kerrastolla ja lakanalla tässä pärjää mukavasti pikku pakkasilla. Vetoketju ei meinaa pysyä kiinni. Aukenee monesti yön aikana 10-20cm matkan ja saa olla sulkemassa ettei lämpö pakene pussista. Tosin lämpö pakenee muutenkin vetoketjun kohdalta sillä tätä lämmön pakoa estävä toppaus ei toimi tarpeeksi hyvin. Makuupussi hengittää kuitenkin hyvin, ehkä edellä mainituista syistä, eikä kosteus ole ollut kertaakaan ongelma, kuivuu myös nopeasti. Sisällä kangas hämmästyttävän miellyttävän tuntuinen, jokin puuvillasekoite?
Kompressiopussi on paska ja saumat soi.
Mikäli hinta ei olisi näin alhainen antaisin 2 tähteä enkä suosittelisi, mutta tähän hintaan mikä ettei.
6
0