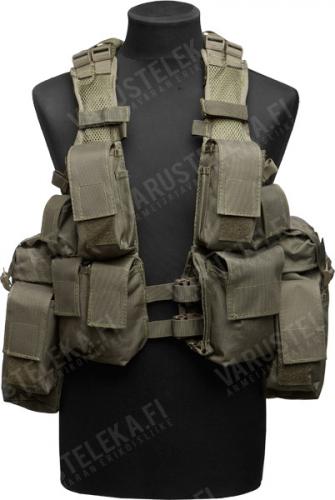 MFH SAAV M83 combat vest
Price 29.95 EUR 39.99 EUR including VAT
Trouble with the metric system? Try our converter: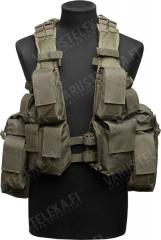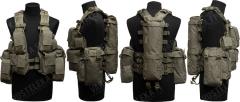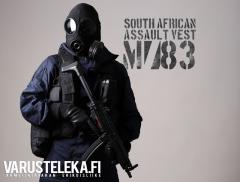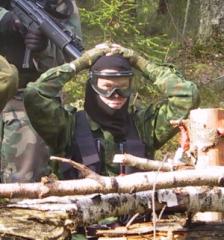 When we were young and virile, we used to play airsoft wearing these copies of the South African apartheid era combat vests. No wonder - good price, loads of pockets and comfortable to wear.
The SAAV (South African Assault Vest) is a proper good solution for carrying your stuff around. Easily enough for a day's work.
6 mag pouches, room for a total of 10 mags.
A small general purpose pouch and two smaller for grenades/compasses/PMR radio etc.
Two large side pouches: work as large GP pouches, water bottle pouches or dump pouches. Easy to handle & large capacity.
A rucksack part divided into two compartments. You can cut the divider out if you want to, making it into one large space.
More stuff can be attached to the rucksack with the provided straps and loops.
Which mags fit in?
These mags fit
M16, M4, FAMAS etc.: 10 pcs
MP5 mags, about 20 pcs
AUG mags about 6-10 pcs, might require some stretching
G3, FAL & M14 mags about 4-6 pcs, barely
These mags do not fit
AK mags - in theory you can stuff five of these in, but there are way better vests for them
P90 mags. Don't even ask.
Other long SMG mags, like MP40.
Pro tips
Load it up like this:
Mags to the mag pouches (!)
If you have a sidearm, it'll fit the lower right mag pouch.
PMR radio goes to the small pocket near the left shoulder
Reloading tools or grenades front general purpose pouch
BB's and rain cape to the left side pouch
Rations and first aid to the right side pouch
Drinking bladder gos to the backpack part, with the tube over the left shoulder. Secure it with a zip tie.
Naturally you can haul all kinds of shit in the pack, like rain gear or a pullover.
Adjustable for up to euro size 52 people. Any bigger than this, and you'll have trouble. Unless you decide to lenghten the adjustment straps, which isn't too hard.
Made by MFH, these are basically low-price copies of the originals, decent for paintball/airsoft etc. use.
These might also interest you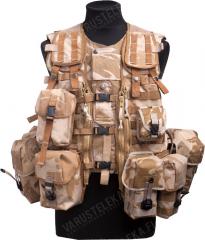 British Osprey load bearing vest package, Desert DPM, surplus
39.99 EUR
Similar product.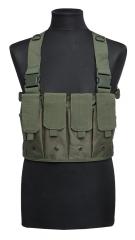 Mil-Tec Mag Carrier Chestig
19.99 EUR
Similar product.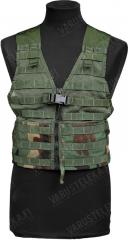 US MOLLE II FLC vest, surplus
39.99 EUR
Similar product.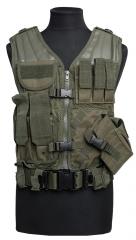 Mil-Tec Cross Draw Vest
54.99 EUR
Similar product.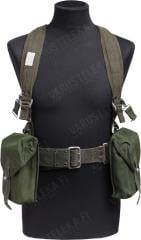 Swedish webbing set 304, used
9.99 EUR
Often viewed together.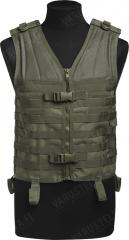 Mil-Tec Modular System Carrier vest
32.99 EUR
Similar product.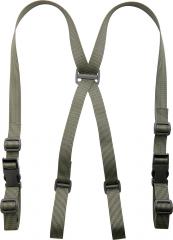 Do-It-Yourself kit: webbing suspenders
7.92 - 12.31 EUR
Often viewed together.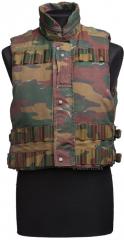 Belgian fragmentation vest with padding material, surplus
12.95 EUR 19.99 EUR
Often viewed together.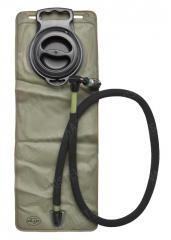 Mil-Tec water bladder, 3,0 l
14.95 EUR 19.99 EUR
Might be of interest.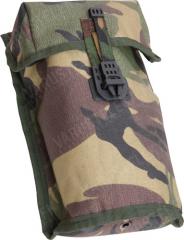 Dutch MOLLE pouch, canteen, surplus
9.99 EUR
Might be of interest.
Log in and write a review.