Large tent, 480 x 480 x 320 cm, with accessories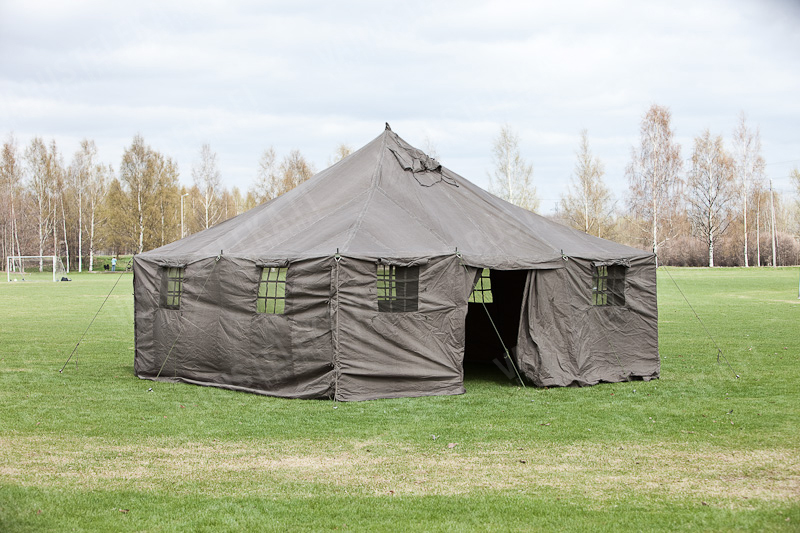 In stock 1 pcs
Last in stock
Products in stock are also available in our walk-in store.
Trouble with the metric system? Try our converter:
These might also interest you
Savotta water bag
19.99 EUR
A strong bag to haul about 10 litres of water. Will stand abuse and stay up on its own when full. Packs to a lump about the size of your fist. Needless to say, this would be a handy thing to have around when camping or hunting.
A very spacious tent that can house plenty of people. New and top-notch quality.
These tents are square shaped and offer a lot of room - in fact these are bigger than most single bedroom apartments, each side is 480 cm long. The center pole is about 320 cm, making the tent slope down towards the sides which are about 160 cm high.
Features include: two doors, windows on all sides and a roof hatch. Doors, windows and hatches can be closed with flaps. All sides can be raised, so that this tent can double as a canopy tent in outdoor events for instance.
The complete tent weighs about 50 kg and includes:
The tent itself with a carry bag
A set of metal poles with a carrier
10 tent poles
10 tent pegs
1 peg hammer
peg ropes
1 metal frame for roof hatch
1 carry bag
Assembly is quite easy and requires two people:
find a suitable spot for the tent, note that the tent takes a lot of space
assembly begins with the corner poles - put up opposite poles and peg them to the ground
repeat this process on all sides
tent corners should be buttoned together
finally, the center pole is put into place and then raised
Dissassembly can be done alone, just go through the assembly steps in reversed order.
Important:
Usually we have a couple of tents in stock, but if for some reason we dont, delivery time is about 2 weeks.
No Cash-on-delivery for large tents! We only accept the Online Bank Transfer method, i.e. payment beforehand. Be sure to choose the right payment method when ordering.
Shipping abroad: No. "The poles are too long", said the postal service. Welcome to the future. Domestically these are fine.
Log in and write a review.