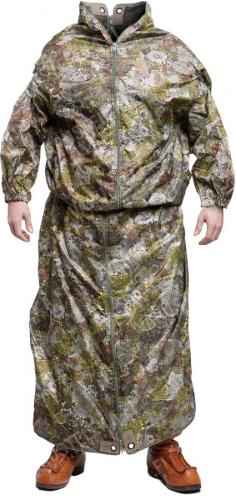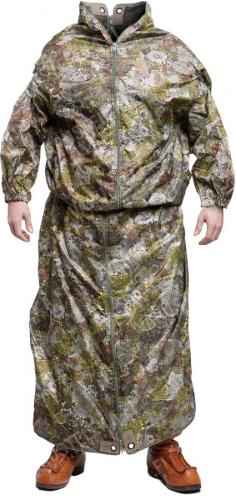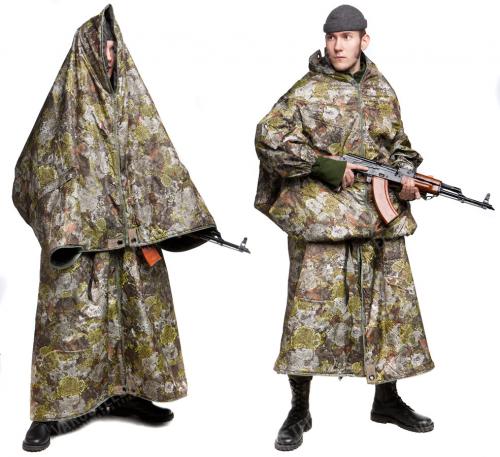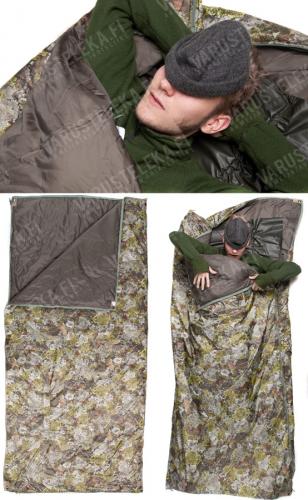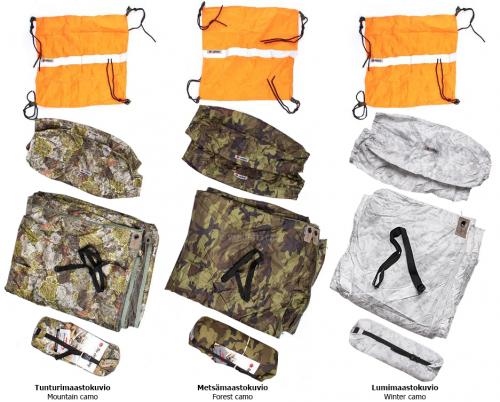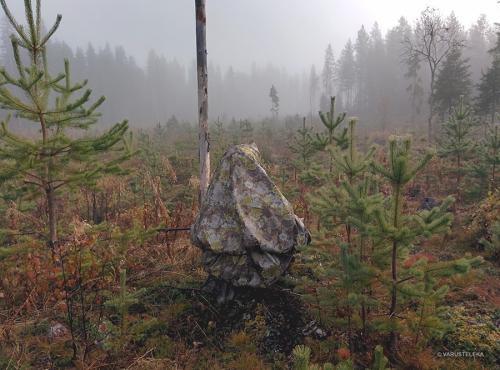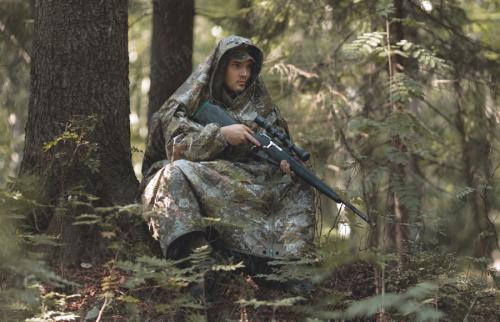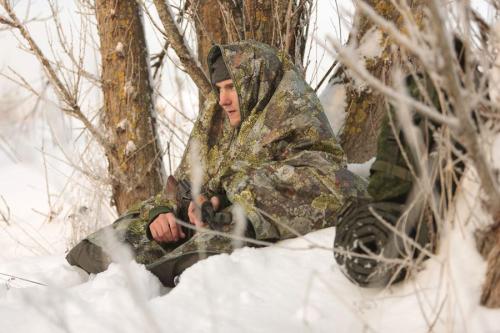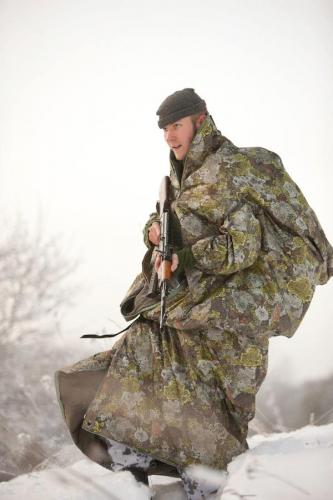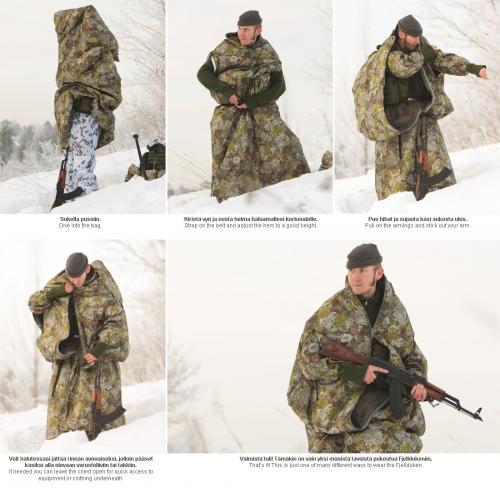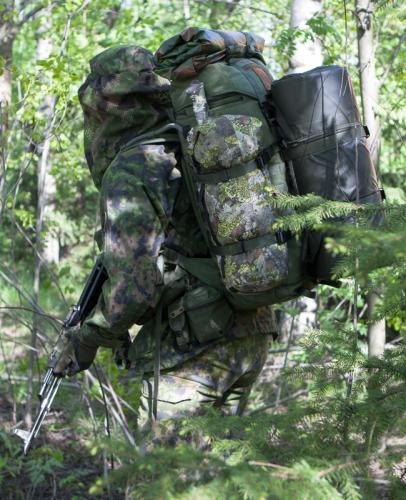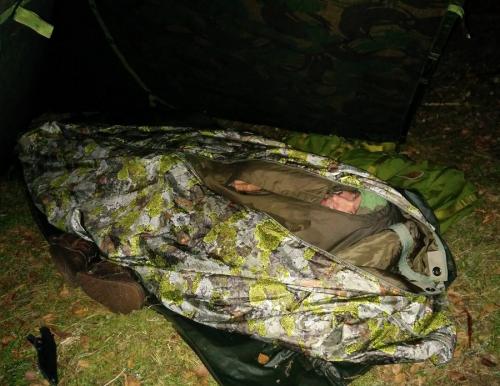 Jerven Fjellduken Hunter
Price 206.99 USD 275.99 USD excluding VAT
A Jerven bag is simply the best thing money can buy, honestly. The Hunter was designed especially for hunters but soon adopted by the military as well. A sleeping bag, shelter tarp and a coat-like windsack all in one, but without compromise - the Fjellduken excels in all its forms!
Loading products...
Trouble with the metric system? Try our converter: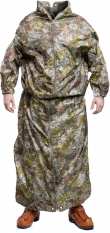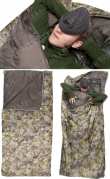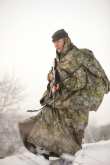 A Jerven bag is simply the best thing money can buy, honestly. The Hunter was designed especially for hunters but soon adopted by the military as well. A sleeping bag, shelter tarp and a coat-like windsack all in one, but without compromise - the Fjellduken excels in all its forms!
The Hunter is one of the first Fjellduken designs lined for warmth, it is a proven design, very popular among the hunters it was designed for and soldiers alike, it has even got its own NATO stock number. The heavier Fjellduken Extreme, designed by order of the military to work as a sleeping bag in winter, is based on the Hunter design, just with over double the filling.
You won't find any hi-fi bullshit in your Jerven bag, the technical bits start and end at the zippers, that's it. All of Jervens products are made and developed by the very same people who use them. The unique design and materials make the Jerven bag an incredibly versatile and high performing piece of equipment. This is not your standard modern trinket, which relies on never ending lists of one after another more trivial properties and features to impress people, this is simple perfection at its best!
The package includes
The Fjellduk Hunter itself, 204 x 220 cm open, 102 x 220 cm when zipped shut. Warm 60 g/m2 PrimaLoft lining. Weight 1500 g.
A compression bag, a great, simple designed, fold and roll the mouth and secure and compress it with two adjustable straps.
A pair of Armings, sleeves made from the same material as the Jervenbag itself.
A 150 cm long belt, to secure the Fjellduken around your waist in its overcoat-like configuration.
A rescue flag, 50 x 50 cm in size. Never go out in the wilderness without this little life insurance in your pocket!
Online user manuals
The good people at Jerven As have been so kind as to provide their user manuals viewable online:
Numerous applications
Tarp or shelter

The 2 x 2,2 m Fjellduken is just the size you need to construct just about any kind of windshield or shelter. Each corner has a leather reinforced grommet for pegs or lines. The aluminium coating reflects heat, the principle is the same that emergency blankets rely on. This means that heat from a fire, stove or your very body won't go to waste. We won't go into detail regarding every different setup there is, otherwise you'd run out of coffee before this write-up is over with.

Cloak or poncho

Using the zippers and the belt you can turn your Fjellduken into a simple overcoat for sitting on watch. This loose fitting poncho style thing may look like something out of the Dark Ages, but performs very well. You can either keep your hands under the folds with your rifle, or stick them out through zippered openings and wear the Armings that come with the Fjellduken.

This is the perfect setup for a hunter or wildlife photographer, you can keep your hands and tools, be it rifle or camera, warm and ready under the Fjellduken, to be pulled out in an instant when the moment comes. The Fjellduken will keep your hands warm and trigger finger ready to feel the squeeze.

The Fjellduken is a treasured piece of kit in a soldiers pack - it is very popular among snipers, for apparent reasons. "From personal experience I can say that laying motionless on the wet moss inside a camouflaged observation post for hours on end through a freezing autumn night, staring at some bloody road through your NVG can really eat at you. That is one of those moments that I wish I'd had something like the Fjellduken."

This kind of a cloak is just the thing when stopping for a break, pull it on, zip it up, get out your field stove and get a cup of coffee going - all inside the Fjellduken! Zipping it up like a windsack around you let's you fiddle around inside with whatever you like, no matter the weather outside. You can also zip up the edges and wear the Fjellduken as a poncho, it's large enough to cover most backpacks!

Sleeping bag

The Fjellduken Hunter is intended to also work as a sleeping bag, so this is no trivial feature. Fold it and zip it up, you now have a 100 x 220 cm sleeping bag with all around insulation against wind, rain and cold, all zippers are two-way and double sided, so you can operate them from inside the bag. The large size means that you can easily fit kit and clothes inside.

The filling, 60 g/m2 Primaloft, is great stuff, it doesn't absorb water and is highly effective even in thin layers. Combined with the water and wind proof JervenTextile you get an unsurpassable combination that takes you through spring, summer and autumn by ease. When the temperature drops even more and winter sets in, just add an appropriate sleeping bag inside your Fjellduken. The air sandwiched between the two bags further add to the insulation, and even just a fleece liner makes a remarkable difference.
Materials
Shell: JervenTextile - 100% water and windproof, aluminium coated polyester. Really tough, a 5 cm wide strip can carry a 50 kg weight!
Filling: PrimaLoft 60g/m2 - Primaloft was developed for the US military. It does not absorb water, thus keeping you warm no matter what the conditions are. PrimaLoft filling is a recent upgrade in Jervens inventory, they started using it in 2011.
Zippers: YKK - a high quality maker you can trust. All are two-way and double sided. These are sewn on with thought, making it almost impossible for the zippers to snag onto the lining.
Care
Nothing lasts for ever, but the Fjellduken will serve you for decades if you look after it properly. The Fjellduken Extreme should never be machine washed, if you absolutely need to wash yours, do it by hand and air dry only. After washes or prolonged use it is recommended to treat the Fjellduken with a water repellant spray to keep it waterproof. If you stab a hole in yours there are patches available, contact us if the need arises!
Material limits
However wonderful the Jervenbag is it still obeys the laws of physics. The content of this section is probably self explanatory to most people interested in the Fjellduken, but let's make it clear.
Waterproof:JervenTexile is a 100% waterproof material, but the construction is not. Zippers and grommets can let in water, wind and snow, just like any sleeping bag. These matters are easy to overcome - fold the zips downwards and pinch in the corners, or just cover the grommets with tape!
Condensation: The 100% waterproof JervenTextile doesn't let in water and neither does it let it out, this means condensation. "Oh no" you say, "no Gore-Tex?" Run and hide if you can't live with some moisture, the level of condensation within the bag is nothing to worry about.
This, however leads to maintenance - just like women, your Fjellduken requires some attention after use. Unlike women though, your Fjellduken is quite satisfied by simply getting hung out to dry over a door or line. Remember this before folding it onto the shelf after a walk in the woods, or else you will have a very expensive piece of smelly, moist cloth, still 100% waterproof and warm though!
The good people of Jerven have through decades of experience and testing come to the conclusion that a 100% waterproof material with some condensation is far superior to a breathable membrane, that will eventually let in water. Jerven products last for decades due to the strength of the materials used and high quality of construction, trust the Jerven staff when they say that this really can't get any better - they really know what they're talking about!
Some scientific facts

"The most extreme test was carried out in Finland in co-operation with Dr. Hannu Rintamäki at Oulu Regional Institute of Occupational Health. In the wind tunnels in Oulu the temperature was lowered to -40°C, and with the wind factor this corresponds to minus 80 degrees. During such conditions naked skin would freeze in 15 seconds. The test-persons therefore had to be inside the Jerven Bag before the fans were switched on."

Testin tulokset: "Inside the Jerven Bag Original: -20°C, a difference of 60°C outside/inside. Inside the Jerven Bag Thermo Extreme: +8°C!!, a difference of 88°C outside/inside."
10 year warranty
This is really something, Jerven offers their products a 10 year warranty, such trust in ones work is not found often, if at all, these days, even moreso when talking about kit for field use! The warranty covers manufacturing flaws in the textile and seams, not fires, stabbings or you losing your camouflage Fjellduken in the woods. The Fjellduken usually has a lifespan of 10-15 years, so we are really talking about something here that is worth the money!
Made by Jerven of Norway
Jerven bag, those are almost words of power among hunters, outdoorsmen and soldiers the world over. Jerven has been making the Fjellduken since 1982, besides the obvious hunting trips and hikes the Fjellduken has seen action in Afghanistan in the hands of Norwegian and Danish special forces and even the Finnish defence forces have recently adopted Jerven bags for arctic use.
Recommendations
Loading products...
Reviews
You have already submitted a review. You can edit your text by clicking on it.
Log in and write a review.
Remove filter
Suomi
(1)
English
(1)
I would recommend for a friend
Alf W.

15.05.2017 (Edited 23.05.2017)
I have a Jerven Fjellduken Hunter, the best think I have!
A true life saver, not a day in the woods without it, easy to pack, easy to set up, warm, windproof and waterproof.
Will most likley get med a Jerven original to and I'm ready to take on what ever weather mother nature swing at me, no matter where I am!
12
3
I would recommend for a friend
Juha-Pekka A.

19.06.2019 (Edited 14.07.2019)
Harkitsin pitkän aikaa ostanko Jerven Fjelldukenin vaiko Särmä TST:n Lämpöviitan. Molemmat tuntuivat tuotekuvauksen ja arvosteluiden pohjalta varmoilta valinnoilta molemmat. Lopulta asian ratkaisi Fjelldukenin eduksi alennusmyynti.

Hyvä tuotehan tässä on kyseessä. Pari pientä murheenkryyniä kuitenkin löytyy. Purjerenkaat päästävät ilmaa vaihtumaan suljetussa tunturiviitassa, niin hyvässä kuin varmasti myös huonossa mielessä. Vetoketjun hampaiden väliin tunturiviitan sisäpuoli jää herkästi, ja sivujen yhdistäminen vetimiin vaatii esimerkiksi takkeihin ja makuupusseihin verrattuna enemmän tarkkuutta. Internetin ihmeellisestä maailmasta löydettyjen arvioiden mukaan Primaloft-täyte saattaa "paakkuuntua" vuosien käytössä ja menettää eristyskykyään, vaikka onkin tehokkaampi lämmöneristäjä kuin Climashield, mikäli käytetään samoja g/m2-määriä. Armingsien hyödyllisyys on kysymysmerkki, mutta vetoketjulliset aukot käsille ovat Fjelldukenin ehdoton etu.
0
0