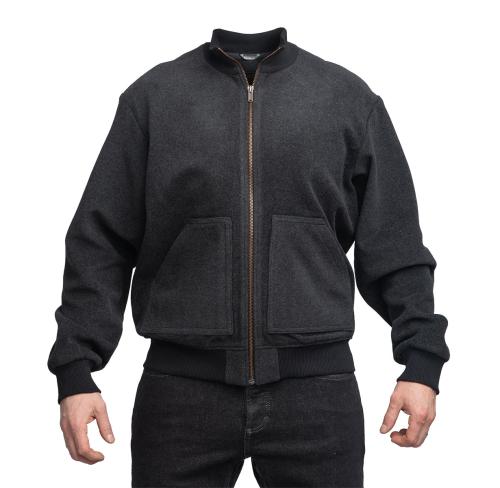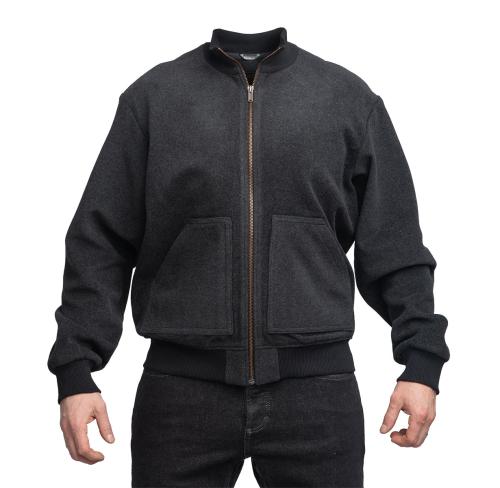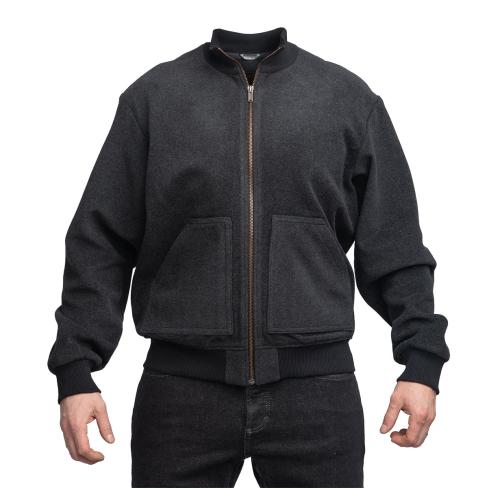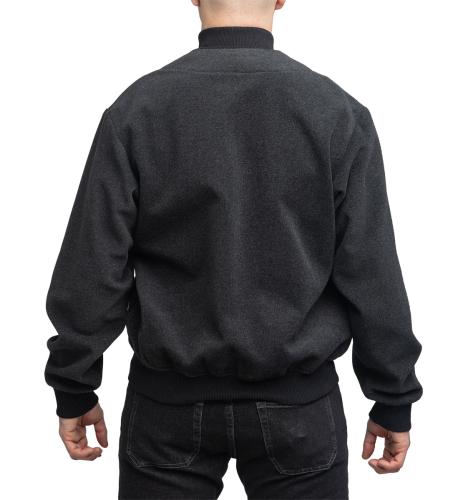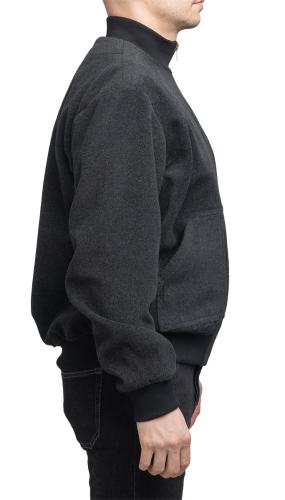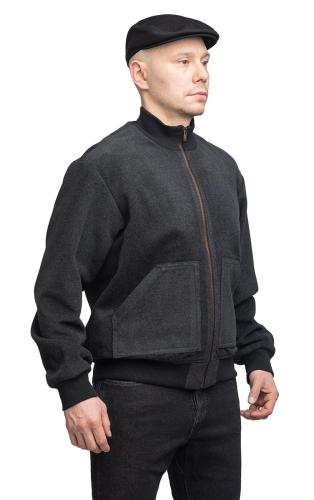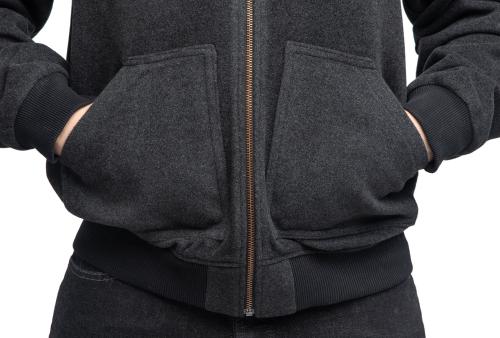 Hand-warming pockets in the front.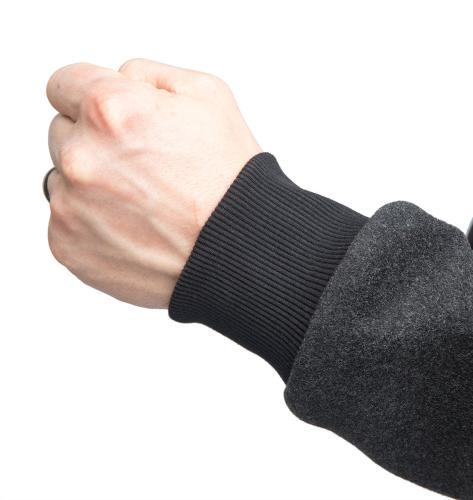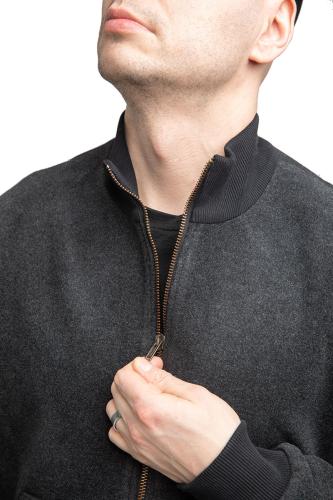 Metal zipper all the way up.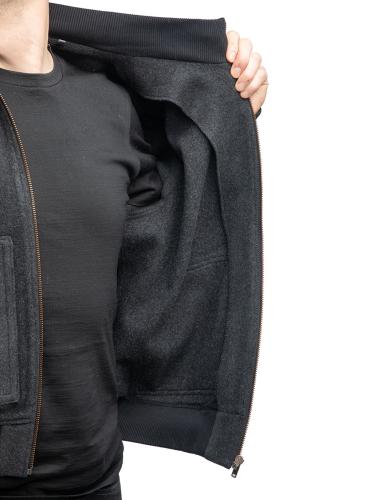 Very simple and neat also on the inside.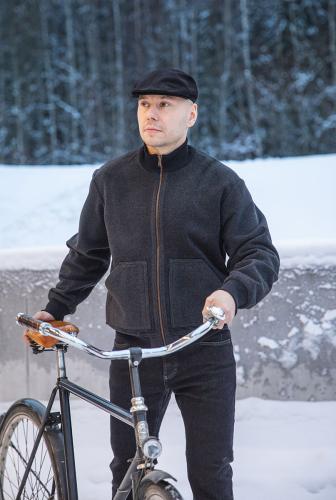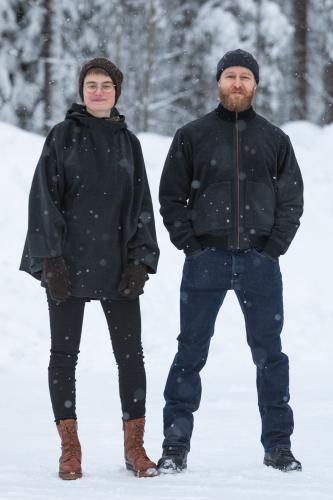 Left: the Luxury Gray Luhka. Right: Jämä Wool Bomber Jacket.
Jämä
Jämä Wool Bomber Jacket
Price 149.99 USD
excluding sales tax
Is your appearance a bit dangerous but also stylish? One who knows dance steps and table manners, but does not lose a finger pulling match to a lout bothering your evening? This classic Wool Bomber Jacket oozes such sharpness but the appropriate skills you can't buy.
Loading products...
Trouble with the metric system? Try our converter: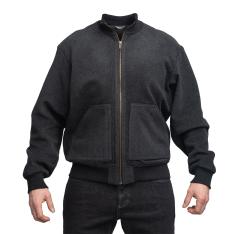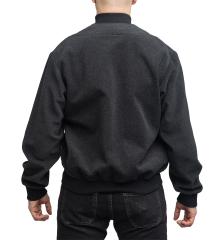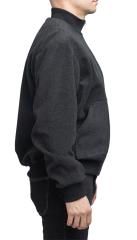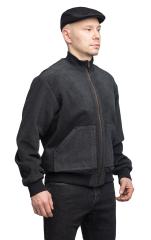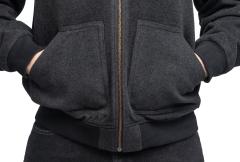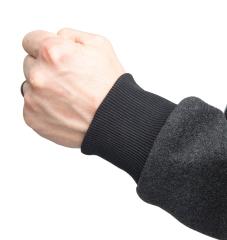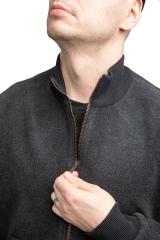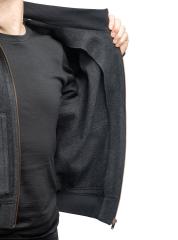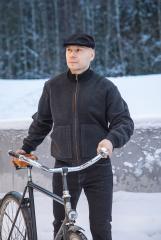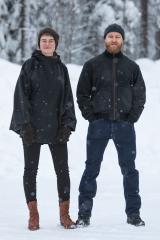 Is your appearance a bit dangerous but also stylish? One who knows dance steps and table manners, but does not lose a finger pulling match to a lout bothering your evening? This classic Wool Bomber Jacket oozes such sharpness but the appropriate skills you can't buy.
A short jacket accentuates the waist and makes your physique appear taller and stronger. These also have a long military heritage as flight jackets and tank crew jackets had a short waist for practical reasons. By the end of WWII, most armies fighting on the European continent issued such jackets as the British Battledress Blouse or US Tanker Jacket.
The Jämä Wool Bomber Jacket is a continuation of this family of jackets and true to the archetypal form: later on, it will be impossible to date these to a certain year or fashion trend as it's a timeless piece of garment.
The jacket has everything necessary and as little as possible: ribbed hem, cuffs, and collar, zip-up front, and two front pockets. The streamlined details make it a swell thermal layer under a shell jacket in foul weather.
Made in Finland.
Material options
As so often is the case, we make these from surplus and factory seconds that are available. The ribs are black.
Luxury Gray
A fabric that would be more durable, soft, and functional is hard to imagine. Weight 335 g/m2, 75% Wool, 20% Polyamide, and 5% Cashmere.
Jacket weight, size Medium: approx. 650 g / 1.4 lbs
Size Info
Designed for layering in varying conditions, the jacket allows for a thick woolly pully without binding. If you are commonly between two sizes, the smaller one may be advisable in this case.
Below, you'll find measurements of the garment itself. The widths are measured laid flat, the chest is from armpit to armpit. The center back length is measured from the bottom of the collar and the sleeve length from the shoulder seam, including the cuff.
Wool Bomber Jacket (Metric)
| Size | Chest Width | Back Length | Sleeve Length |
| --- | --- | --- | --- |
| X-Small | 52 cm | 67 cm | 64 cm |
| Small | 56 cm | 67 cm | 64 cm |
| Medium | 60 cm | 69 cm | 66 cm |
| Large | 64 cm | 69 cm | 67 cm |
| X-Large | 68 cm | 71 cm | 69 cm |
| 2X-Large | 73 cm | 73 cm | 69 cm |
Wool Bomber Jacket (Inches)
| Size | Chest Width | Back Length | Sleeve Length |
| --- | --- | --- | --- |
| X-Small | 20.5" | 26.4" | 25.2" |
| Small | 22.1" | 26.4" | 25.2" |
| Medium | 23.6" | 27.2" | 26.0" |
| Large | 25.2" | 27.2" | 26.4" |
| X-Large | 26.8" | 28.0" | 27.2" |
| 2X-Large | 28.7" | 28.7" | 27.2" |
Kierto Circular Economy
Return this product used but clean and unbroken, and you'll receive half of the product's original price as Varusteleka credits. Service is available only in Finland. Only Registered users can make Kierto returns. See more information about Kierto.
Jämä is upcycled surplus
Jämä is a Finnish word meaning leftovers or scraps. It's also one of our house brands for equipment made from recycled or surplus materials. From time to time we accumulate stuff that doesn't sell well but is made out of outstanding materials. We've also got several capable seamstresses here, and the equation is pretty clear: cut that useless stuff apart and sew it back together to create something useful.
Because Finnish labor is one of the most expensive in the world, these are very simple, practical and rugged in design. Our development and prototype production remains in-house while most of the production is outsourced to Turku and other cities - still within Finland. Simplicity means strength: the fewer parts there are, the smaller the chance of breaking anything. Read more about Jämä.
All products: Jämä
Recommendations
Loading products...
Reviews
You have already submitted a review. You can edit your text by clicking on it.
Log in and write a review.
Remove filter
Suomi
(2)
English
(6)
I would recommend for a friend
Henrik N.

03.02.2022 (Edited 03.02.2022)
I just got mine, and I have to say that you were absolutely not kidding about the quality of the luxury gray fabric. It's pleasantly soft to the touch, yet dense and solid-feeling. Wherever you sourced it from, get as much as you possibly can!

Quality-wise, there is nothing to fault, every stitch and detail is spot on. You pay for the quality of the fabric and the skilled work that went into it, not random details and gimmicks or in-your-face branding.

The fit is good, I'm at the upper end of the recommended chest size for XL and it fits perfectly. I can fit a sweater underneath without binding, and the jacket doesn't look excessively baggy if I wear it by itself. Lengthwise you would only face problems if you're very tall and/or have a rather long torso, but that's common to all bomber jackets.

This is really a "10/10 get one now!" review, but I'm holding half a star back, just in case the fabric doesn't wear as well as I think it will. I'm pretty sure it will last a long time, though.
4
0
I would recommend for a friend
Timo I.

04.02.2022
Takki saapui ja hieman ristiriitaiset tunnelmat. Hyvännäköinen ja tuntuinen, mutta jotenkin vähän köykäinen kuitenkin. En tiedä, nähtäväksi jää, miten toimii käytössä. Keveys ja ohuus voi toimiakin tosi hyvin katukäytössä pienen lämpökerroksen kera, mutta ehkä toiveestani käyttää tätä muutenkin kerrospukeutumiseen (ainakin asfalttiteiden ulkopuolella) joutuu luopumaan. Joka tapauksessa saat vähän herraskaisen oloisen, mukavan tuntuisen takin.
2
1
I would recommend for a friend
Veeti R.

04.02.2022
Ensireaktio oli ehkä pieni pettymys, kun olin olettanut että kangas olisi jotain armeijasarkaa vastaavaa, mutta onkin aika lähellä Särmän harmaata villakenttäpuseroa. Toisin sanoen talvitakiksi aika ohut. Lisäksi alaselkään tuntuu pussiutuvan liikaa materiaalia ja mm. tämän takia vähän kömpelö välikerroksena. Kuitenkin laadukkaan oloinen, kangas on todella miellyttävää ja soveltuupahan sitten pidemmälle kevääseen. Joku ylijäämähuopa tai -sarka voisi toimia materiaalina. Pieniestä kritiikistä huolimatta olen tyytyväinen.
1
0
I would recommend for a friend
Gerard B.

07.02.2022
excellent alternative

1) Can be worn as layer L3 or L4 'stand alone'
2) Extremely useful as layer L3/L4 under leather jackets instead of 'crappy' synthetic fleece.
3) A great supplement to the Jämä Blanket Shirt for outdoor survivalkit.

Note:
I will add myself additional 500D Cordura elbow and shoulder reinforcements for more durability.
2
0
I would recommend for a friend
Kevin R.

10.02.2022
I just recieved mine, and was incredibly impressed with the hand of this fabric. VERY soft to the touch, no itchyness against the skin whatsoever (alas, I don't care about that but I know many are sensitive). Fantastic fit, quite light for being wool. Top notch stuff. If I wear this on a date, and it doesn't hook her, the chick is not worth it.
0
0
I would recommend for a friend
Will B.

18.02.2022 (Edited 18.02.2022)
This is a great jacket. Well made, handsome, incredibly soft, and warm for it's weight. My only design critique is of the inner loop for hanging the jacket - it's not rugged and I could easily see it wearing out before long if you hang with haste.

A note on the fit, specific to me. I opted for a medium even though I'm 6'2" because I wanted to use this to layer under rather than over other items. I noticed that the back length was the same between medium and large, so I thought, "Perfect, I'll get the more snug fit that I want without risking going too short on the back (since I assumed the large size would have a back length that would fit me best)."

Turns out that the length is not quite long enough for my long torso, so this jacket rides up on me. Otherwise, I nailed the fit I was looking for. Still plenty of arm and shoulder room in a medium for a lanky guy, but snug enough that I could wear a canvas bomber over it.

I knew this was a bomber design, so I understood I was going to be cutting it close in back length. Every body is different, but if you think you have a longer-than-average torso relative to your other proportions, maybe reconsider.
0
0
I would recommend for a friend
Dimitry W.

21.02.2022
First ill start with the cons. Not many to be honest. But no chin zipper guard is the biggest con. Second its a bit too bulky to wear as a midlayer to be honest. Will also creep up all the time as a midlayer. The good : the material used in this jacket is just amazing. Its softer than any merino wool sweater i got, it feels tougher and looks better. This material next to skin is like a dream coming true believe it or not. As a outer jacket with a t-shirt in not too cold weather this jacket is great. Or inside as a sweater.. i can't take it off its that soft. Honestly i wish i was working at the place they make this material so i can pay em to make EVERY single piece of clothing i own out of this material so i can replace everything with it. Its that good! Please make more stuff with this!
0
0
I would recommend for a friend
Christian T.

10.03.2022
Got it yesterday, and i must say, that i am very happy with it. I took it half a size smaller (i am between Large and XLarge), and it is a cosy fit. Although it will be worn as base layer, cause in this size, i cannot use a thicker layer underneath. It will replace my old wool-vest.
0
0