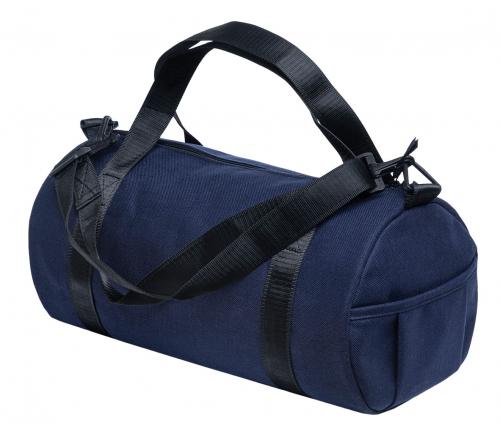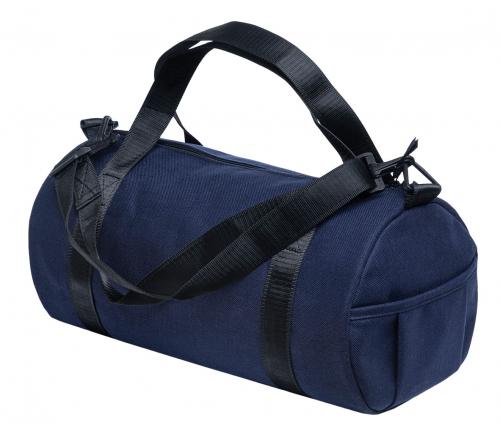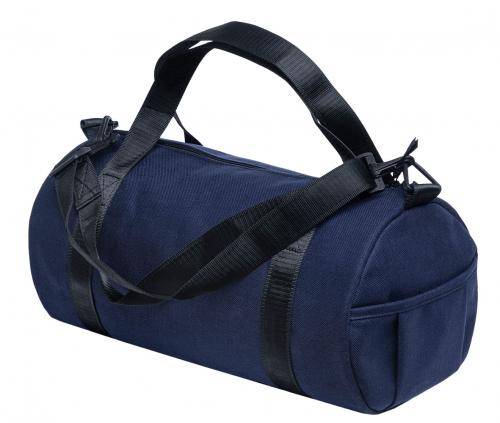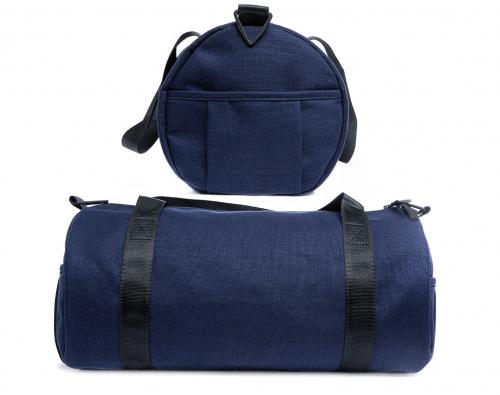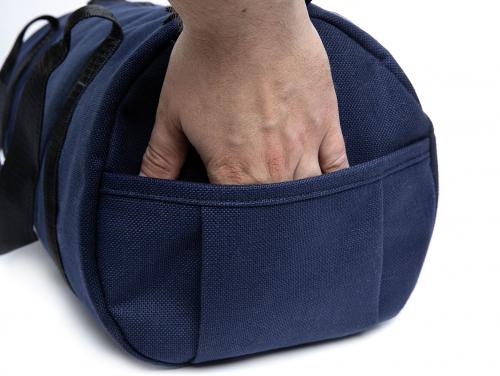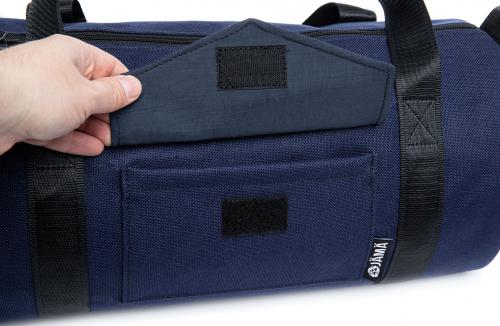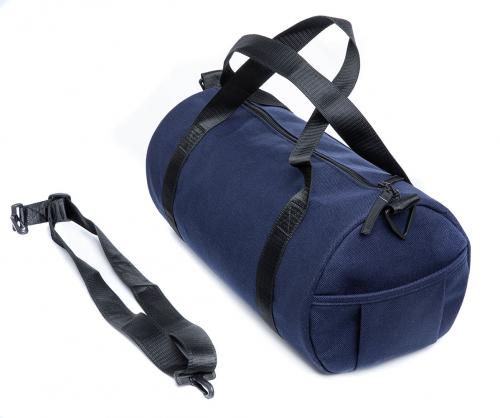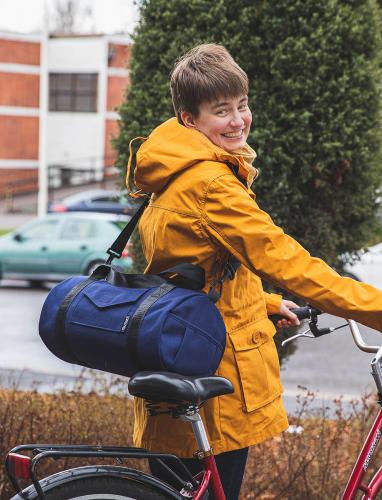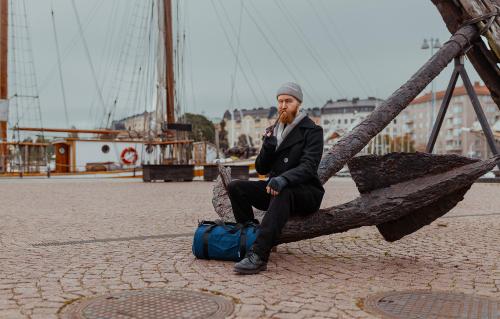 Show all: Jämä
Jämä Duffel Bag
Price 104.99 USD
excluding sales tax
How about a damn cool 20-liter duffel bag? Perfect for gym gear, for work, or anything that requires a soft, compact, and easy to carry bag. Made from durable surplus materials in Finland.
Loading products...
Trouble with the metric system? Try our converter: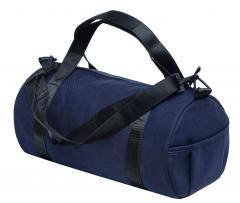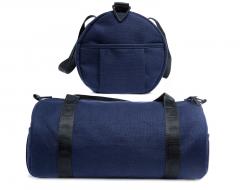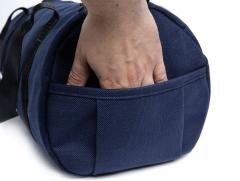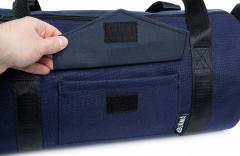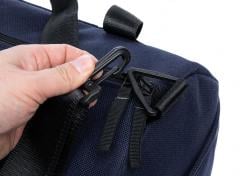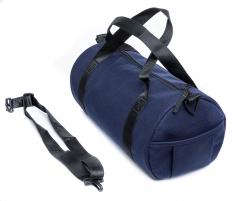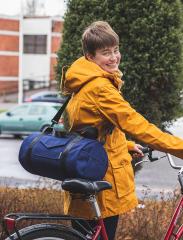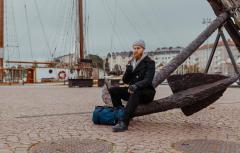 How about a damn cool 20-liter duffel bag? Perfect for gym gear, for work, or anything that requires a soft, compact, and easy to carry bag. Made from durable surplus materials in Finland.
Some '80s children might remember the tubular bag craze. It was nice to stuff your school books, a hundred bottles of hairspray, and Twisted Sister cassettes in one of these awesome bags. The beautiful round shape is familiar to younger folks, too since (even) cool things become fashionable again and again. This bag type is so clever that it is worth using even if you don't care about trends. And that's why we wanted to create our own version of it, too.
Materials and care
We made our own tubular Jämä Duffel Bag from various surplus materials, and it turned out great. Because it is surplus, the materials and colors will change from time to time.
Navy blue
The navy blue Jämä Duffel Bag is made from durable cotton/polyester awning fabric that was found in a dark corner of a mystical warehouse. To be precise, three slightly different fabrics. However, the differences are very difficult to see. Someone whose superpowers are of the visual kind might notice that one of the fabrics is a bit shinier, the other is a tiny bit more purple, and the third is matt navy blue. Nevertheless, the end result is charmingly harmonious. The lining fabric is polyester that has been used for lining leather bags.
The general rule of thumb for washing this bag is not to wash it. These bags don't normally need it anyway. However, if you have a pressing need to remove some oops-related gunk, chemical cleaning is the ideal option. The laundry wizards will know how to help you
Compartments and pockets
The 20-liter main compartment is pretty straightforward. Just open the zipper and shove in the stuff you need. The zipper, however, is of that clever self-locking kind that won't open on its own and spill your gear all over the place. It does open smoothly with a soft purr when you pull the zipper. And one of the inside walls has a zippered side pocket for a wallet, cell phone, or other small items.
Furthermore, there is also a small velcro pocket on one side. And both ends feature a small open pocket.
Size information
Jämä Duffel Bag's capacity is 20 liters. The diameter of the tube is 25 cm (9.8") and the length 47 cm (18.5"). It is pretty nicely sized for regular gym gear and such. And if you don't overfill it with rigid equipment, it will also fit in the hand luggage compartment of an airplane even without senseless violence. The shoulder strap is adjustable between 69–117 cm (27.2-46.1").
Jämä is upcycled surplus
Jämä is a Finnish word meaning leftovers or scraps. It's also one of our house brands for equipment made from recycled or surplus materials. From time to time we accumulate stuff that doesn't sell well but is made out of outstanding materials. We've also got several capable seamstresses here, and the equation is pretty clear: cut that useless stuff apart and sew it back together to create something useful.
Because Finnish labor is one of the most expensive in the world, these are very simple, practical and rugged in design. Our development and prototype production remains in-house while most of the production is outsourced to Turku and other cities - still within Finland. Simplicity means strength: the fewer parts there are, the smaller the chance of breaking anything. Read more about Jämä.
Recommendations
Loading products...
Reviews
You have already submitted a review. You can edit your text by clicking on it.
Log in and write a review.
Remove filter
Suomi
(2)
English
(1)
I would recommend for a friend
Jere L.

10.05.2020 (Edited 06.06.2021)
Materiaali tuntuu siltä, ettei kassi mene helpolla rikki. Kassi on laadukkaasti tehty eikä sitä ole tehneet kiinalaiset lapset. Vallan mainio kassi.
4
0
I would recommend for a friend
Henrik N.

03.11.2020 (Edited 06.06.2021)
Absolutely perfect gym bag, fits what you need, sits nicely on your back for biking, solid and reassuring materials and build quality. This is a real gem!
1
0
I would recommend for a friend
Esa L.

08.11.2020 (Edited 06.06.2021)
Hieno kassi! Tässä ei tee mieli raahata mitään raskasta ja samalla rahalla saisi varmasti ostettua 120 litran edestä keikkalaukkuja, mutta onhan tää ns. "magee".

Muutaman kuukauden jälkeen en ole mitään ongelmia havainnut. Olkahihnan klipsut ja lenkit ovat muovia, mutta vaikuttavat tukevilta; jos tätä alkaa lastata lyijyllä ja kultaharkoilla, tulee raja varmaankin vastaan ennemmin olkapään kuin klipsujen kanssa. Sellaiseen käyttöön hommaisin mieluummin laukun jossa on olkaremmit reppumaiseen kantoon.

Suosittelen jos tarkoituksena on nimenomaan hommata pieni putkikassi kevyiden asioiden kantamiseen jonka materiaali tuntuu sen verran jykevältä ettei se ihan heti mene rikki. Hinta on raju, mutta muuta valittamista en ole vielä laukusta keksinyt.
1
0
Kierto Circular Economy
Return this product used but clean and unbroken, and you'll receive half of the product's original price as Varusteleka credits. Service is available only in Finland. Only Registered users can make Kierto returns. See more information about Kierto.