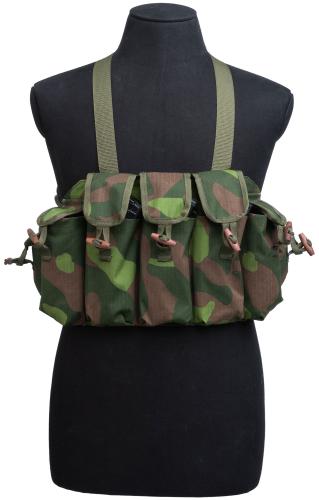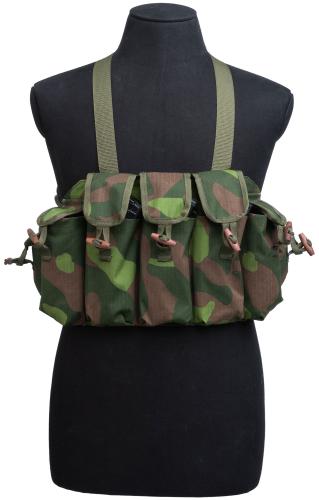 Three single mag pouches.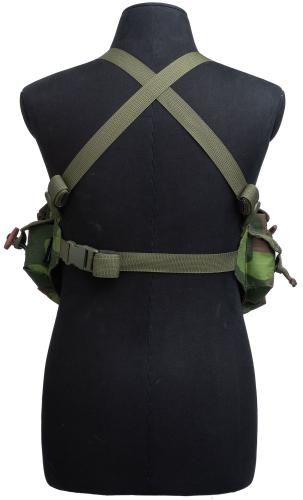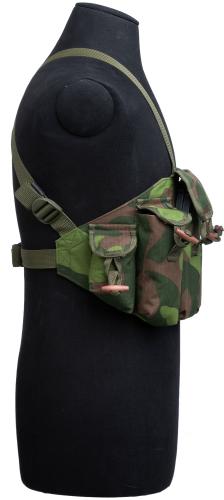 More pouches on the sides.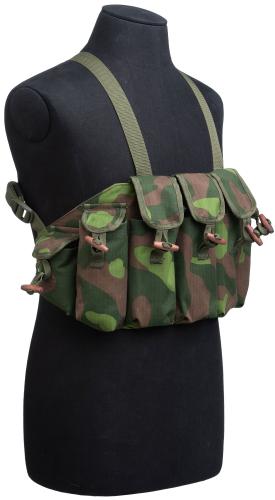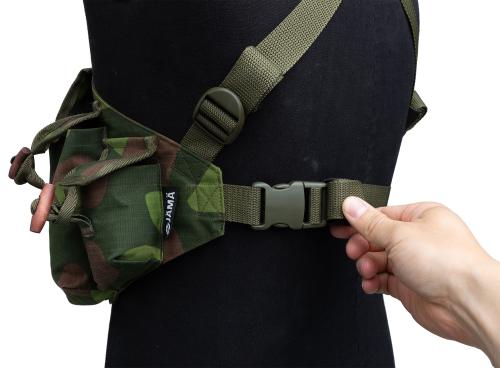 The straps are managed by One-Wraps.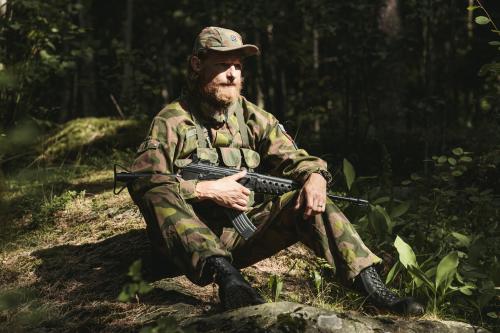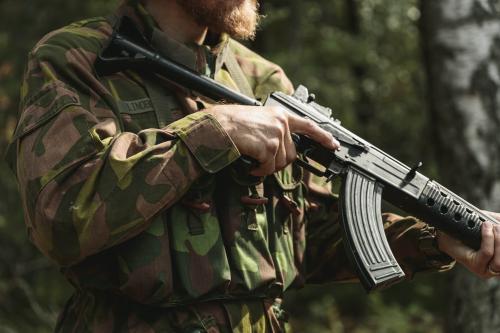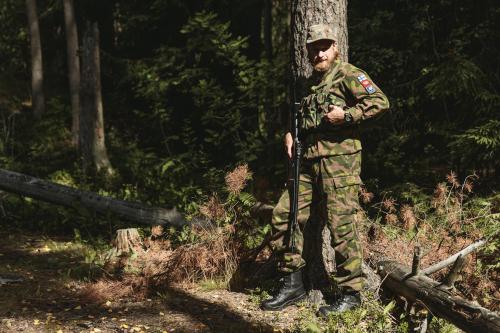 He is so proud of his gear.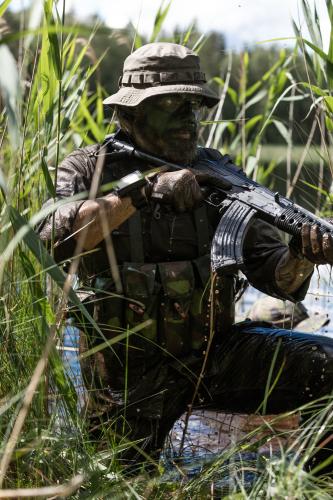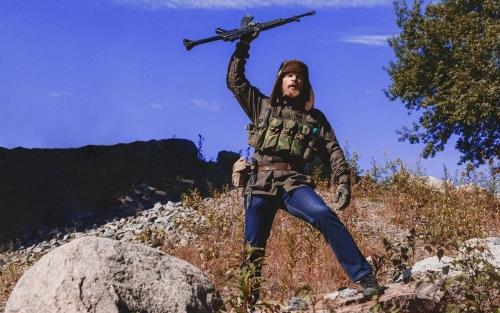 Jämä
Jämä Chest Rig
Price 85.99 USD 99.99 USD
excluding sales tax
All you Finnish M91 camo pattern enthusiasts better have a box of tissues handy, for this here is the next Wonder of the World: a Chicom-style chest rig in M91 camo pattern!
Loading products...
Trouble with the metric system? Try our converter: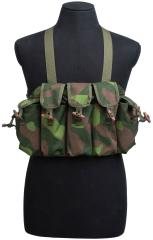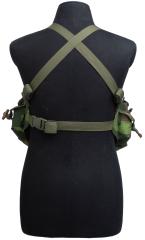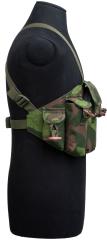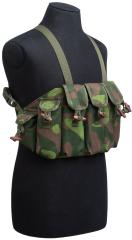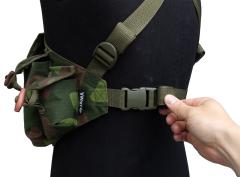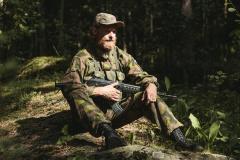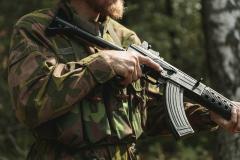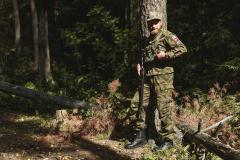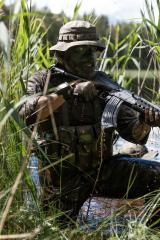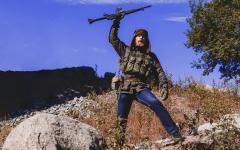 All you Finnish M91 camo pattern enthusiasts better have a box of tissues handy, for this here is the next Wonder of the World: a Chicom-style chest rig in M91 camo pattern!
Some time ago we were messing with the idea of having a Chicom pat. 56 chest rig made from some obsolete Finnish camo surplus fabric. We asked ourselves, is this a good idea? No, it is a great idea – and here they are!
Features
The Jämä Chest Rig seems like an artifact born out of someone time traveling to the past, and corrupting the timeline. Instead of the old M85 thing, and the newer M05 combat vest, Finns now have a semi-tactical chest rig for warfighting through evil thickets and shrubs. While this chest rig has some actually sound features, we definitely went ahead with mostly looks and feels in mind. The material is some long-forgotten but unspoiled surplus fabric from Savotta. It is a tough rip-stop fabric with a (most likely) PU coating. The shoulder straps are also surplus, but of a modern kind. Unfortunately we had to use brand new buckles from YKK. However – get a load of this – we didn't pull any punches with the pouches; they come with very handsome and practical wooden duffle buttons. The best thing about this chest rig is that you don't even have to use it for anything, it works just fine as eye candy. If you nonetheless decide to use it as a chest rig, it has:
Three single pouches for AK mags (Finnish RK not invented in this timeline)
Two pouches with similar width but shorter in height, e.g. for TQs and other first aid stuff
Two smaller hand grenade pouches for, well, hand grenades – or a walkie talkie and some treats
1.2" / 30 mm shoulder straps, which can be managed after fitting with the included One-Wrap webbing
Combined with the M98 "Duck Hat", this chest rig gives a +5 bonus to all charisma rolls for random encounters with the townsfolk
Kierto Circular Economy
Return this product used but clean and unbroken, and you'll receive half of the product's original price as Varusteleka credits. Service is available only in Finland. Only Registered users can make Kierto returns. See more information about Kierto.
Jämä is dead, long live Jämä
January 27, 2023: we have decided to end the Jämä brand. The nature of surplus materials always made it difficult to maintain the selection of products, and consistency was a struggle. At some point, we realized that the hit products Luhka and Blanket Shirt themselves were far stronger than the parent brand, and our efforts to make Särmä more sustainable have brought it to a point where these Jämä products actually fit nicely under that umbrella.
As military history shows, don't get into a war on two fronts if you can help it. To focus our efforts better, we're pulling the plug on Jämä but the two most popular garments, the Luhka and Blanket Shirt, become Särmä items. Small-batch projects from surplus materials are possible in the future and will be Särmä as well.
All products: Jämä
Recommendations
Loading products...
Reviews
You have already submitted a review. You can edit your text by clicking on it. You can filter the reviews by clicking on the elements of the summary.
Log in and write a review. You can filter the reviews by clicking on the elements of the summary.
Remove filter
Suomi
(1)
English
(1)
I would recommend for a friend
Aleksi B.

14.08.2022

Verified purchase
Yksinkertainen, tyylikäs, kevyt ja toimiva chestrig. Omistin jo m/91 univormun ja tämä on ihan täydellinen lisä siihen. Nykyään sitä kaipaa just tällaista simppeliä ja valmista sotavälinettä, tässä mollen täyttämässä maailmassa.

Tavarat pysyivät ryynätessä taskujen sisällä ja chestrig pysyi jämäkästi päällä, eikä haitannut menoa. Tällaisen jos saisi vielä m05 kuosilla, niin voi veljet.
5
9
I would not recommend to a friend
Christopher A.

19.08.2022

Verified purchase
I gave it 2 stars because its sexy looking for a Chi-Com chest rig. However that's where the romance starts and finishes. This thing is sloppy and super lightweight. When I say lightweight I don't mean it weighs nothing, I mean its flimsy like a ragged out gym sock. It appears to be the same material used on their Jämä M91-Luhka... AK mags flop side to side in the cells and do not seat properly. The toggles are a joke and the neck in the mag cells are WAY TOO SHORT and wide. You will lose a mag with this thing. A front side mag flew out and skipped across the floor just picking this up in the house. Then upon investigating I saw that I can literally take a mag out of a front side pouch w/o un-toggling the flap. This is the definition of Tacticool where looks override practical usefulness... This purchase will cost me a few hours under the sewing machine to try to make this thing useable.. If you're serious about your kit working properly avoid this thing.
29
0