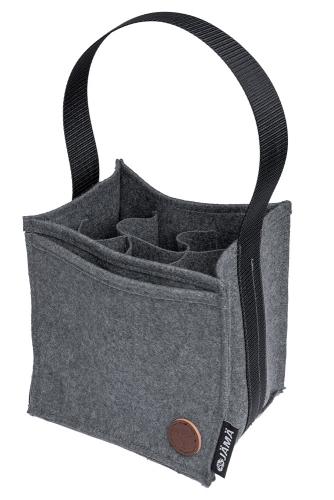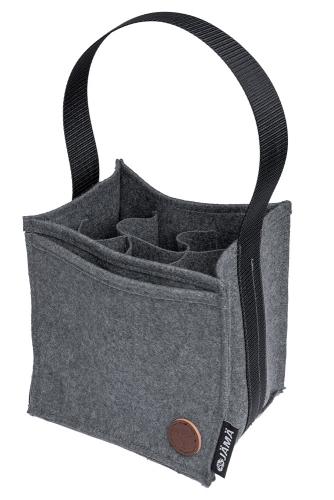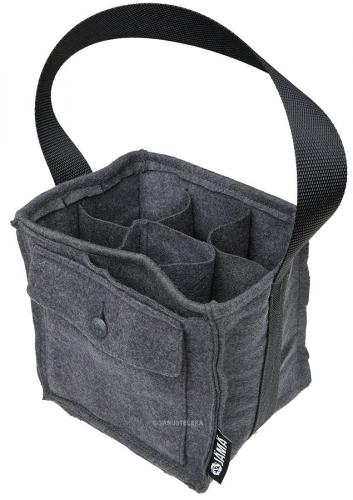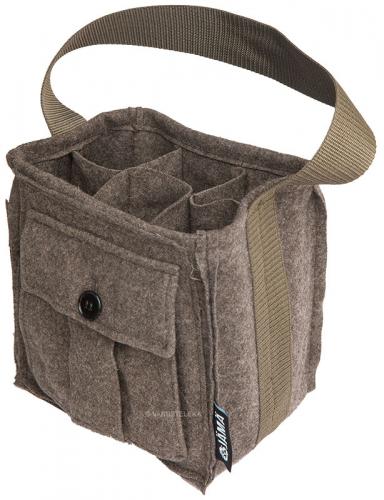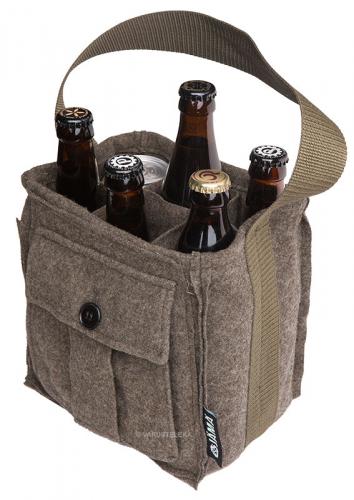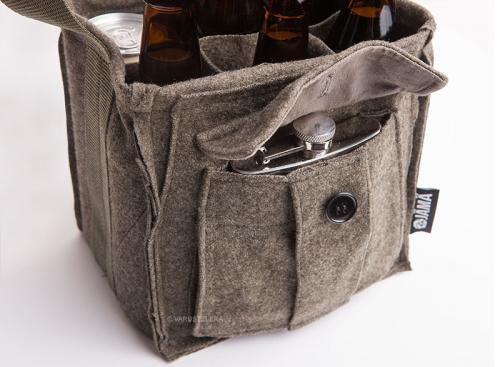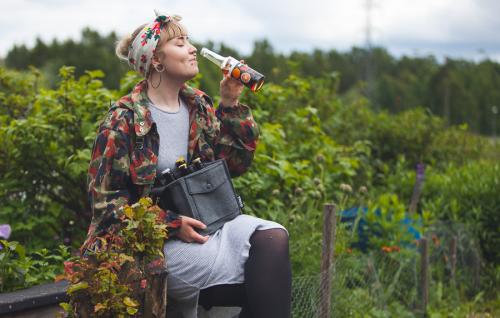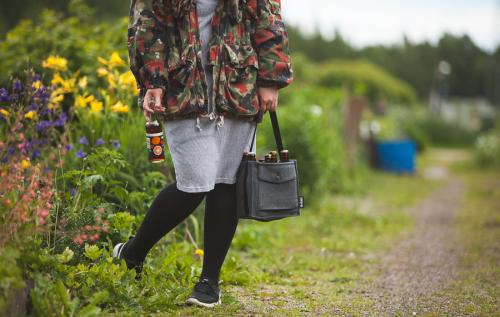 Show all: Jämä
Jämä bag beer bag
Price 26.99 USD
excluding sales tax
Yes, this is cool. A bag for six bottles of beer made from recycled military surplus. We know you like it. Still, you can't fully appreciate our bag beer bag unless you understand Finnish "bag beering" culture.
Loading products...
Trouble with the metric system? Try our converter: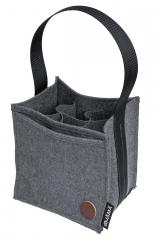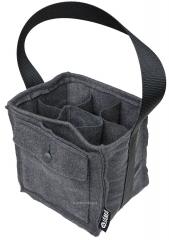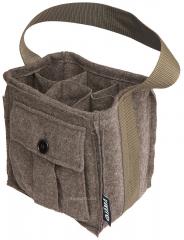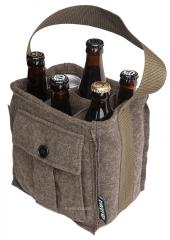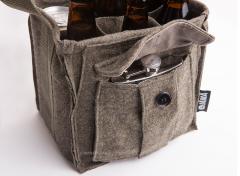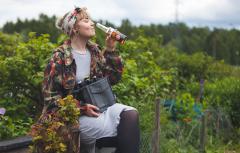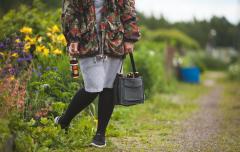 Yes, this is cool. A bag for six bottles of beer made from recycled military surplus. We know you like it. Still, you can't fully appreciate our bag beer bag unless you understand Finnish "bag beering" culture.
The thing is, our winters are cold and dismal. Up north, you've got the beautiful snow scenes and all, but it's still cold as fuck. Down here at the capital, it's not just cold - it's cold, but most of the time the temperature wiggles over and under freezing point, which means it's cold and wet, and yes, sometimes there's snow, but most of the time you've got ice and slush. And then we have the darkness. During wintertime, us Finns hunker down in our homes, complaining about how hard work is (or not having work), and the national hobby, alcohol, is usually mixed with misery and the odd bit of domestic violence.
But we have summers. Finnish summers. They're short, yes, but they're beautiful - warmth, lush green nature, and sun that might set a bit here in the south, but not early and not for long. Enter bag beering. Bag beering or "pussikaljoittelu" is the Finnish version of a picnic. You buy a bagful of beer (one bagful is called "Kalpalinna") and you go out with your friends. And by out, this means literally out - out into the forest, into public parks, into malls, where ever. And you drink beer until morning.
There's a reason all of us have birthdays early in the year.
So yes, to combine craft beer awareness with bag beering, we bring you this bag beering bag. It fits six "regular" craft beer bottles perfectly, and there's an outer pocket for a bottle opener, condoms, and whatever you feel is necessary for bag beering. (This fits six bottles under 0,5 liters or a dozen small cans of beer.)
If you're a craft beer-loving hipster-like us, you don't want to further destroy the world with plastic bags, which would be the classical bag beering equipment. No, you want to save the world by using our reusable bag beer bag, made from recycled materials. It does have the additional bonus of very effectively protecting the bottles. Furthermore, the material is rather insulating.
Pro tip: As with US military canteen pouches, you can soak this in water to keep the contents cool for a longer time. It's physics.
Materials vary
Due to the nature of Jämä Production, the raw materials we make more stuff out of varies. These are made in batches, and they come and go and evolve over time.
Swedish wool - made of Swedish army M/39 wool jackets (so small that people won't buy them) and strong polyester straps. A closed pocket on the front.
Finnish wool - good and proper stuff, these have a little pocket on the front.
Jämä is upcycled surplus
Jämä is a Finnish word meaning leftovers or scraps. It's also one of our house brands for equipment made from recycled or surplus materials. From time to time we accumulate stuff that doesn't sell well but is made out of outstanding materials. We've also got several capable seamstresses here, and the equation is pretty clear: cut that useless stuff apart and sew it back together to create something useful.
Because Finnish labor is one of the most expensive in the world, these are very simple, practical and rugged in design. Our development and prototype production remains in-house while most of the production is outsourced to Turku and other cities - still within Finland. Simplicity means strength: the fewer parts there are, the smaller the chance of breaking anything. Read more about Jämä.
Recommendations
Loading products...
Reviews
You have already submitted a review. You can edit your text by clicking on it.
Log in and write a review.
Remove filter
Suomi
(3)
English
(2)
I would recommend for a friend
Tuomo M.

24.11.2016 (Edited 29.11.2016)
Tekee minkä lupaa ja kaiken lisäksi testaillessa huomasin, että tähänhän mahtuu myös esimerkiksi Bulmersin pintin pullo (korkeintaan 3 kpl), joka on reilusti normaalia puolen litran lasipulloa tai tölkkiä leveämpi ja menipä myös tavallinen 0,75 l viinipullokin (korkeintaan 2 kpl). Näiden isompien pullojen kanssa vain sitten pitää laittaa loppuihin paikkoihin tavallisia/kapeita 0,33 l lasipulloja, koska muuten tulee liian ahdasta.
4
0
I would recommend for a friend
jani t.

05.11.2017 (Edited 31.05.2021)
Seuraavan palautteen/kehitysehdotuksen lähetin myös valmistajalle (Varusteleka) kesällä:
Käytin oman pussikaljapussini suutarilla ompeluttamassa 2 x D-lenkit olkahihnaa varten. Nyt tuote toimii erinomaisesti olkalaukkuna, jolla on helppo kantaa retkillä tarvittavaa pikkutavaraa kuten juomapulloa, sateenvarjoa, kinkku-/kalakukko säilykkeitä, luhavea, puukkoa, Ukko-Mattia, pikkukiikareita, kameraa tms.
Eikä tule vastaavan näköistä olkalaukkua ihan heti kenelläkään vastaan. :D

Tästä tulikin mieleen idea pussikaljapussi vol. 2:lle.
Kokoluokka hieman isompi kuten teidän noin 10:n euron ylijäämä olka-/leipälaukuissa. Vastaavanlainen "läppä". Sisälle paikat vaikka 8:lle pullolle niin, että ne ovat 4 kpl kummallakin pitkällä sivulla, mutta "neljän setit" eivät ole keskenään ommeltuna kiinni, vaan siihen keskelle jää avointa tilaa ja pullojen paikat tarvittaessa litistyy/taituu, jotta laukkuun mahtuu huppari tai muu lisävaatetus. Ulkosivulla voisi olla rintataskuja kaksi vierekkäin.
15
1
I would recommend for a friend
Samu L.

17.05.2018 (Edited 01.06.2021)
Rakas isoäitini on kovin tykästynyt. Toki ei 70 v. rouvashenkilöt enää pahemmin pussikaljoittele, mutta lankakerille on kelpo kassi. Pari väliseinää oli kuulemma otettava pois, mutta mahtuupahan neljä kerää vierekkäin menemättä solmuun. Ja onhan se nyt nätti kassi kaiken lisäksi.
3
0
I would recommend for a friend
cyril t.

10.04.2020 (Edited 06.06.2021)
nice, well made !
0
0
I would recommend for a friend
Suohsien W.

23.06.2021 (Edited 30.06.2021)
Totally love it. Hope I can buy another one soon.
0
0
Kierto Circular Economy
Return this product used but clean and unbroken, and you'll receive half of the product's original price as Varusteleka credits. Service is available only in Finland. Only Registered users can make Kierto returns. See more information about Kierto.