Worldwide shipping!
Delivery to Sweden 59 SEK, the United States 9.99 USD, the United Kingdom 6.99 GBP, Canada 13.99 CAD, EU 7.45-9.30 EUR and the rest of the world 24.31-30.75 EUR.
Now accepting
OK
Italian gentleman's gaiters, surplus
◀
▶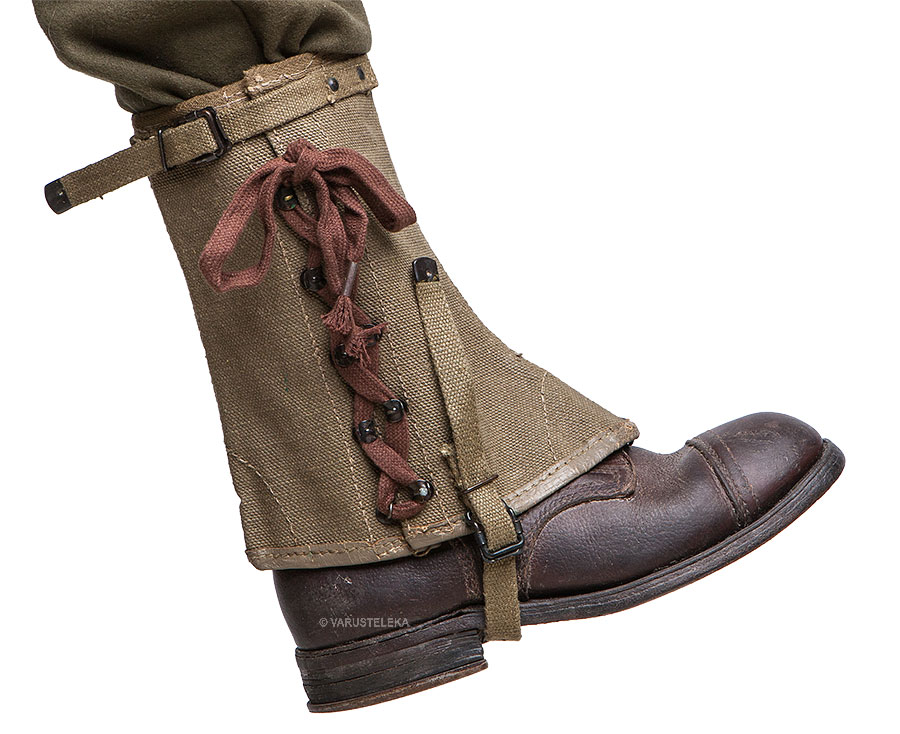 Product is out of stock and is unlikely restocked in the near future :-(
Add to cart
Product added to cart. Click here to move to cart.
Add to wish list
Trouble with the metric system? Try our converter:
These might also interest you
Hats off to Italians for trying to keep the gentlemanly side of war alive even in the 60's, as is evident from these gaiters that would have been right at home in the trenches of the Great War or at least in the Second Act. Cotton, steel, laces, straps, fiddly donning, these have it all! The perfect accessory for your ankle boots.
Back in the old days the main combination of a soldier's footwear was an ankle boot and a gaiter of various styles. These Italian gaiters from the post-war years look much like the US M-1938 leggings, but are arguably a bit handier to use. Does the job; protects the lower leg, keeps dirt off your boot, provides some degree of water resistance.
Made of very thick canvas, steel hooks, needlessly thick laces (you could switch them to paracord), unnecessarily long straps and a little hook at the front to attach to the boot lace. Edges trimmed with leather or cotton, with a leather reinforcement tab on the inside face. Remember to wear these with the hooks facing outwards, or you'll risk getting tripped on them. At least by failing once at this you will learn.
Size info
We got these in two sizes; 2 and 3, which we dubbed as "Large" and "Medium". While there's not much difference between them, the 2 is just slightly larger. If you wear size 44 boot or upwards, get 2. If smaller, get 3. But this is just peanuts, you could get either one and it will probably fit just fine.
Italian army surplus
Most seemed to be in unissued condition, howevery they are old, so expect some corrosion in the metal parts and such. Many were still paired together with the original factory thread.
Log in and write a review.