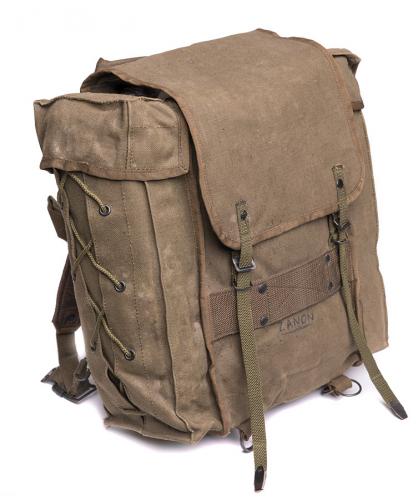 Italian daypack, surplus
Price 32.99 USD excluding VAT
Flat Rate Shipping to USA $9.99
Sold 13 pcs in the last two weeks
In stock 4 pcs. Also available in our walk-in store.
Trouble with the metric system? Try our converter: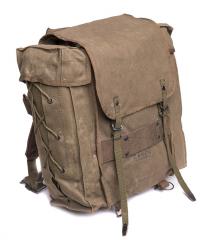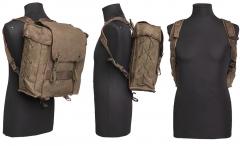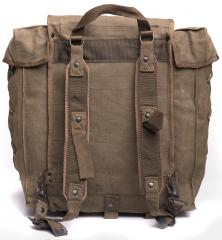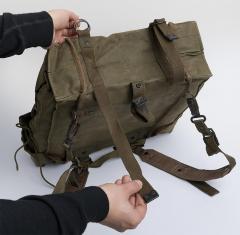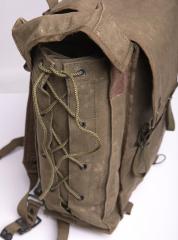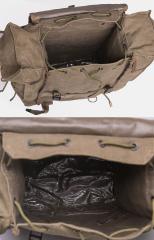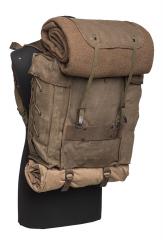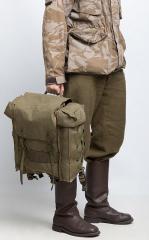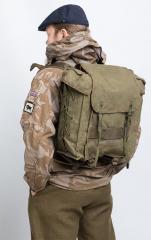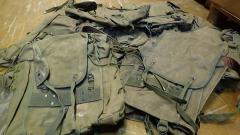 A small, smelly but weirdly charming old daypack. In Italy they never managed to come up with effective kit, but what they lacked in practicality they made up in fashionability! This pack will hold a day's worth of an Italian soldier's stuff included the picnic blanket, or your daily stuff with a laptop.
A pack in the true sense of the word, this Italian offering is pretty aesthetical for an army product. Along with the nice square form it has two shoulder straps and a somewhat secure closure, and two adjustable side pockets with hook & loop closure. The pockets really do bring a bit of gentlemanly spirit to the whole package thanks to the drawcords! All in all, not really handy rucksack compared even to its peers, because the R&D institute in Italy was, is and probably will be in complete chaos. However everyone must have always looked good and that's the thing they managed to bring to the gear too!
On the bottom you'll find short-ish fixed straps for the picnic blanket or shelter half. The center piece with the snaps is meant to be fixed to your combat belt. Metal clips on the shoulder straps for quick release, and the carrying handle on the top will surely come in handy!
When you first pick the beautiful square pack up, you'll notice two things. First, it smells. That's a traditional musty warehouse odour right there. Second, it's pretty damn solid. That's because it's made of thick canvas with rubber coating on the inside. This means it's pretty much waterproof in normal use, even though it looks like something originating from the 19th century.
Numbers
Main comparment dimensions 24 x 38 x 15 cm (with room for upwards adjustment)
Side pocket dimensions 6 x 38 x 15 cm (adjustable too!)
Volume about 20 litres with everything included
Weight empty about 1,5 kg, whoa.
And yes, we're pretty sure this can be carried as hand luggage in airplanes.
"Oh no! This needs washing!"
Yes, we understand. We ask you to resist the urge of throwing the thing in a washing machine. Instead, pick up a bucket full o' water, some soap, a solid good brush and start scrubbing. Last, rinse the pack well and leave it hanging upside down until dry. It might still smell. The smell might come off with use.
Genuine army vintage
Old, used, intact and maybe a bit dirty at times. And let's say it again just for measure: these do smell of an old warehouse. If you know you can't handle it, we suggest looking at other options. No pun intended, really.
Recommendations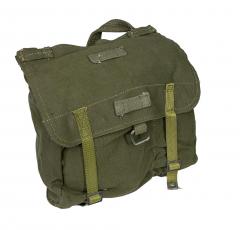 Romanian breadbag, crappier model, surplus
13.99 USD
Viewed together.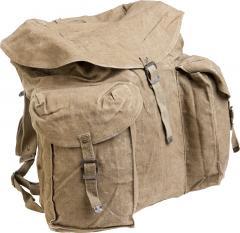 Italian mountain rucksack, surplus
13.99 USD
Viewed together.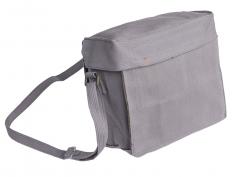 Danish gasmask bag, gray, surplus
11.99 USD
Viewed together.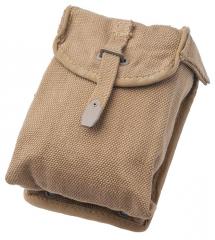 Italian Pattern 37 BM-59 magazine pouch, surplus
8.99 USD
Sometimes purchased with.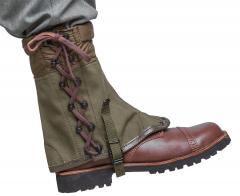 Italian gaiters, canvas, short, surplus
9.99 USD
Sometimes purchased with.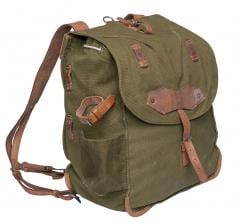 Romanian retro pack, surplus
45.99 USD
Sometimes purchased with.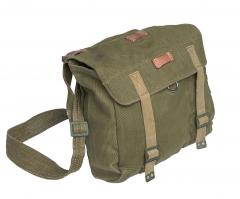 Romanian breadbag, surplus
18.99 USD
Sometimes purchased with.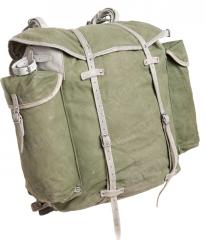 Norwegian rucksack, with steel frame, surplus
36.99 USD
Sometimes purchased with.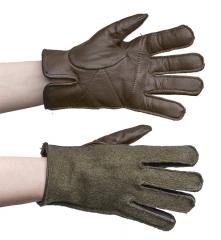 French wool/leather gloves, surplus
13.99 USD
Sometimes purchased with.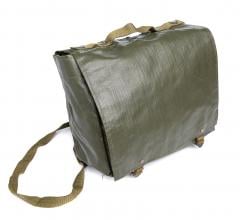 Czech M85 Shoulder Bag, surplus
3.99 USD
Sometimes purchased with.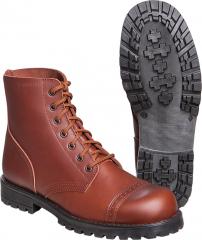 Särmä Ankle Boots
119.99 USD
Might be of interest.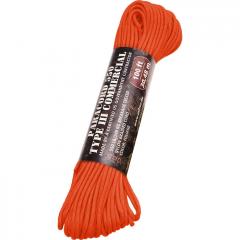 Paracord, 15 m
9.99 USD
Might be of interest.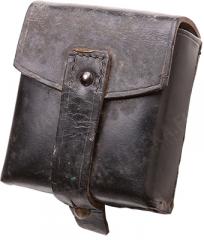 Italian cartridge pouch, surplus
11.99 USD
Might be of interest.
Reviews
You have already submitted a review. You can edit your text by clicking on it.
Log in and write a review.
Remove filter
Suomi
(1)
English
(6)
I would recommend for a friend
Charilaos G.

23.02.2018 (Edited 06.12.2019)
This is the third one I am buying. I was lucky enough to buy an unissued one from Ebay, so I can tell that smell-free rucksacks do exist.....I use it as a photo gear bag. It's all about style, really. I once had a girl less than half my age stop me on the street and ask me about it, which says a thing or two about the potential target group (the bag's, not mine...). How I got rid of the smell: hand-washed it with wool detergent, then left to soak it for an hour or so in an overdose of fabric softener. The mold smell was replaced with an equally disgusting floral odor, which eventually wore off. Being 100% cotton, this is compatible with Dylon fabric dyes. Dark green and black look really cool and successfully demilitarise it. The shoulder straps are on the short side. I am 170cm tall, 104cm chest and it fits just barely for confort. The unissued one came with two shoulder straps extenders, so that won't be an issue if you manage to get hold of those.
3
0
I would recommend for a friend
Sam t.

14.09.2018
Great little pack for a day trip to the woods. Durable and just a good looking pack. I found that white vinegar sprayed heavily then allowed to dry followed by baking soda dusted over it got rid of the smell quite well.
4
0
I would recommend for a friend
Tomas A.

30.09.2018
Nice bag, and very charming. I use it for my computer, to work.
1
0
I would not recommend to a friend
Sami K.

26.10.2019
Loppupeleissä tämä ei ole erityisen hyvä reppu: vaikka edes italialaiset eivät onnistu sössimään laatikkomallisen repun perusrakennetta, hihnat, soljet ja säädöt ovat sitä kunnon italialaista laatua - monimutkaista, yliampuvaa mutta silti heikkorakenteista, eikä mikään niistä toimi oikein kunnolla. En voi suositella jos etsit jotain ihan oikeasti käyttökelpoista, mutta jos tyyli käy tarkoituksen edellä, tässä on reppu juuri sinulle. Saattaa myös haista kuolemalle, mutta sen saa lähtemään pois etikkapesulla pesukoneessa.
0
0
I would not recommend to a friend
David B.

04.11.2019
I lpve the bag its extermely durable, weather proof. But i would advise anyone who want to go near water with it (or rain) put some wax on it or waterproof it better in someway.

I still use my bag but as much. It had a plastic lining that is all f*cked up inside after stored camping gear in it. The plastic lining the bottom is in shreds so beware its not super tough.
Other than that good bag. The lacing on the sides make good boot laces...
0
1
I would not recommend to a friend
Recep Ç.

14.11.2019
The cover part of the bag has a torn section that upset me a bit. other than that a great bag.
1
0
I would recommend for a friend
Carsten C.

04.12.2019
It's a great little daypack, in my opinion. Holds just what you need, although not much more. I have a waterbottle and a minor medical kit in each side pouch, respectively. The main compartment is decently sized but I wouldn't expect miracles from it. I can fit maybe three 1.14L bottles of Russian Standard in there, if that's a good frame of reference.
The pack isn't much to look at unless you have all the compartments packed full. It comes squished flat so if you want to shape it, just pack it full of stuff until you get to the desired squarish shape.
My only real gripe is the shoulder straps. My shoulders are fairly broad and I'm a bit of a larger guy. These straps come about as loose as they'll get and it's still a bit of a squeeze to get in there. Once they're on, they sit fairly tight and it's a bit of a struggle to get them off again. Definitely something to keep in mind when buying this pack. Might look bigger on smaller folk but it'll fit better, trust me.
2
0