Hazard 4 Kato Mini Messenger, black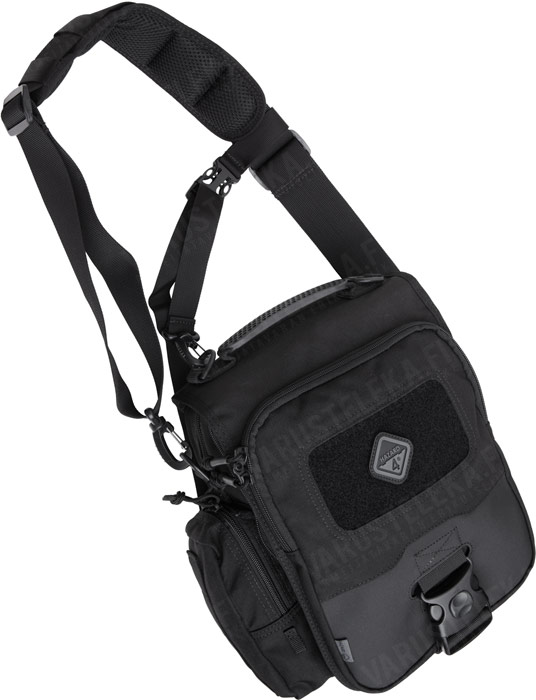 In stock 1 pcs
Last in stock
Products in stock are also available in our walk-in store.
Trouble with the metric system? Try our converter:
These might also interest you
A mid size messenger carry-all grab bag to fill the needs of todays tech-infused lifestyle, on and off the battlefield.
The Kato Mini Messenger is like the smaller Tonto pumped up a notch. War is no more the ye olde gentlemens sport it was back in the Zulu days, todays tech-warriors need to update their Facebook crap all the time, and leaving base without your laptop would be suicide. Then of course, the Kato Mini Messenger is a convenient every day bag for stuff like:
An iWhanot laptop (see the measurements below and compare your device).
Maps and notes, if someone still uses such in this futuristic dystopia.
Multi tools and a first aid kit.
Some rations and a canteen of water.
A weeks supply of ammo, you can attach a load of pouches to the Katos PALS webbing.
A pistol, the flap has a velcro patch for extra pouches, for example the Condor Universal Pistol Holster we sell fits perfectly.
Features:
Carrying strap with 3D-ventilated padding and additional stabilizer strap.
A flat, quilted quick access compartment for notebooks (the electronic, 21st century type, as in com-pu-ter) closest to the body, measures 30 x 22 cm.
A flap that covers the entire bag, with a zippered compartment with velcro inside for extra pouches. A flat compartment with velcro is found on the underside of the flap.
Lots of PALS webbing, and a strap for ALICE pouches as well, on the main face under the flap.
A main compartment, measures 30 x 22 cm, with a separate flat sleeve and small pouch for a flashlight or such inside.
A fold-out admin style compartment for maps, notes, pencils, tools etc.
A zippered side pouch for a couple of AR-15 mags or a water bottle.
PALS and ALICE loops on the outer sides.
A belt loop with velcro, keeps the bag in place when you're pulling out your iThis and iThat in a firefight.
External measurements approx. 30 x 24 x 9 cm.
The materials are care-free. If necessary, you can remove dirt with a brush and use a damp cloth for cleaning. Do not use solvents or detergents.
Factory new, made by Hazard 4 (Civilian Labs). Designed in the USA, manufactured in China. Yes, they can make good stuff too, given strict QC.
Log in and write a review.