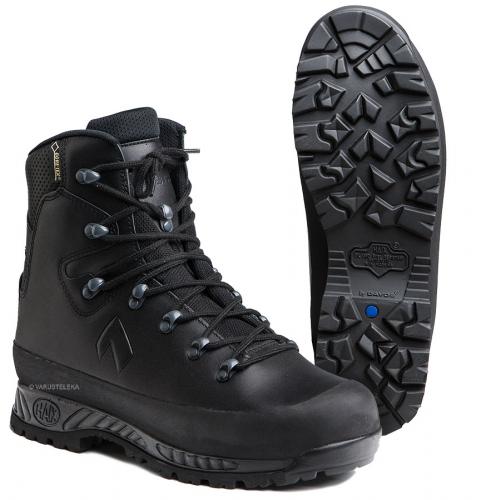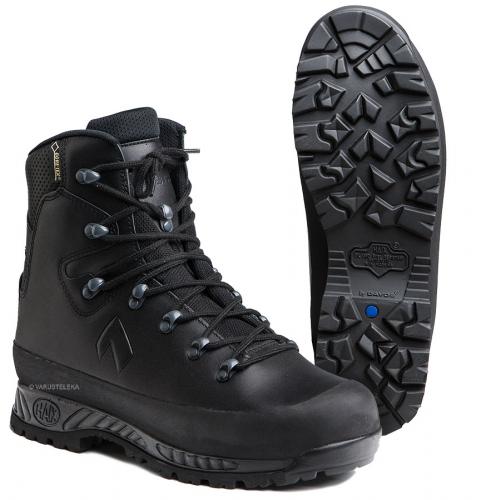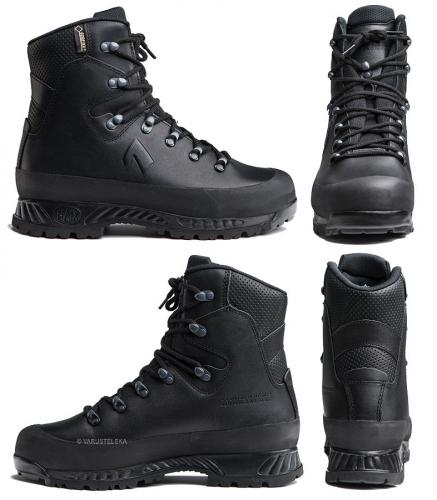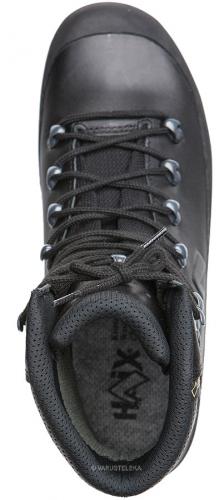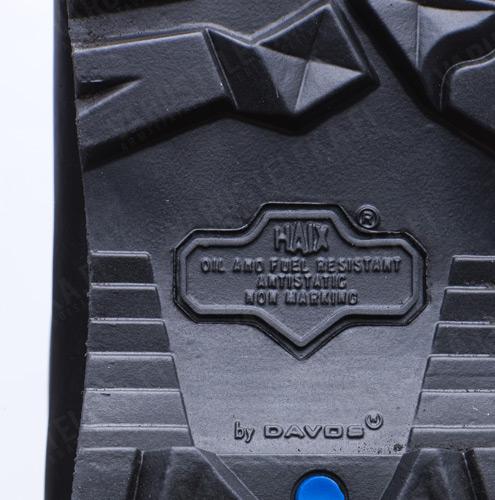 Haix KSK3000
Price 128.99 USD 202.99 USD excluding VAT
If you are looking for proper boots for rugged and unforgiving terrain, the KSK3000 is what you're looking for. Modelled after the Bundeswehr mountain issue boot but with some improvements, these are made of extra thick leather and feature a very stiff sole.
Loading products...
Trouble with the metric system? Try our converter: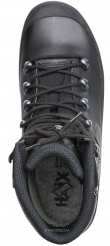 If you are looking for proper boots for rugged and unforgiving terrain, the KSK3000 is what you're looking for. Modelled after the Bundeswehr mountain issue boot but with some improvements, these are made of extra thick leather and feature a very stiff sole.
If a pair of light urban boots are the thing you are looking for, forget these and have a look at some of our other models instead. However, if your road leads into the trackless wilderness, the KSK3000 is the boot you want to have with you. Yes, these are on the higher end of HAIX's price spectrum, but definitely cost far less than a pair of, say, wrecked-up ankles. Actually, these are surprisingly affordable for this kind of boot: extremely well thought-out, made of tough materials and protect your feet on every side imaginable. These are made in a straightforward military style, so there's no extra cost coming from nubuck leather or colourful laces and all that stuff found on regular hiking boots - the price tag comes from the materials, durability and workmanship, not looks.
HAIX's sales pitch makes these out as all-terrain military boots. At least in the nasty Finnish forests and rocky wastes these may indeed come in handy, but rugged mountainous environments are where these really shine. For lighter terrain these might be overkill, although they will still get the job done just fine. Just imagine you're a bulldozer ploughing through the undergrowth and you'll have a pretty good idea what these boots are like.
18 cm high shaft.
Waterproofed, 2,5 - 2,7 mm thick leather.
Upper made of leather with nylon & leather tongue.
Gore-Tex Performance membrane.
Cambrelle lining keeps feet dry from perspiration and water.
Cushioned rubber/PU sole with added foot arch support.
Special tread pattern to maximize grip in rough terrain. The sole is curved from the heel and nose for easier walking.
Wide last to accommodate a few pairs of socks.
Made of large pieces of leather, minimizing the amount of seams, especially on the lower part.
A rubber reinforcement just above the sole, running around the whole boot.
HAIX Climate System - small air holes in the upper part of the shaft let the sweaty air escape through the pumping motion against the cushion, caused by you when walking. These also have a lot more air holes than most regular HAIX boots.
Material standards (in geek terms): CE EN ISO 20347:2007 O2 HRO HI CI WR FO SRC
Important: NEVER use regular shoe polish or grease with membrane boots. Use only those which are specifically designed for them. If you apply regular polish, say bye-bye to the breathability.
Warranty
All HAIX footwear come with a one year warranty. The warranty will be handled by C.P.E. Sales Finland Oy - you will receive a warranty card with your HAIX boots, save it and our receipt. We do not handle international warranties or warranties for HAIX footwear that's not bought from us.
About the fit
As hinted previously, these have some room for extra socks. The last could be described as wide. If you are familiar with HAIX models like X21 and Airpower Pro, these are pretty similar in terms of fit.
Sizes in the British system, with euro sizes in brackets.
Some people want to know the insole lengths of each size, so here you go. Measured my placing a tape on the insole and measuring the longest distance from the heel to the toe. Some different sizes seemed to use same insoles (which work OK) so we rounded the measurements in these cases a few mm here or there to reflect reality.
| Brit/Euro size | Insole length |
| --- | --- |
| 5,5 (39) | 261 mm |
| 6 (39) | 259 mm |
| 6,5 (40) | 265 mm |
| 7 (41) | 270 mm |
| 7,5 (41) | 277 mm |
| 8 (42) | 282 mm |
| 8,5 (43) | 285 mm |
| 9 (43) | 295 mm |
| 9,5 (44) | 298 mm |
| 10 (45) | 300 mm |
| 10,5 (45,5) | 303 mm |
| 11 (46) | 307 mm |
| 11,5 (47) | 313 mm |
| 12 (47) | 318 mm |
Recommendations
Loading products...
Reviews
You have already submitted a review. You can edit your text by clicking on it.
Log in and write a review.
Remove filter
Suomi
(5)
English
(1)
I would recommend for a friend
Oskari U.

27.09.2016 (Edited 18.11.2016)
Järeät klopot joilla pärjää karummassakin maastossa, mutta silti niin jalkaystävälliset, että edes ihka-uutena ei rakkoherkkiin jalkoihini tuntunut minkäänlaista hinkkausta rakoista puhumattakaan. Pysyy jalat kuivana ja myös suht. lämpimänä paksun pohjan ansiosta. Vuositolkulla on omani jo sotaa kestäneet, kesät talvet, vaikka tuo käyttämäni Haixin plankki ei tunnu vesiväriä kummemmalta litkulta. Sen verran lumilautamonomaiset, että autolla-ajo on jokseenkin kömpelöä lähinnä paksun pohjan takia, mutta esim. juostessa ei tunnu mitenkään klohnuilta. Ja muuten meno tuntuu yhtä tasaiselta niin kivikossa, metsäkuntalla, kuin paraatikentälläkin. Ehdottomasti parhaita ostoksiani ever.
7
0
I would recommend for a friend
Mikko K.

18.02.2018
Saattanee olla noin pari vuotta käyttöä takana. Todella hyvä kenkä. Toimii niin metsässä kuin taajamassa. Vettä ei ole tullut läpi kuin aimoastaan jos olen mulpannut kunnolla ja varren kautta itseni kastellut. Todella hyvä kenkä suosittelen kovasti. Itsellä kenkä on ollut käytössä kesällä ja talvella. Toimii!!!
0
0
I would recommend for a friend
Anders T.

22.03.2018
This a hell of a boot. I have had a number of different boots over the years. From the Swedish army issue to the modern ones with membrane.
To make it short and sweet if you live in a colder climate with snow and sleet is this the boot one needs to have. Comfortable easy to put on and take of. Lacing a boot can be a difficult task to say the least. But these are a breeze to lace up. Downside is that they are a bit heavy according to some people, and I have also read that some find them narrow. If I would be back in the army would these be one of the boots i would use. They are not cheap but are well wort the asked price. Quality never comes cheap is an old truth. To sum it up a damn good boot.
0
0
I would recommend for a friend
Otto S.

29.03.2018
Erinomaiset kengät, kestävät ja jämäkät. Pohjan kuluessa liikaa voit lähettää kengät uudelleen pohjitettavaksi, ominaisuus jota toivoisi enemmänkin kalliilta kengiltä,
0
0
I would recommend for a friend
Jukka K.

05.06.2018
Hyvin ovat palvelleet nyt jo pari vuotta. Vedenpitävyys edelleen tallella. Näillä talsii rankemmatkin rakkakivikot. Ainoa miinuspuoli on melko karski paino. Tuntuu kyllä jaloissa 20km talsimisen jälkeen
0
0
I would recommend for a friend
Jonne S.

21.08.2018
Ensimmäiset ja ainoat jotka koskaan hankkinut suoraan netistä sovittamatta missään. Sillä jos bootsien kehitystyön pohjalla on "riittävä määrä" säntäilyä Baijerin rinteillä niin varmasti toimii myös täkäläisessä Pohjolassa mennen tullen.

Riskisijoitus ollut hintansa väärtti jo kolmatta vuotta. Hiljattain jälleen kerran koestettu nämä jalkineet Käsivarren erämaan poluilla & kivikoissa. Täytyy sanoa etten ihan heti tule vaihtamaan näistä popoista pois, jos kysytään millä pitäisi lähteä noille seutuville. "Kauniit" nämä ei ole, mutta eipä näitä citynäyttäytymiseen olekaan tarkoitettu vaan kovaan käyttöön tiettömille taipaleille - joskin juoksumarssi asfaltilla rinkka selässä hoituu yllättävän kevyesti jos sellaiseen on tarve.
1
0