Haix Black Eagle Tactical 2.0 High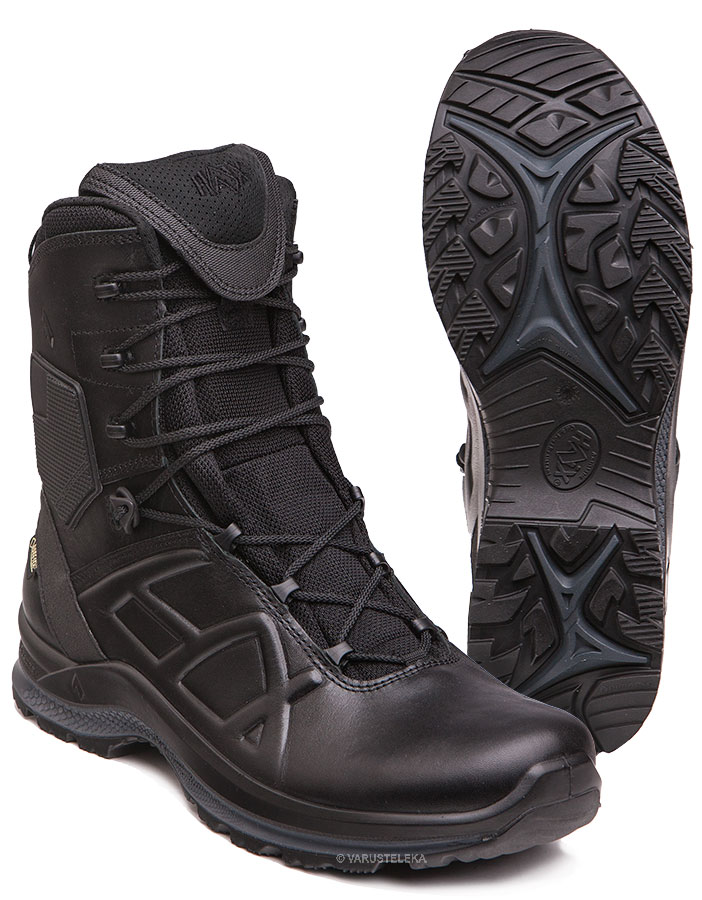 Trouble with the metric system? Try our converter:
These might also interest you
You take a sneaker, a bunch of German engineering, a traditional combat boot and mix them together. The result: hi-leg boots that work like running shoes, made extremely well of modern materials. Of course these also have the essential Gore-Tex membranes and stuff, and the fit & form are of course top notch. Upper made mostly of leather, this is the more "traditional" model of the Black Eagle lineup.
Black Eagle is the newer, athletic, sexier and lighter product line from Haix. Excellent fit, very intricately designed sole and tested materials make a versatile lightweight boot. It's also antistatic and has no metal parts.
Upper
A large portion of the upper is made of leather with synthetic fabric on the tongue and a part of the shaft. Ankle protection on the sides.
Moisture wicking Cambrelle lining on the inside.
Hidden between the top and bottom layers is the waterproof, breathable Gore-Tex membrane.
Quick lacing with tunnel loops and lace locks. These are made of strong plastic.
The lacing knot can be hidden inside a small flap on the top of the tongue.
Height of the shaft 17 cm on the lowest part.
Sole
Probably the most intricately designed sole of Haix lineup - contains overall 10 components of cushioning and stiffening parts in a well balanced mix, and the outer sole not only has a good grip, but provides further protection for the nose. Haix advertises a nice grip on winter season too.
The insoles are equally fancy with some shock absorption and moisture wicking properties. Wash them in 30 degrees Celsius occasionally.
Care
Brush dirt off, wipe with a moist rag and treat the boots with membrane-compatible shoe polish. You can also use protector spray if you wish, but it doesn't really nourish the leather. Never use regular shoe polish or grease with GTX boots, those might clog the membrane. They do treat the leather itself, of course.
It's best to take the insoles out of the boots after use to accelerate drying. We suggest not to dry the boots near a strong heat source as the materials might not like it.
Size info
First the UK size, then comparable Euro size in brackets. The last width on these is somewhat closer to regular than wide. In other words it should fit most people.
Warranty
All HAIX footwear come with a one year warranty. The warranty will be handled by C.P.E. Sales Finland Oy - you will receive a warranty card with your HAIX boots, save it and our receipt. We do not handle international warranties or warranties for HAIX footwear that's not bought from us.
Log in and write a review.