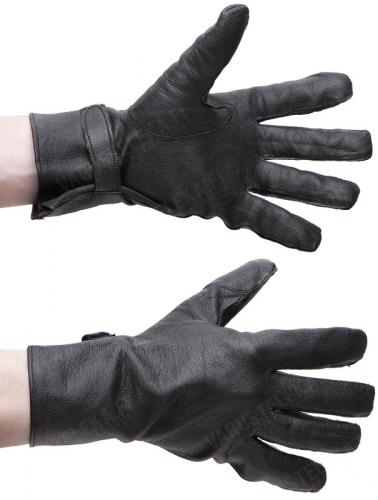 French leather gloves, black, surplus
Price 6.99 USD excluding VAT
Flat Rate Shipping to USA $9.99
100 % recommends
Army surplus
Loading products...
Trouble with the metric system? Try our converter: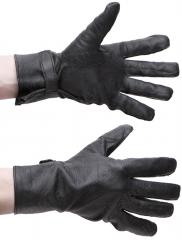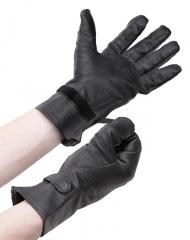 The French way of protecting hands in case of an NBC attack is to cover them with leather. While it may be a bit of a shitty plan for the aforementioned scenario, the gloves themselves are a perfectly fine piece of strong leather handwear.
A very simple model with hook and loop adjustment at the wrist. We would definitely not use these in nuclear combat, but as leather gloves go these are as good as any, or even better.
Sizing
Sizes in normal glove sizes (palm circumference in inches), and run large; think Small as Medium etc. By picking your own size you'll have room for liner gloves (wool is the best material).
French army surplus
These are in excellent condition, practically new, or at worst very little used.
Recommendations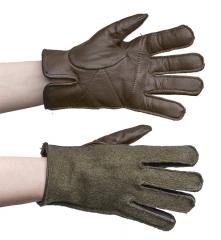 French wool/leather gloves, surplus
13.99 USD
Often purchased with.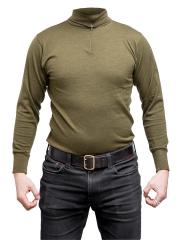 Italian turtle neck shirt, olive drab, surplus
18.99 USD
Often purchased with.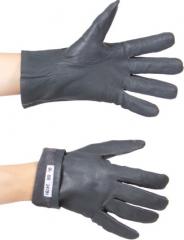 BW leather gloves, surplus
7.99 USD
Often purchased with.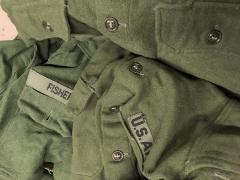 US M-1951 wool shirt, surplus
22.99 USD
Often purchased with.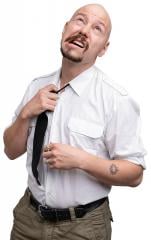 Soviet tie, surplus
2.99 USD
Often purchased with.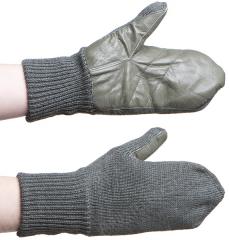 Swiss wool mittens with leather palm, surplus
6.99 USD
Often purchased with.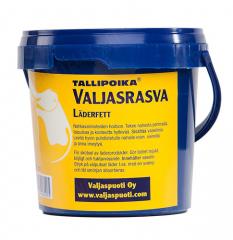 Tallipoika leather grease, 500 ml
7.99 USD
Might be of interest.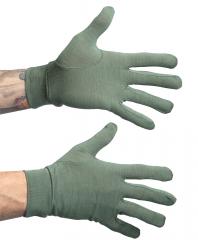 Särmä TST L1 Liner Gloves, Merino Wool
22.99 USD
Might be of interest.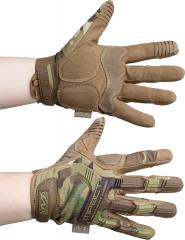 Mechanix M-Pact Gloves
36.99 USD
Similar product.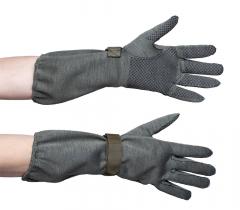 BW NBC combat gloves, Nomex, Green
18.99 USD
Similar product.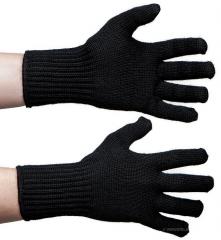 Särmä Merino Gloves
9.99 USD
Buy also.

Ekol Leather Oil, 0.25l
6.99 USD
Buy also.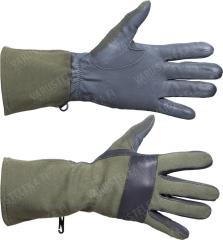 BW combat gloves, leather/Nomex, olive drab, surplus
18.99 USD
Similar product.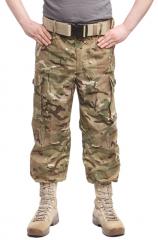 British CS95 Windproof trousers, MTP, surplus
45.99 USD
Might be of interest.


Särmä Windproof Smock
63.99 USD
Might be of interest.
Reviews
You have already submitted a review. You can edit your text by clicking on it.
Log in and write a review.
Remove filter
Suomi
(5)
English
(1)
I would recommend for a friend
Marko N.

18.04.2018
Ovat todella laadukkaat ja muistuttavat Bundeswehrin vuorittomia nahkahansikkaita. Koot ovat todella reiluja, minulla on tasan ysi-koon käsi ja kaikkein napakimmin istuvat tällaiset hansikkaani ovat kokoa kahdeksan. Sopiva koko riippuu myös siitä, että miten isot sormet ovat, ei yksin kämmenen leveydestä; minulla on pikkuisen pienet sormet, niinpä jopa numeroa pienemmät tällaiset istuvat napakimmin. Oikean kokoisena soveltuvat hyvin esim. ammuntaan ja aseen käsittelyyn sekä tetsaukseen. Ja näissä on hinta-laatusuhde taatusti kohdallaan!
0
0
I would recommend for a friend
Mikael T.

21.04.2018
Thank god näitä on tullu lisää. Onnistuin hukkaamaan monen monta vuotta palvelleet hanskani joku aika sitten ja harmistuin. Kestävät about silleen mitä vaan, jonkinasteisina työhanskoinakin on tullut käytettyä kun joskus muuta ei ole ollut. Ohuet, mutta käytössä ollut ympäri vuoden jos ei ihan paukkupakkanen ole (alushanskoiksi ja paksua lapasta päälle jos on vilpoisaa). Ainoastaan tarrat hieman kuluu ja irtoilee mutta ei sitä vältsiin tarvitse ihan kireelle kiristellä tälläsiä. Pitänee ostaa muutama pari. Näissähän on hinta/laatu suhde about parhain ikinä. Niin ja näähän on mustat ja kaiken kaikkiaan hyvät no bullshit hanskat, mitä muuta voi toivoa.
0
0
I would recommend for a friend
Ladislav S.

05.06.2018
Proper solid leather gloves considering they were only 6 quid, came unissued and completely unused in a vacuum sealed bag labelled "N.B.C. protective gloves" dated 1985.
3
0
I would recommend for a friend
Ville L.

15.08.2018
Omat hanskani taisivat olla ihan iskemättömät. Nahka on ehkä aavistuksen paksumpaa ja napakampaa kuin saksalaisissa, mutta varmaan pehmenevät käytössä. Istuvuus on todella hyvä omaan pikku käpälään. Suurin ero saksalaisiin on pidempi varsi ja varren kiristys. Vaikuttavat todella vahvoilta, mutta toisaalta näistä tekisi mielellään pyhähanskat. Täytyy varmaan ostaa parit varastoon. Vaikea kuvitella suojahanskoiksi, jos tällaisia saisi uutena kaupasta, hintaa olisi varmaan toista sataa.
0
0
I would recommend for a friend
Jesse K.

30.08.2018
Nyt on hyvää halvalla. Koot tosiaankin reilut. Omat käteni on normaalisti 9 tai 10 vähän valmistajasta riippuen ja näistä koko 8 oli just passeli.
8,5 kokoiseen menee jo sormikasta sisään.
Valjasrasvat pintaan heti pussista käteen vetäessä ja nahka pehmeni oikein mukavaksi.
Ei tekisi mieli ottaa kädestä pois ollenkaan edes tämän arvostelun kirjoittamisen ajaksi.
0
0
I would recommend for a friend
J-P M.

18.04.2019
Helvetin hienot hanskat. Koko 8 on omaani n. 8,5-9 koon käteen täydellinen ja sormetkin ovat tarpeeksi pitkät. Nahka on pehmeää ja paksuhkoa ja varsi vähän pitkähkö, sen verran siistit että säästin nämä metsäkäytöltä ja otin ihan arkikäyttöön hanskoiksi. Omani taitaa olla käyttämätön pari kun oli muovipussissa. Toivottavasti joskus tulee lisää niin muutkin pääsisivät näistä vielä nauttimaan.
0
0
Army surplus
Military equipment is traditionally excellent stuff; it combines durability with very affordable prices. Army surplus finds its way to the civilian market in the following way: the armed forces of one country or other decides to get rid of big batches of perfectly serviceable gear due to cuts in military budgets, said gear becoming obsolete or redundant or some other similar reason. Some of this stuff then finds its way to our storehouse, sometimes directly, sometimes through a third party. Every once in a while we even get random batches of collectibles and rarities from obscure corners of the world.