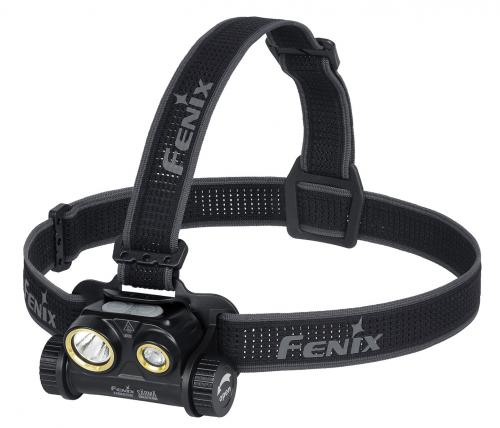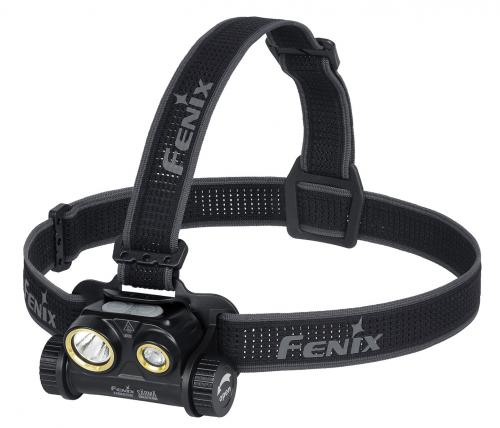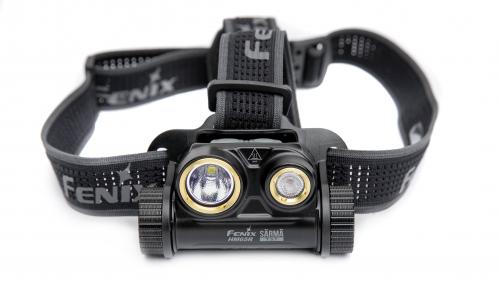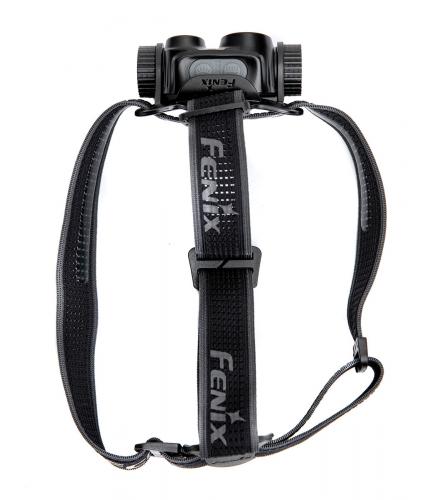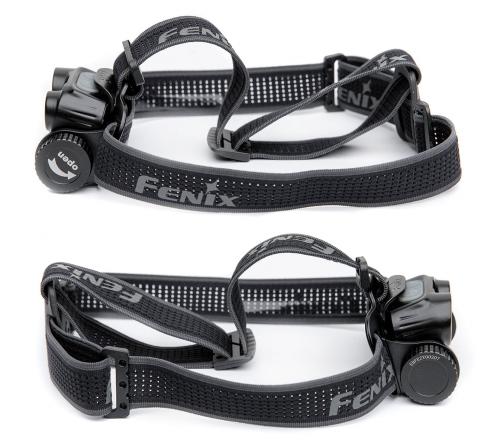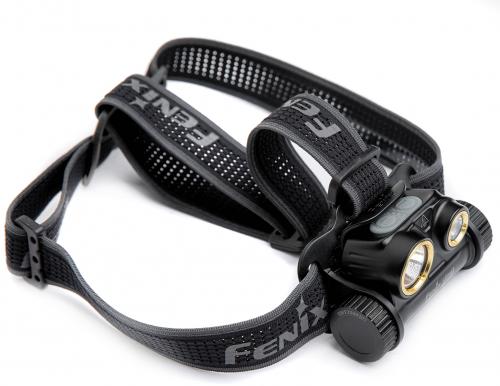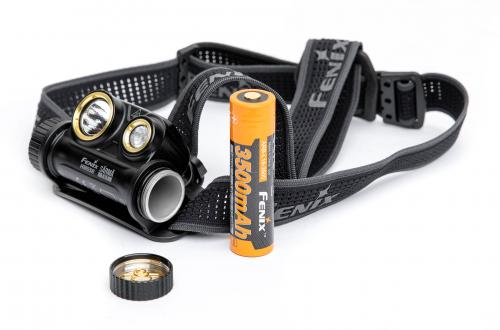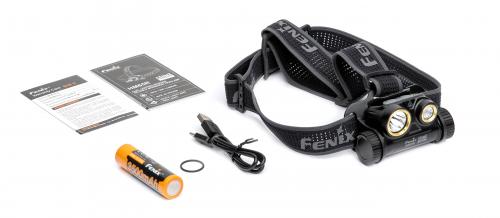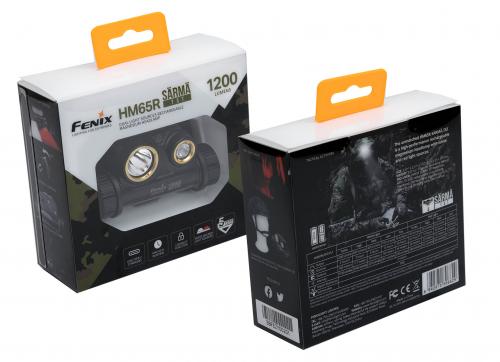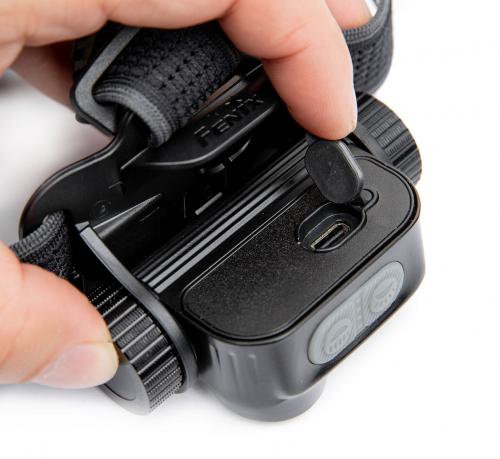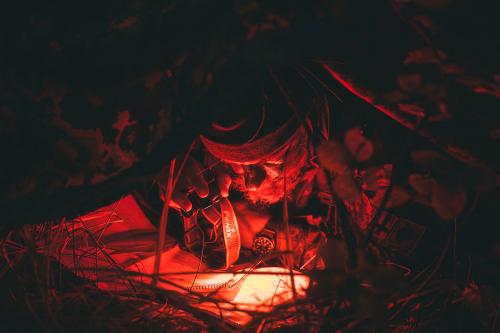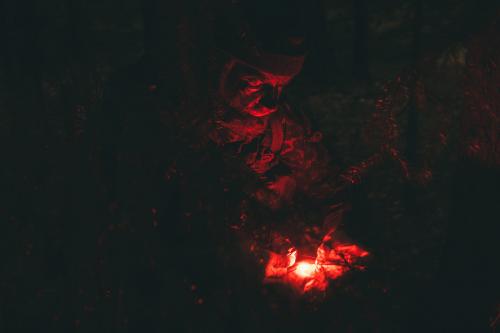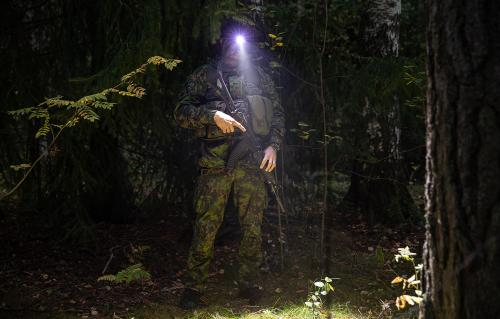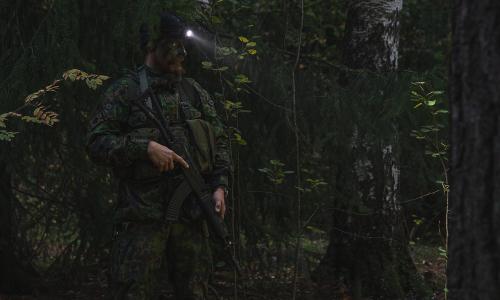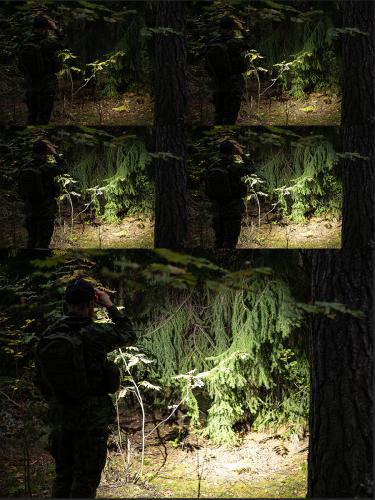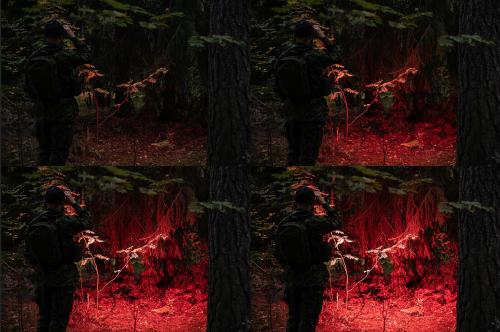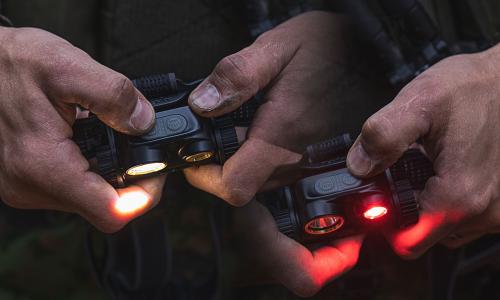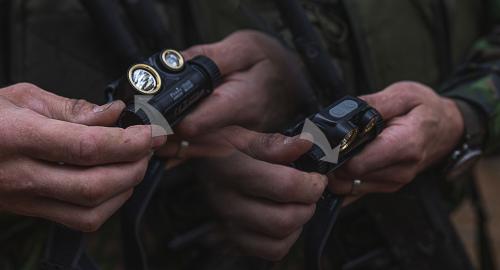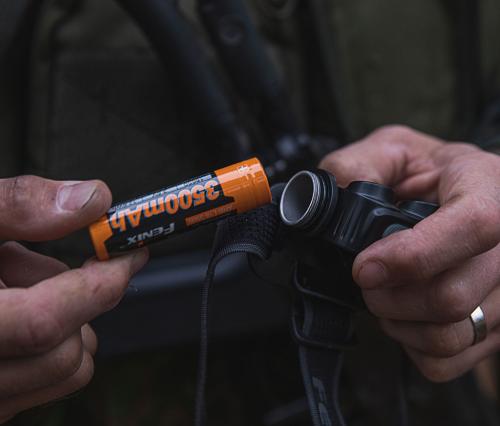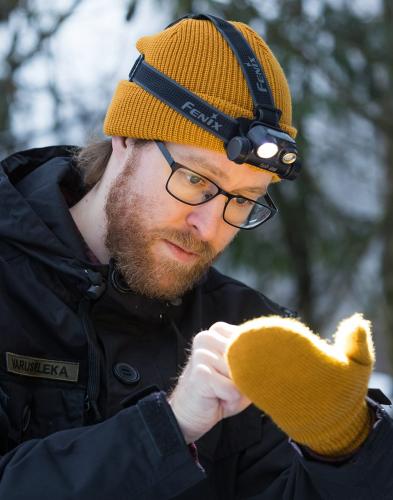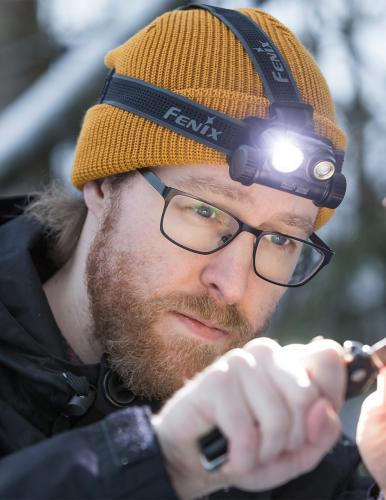 Fenix HM65R Särmä TST Headlamp
Price 115.99 USD
excluding VAT
The Fenix HM65R Särmä TST is as near to a perfect headlamp as it gets. Based on the HM65R Superraptor, this variant incorporates a red mode to retain night vision and a stealthy non-reflective headband.
In stock 189 pcs. Sold 6 pcs in the last two weeks.
Trouble with the metric system? Try our converter: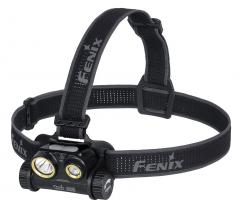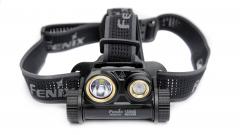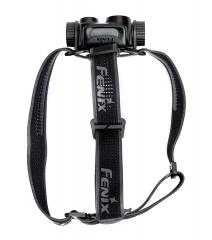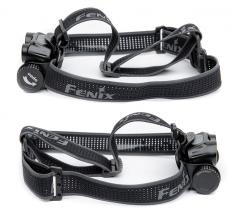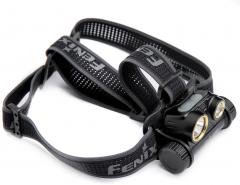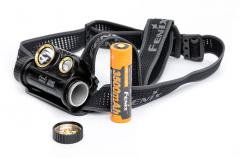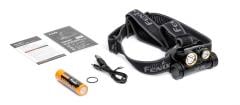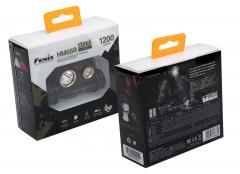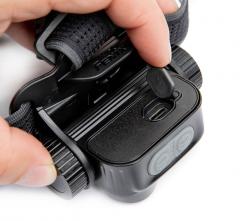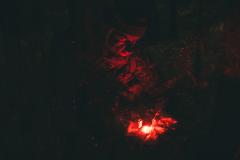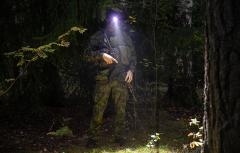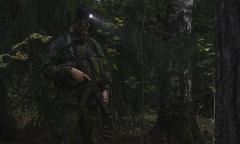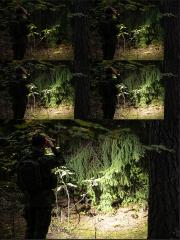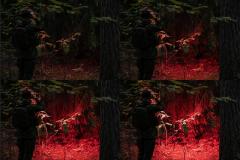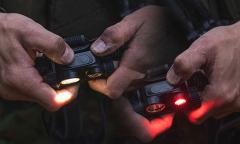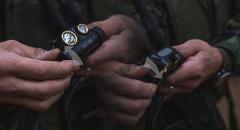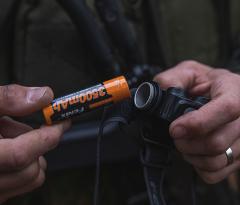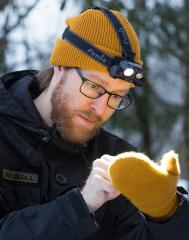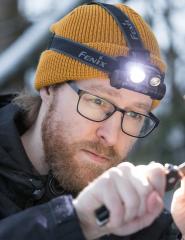 The Fenix HM65R Särmä TST is as near to a perfect headlamp as it gets. Based on the HM65R Superraptor, this variant incorporates a red mode to retain night vision and a stealthy non-reflective headband.
Improvements:
Regulator circuit for a constant output
Daylight LEDs for a brighter illumination
5 power levels of white light
4 power levels of red light
Non-reflective and non-orange stealth headband.
The headlamp gets its power from a rechargeable Fenix ARB-L18-3500 mAh battery which can be fast-charged with a USB-C cord. The charging cable and battery are included. Light, dustproof, and waterproof magnesium frame and 1200 lumen max output make these a very attractive illuminator.
With the variable output, you can illuminate from nearby areas up to 168 meters away. It is suitable as a helmet-mounted light for mountain biking in conjunction with a handlebar-mounted light. Having the primary light source on the bar helps you pick out and distinguish trail features.
While retaining your night vision may be crucial in military applications, it's quite handy for anyone spending time outdoors after dark. Also, if you move with a dog a red light seems to bother K9s less, if at all.
You'll find plenty of uses for a proper headlamp but here are a few for this powerful lamp:
Outdoor and professional use
Military use
Demanding everyday use, cycling, etc.
Features
Nine modes
Mode
Power
Beam length metric
Beam length imperial
Burn time
Turbo
1200 lm
168 m
184 yd
2 h
High
600 lm
117 m
128 yd
3 h
Medium
400 lm
95 m
104 yd
6 h
Low
150 lm
58 m
63.5 yd
14 h
Eco
50 lm
34 m
37 yd
40 h
Red High
150 lm
30 m
33 yd
4,5 h
Red Medium
85 lm
22 m
24 yd
10 h
Red Low
25 lm
12 m
13 yd
28 h
Red Eco
5 lm
6 m
6.5 yd
120 h
Toggling between modes is easy and both the white and red modes have dedicated power switches.
The buttons can be locked out by pressing either or both switches for 3 seconds when the light is off. The red light will blink four times to indicate success. To unlock the buttons, press both buttons for three seconds, the red light will blink four times and remain on at Low power setting.
Adaptable headband
The headbands are assembled in a way that shows the most graphics around the band. Should the adjustment range fall short for you, you can extend it by several cm / a few inches by assembling the headband as shown in the video below:
Features in a nutshell
Very bright max. 1200 lumen output
Digitally regulated circuit - maintains constant brightness
As much as three times faster charging than in a regular headlamp. USB-C charger (5V 1500 mA)
Max operating time up to 120 h on low-mode. With a comfortable 150 lumen output 14 h
Battery indicator:

Four lights: 100-81 %
Three lights: 80-61 %,
Two lights: 60-41 %,
One light: 40-21 %,
Blinking light: 20-0 %

Quality aluminium, magnesium and PC material, lightweight and durable
Removable lightweight headband, stealthy version.
Toughened ultra-clear glass lens with an anti-reflective coating
Package includes: HM65R Särmä TST Headlamp x 1 pcs, headband and top headband x 1 pcs, Fenix ABR-L18-3500 rechargeable Li-ion battery x 1 pcs, USB Type-C charging cable x 1 pcs, headband mount x 1 pcs, spare O-ring x 1 pcs, user manual
TECHNICAL SPECIFICATION
Output: 1200 lumens (max)
Runtime: 2 h - 120 h
LED-type: Cree XM-L2 U2 White LED, Red LED, 50,000 hours lifetime
Batteries: 1 x 18650 (included) / 2 x CR123A (not included)
Certificates: ANSI/NEMA FL-1, ROHS, CE, IP68 (2 meters)
Other specs:
| Spec | Metric | Imperial |
| --- | --- | --- |
| Max range | 168 m | 184 yd |
| Size | 80.5 x 55 x 40 mm | 3.17" x 2.17" x 1.57" |
| Weight (no battery) | 97 g | 3.42 oz. |
| Weight (inc. battery) | 147 g | 5.2 oz. |
| Impact resistance | 2 m | 6.6 ft |
| Water resistance depth | 2 m | 6.6 ft |
5 years warranty for the flashlight against factory defects, 1-year warranty for the battery.
MADE BY FENIX
Fenix is a quite new name on the flashlight market. The "thing" about Fenix is their excellent value, very affordable yet very high quality. Fenix is a great choice for anybody looking for a real workhorse flashlight!
Recommendations
Loading products...
Reviews
You have already submitted a review. You can edit your text by clicking on it.
Log in and write a review.
Remove filter
Suomi
(3)
English
(3)
I would recommend for a friend
Harri K.

25.09.2020 (Edited 13.10.2020)
Punaisessa valossa on yksi ongelma: Kun punavalolla valaisee maastokarttaa, ruskealla painetut korkeuskäyrät eivät näy; punainen valo "imee" ne. Ongelma korostuu erityisesti mäkisessä poluttomassa maastossa.
12
29
I would recommend for a friend
markus b.

18.10.2020 (Edited 22.10.2020)
(Käyttökokemus on tässä vaiheessa vielä jokseenkin olematon, ehkä sitten päivitän.) [*EDIT: Ikäväkseni joudun korjaamaan mielipidettäni alaspäin vähän lisääntyneen käyttökokemuksen myötä. Punaisen valon säätövara himmeästä päästä loppuu ikävästi kesken, eli lamppua ei saa riittävän himmeäksi. Turha ja ärsyttävä vika, joka valmistajan olisi helppo korjata.*]

Tosi hyvältä vaikuttava otsalamppu, joten aloitetaan kitinällä: * Erityisen isopäiset ja karvalakkia käyttävät saattavt kokea vanteen kiristävän päätään. Säätövaraa pannassa isoon suuntaan ei erityisemmin ole. * Valkoisen valon keilan leveyttä ei voi säätää, toisin kuin monessa muussa otsalampussa, jos nyt tällaista ominaisuutta kaipaa. (* Infrapunavaloa ei ole.) * 'Varmistimen' (lukitusmoodin) puute huolestuttaa, ettei vaan menisi repussa omia aikojaan päälle? Akun voi kyllä helposti poistaa (ja hukata). Muotoilulla (nappulat osin peittävä lippa valopään asennosta riippuen) on ilmeisesti pyritty suojaamaan.

Muthei, IP68. Tämä ei olekaan mikään 'roiskevesitiivis', vaan speksin perusteella soveltuu pintauintiinkin. Sateesta seonneiden IPX4 lamppujen valossa tämä on loistava ominaisuus. Pisteenä i:n päälle mukana seuraava vara-O-rengas.

Punaisen valon tehon säätövara on hulppea. Ei tarvitse vaihtaa valkoiselle ihan heti kun tarvitsisi nähdä vähän pidemmälle. Erinomaista. [*EDIT: Eikä ole. Tai, siis, yläpäässä säätövara on hulppea, saa todella kirkkaaksi, mutta himmeämmässä päässä säätövara loppuu pahasti kesken. Himmeimmälläkin asetuksella tällä näkee kävellä reippaasti metsämaastossa pahemmin kompuroimatta, jahka silmät ovat sopeutuneet hämärään. Keilan muotokin on kulkemiseen erinomainen. Säätövaraa pitäisi olla kuitenkin vielä pari pykälää himmeämmäksi, jotta esim kartan lukeminen häikäistymättä onnistuisi. Ja vähempi valo riittäisi hitaammin kuljettaessa (tai jos on setämiestä parempi hämäränäkö, luulisin). Ja tämä siis sulanmaan aikaan. Heijastavan lumipeitteen myötä himmeämmän asetuksen puuttuminen harmittanee vielä lisää.*]

Voi ladata, tai käyttää paristoja. Arkikäytössä lataamalla säästöä, mutta varalla ja pidemmillä reissuilla paristot. Ja litium-paristoilla toimii myös kireässä pakkasessa. Taas iso plussa.

Iskunkestävyys on speksattu, tukevanoloinen ja magnesiumrunko. Olisikohan tämä ihan oikeasti kestävä?
4
2
Varusteleka 23.02.2021
Rehti arvio! Muuhun ei just nyt pysty puuttumaan, mutta pantaan saa senttikaupalla lisää säätövaraa kokoamalla sen eri tavalla. Lisättiin aiheesta opasvideo tuonne tuotekuvaukseen, videon meille teki Fenixin Suomen pään jampat.
I would recommend for a friend
Peng H.

23.10.2020 (Edited 23.10.2020)
I purchased the HM65R Superraptor and the HM65R Sarma TST. Both are phenomenal lights! Don't be fooled by the 150 lumens red light on the Sarma, it is extremely bright on high and turbo mode. I use the light primarily for night fishing and I leave it on medium(25 lumens) output 80% of the time. Lastly, if I am not mistaken, in the UK, the Sarma TST is called the HM65R Shadow Master. I compared the specs to both, and they are exactly the same.
8
0
I would recommend for a friend
James M.

24.12.2020
This head lamp was the hit of deer camp. The red light feature is fantastic.
1
0
I would recommend for a friend
Tomas A.

01.01.2021
Very nice lamp, bit on the heavy side, but that is to be expected with the robust construction.
Handling and charging is very nice, i especially appreciate the charging port with the usb3 connector.
As a Finn reviewer has remarked, the lowest red setting is a bit too bright.
The high settings are quite remarkable.
The whole thing is not cheap, but the quality seems ok for the price.
2
0
I would recommend for a friend
Masi L.

07.01.2021
Lamppu on ominaisuuksiltaan erittäin toimiva ja laadukas. Paras otsalamppu jota olen käyttänyt. Miinusta kuitenkin pannan kireydestä. Panta on säädetty suurimmalle, silti kiristää otsaa jo ilman hattuakin.
2
1
Varusteleka 23.02.2021
Pantaan saa senttikaupalla lisää säätövaraa kokoamalla sen eri tavalla. Lisättiin aiheesta opasvideo tuonne tuotekuvaukseen, videon meille teki Fenixin Suomen pään jampat.