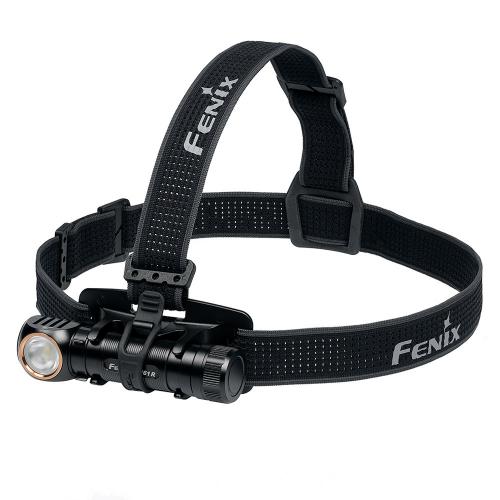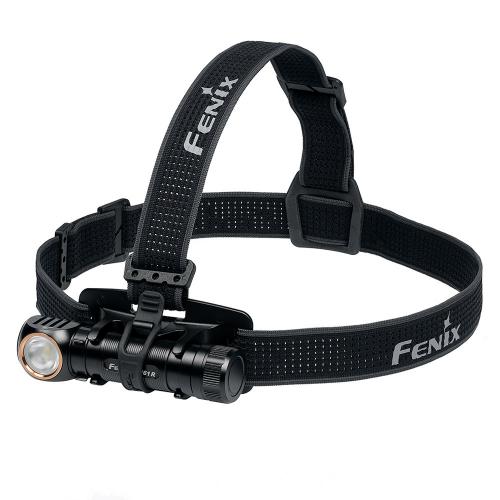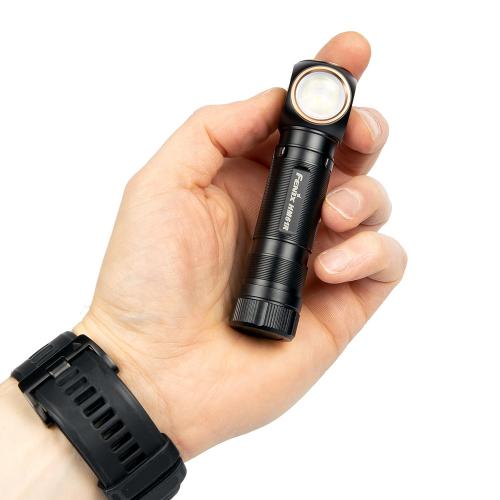 Handy size and a convenient button for your index finger.
Comes with a rechargeable 18650 Li-Ion battery.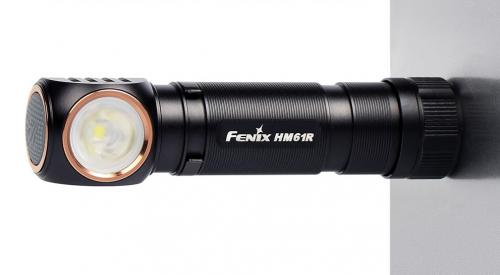 A magnetic tailcap turns the light into a work light in engine compartments etc.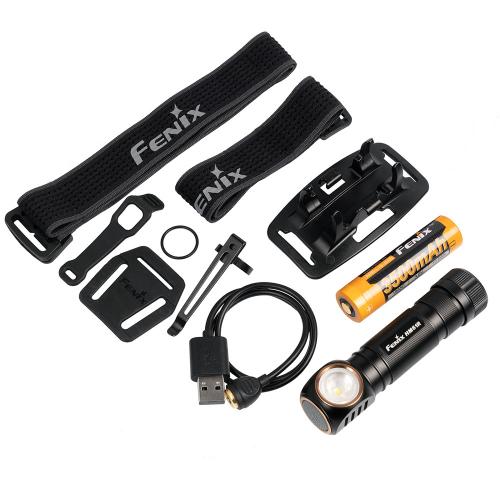 A comprehensive attachment system to get light where you want it.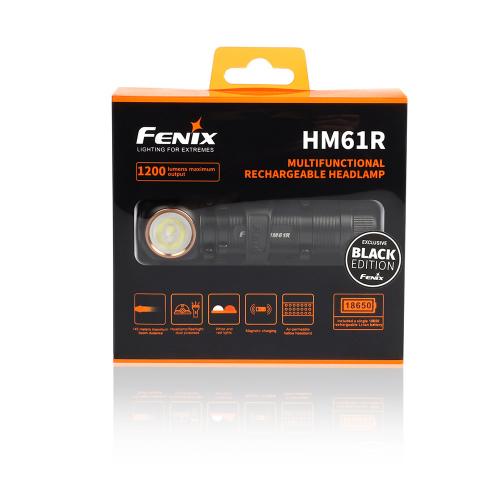 Fenix
Fenix HM61R Black Edition Headlamp
Price 99.99 USD
excluding sales tax
This multi-tool of a headlamp isn't restricted to just one or two tricks. Many regular flashlights leave a lot to be desired if worn on the head while headlamps in the hand are cumbersome at best. This is a special all-black version made for Finnish users!
This product is unlikely to be restocked and will be hidden from our website once it's out of stock.
Discontinued product.
Trouble with the metric system? Try our converter: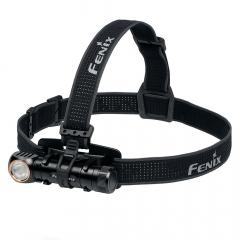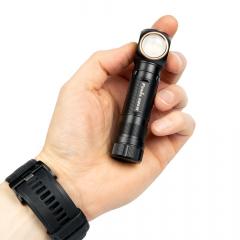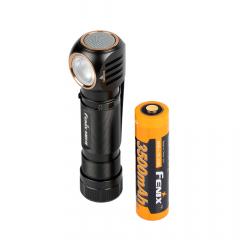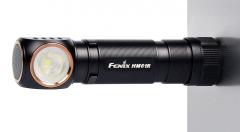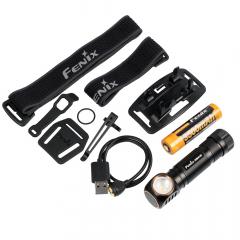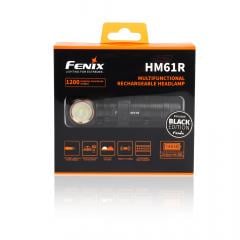 This multi-tool of a headlamp isn't restricted to just one or two tricks. Many regular flashlights leave a lot to be desired if worn on the head while headlamps in the hand are cumbersome at best. This is a special all-black version made for Finnish users!
Don't worry, we'll ship these internationally as well.
Wear the HM61R on your head to point your light where you look. In case of rain or snowfall, move it to your chest. Why, you ask? For the same reason fog lights are mounted low on cars. Speaking of cars, you might need a work light elsewhere than on your person. A magnetic tailcap is your friend in these cases.
While the mounts are military-compatible, just the chest pocket of your jacket or shirt will do when you want to clip the light onto yourself. And when the headlamp is in your bag, it won't turn on by itself thanks to an electronic lock system.
Simple guide to operation
The power button has some tricks to it, but once you get them it's all consistent and logical:
A double-tap on the button engages or disengages the lock.
Turning the light on or off requires a deliberate press. (Longer than a tap, but not exactly a yawn-inducing "press and hold forever".)
When on, tapping on the power button cycles through various brightness settings and flashing mode (if applicable) within your selected colour.
A press-and-hold changes from red to white or back.
A memory circuit recalls the previous brightness setting but the light always turns on in white light mode.
Seven output modes
| Mode | Output | Runtime |
| --- | --- | --- |
| Turbo | 1200 lm | 2 h |
| High | 400 lm | 4 h |
| Med | 150 lm | 12 h |
| Low | 50 lm | 38 h |
| Eco | 5 lm | 300 h |
| Constant Red Light | 5 lm / 1 lm | 80 h / 400 h |
| Red Flash | 5 lm | 160 h |
FEATURES
Works with 18650 Li-ion or CR123A batteries. A Fenix ARB-L18 3500 mAh Li-ion battery is included in the package, and it can be quickly charged with a magnetic charging cable. Here are some of the main features:
Very bright max. 1200 lumen output with maximum of 145 m / 158 yds distance
Digitally regulated circuit - maintains constant brightness
Luminus SST40 white and red LEDs, with a lifespan of 50,000 hours
Simple operation with large side switch
Magnetic charging for easy and fast operation
Battery level and charging indication
Made of high-quality aluminum and PC
Can be used as a mini flashlight
Can be used as a helmet light with an ALG-03 v2.0 helmet mount (sold separately)
Packing includes: headlamp, headband, rechargeable Li-Ion battery, USB Magnetic charging cable, headband buckle, rubber O-ring, user manual
TECHNICAL SPECIFICATION
Output: 1200 lumens (max)
Runtime: 2 h - 400 h
LED-type: 1 x Luminous SST40 White light LED, Everlight red
Batteries: 1 x 18650 incl. / 2 x CR123A not incl.
Certificates: ANSI/NEMA FL-1, ROHS, CE, IP68
Other specs:
| Spec | Metric | Imperial |
| --- | --- | --- |
| Max range | 145 m | 158 yd |
| Size | 101 x 16 x 36 mm | 4" x 0.6" x 1.4" |
| Weight (no battery) | 99 g | 3.5 oz. |
| Weight (inc. battery) | 149 g | 5.25 oz. |
| Impact resistance | 2 m | 6.6 ft |
| Water resistance depth | 2 m | 6.6 ft |
If you plan on using this a lot in freezing temperatures, the CR123A is a better power source. It also extends burn times.
Warranty
5 years warranty for the flashlight against factory defects, 1-year warranty for the battery.
Made by Fenix
Fenix is a high-quality mobile lighting manufacturer founded in 2001. They manufacture flashlights, headlamps, bicycle lamps, etc. for professionals and hobbyists all over the world. The thing about Fenix is their excellent value, very affordable yet very high quality. Fenix is a great choice for anybody looking for a real workhorse flashlight!
All products: Fenix
Recommendations
Loading products...
Reviews
You have already submitted a review. You can edit your text by clicking on it. You can filter the reviews by clicking on the elements of the summary.
Log in and write a review. You can filter the reviews by clicking on the elements of the summary.
Remove filter
Suomi
(1)
English
(1)
I would recommend for a friend
Jakub S.

21.05.2020

Verified purchase
I bought this headlamp as I wanted headlamp that has decent white light output modes, while using a quality rechargeable battery and most importantly having a red light function.

There are a hundreds of good headlamps out there, but when one wants removable batteries the options are reduced to dozens and when ones adds the necessary condition of having the very useful red-light function then one has practically no options. So coming across this Fenix was a pleasant surprise.

I can compare this headlamp to my now discontinued Olight H2R which has a very similar form factor, uses 18650s and a very similar headband.

The Olight on the whole seems to have better construction than the Fenix, the threads are much smoother, but when it comes to exterior finish it is quite close.

The Olight has a more versatile headband, the Fenix is close to full extension on my medium sized head, while the Olight has a lot more room for loosening and tightening the headband. One could potentially use certain helmets with the Olight headband at full extension while this not a possibility at all with the Fenix. The Fenix headband does have some rubberized areas so it is able to hold it's place better than the regular elastic Olight headband.

The Olight has a much better reversible clip that provides one with a plethora of mounting options compared to the Fenix's thinner and one way clip. That being said, the Fenix mounts onto the headband with the clip, while the olight needs to have the clip removed in order to be mounted in the headband and carrying this extra clip loose for added function is not practical.

The Olight has a better way of cycling through the modes. It is more intuitive. However, the Olight lacks the red light functions which adds complexity to the Fenix so the comparison isn't completely fair here. The only thing I wish was had here is if the Fenix headlamp had memory of whether one last used the red or white light, as the Fenix only remembers the last white light function. So one must go through the white light functions to return to the red light after powering off the light, although this can be done relatively quickly.

The Fenix most importantly has a red light function, this alone makes it much more usable than the Olight. I can overlook all the small advantages the Olight has over the Fenix just for red-light functionality. If one does not want to impair their night vision red light functionality is a must in constant headlamp use at night. It further helps that the Fenix has High/Low red-light modes as opposed to many headlamps that might have only one red-light mode.
11
0
I would recommend for a friend
Sten R.

27.08.2022

Verified purchase
Hinta-laatu-suhteeltaan oikein hyvä lamppu pimeän ajan ulkoiluun ja remppaamiseen. Valotehoa on riittävästi ja paristokesto on kelvollinen.

Vaateklipsin lisäksi lampussa on pohjassa vahva magneetti, jolla lampun saa tarvittaessa pysymään hyvin paikallaan metallipinnoilla.

En keksi laitteesta pahaa sanottavaa.
1
0