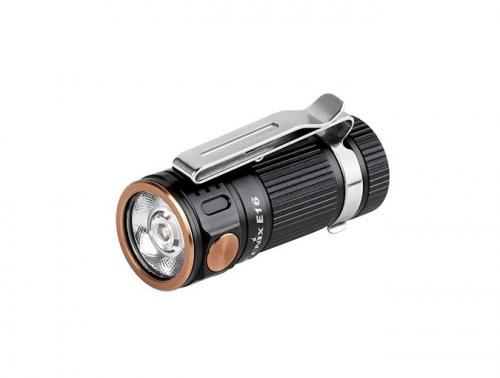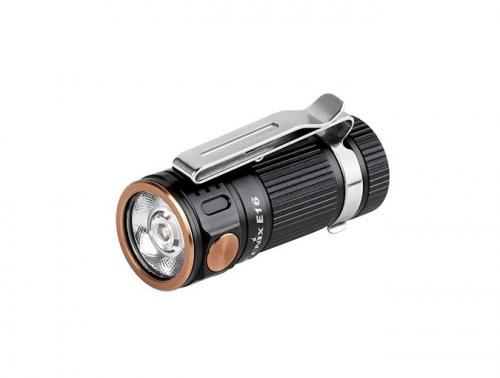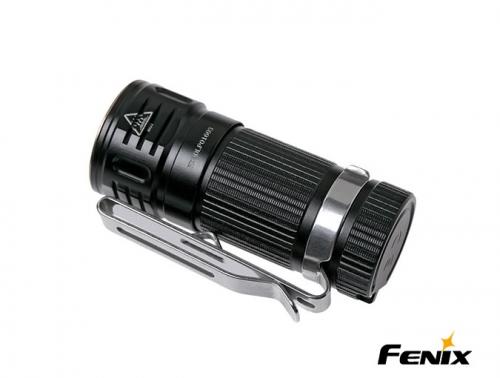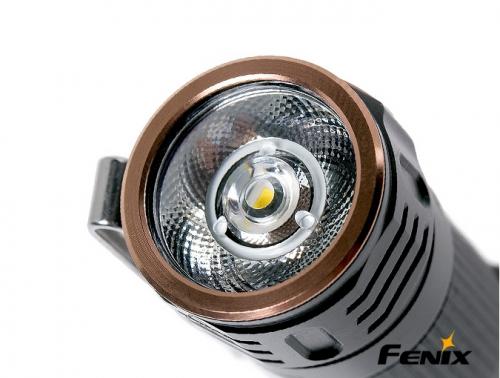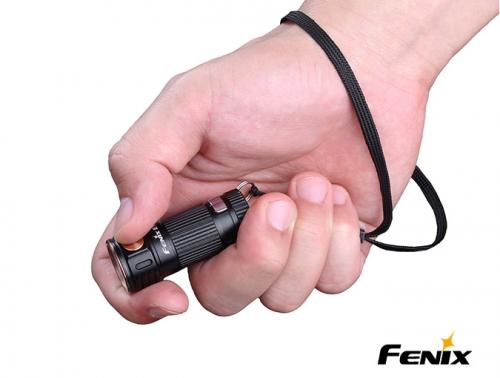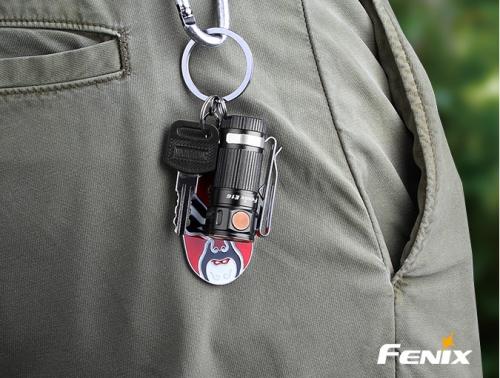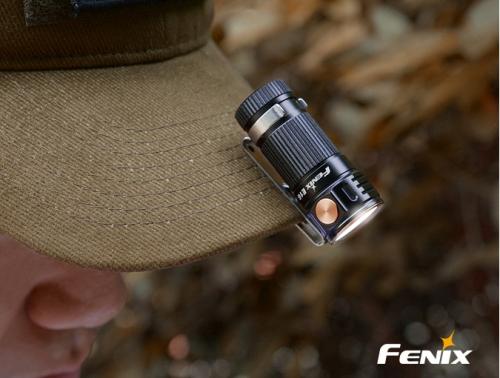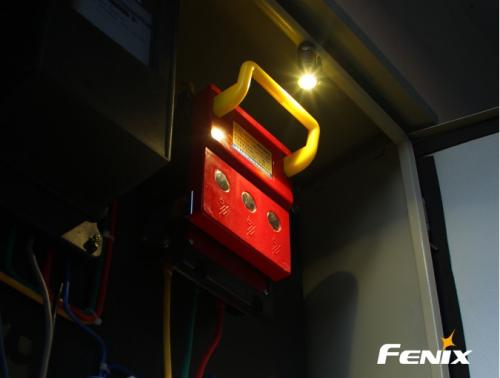 Fenix E16 Flashlight
Price 51.99 USD
excluding VAT
At the risk of stepping into a cliché trap, "it's not the size that counts". This little flashlight is immensely powerful, up to 700 lm bright! Still, it's the size of a keychain and clips to your pocket or on your baseball cap.
Trouble with the metric system? Try our converter: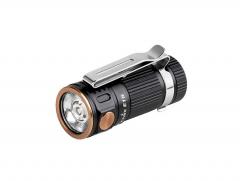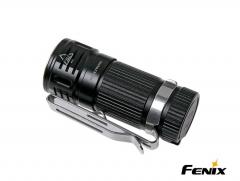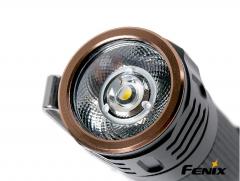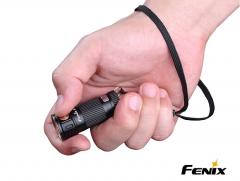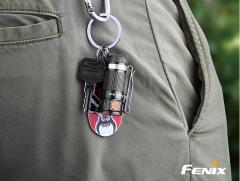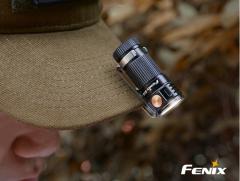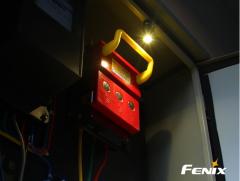 At the risk of stepping into a cliché trap, "it's not the size that counts". This little flashlight is immensely powerful, up to 700 lm bright! Still, it's the size of a keychain and clips to your pocket or on your baseball cap.
You can choose whether to power it with a 16340 rechargeable battery or CR123 lithium battery. With a lithium battery, the turbo setting is capped, but runtime is longer and it works better in freezing temperatures.
Features
Digitally regulated circuit - maintains constant brightness
Reverse polarity protection, to protect from improper battery installation
Magnet and lanyard attachments and steel clip
Accessories: lanyard, spare O-ring, keyring
Technical data
Light output 700 lm (max)
Runtime 110 h (max)
LED type: Cree Cree Premium XP-L HI
Power source (not included):16340 or CR123A battery
Meets or exceeds ANSI/NEMA FL-1, ROHS, CE, IP68
Other specs:
| Spec | Metric | Imperial |
| --- | --- | --- |
| Max range | 142 m | 155 yd |
| Size | 51 x 21 x 20 mm | 2" x 0.8" x 0.8" |
| Weight (no battery) | 21 g | 5.5 oz. |
| Impact resistance | 1 m | 3.3 ft |
| Water resistance depth | 2 m | 6.6 ft |
Four power levels and a strobe:
| Mode | Power (16340) | Max. burn time (16340) | Power (CR123) | Max. burn time (CR123) |
| --- | --- | --- | --- | --- |
| Turbo | 700 lm | 1 h 5 min | 300 lm | 1 h 55 min |
| High | 150 lm | 2 h | 150 lm | 2 h 50 min |
| Med | 30 lm | 11 h 55 min | 30 lm | 25 h |
| Low | 3 lm | 70 h | 3 lm | 110 h |
| Strobe | 700 lm | | 300 lm | |
Warranty
The product has a 5-year warranty against factory defects.
Made by Fenix
Fenix is a fairly recent name on the flashlight market. The "thing" about Fenix is their excellent value, very affordable yet very high quality. Fenix is a great choice for anybody looking for a real workhorse flashlight!
Recommendations
Loading products...
Reviews
You have already submitted a review. You can edit your text by clicking on it.
Log in and write a review.
Remove filter
Suomi
(4)
English
(1)
I would recommend for a friend
ilkka p.

26.01.2019 (Edited 02.06.2021)
Muutama viikko käyttöä takana. Ostin pyöräilyä varten "huomiovaloksi" otsalampun korvikkeeksi. On näppärä kun saa lippiksen lippaan kiinni. Valoteho riittää hyvin ympäristön pällistelyynkin voimakkaammilla asetuksilla. Edut: ei vie tilaa, ei tarvitse säätää otsalampun remmien kanssa, valoteho on hyvä. Haitat: en ole haittoja huomannut aikaisempaan lamppuratkaisuuni verrattuna. Ostin ladattavan akun ja pari viikkoa olen pärjännyt kerralla, mutta siinä on mukana nuotioreissuja pimeässä, pelkässä hyötypyöräilyssä kestäisi kauemmin. Koko on todella pieni, tähän sopivia paristoja ei myydä joka kaupassa, akku on hyvä.
Toivottavasti ei mene rikki heti kun vesisadekelit alkavat.
4
0
I would not recommend to a friend
Juuli K.

15.04.2019 (Edited 05.06.2021)
I would recommend for a friend
Niko T.

06.03.2020 (Edited 06.06.2021)
Hyvä lamppu takintaskuun, tuohon hintaan olisin kyllä toivonut Fenixiltä paristoa mukaan
0
0
I would recommend for a friend
Raila R.

17.11.2020 (Edited 06.06.2021)
This flashlight is super small and super bright. But I have to be a bit of a tech head to use it. It has several settings accessible by one button. Either I'm reading the instructions wrong or the instructions don't match the flashlight. I have to always guess at how to turn it to a solid beam from a strobelight, and when I think I've got it turned off, it turns on by itself later on in my pocket...using up battery juice. Also this flashlight gets extremely hot. Not bad as a hand warmer, but I dont like it heating up my pocket without me knowing about it. Unless you want an unpredictable flashlight to brighten your adventure, (pun intended) I would opt for a simpler design at this price.
I have to edit this. I went tent camping and got snowed on and had to fold up the tent in a hurry. One plastic hinge had snow packed and melted and frozen into it, and all I had to do was shine the brightest setting on the hinge for a few minutes to melt the ice inside. This flashlight is dual purpose and yes it is a bit to figure out but well worth it. Sorry I judged it so harshly before!
0
0
I would recommend for a friend
Riku S.

21.12.2020 (Edited 06.06.2021)
Tää on vähän sellainen "et tiiä tarvitsevasi tätä, ennen kuin ostat" -tuote. Hankkimisen jälkeen sitä vaan huomasi vuoden aikana, miten monessa tilanteessa ylimääräisestä valosta on iloa.

Plussat:
+Oikeasti pieni ja siksi käytettävissä kun tarvitsee. Menee vaikka avainnipun mukaan ongelmitta (on pienempi kuin jotkut avaimet). Otsalamput on käteviä juu, mutta niiden pantojen ja muiden härpäkkeiden takia ne tapaavat unohtua toisen takin taskuun juuri kun tarvitsisi. Tämän voi lykätä mukaan melkein mihin vaan, mikä kulkee aina mukana.

+Valotehoa on vähintään tarpeeksi. Et sä arkikäytössä sitä 10 000 lumenin superlamppua oikeasti tarvitse. Eri valotehoja on 4, mukautuu moneen tilanteeseen.

+Klipsin, avainrenkaan ja magneettipään ansiosta taipuu monenlaisiin viritelmiin. Vaatii otsalamppuun verrattuna enemmän virittelyä, mutta tätäkin pystyy useimmiten käyttämään molemmat kädet vapaana.

+Kestävä. Minä armoitettu mämmikoura olen tiputtanut tän jo sen kiljoona kertaa mitä erilaisimpaan sontaan, ja silti se vaan palaa edelleen.

Miinukset:
-Korkein valoteho on aika teoreettinen. Lamppu on fiksu eikä anna käyttää sitä, jos sen mielestä akkua on jäljellä liian vähän. "Liian vähän" tässä tapauksessa tarkoittaa melkein mitä vaan hetki lataamisen jälkeen. Jos metsään haluat mennä, niin posottelet todennäköisesti vain ekan kolmen valotehon voimin.

-Akku on käytännössä pakollinen, joten ynnää sen hinta suoraan lampun hintaan mukaan.

-Tahtoo joskus harvoin mennä päälle itsestään. Sen huomaa yleensä siitä, kun tasku lämpenee oudosti.

-Ei ominaisuutta, joka kertoisi jäljellä olevan akun virran, kuten joissain Fenixin otsalampuissa ainakin on.
0
0