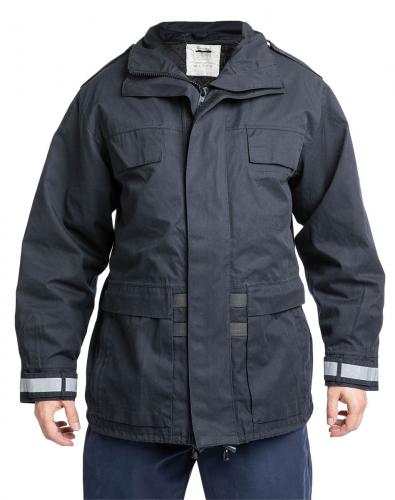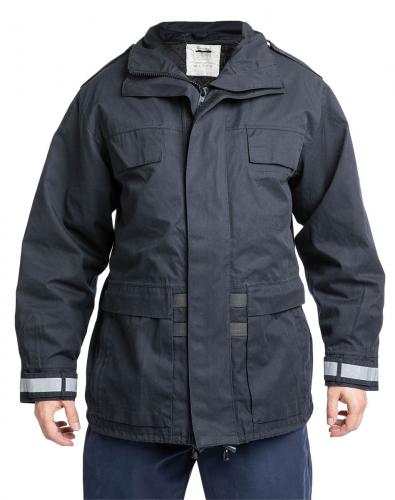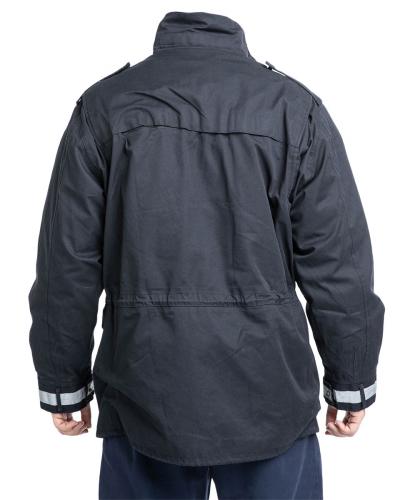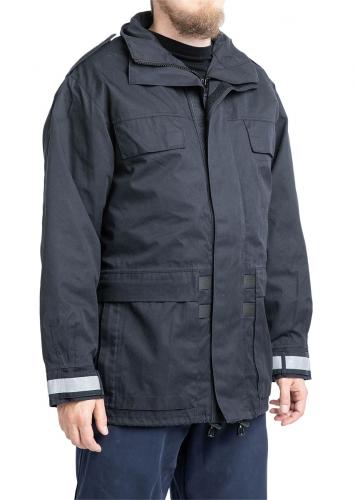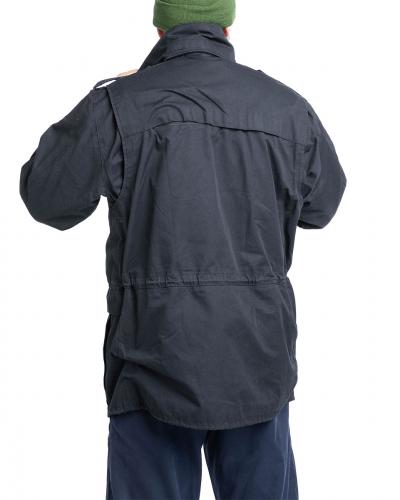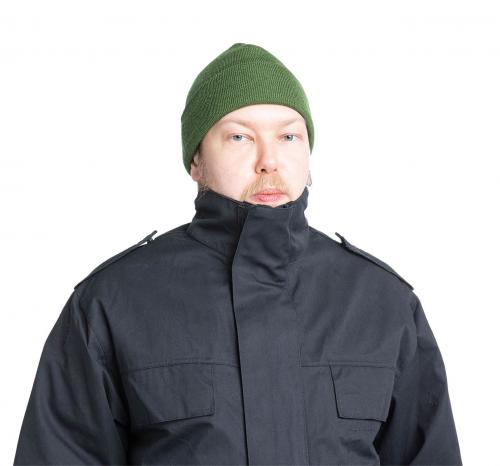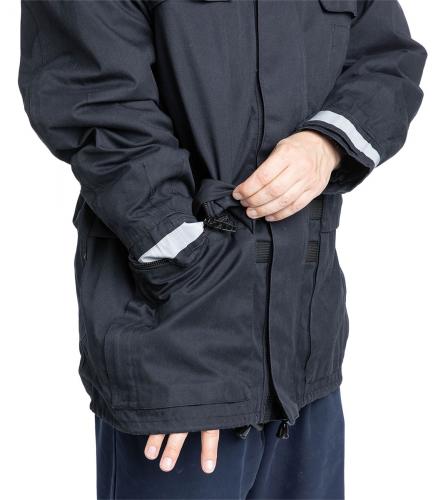 The jacket has two zippered openings that allow you to touch yourself underneath the jacket.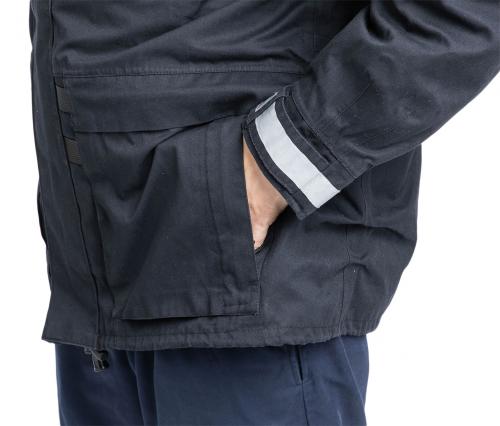 Side pockets for your hands and stuff.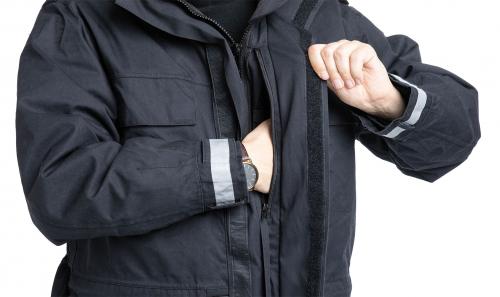 Roomy side-opening breast pockets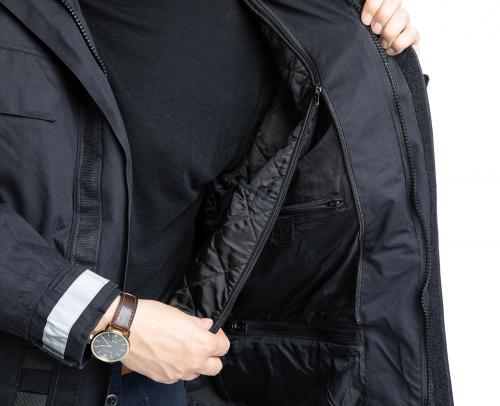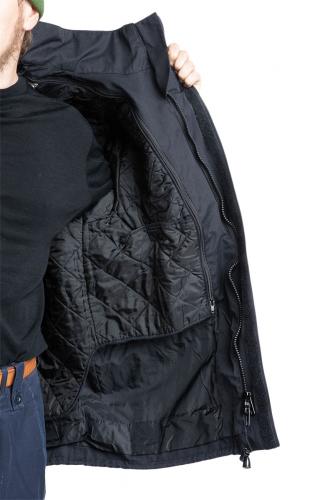 The jacket has a detachable lining.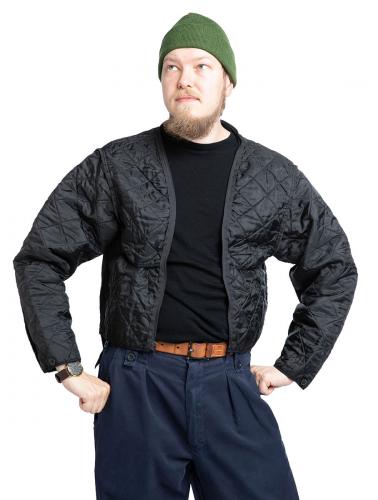 The lining doubles as a 70s hipster jacket.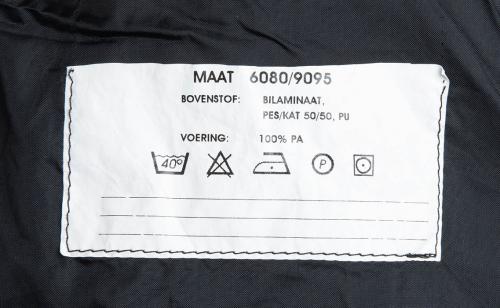 Netherlands
Dutch Field Jacket w. Membrane and Liner, Blue, Surplus
Price 32.99 USD 59.99 USD
excluding sales tax
Nicely used Dutch field jacket with a membrane and a detachable lining. Pitch dark midnight blue like the Finnish soul. A limited one-off batch, so act fast or prepare for the sad life of no jacket.
Loading products...
Trouble with the metric system? Try our converter: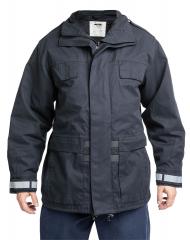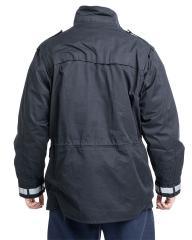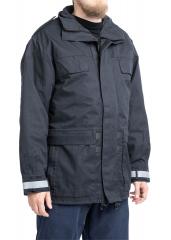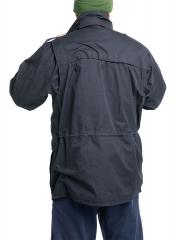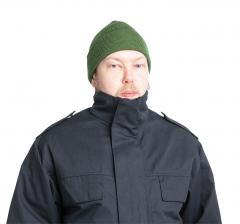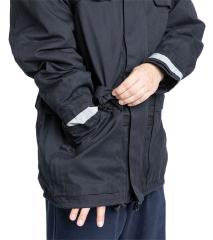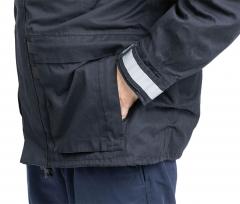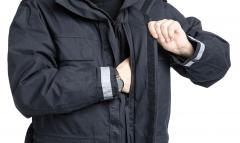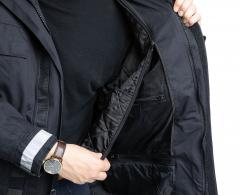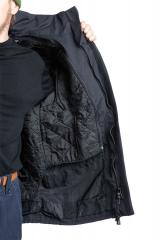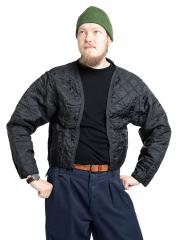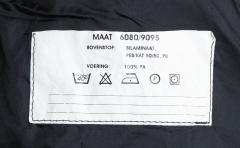 Nicely used Dutch field jacket with a membrane and a detachable lining. Pitch dark midnight blue like the Finnish soul. A limited one-off batch, so act fast or prepare for the sad life of no jacket.
Zippered lining
Two top-opening and two side-opening outside breast pockets, two hand-warming pockets, two inside breast pockets, and two zippered openings that allow you to touch yourself underneath the jacket.
Tiny hood pocket in the neck without the hood
Reflectors on the sleeve cuffs
Full length two-way front zipper w. a hook and loop storm flap
Drawcord-adjustable hem to keep the cold wind away
Features
This is quite a versatile jacket designed for different kinds of shitty weather. Keep the lining on when it is cold and wet and unzip it easily when it is warm and wet.
The reflectors on the sleeve cuffs help you stay alive in traffic. These also come with a decent number of pockets. There is also a teeny, tiny pocket for some sort of an elf hood, which isn't unfortunately included. It would have been nice to see what kind of a magical thingy can fit in such a small space. Store something precious in there that you don't want to be found.
Size info
The first four digits of the NATO size refer to the recommended height of the user and the last four the chest circumference. We opened them up to be a bit easier to read. These are quite roomy in the chest department. So, if you pick your chest size, you should be able to fit a mid-layer in there. If you don't need to fit any thicker layers, you could be ok with a notch smaller.
Our model is 175 cm (5'9") tall and has a 98 cm (38.6") chest. He is wearing the coat in size 160-180 / 90-95. One could still fit a collared shirt and a sweater underneath.
Condition
Quite gently used Dutch military surplus. However, we cannot guarantee that the waterproof membrane of a used coat is 105% waterproof anymore because it is quite impossible to check it thoroughly. This is reflected in the price, which is quite nice.
All products: Netherlands
Recommendations
Loading products...
Reviews
You have already submitted a review. You can edit your text by clicking on it.
Log in and write a review.
Remove filter
I would recommend for a friend
Erik M.

16.11.2020 (Edited 06.06.2021)
It's very bulky, makes me look fat.
There's a zipper attachment for a hood.
The liner is warm until it reaches belows -1, then it becomes nippy.
The side "pockets" are just for your hands, attempting to put an item in them will have it fall out from under the jacket.
The only pockets that can actually hold items are 2 concealed on the inside, and 2 on the breast outside.
Somebody yanked out the drawstring at the bottom, so I have no way to cinch it. This leaves the backside forming a "turtle shell" allowing cold wind to reach my back...
4
2
I would not recommend to a friend
Eugen M.

09.12.2020 (Edited 06.06.2021)
The product is supposed to have a detachable hood, my jacket came without. Therefore i am really pissed off because why i should pay for the full price when Varusteleka delivers just parts of the product!!!?!?!
Also the description is wrong.
I consider this cheating! I know we are living in bad and stressful times but it is still cheating!
1
19
I would recommend for a friend
Erik S.

12.01.2021 (Edited 15.06.2021)
The description says without the hood and so it is, without the hood.
I bought x-small x-short for my outdoorsy kid. It turned out to be perfect fit - as in catwalk model tailored fit - for me (175 cm, 80 kg, that would be M-size).
You can see where badges were removed, and my piece comes with face gunk stains of some foxy fit fighting lady on the collar. Now I wonder, if I should see, where to get that Dutch valkyrie's once-worn undies as well.
The liner is crappy, held in place with 3 small pieces of hook-and-loop, there is no original zip-in liner, although the zips are there.
1
0
I would not recommend to a friend
Víctor D.

12.07.2021 (Edited 22.07.2021)
WARNING: It is a military rain jacket but it is not oversized. I picked Medium Long and if I use the liner I cant have nothing but a t-shirt underneath. I wanted it for urban and office use, but be careful if you want it for layering in the field... most surpluss rain gear is more oversized than this one

Great jacket for foul weather. Mine came without any rank/insignia/logo, but the places where they were sewn in place and then removed were visible due to loose threads. Cheap and tough, the lack of hood is not a big deal as I use it in a city environment and I always have my umbrella.
The cut of the jacket is boxy and a little tapered, it is wider at the stomach area and makes me look fat even if I am skinny (1.76cm tall but 65kg and slim waistline). Plenty of pockets and smart features like the pass-through zippers that allow you to reach your pants pockets without opening the jacket. The liner is nice and warm. The reflective material in the cuffs can be hidden.

The rating is not 5 stars because the seam tape used to seal the seams in the main pockets has become loose and its glue has dried up. The glue is flaking off and even after cutting the loose tape and cleaning the jacket every time I open the zipper what seems to be a kilo of dandruff comes out. That being said, it works and for 33EUR you wont get a black high-end rainjacket anywere, so I am going to buy another one and leave it in the car for emergencies.

EDIT:
Review made the 12.07.2021 but edited the 15.07.2021. I no longer recommend it. The membrane layer (Intermidiate layer) has detached itself from the tough outer fabric and from the inner soft layer. The glue that held it in place has dried out and the sleeves from the membrane layer are loose. Everytime I remove this layer they ride up my arm and then when I try to put the jacket on, I have to fight with the bundled-up membrane in the sleeves. My car, closet and bedroom are buried in dry glue flakes everytime I move the jacket.
I still give this jacket 4.5/5 stars because it is cheap and tough, but I cant recommend it because I do not know if all of them fail after a few months (Item bought on the 2021-May-18) or I just got a lemon. Anyway, I am going to remove the inner (liner) and middle (membrane) layers and just use the outer shell with the additional liner always zipped onto it. If it works out I may even considering getting another one.
1
0