DD SuperLight Pyramid Tent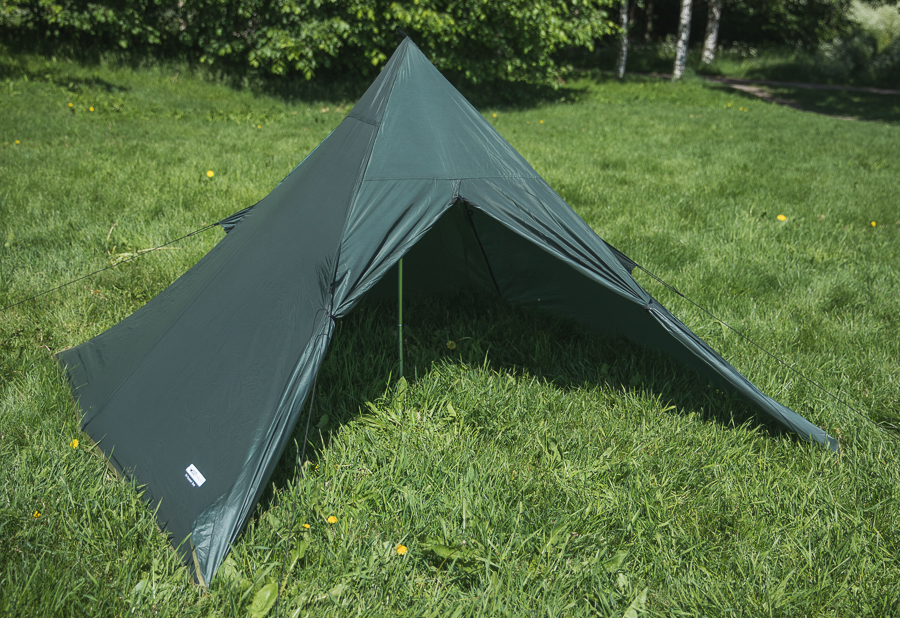 In stock 4 pcs
Products in stock are also available in our walk-in store.
Trouble with the metric system? Try our converter:
These might also interest you
If you think tents are too heavy, here's one that you will barely notice in your rucksack! At a bit over one pound it's the lightest one we sell.
The SuperLight Pyramid Tent is a frame-free singleskin tent, which means there is no inner tent and weight has been reduced to incredibly low figures as a result. A groundsheet is also deemed unnecessary in this model. You probably have a kip mat anyway, right?
The tent is pitched by using a 135 cm hiking pole or a suitable stick to prop up the centre, or just hanging the centre from a tree branch or Paracord ridge line. This kind of dual-use of hiking poles is a smart way to reduce weight. If you don't use a pole at all, the practical room inside increases dramatically.
Single skin tents in general don't handle condensation as well as double-walled models, so the top has a generous vent and no seams run horizontally on the fabric. Leaving a slight gap between the ground and tent, or even leaving the door slightly open also helps air circulation, and the tent still provides much better coverage than a simple tarp shelter or fly sheet.
A pyramide structure has less space compared to dome-type tents, which in this case is a trade-off for weight reduction. We found the tent just big enough for an average height person (or two, if you have small packs), but a tall (188 cm) person will have to bend the knees a bit to keep clear of the walls. It is possible to sit pretty nicely close to the centre.
The entrance is one big zipper and either door (or both) can be rolled out of the way or pegged down to form an open shelter for cooking. Optional guy-out points can be used to secure the tent in stronger winds and bulge out the walls a bit for more space inside.
Material and care
The fabric is single-layered SuperLight ripstop nylon with a waterproof PU coating and taped seams. Any washing should be done in lukewarm water by hand with mild detergents.
Repeated folding seams could weaken the fabric over time, so the manufacturer recommends to just stuff the tent in its bag. We like this approach, because we rather take down the camp quickly in the morning and enjoy a longer coffee with breakfast.
Product specs
L: 260 cm, W: 245 cm, H: 120 cm
Packed size: 28 x 15 x 11 cm
Weight: 460 g (excl. pegs & guylines)
Waterproof: 3000 mm (PU coated w. taped seams)
Tent
13 pcs SuperLight pegs
5 guylines (2 m each)
Small stuff sack for accessories
Stuff sack to pack/store the whole thing
Made by DD Hammocks
Founded in 2005, the British DD Hammocks supplies proper quality hammocks, tarps and other related stuff. Along with campers, hikers etc., a large customer base is in the British military. If it's good enough for war zones, it should do well in civilian life too. Go check out their web page, DDhammocks.com.
Log in and write a review.