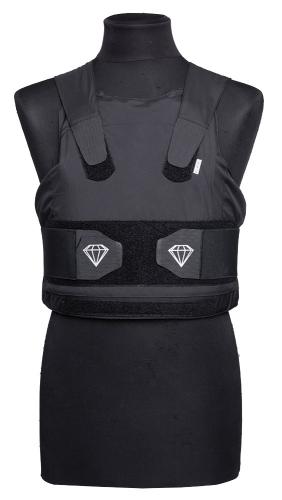 CPE Pro Diamond vest, NIJ IIIA
Price 479.99 EUR including VAT
Trouble with the metric system? Try our converter: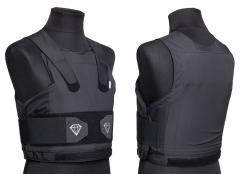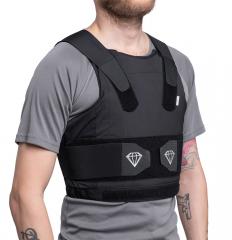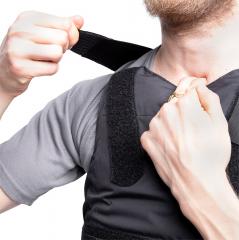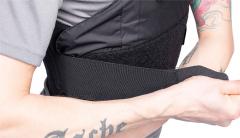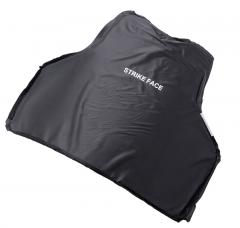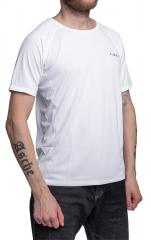 Protect your torso against accidental and violent threats with this C.P.E. vest made for demanding professional use!
The C.P.E. Diamond NIJ IIIA weighs only 1.8 kg (3.97 lbs) in size Large. The panels are less than 5 mm thick (0.2"), yet offers excellent multiple hits protection and hits close to the edge of the panel. Each protective layer is separately laminated for improved hygiene and moisture protection. The panel offers the best possible protection with minimal trauma.
The protective panels are stiff and stand upright on their own. The initial feeling is slightly cumbersome, but the vest adapts to the wearer soon after donning it. With a well-protected body, the mind is at ease and the user can focus on the task at hand.
Protection level NIJ IIIA
The IIIA level according to NIJ-standard is pretty much the lowest used in military and LE applications these days, but also the highest level that can be achieved with soft materials. NIJ IIIA is commonly used in bullet-resistant vests worn underneath clothing as well as flak vests.
NIJ IIIA stops the following threats (list not exhaustive):
.22LR (rimfire pistols and rifles)
.44 Magnum SJHP
9x19mm FMJ (pistols and submachine guns)
Fragmentation and ricochets.
If you are unfamiliar with the NIJ rating system check out his NIJ chart for further reference.
Made by CPE
CPE, short for Combat Protective Equipment, is a large-scale Finnish manufacturer of protective kit. They supply riot gear, training suits, bullet and frag protection to the Finnish Defence Forces and law enforcement institutions both domestic and foreign. CPE has their own laboratory for testing and stringent standards to provide the end-user with the highest possible quality to depend your life on.
These might also interest you
Log in and write a review.