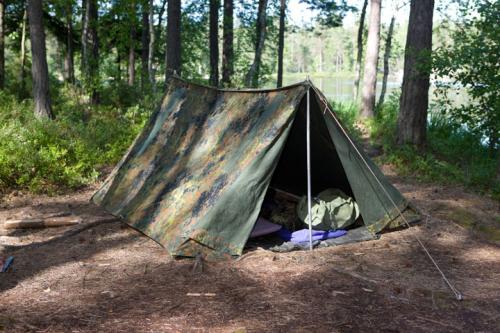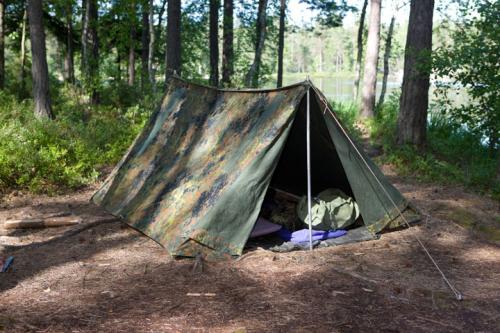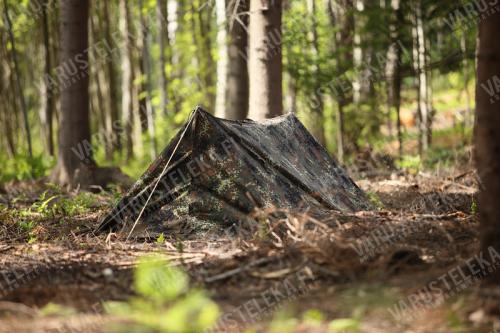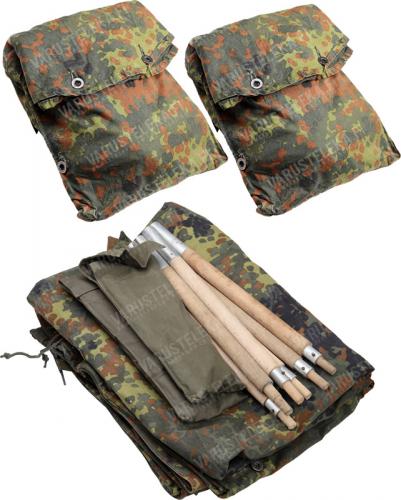 The poles and pegs may be aluminum, these are not sorted.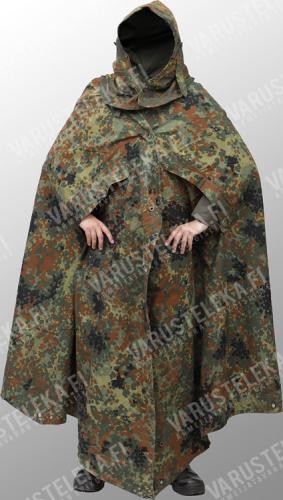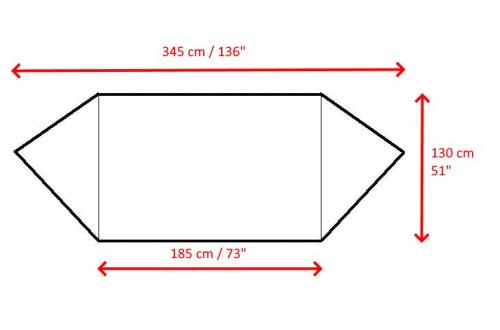 Germany
BW two-man tent, Flecktarn, surplus
Price 39.99 USD
excluding sales tax
Used German army issue tent for two. Fast to assemble and dismantle. Can also be turned into rain ponchos!
This product is unlikely to be restocked and will be hidden from our website once it's out of stock.
We don't know when this product will be restocked. With surplus the restock date is unknown due to sometimes poor availability. Request restock notification and we will email you as soon as this product is available.
This product has used and returned variations. Used are washed and unbroken. Heavily used are also washed but might be missing buttons, have tears, main zipper can be broken etc. Read more about Kierto.
Trouble with the metric system? Try our converter: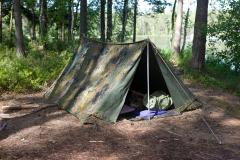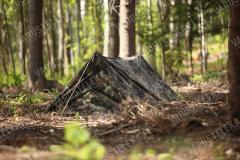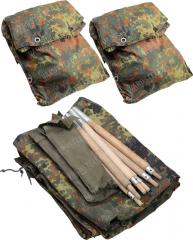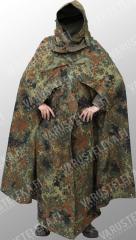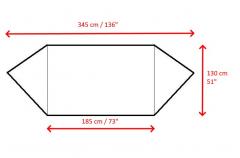 Used German army issue tent for two. Fast to assemble and dismantle. Can also be turned into rain ponchos!
Packs into two separate but identical packages. Why this separation? Well the idea is that both fighters carry a single package - one half of the tent for each. This material can be used for personal camouflage and offers a rain shield if one is needed.
Both packages come in carrying bags and consist of one shelter half and peg bag including four pegs and three or four tent poles. The poles are the same length, they are simply constructed of 3 or 4 pieces depending on year of manufacture or something.
The tent is almost 3 metres long from one end to the other, depending on the way you set it up. Width just a bit less than a metre and a half - enough for two persons, too little for three and gloriously spacious for one. Weight 4,250 kg, so about 2 kg per man - not exactly an ultralight option.
The shelter half can be transformed into a rain poncho, with the carry bag acting as a hood.
German army surplus
Used, but in OK serviceable condition, but please note we can't check each and every little tidbit. That's the nature of used stuff.
Pitching the tent
1. Spread the fabrics and button them together. Ensure that the eyelets align at the ends.
2. Assemble the poles and poke the narrow ends through both eyelets. String some guyline over the end of the pole and peg them down.
3. Peg the sides down with stakes, three on each side. If the sides are missing loops, you'll need to fabricate them. No biggie.
4. Tighten the ridge and make final adjustments.
We recommend practicing this beforehand in easy conditions and also to check that you have everything you need, which should be as follows.
2x carrying bag
2x tent fabric half
8x peg
8x or 6x poles (same length anyways)
2x guy line
Kierto Circular Economy
Return this product used but clean and unbroken, and you'll receive half of the product's original price as Varusteleka credits. Service is available only in Finland. Only Registered users can make Kierto returns. See more information about Kierto.
All products: Germany
Recommendations
Loading products...
Reviews
You have already submitted a review. You can edit your text by clicking on it.
Log in and write a review.
Remove filter
Suomi
(4)
English
(13)
I would recommend for a friend
mobi

20.07.2016 (Edited 26.07.2016)
I would recommend for a friend
Kari B.

24.08.2016 (Edited 23.05.2019)
parasta ikinä. joka kertaa pystyttäessä mieli tulvii yleviä ajatuksia ja villiä uhmaa luontoäitiä kohtaan.
21
2
I would recommend for a friend
Liam B.

08.02.2017 (Edited 31.05.2021)
This product is awesome. I only found one missing button on one of the carry bags, other than that there were no tears, no missing parts and everything was packed very nicely. I'm planning on trying it out this weekend.
12
0
I would recommend for a friend
Elliot M.

24.03.2017 (Edited 31.05.2021)
this is a nice and cheap, simple tent, i really like it. it only had one button missing on one of the carry bags and it had a few minor holes, but they have been patched up really nicely. nice and simple to put up, decent space, must be snug for 2 people. it had all the appropriate gear with it and some German names written on the inside of the carry case. i use it with the BW folding sleeping mat and that works very well with it, although you need 2 to create a floor, otherwise you will be sleeping on dirt.
the only annoying thing about it is when you pack it up and dirt and mud gets in the bottom tent pole so you cant put a peg inside it for packing away, you have to poke a stick though to get all the packed dirt out. still worth it
6
0
I would recommend for a friend
Nelson M.

26.07.2017 (Edited 31.05.2021)
Like it a lot! In excellent condition and the package arrived very quickly! 5 stars!
2
0
I would recommend for a friend
William W.

14.09.2017 (Edited 31.05.2021)
A bit on the bulky side but makes up for it in unparalleled versatility you can do just about anything with this set. I was also quite happy with the condition it came in, the only damage was a well repaired cut on one of the tarps next to one of the grommets and one of the accessory bags had a few holes in the front.
3
0
I would recommend for a friend
Hunter L.

11.02.2018 (Edited 31.05.2021)
This is a good tent. It is very durable and is hard to spot from a medium distance where I live (Western Maine). And to top it off, It all fits in a pa-108, 50 cal. Ammo can. Edit- This tent in not waterproof, keep this in mind when camping.
3
1
I would recommend for a friend
David F.

28.02.2018 (Edited 31.05.2021)
Mine came as described in very good condition. Nothing missing, torn, or repaired that I noticed. I have the NVA and Russian tarps, what I prefer about this is the ends of the tent can be closed up. There is no floor, but another tarp or a sleeping mat will fix that fast enough. Best Tarp type tent design I have seen. It is also longer so a normal sized guy fits better. too. You could leave the poles at home and use sticks if the weight is a issue. Great product, quite likely under priced.
5
0
I would recommend for a friend
Sam t.

21.04.2018 (Edited 01.06.2021)
Got mine in almost new condition. No rips or missing parts. I absolutely love it and can't wait to use it.
5
0