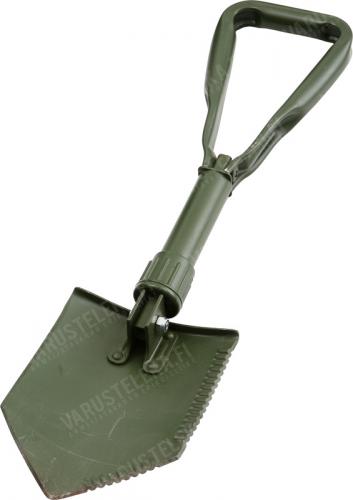 BW Tri-folding e-tool, with carrier, surplus
Price 23.99 USD excluding VAT
Flat Rate Shipping to USA $9.99
100 % recommends
Sold 30 pcs in the last two weeks
In stock 118 pcs. Also available in our walk-in store.
Trouble with the metric system? Try our converter: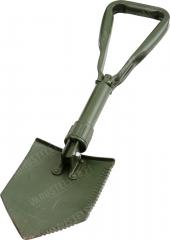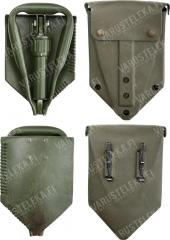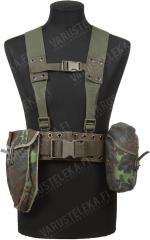 Folding shovels are an old thing, but at some point, somebody got the idea to add one more joint to it. The result is a tri-folding entrenching tool, which occupies a remarkably small space. Comes with an e-tool carrier.
We know what you're thinking: will I get a good one? Yes, you will: these are used with scratches and worn paint all over. It means they are the real thing made in Germany, not cheap reproduction trash.
It's good to own a few of these actually: One in your car, a couple for gardening and six to give to your grandma as a present.
Carrying pouch variance
You'll get one of three models.
In case of green or khaki plastic, the pouch material is a flexible and strong polymer, immensely tenacious against wear and tear. On its back, you'll find two US keepers, "ALICE clips". With these, you can attach the pouch to belts up to 55 mm wide or anything else you can imagine. The khaki one is not original BW issue and made by Mil-Tec, but seems to be - unusually - about on par with the original when it comes to quality.
The pouch might also be a BW e-tool carrier with a Flecktarn camo pattern. Attaching these to anything but the original belt requires zip-ties or paracord.
German army surplus
Used but in serviceable condition, at most you'll need to squirt some oil in the locking threads.
Reviews
You have already submitted a review. You can edit your text by clicking on it.
Log in and write a review.
Remove filter
Suomi
(4)
English
(12)
I would recommend for a friend
Rory O.

07.10.2016 (Edited 23.05.2019)
The most solid folding shovel I have ever seen bar none. Not overly heavy, compact (the supplied case is up to scratch, no doubt). Well worth the bucks if you are in need of a shovel.
13
1
I would recommend for a friend
Sami S.

16.05.2017
I would recommend for a friend
William W.

31.07.2017
Near indestructible shovel for a good price much better than knock offs in the same range.
7
1
I would recommend for a friend
Pyry P.

21.01.2018
Tuhoutumaton, pieneen tilaan menevä ja taatusti laadukas lapio. Aina auton perässä valmiina
4
0
I would recommend for a friend
David F.

14.02.2018
Mine came nearly new with just a little paint worn off the corners of the shovel. Excellent! It is like new and the best folding shovel I have held. It is light and properly made like nearly all German gear. Light, sturdy, and German designed! The flecktarn case is durable and appreciated. You can easily slide webbing in between the odd German fasteners and cut off what you don't need, whether it be metal or plastic. Awesome quality at a cheap price, as per usual with these Varusteleka guys. Buy one and you will be happy!
4
0
I would recommend for a friend
James V.

08.04.2018
Almost new condition, minor paint chipping and some wear on the carrier. My carrier was cloth, not the plastic looking one in the pictures. Has some weird plastic attachments on the back that I need to figure out how to use but thats on me, not the product. The shovel is insanely sturdy, way better than the $10 one I have from walmart. I plan to throw it in the back of my Jeep for snow/mud and it takes up barely any space. Would buy again, would pay in the range of $30-40 USD for it.
4
0
I would recommend for a friend
Christoffer K.

01.10.2018
Der Klappspaten! Unbeatable folding shovel at this price range.
1
0
I would recommend for a friend
Iain L.

20.02.2019
I bought two and both are in good shape. Cases are in decent shape as well. One of them did have a bolt at the spade swivel whereas the other has a proper pin, but both are solid and well made.
0
0
I would recommend for a friend
Tuomo K.

22.03.2019
Koska maa on edelleen roudassa poteronkaivuu hommiin ei olla vielä päästy ja lumi liikkuu toistaiseksi tehokkaammin kolalla. Meille sivistymättömille idiooteille tuotekuvauksessa olisi voinut olla maininta että Flecktarn kotelo ei välttämättä tule yleispätevillä ALICE klipsuilla vaan pelkästään leveään BW tetsarivyöhön sopivalla tapikiinnityksellä.
0
0
I would recommend for a friend
Max K.

05.04.2019
Kätevä pikku lapio autoon taikka pikku pihatöihin. Kuokkaominaisuus plussaa.
Purkki monitoimiöljyä mukaan niin lapio kestää ikuisuuden.
0
0
I would recommend for a friend
Jason C.

08.04.2019
Tough. Knocks the crap out of similar tools I have.
0
0
I would recommend for a friend
Jerry M.

14.05.2019
I got this you can tell it's used but in great shape came with BW E-Tool pouch
0
0
I would recommend for a friend
Mark W.

07.07.2019
My shovel is lightly used with some of the paint worn off. Other than that, perfect! The shovel is dated 1987, and the flecktarn cover is dated 1995. I love the camo cover, but be forewarned, it does not have belt loops on the back.
0
0
I would recommend for a friend
Johnny H.

16.07.2019
I got two. Both in decent shape. One has gotten run over by car or something so it has some damages that have made folding harder. This can be seen on shovel as the user have used more force to fold it leaving som marks. Both are fully fuctional and if i would lose one i would get another.
0
0
I would recommend for a friend
Andreas S.

07.10.2019
Small, not overly heavy shovel that most likely will outlive us all.
1
0
I would recommend for a friend
Shannon S.

01.02.2020
Awesome little shovel! I bought it to add to my hiking kit and I will definitely get another for my vehicle.
Flat rate shipping to Canada was also fantastic. I ordered the shovel with another approx. 10kg of kit and it arrived in 7 days. I am very happy and have been recommending Varusteleka to all my friends. Thx. S
0
0