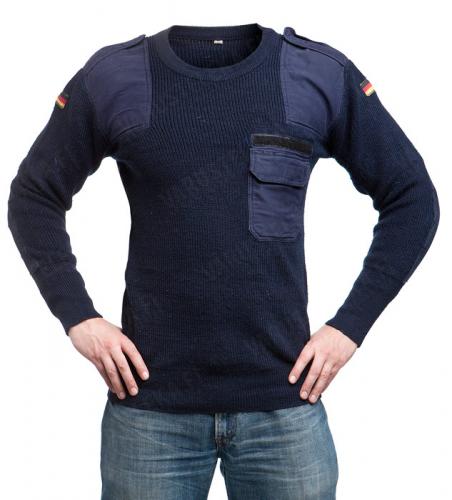 BW pullover, surplus, blue
Price 27.99 USD excluding VAT
Flat Rate Shipping to USA $9.99
100 % recommends
Army surplus
Sold 9 pcs in the last two weeks
Loading products...
Trouble with the metric system? Try our converter: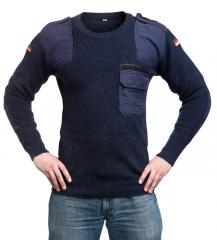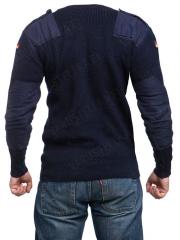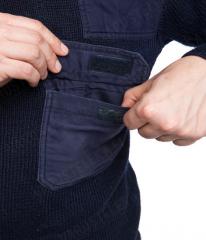 Navy blue German sweaters in used condition. Probably the best model around, even including the classic British jumper.
Made of heavyish wool, with elbow reinforcements, epaulettes and a small pocket on the breast. All sweaters have German flags on the sleeves.
This model has been in use since the Cold War, but it's so good (and warm) that it's still good today. To the best of our knowledge, the model is still in use by the Bundesmarine.
Made of wool, wash in 30 degrees Celsius.
Size info
Sizes in standard men's Euro sizes (user's recommended chest circumference in centimetres, divided by two).
Size
Chest
42
84 cm
44
88 cm
46
92 cm
48
96 cm
176-182 cm
Small ½
50
100 cm
52
104 cm
54
108 cm
56
112 cm
58
116 cm
60
120 cmtd>
62
124 cm
64
128 cm
66
132 cm
Divide by 2,54 to get inches.
Condition
Used, but OK and serviceable. Cotton parts might be a bit faded and such, but otherwise they look good.
Recommendations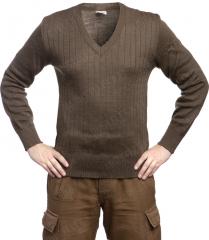 Czech M85 pullover, surplus
7.99 USD
Similar product.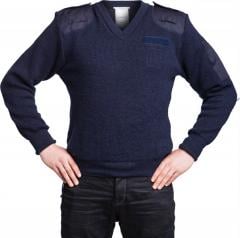 British jersey, men's, blue, V-neck, surplus
18.99 USD
Often purchased with.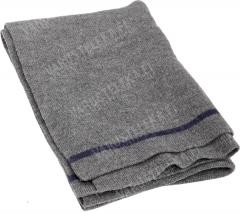 BW wool scarf, surplus
3.99 USD
Often purchased with.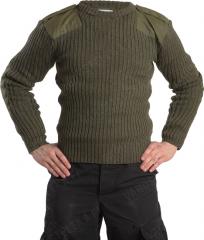 British jersey, men's, surplus
18.99 - 20.99 USD
Often purchased with.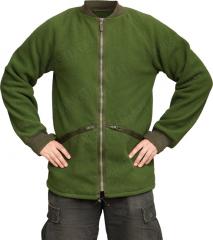 British CS95 fleece jacket, olive green, surplus
16.99 USD
Often purchased with.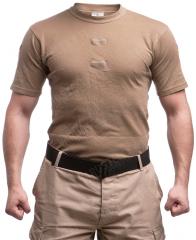 BW T-shirt, tropical model, surplus
6.99 USD
Often purchased with.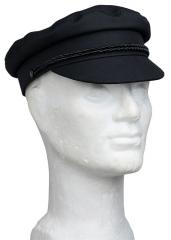 Särmä Skipper hat, black
36.99 USD
Might be of interest.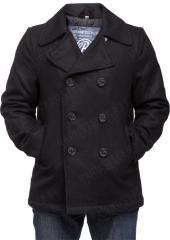 Brandit Pea Coat
40.99 - 63.99 USD 63.99 USD
Might be of interest.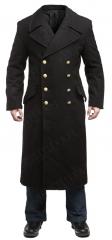 Mil-Tec navy greatcoat, black
109.99 USD
Might be of interest.
Reviews
You have already submitted a review. You can edit your text by clicking on it.
Log in and write a review.
Remove filter
Suomi
(7)
English
(6)
I would recommend for a friend
Marko N.

06.10.2016 (Edited 18.11.2016)
Käyvän värinen ja mukava villapaita. Itselläni on tyylikkäämpiä
villapaitoja kuin tällainen, mutta kuitenkin tavallisesti pidän juuri
tämän mallin villapaitaa, kuten eilen ja tänään kun kävin ihmisten
ilmoilla asioita hoitamassa, niin nahkarotsin alla. Pitää olla luonnollisesti oikean kokoinen, että on mahdollisimman tyylikäs
ja kuitenkin lämmin ja mukava. Brittivillapaita vertailukohtana on kyllä tyylikäs, mutta helposti epämukavan tiukka.
1
1
I would recommend for a friend
N.N.

09.12.2016 (Edited 15.07.2017)
I would recommend for a friend
juha s.

12.12.2016 (Edited 20.12.2016)
Tänään posti toi 52 koon.
Ajattelin että sopiva, mutta 182cm/92kg ,rinnanympärys 102cm oli liian pieni paidalle. Ei auttanut paskamahakaan tilannetta, kokeillaan nyt sitten laittaa 46 ja 48 tilaukseen, jätetään tarkoituksella 50 pois. Tuskin 52 ja 50 ero on järin suuri. Pitää postata uudestaan miten ne istuu jahka kolahtaa postiin .
Edit : On tämä toimitus nopeus melkoista. Tänään 14.12 tuli koot 46 ja 48.
48 oli nyt se joka sopi minulle , ei tiukka , ei väljä. 46 puristi jo liikaa ja paidan helma ei peittänyt röllimahaa. Kiitos!!
Eli 182cm/92kg r.ymp 102cm koko 48
2
0
I would recommend for a friend
Ville T.

27.12.2016 (Edited 27.12.2016)
Paidasta näkee että on käytetty, mutta on täysin ehjä.. ja hyvä! 176cm, rinnanympärys 101cm ja koko 50 oli itselleni sopiva, aika lailla ihon myötäinen, mutta ei tarvitse vetää päälle kuin makkaran kuorta.
1
0
I would recommend for a friend
Sami G.

31.10.2017
Hurjan lämmin ja mukavan tuntuinen villapaita, istuu mukavasti päälle. Hihat on vähät pitkät itselle kun on lyhyet käsivarret mutta hihoja voi vähän taittaa. Hyväkuntoinenkin vielä. 5/5.
1
0
I would recommend for a friend
Erik Z.

10.12.2017 (Edited 10.12.2017)
Ordered a size 58 for my 116 cm chest. Received a sweater that must've been either mislabeled or worn by the most barrelchested person to ever enlist in the bundesmarine. I measured the chest circumference of my sweater to 160 cm, which is probably something "The Mountain" from Game of Thrones could wear... I washed the sweater in 95°C and tumble dried it which is usually a big no-no with wool, but that got it down to an approximate size 58-60. The wool parts of the sweater arrived (and are still) in great condition, but the cotton parts are faded and there are some holes in the elbow parts. The wool is Shurwolle which seems like a non-itchy kind.
8
2
I would recommend for a friend
Erik J.

06.07.2018
Ordered a size 44, it fits perfectly. The one i got must have been unissued, no signs of wearin it at all.
0
0
I would recommend for a friend
Jason C.

19.07.2018
Looks good and durable but it's HUGE!! Maybe it was meant to be worn over body armor or a backpack or by ninja turtles. I should have ordered maybe two sizes smaller.
5
1
I would recommend for a friend
Calvin C.

19.09.2018 (Edited 21.09.2018)
My chest size is 88 cm and I ordered the size 44 sweater--it fits but it's not as close as shown in the model photos--it might be worth going down one notch from your recommended size. My suspicion is that the previous user was larger than me and the continuous use fitted the sweater to his body.



The material is 80% wool and 20% polyamid.
1
0
I would recommend for a friend
Philipp B.

22.10.2018
Recived mine in a somewhat faded collor and rubbed off reinforcements at the shoulders. Sadly, bevore handing it back, the previous user recived a haircut in this pullover. furthermore, this Obergefreiter left his insignia on the epaulettes and a whole forest in the chest pocket.
But cleaning it out was not as complicated as thought. simply brushing out the pocket and using a lint roller solved this problems.
Now, i have a stylish, warm, comfy and storrytelling pullover at home.
Oh, and I think, the size does fitt somewhat well... a bit worn out for sure, but who wants a skin tight pullover annyways?
1
0
I would recommend for a friend
Tuomas K.

15.12.2018
Aivan huippu paita. Ja sairaan nopee toimitus!
0
0
I would recommend for a friend
ossi I.

22.12.2018
Valtavan loistava lämmittää jopa märkänä
0
0
I would recommend for a friend
Lewis A.

23.06.2019
Absolutely epic sweater! I'm a pretty slender guy, decided to go one size down from my chest circumference, fits like a dream. So great I bought another one!
0
0
Army surplus
Military equipment is traditionally excellent stuff; it combines durability with very affordable prices. Army surplus finds its way to the civilian market in the following way: the armed forces of one country or other decides to get rid of big batches of perfectly serviceable gear due to cuts in military budgets, said gear becoming obsolete or redundant or some other similar reason. Some of this stuff then finds its way to our storehouse, sometimes directly, sometimes through a third party. Every once in a while we even get random batches of collectibles and rarities from obscure corners of the world.