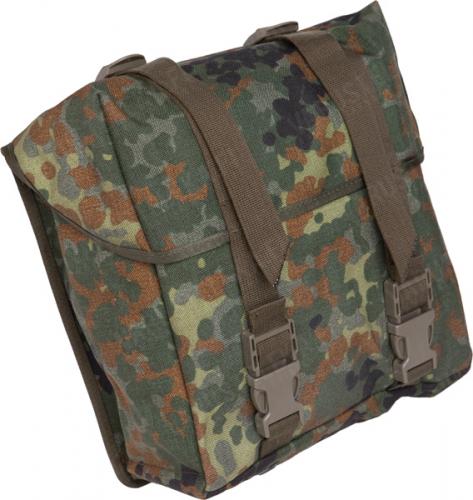 BW general purpose bag, Flecktarn, surplus
Price 6.99 USD excluding VAT
Trouble with the metric system? Try our converter: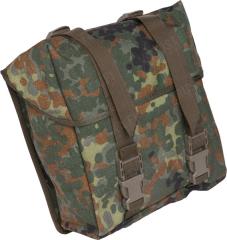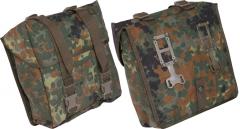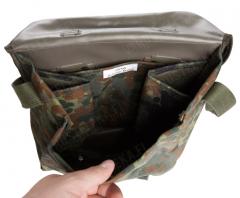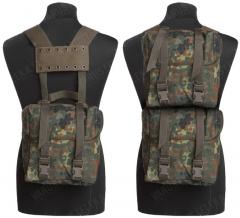 The German general purpose pack is tough, practical and butt ugly.
This piece of kit is not only indestructible, it is also very simple and easy to use. The only downside is that it attaches only to the BW webbing system.
The flap closes with adjustable straps on quick release buckles. Adjustments allow overpacking
Has additional straps on the top for attaching anything you might need to carry on your shoulder bag, like LAWs and such
The backside has plastic attachments for the German combat belt, you can also make a rucksack out of this with German webbing suspenders, which are difficult to find now.
Three inner compartments
The fabric is waterproof
Measurements are about 24 x 26 x 11 cm.
Used military surplus
These are used, which means nothing is broken, but the camouflage may be very faded. Tough German-made quality!
Recommendations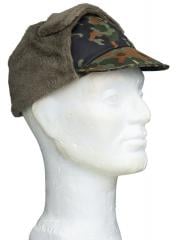 BW field cap, cold weather, Flecktarn, surplus
9.99 USD
Often viewed together.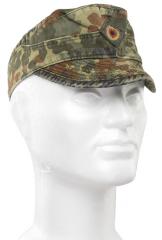 BW field cap, Flecktarn, surplus
6.99 USD
Often purchased with.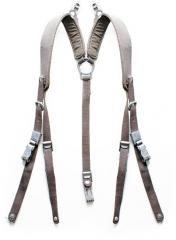 BW webbing suspenders, older model, surplus
5.99 USD
Often purchased with.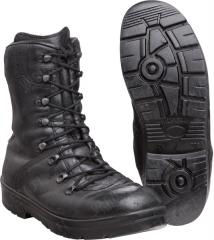 BW KS2005 / Haix DMS combat boots, surplus
59.99 USD
Might be of interest.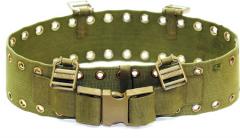 BW webbing belt, surplus
5.99 USD
Might be of interest. Temporarily out of stock.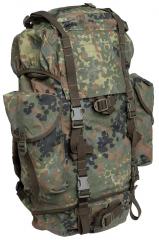 BW combat rucksack, Flecktarn, surplus
54.99 USD
Might be of interest. Temporarily out of stock.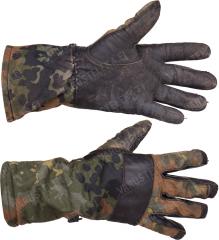 BW combat gloves, Flecktarn, surplus
9.99 USD
Might be of interest. Temporarily out of stock.
Reviews
You have already submitted a review. You can edit your text by clicking on it.
Log in and write a review.
Remove filter
Suomi
(6)
English
(4)
I would recommend for a friend
Juhani H.

24.06.2016 (Edited 27.06.2016)
Pienellä pehmustuksella tästä saa hyvän kameralaukun. Ulkopuolisia pieniä taskuja tosin kaipaa.
1
0
I would recommend for a friend
Harri K.

11.11.2016 (Edited 27.03.2017)
hyvä ns. kauppareisuihin, jolloin tarvii tuoda vähemmän tavaraa
- vetää sisuksiinsa Usan 1L:n kenttäpullon & pikkutavarat, joita usein tarvitsee
- nyt kaikki hihnat vihreää polyamidia, mustat muovilukot, d-renkailla & muovihakasilla kiinnittyvä olkahihna, jonka saa pois tarvittaessa
- plus takana 4 keeperiä, joten pussukasta tuli varsin monikäyttöinen
- itse laukku oli hyvässä kunnossa ja jos se ei alkaisi olla täälläpäin tuttu pistäisin kuvan, mutta tässä yksi harkittava vaihtoehto olkalaukulle, suosittelen:)
0
0
I would recommend for a friend
Christian W.

26.03.2017
I bought one of these years ago from a local surplus store. It is a great little pack. The two inside pockets on the sides are perfectly sized for water bottles. The material and build quality is excellent. The pack is easy to clean because of the waterproof lining on the inside. Excellent pack for camping or light hiking.
4
0
I would recommend for a friend
Pyry P.

29.03.2017
Toimii aivan täydellisesti frisbeegolf-laukkuna. Sisälle mahtuu täydellisesti kymmenkunta kiekkoa ja taatusti kestää! Sisällä vielä taskut esim. rätille ja muille tarvikkeille.
1
0
I would recommend for a friend
Pekka K.

08.01.2018
Tänne mahtuu sisään Kiinasta ostettu Free Soldier lapionterä ihan kuin sille tehty , varren osat ( plus saha/veitsi , sirppiosa ) mahtuvat sisäpussokoihin kolme kumpaankin. Lisäksi on tilaa vielä EA-pakkaukselle , tuluksille ja paracordille ja taitaa mukaan mahtua vielä risukeitinkin , semmoinen litteäksi pakkautuva.
1
0
I would recommend for a friend
Petri L.

25.01.2018 (Edited 25.01.2018)
Kiinnittyy polkupyörän tarakalle satulalaukuksi ilman mitään lisävirityksiä omilla hihnoillaan. Suuren suurihan tämä ei ole, mutta nyt Bilteman metrinen mp:n lukitusketju kulkee kätevästi. Otin saman tien kaksi nyssäkkää, niin sankalukon saa toiselle puolelle tasapainon ja symmetrian takia.



Esittelytekstissä ei erikseen mainita, mutta ainakin näissä kahdessa yksilössä oli kiinteä olkahihna nyssäkän sisään viikattuna. Toimii siis myös sellaisenaan ihan laukkuna.
0
0
I would recommend for a friend
David F.

20.02.2018
Great bag for a great price! Yes the attachment points are proprietary and a bit funky/rare. You can slip something in between the odd fasteners and loosen them up, I used a butter knife. Then you can take any 25mm or so straps and run them through as a modern system. I also secured the BW trifold shovel this way, it works great. These have little to no to little "insecticide" smell that a lot military products have with rubber. The NVA version of this smells much worse, but still cleans up with some ambition! I won't be using the NVA bags, but will be using these for all sorts of stuff! Mushroom season included! This is one of those too cheap to pass up moments, they are great, smell little, Mine came in excellent, but obviously washed condition judging by the straps. If the straps had not had fuzzies on them I would assume it was new. Buy two.
2
0
I would recommend for a friend
Glenn

12.04.2018
Good bag for what it is, especially for the money. Looks like it will outlive me. The rubber inside ensures that stuff stays dry and clean, and you can just hose it off if you spilt your yogurt. The strap isn't adjustable, but is a good length to begin with, as the top of the pack rides right at the waist, and the bottom at around mid buttock. Irony aside, that's pretty much ideal. Internal pockets make organising a dream, and the straps on the top allow for extra shit to be taken with you, should the need arise. Bonus points for awesome flecktarn camo.

Only downside is the weird chemical smell it has. I suspect it's the rubber, and I've been airing it out for a few days on the balcony, and it seems to dissipate slowly.
2
0
I would recommend for a friend
Matija K.

12.06.2018
Bought two of these awesome little packs. Planned to strap them on a bike in the future, but for now they are great for carrying stuff around. And altough they are relatively small, you can actually fit a lot of stuff in it.
0
0
I would recommend for a friend
Toni K.

02.07.2018
Hyvä hintalaatusuhde. Täysimittaisiksi fillarin satularepuiksi näistä ei ole, mutta erinomaiset lyhyemmille retkille. Toimii mainiosti myös olkalaukkuna esim. biitsillä, jollei puistokemistin jano ole aivan sieltä pahimmasta päästä; eli laukku syö helposti vaikka 6-packin, makkarapakettia ja muuta tarpeellista oheiskrääsää. Kumipinnoite pitänee romppeet hyvin sateelta suojassa - vielä testaamatta. Lisäksi sen verran rumia luomuksia, ettei väliä vaikka hukkuisivat kesän reissuissa... Osta ihmeessä, tuskin kadut.
0
0