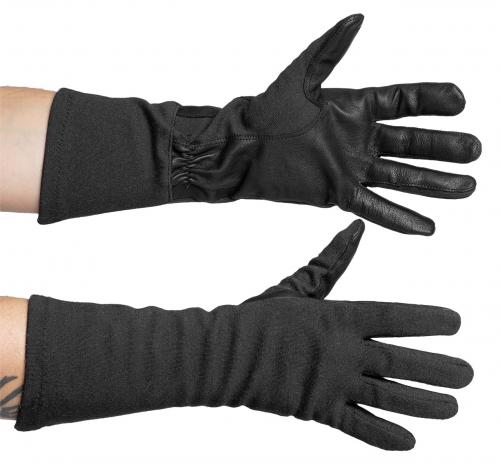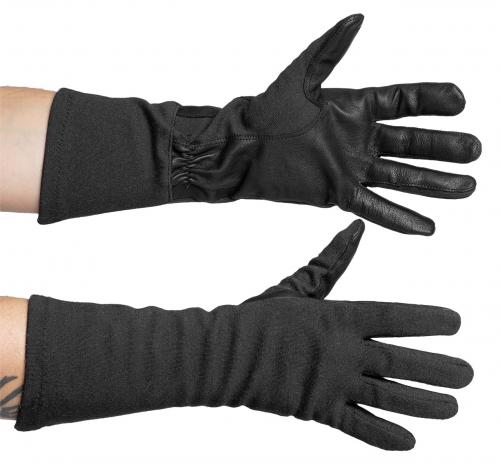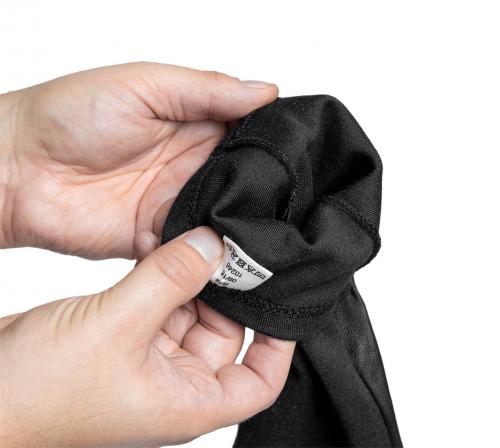 Germany
BW Flight Gloves, Leather/Nomex, Black, Surplus
Price 19.99 USD
excluding sales tax
Thin, dextrous gloves that still offer basic protection for your precious hands. This is a one-off batch of German gloves!
Loading products...
Trouble with the metric system? Try our converter: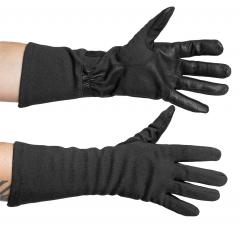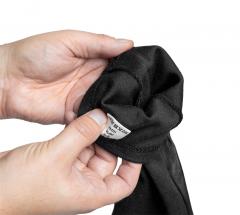 Thin, dextrous gloves that still offer basic protection for your precious hands. This is a one-off batch of German gloves!
A classic pair of aviator fashion that quickly found its way to decorate the hairy hands of the ground troops as well. An old but still very functional design.
During the Vietnam war they came up with a pair of silly good aviator gloves with the grippier side made of leather and everything else of fire retardant Nomex. This meant the gloves did not melt on the pilot's hands if the plane caught fire. Needless to say, a pair of light, dextrous gloves weren't good only in the cockpit, so they were a coveted piece of gear among others as well. These are the German cousin of the classic American model and are nearly identical in every aspect.
On the palm side these are made of leather from the wrist to the tip of each finger. The leather on the palm gives superb grip and dexterity. The back of the glove is made of fire-resistant Nomex. Gloves are kept firmly in place by elastic straps on the wrists. Long cuffs offer protection from small cuts and scrapes.
Perfect stuff when good handling is needed. Working with small bits and pieces poses no problem (e.g. vehicle parts, guns, and such). However, for demanding and continuously abrasive work use these are not meant - everything is a compromise, these offer great dexterity and grip, but not the same kind of toughness that the thickest work gloves give.
Size info
Sizes according to user's palm circumference in inches, as is usual with gloves. Measure yours like shown here.
In case you use archaic European glove sizes, here's a tidbit of info that may be helpful or confusing. Content warning: French bullshit.
You see, the French also had inches in their time, but they were not like the 100% Proudly Preserved in The United States inches, oh no. The French ruled most of Western Europe back in the day and their king Charlemagne had such a large foot that dividing it into 12 parts resulted in a 2.71 cm inch, rather than a 2.54 cm inch as we know Americans to use to this day. The European sizes are slightly rounded to the nearest half-size because if there's anything worse than inches, it's French inches.
| Glove size | Palm circumference | US Size | EU Size |
| --- | --- | --- | --- |
| X-Small | 17.78 cm (7") | US 7 | EU 6.5 |
| Small | 20.32 cm (8") | US 8 | EU 7.5 |
| Medium | 22.86 cm (9") | US 9 | EU 8.5 |
| Large | 25.4 cm (10") | US 10 | EU 9.5 |
| X-Large | 27.94 cm (11") | US 11 | EU 10.5 |
| 2X-Large | 30.48 cm (12") | US 12 | EU 11 |
German surplus
Used, but lightly, because air force.
All products: Germany
Recommendations
Loading products...
Reviews
You have already submitted a review. You can edit your text by clicking on it.
Log in and write a review.
Remove filter
I would recommend for a friend
Thomas L.

08.10.2020 (Edited 06.06.2021)
Gloves in excellent condition. Much better quality than the Mil-tec clones (of course). Fingers were too long for me. For a tight fit my advice would be to buy half a size smaller than what you are used to. I bought size 10 which is my normal size and didn't check the size chart. But think before buying, these are FLIGHT gloves. Are you flying a lot? :-) Do you need shooting gloves? Buy shooting gloves. The only reason to buy these would be if you want cheap nomex for duty or personal reasons, or if you can't find shooting gloves that fit you well, or if you are a surplus shopaholic getting triggered by the "one-off batch get yours while they last" yadda yadda. Somehow they usually end up being in stock again in what is perhaps the other half of the very same rare one-off batch :-) Talking about fit, the dutch flight gloves fit me much better than these. And no, I don't fly a lot but I needed nomex for contract reasons.
1
0
I would recommend for a friend
Chris W.

05.11.2020 (Edited 06.06.2021)
The description claims that the gloves are lightly used. This is half true. For me, the left half. My left glove is pristine and could have been issued from the factory yesterday. The right has a small hole on the first finger and some cosmetic damage on the back of the hand, and has clearly been repaired in a few places but is still in good working order. Despite the right glove being more than a little used, I would still recommend these for the price and fit. The size 9 I bought fits my slightly-above-average hand very nicely, and if these weight 0,1 kilo, the price in raw Nomex is ~$60, so these are really a very good price. Plus, because they are Nomex you can use them as fancy oven gloves. I would have bought another pair in the hope of receiving my left glove's lost brother if size 9s were still available.
2
0
I would recommend for a friend
Gwyndolin O.

14.01.2022