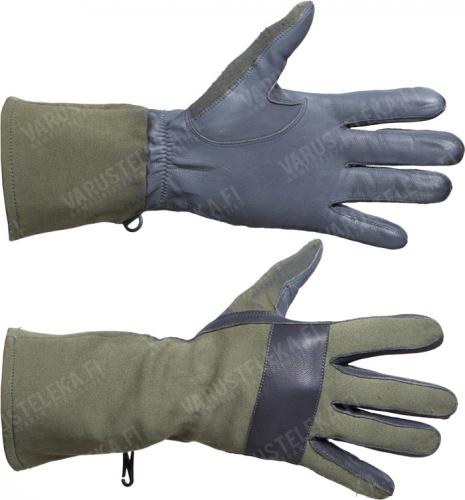 BW combat gloves, leather/Nomex, olive drab, surplus
Price 18.99 USD excluding VAT
Flat Rate Shipping to USA $9.99
96 % recommends
Sold 2 pairs in the last two weeks
Loading products...
Trouble with the metric system? Try our converter: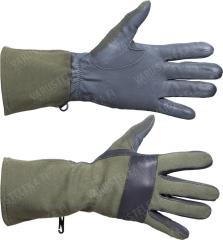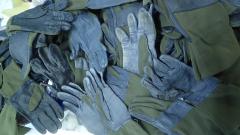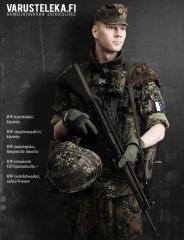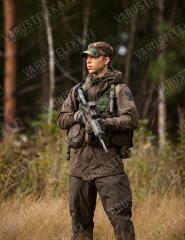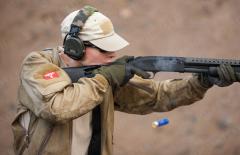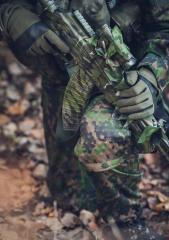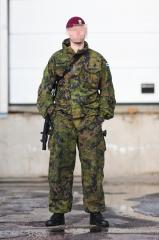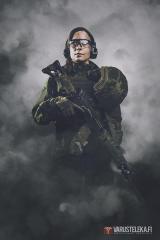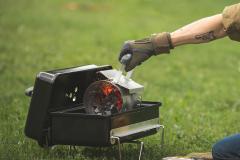 The German Bundeswehr made the best combat gloves ever - take the standard nomex flying gloves and modify them a bit for ground troops and you have these. Used, abused, serviceable.
These gloves are made of leather and Nomex. On the palm side these are made of leather from the wrist to the tip of each finger. The leather on the palm gives superb grip and dexterity. Back of the glove is made of fire resistant Nomex. Gloves are kept firmly in place by elastic straps on the wrists. Knuckles are covered with additional leather strips. Long cuffs offer protection from small cuts and scrapes.
Perfect stuff when good handling is needed. Working with small bits and pieces pose no problem (e.g. vehicle parts, guns and such). However for demanding and continuously abrasive work use these are not meant for - everything is a compromise, these offer great dexterity and grip, but not the same kind of toughness that thickest work gloves give.
Size info
Sizes according to user's palm circumference in inches, as is usual with gloves. Measure yours like shown here. Easy size in the brackets.
Condition
Used, but in serviceable condition. Being military issue, they do have some wear to them. Might not be original pairs, but the same size anyway.
Reviews
You have already submitted a review. You can edit your text by clicking on it.
Log in and write a review.
Remove filter
Suomi
(19)
English
(9)
I would recommend for a friend
Ville N.

06.10.2016 (Edited 18.11.2016)
Kahta en vaihda: eka on tällainen hanska ja toinen on se puuttuva pari. Ehkä ainoat hanskat elämäni saatossa, jotka eivät ole alkaneet ennen pitkää kyrsiä huonon sopivuuden takia. Puoli tähteä pois, koska yhden parin olen jo saanut ahkeralla pahvilaatikoiden pinoamisella sormenpäistä puhki.
10
0
I would recommend for a friend
Tuomo M.

25.01.2017
Erinomaiset ampumarata/ressukäyttöön sekä moottorisaha/raivaushomiin lähes ympärivuotisesti. Kannattaa silloontällöön hieroa nahkaosia ekolin nahkaöljyllä, pysyvät vetreänä!
13
0
I would recommend for a friend
William B.

11.05.2017
Brilliantly made bit of kit. The pair I received were a little more beat up on the leather front than I thought they would be but they do the job more than well.
3
2
I would recommend for a friend
Marko N.

12.08.2017
Minulla on käden koko tasan 9, mutta minulle sopii paremmin kasipuoli kuin ysi, ysin kokoinen on minulle pikkuisen väljä. Jos on isot
sormet niin sama koko kuin on käden koko voi olla sopiva, minulla on ehkä aavistus pienet sormet, niin paras kokoni on puoli numeroa pienemmät. Joidenkin palautteen mukaan nämä voivat olla lujemmat kuin Lekan omaa tuotantoa olevat vastaavat hanskat. Ovat varmasti
hyvät esim. autolla ajoon!
2
1
I would recommend for a friend
Jean N.

03.10.2017 (Edited 28.02.2018)
A well used product on the leather, the ones I received, but nothing a good grease could not solve, great gloves!! Suprisingly at -20C these are warm gloves, nomex, aramide keep the warmth of the hands inside the gloves. They cant stop the cold wind, but stop the cold.
1
1
I would recommend for a friend
Vertti

08.11.2017 (Edited 24.09.2019)
I would recommend for a friend
Janne A.

19.12.2017 (Edited 19.12.2017)
Hyvät ja miellyttävät hanskat käyttää. Antaisin muuten täydet pisteet, mutta seuraava seikka syö 2 1/2 tähteä pois:

Tilasin hanskat marraskuun alussa, jonka jälkeen ne ovat olleet satunnaisessa käytössä lähinnä pyöräilyhanskoina / käden lämmittiminä, eli kaikessa muussa kuin työkäytössä. Nyt alle kahden kuukauden satunnaisen käytön jälkeen on etusormen päähän ilmestynyt reikä nomexin ja nahan liitoskohtaan. Kahdenkympin hinnalla olisin odottanut vähän enemmän kestävyyttä.
13
3
I would recommend for a friend
Matti P.

29.12.2017
Mukavat yleishanskat. Sopivat niin autolla ajamiseen, kuin hiihtämiseenkin. Oma parini jo saapuessa aika päreinä, täytynee tilata toiset kun (jos?) tämä pari hajoaa. Huom. Ovat aika ohuet!
1
0
I would recommend for a friend
Otto B.

31.12.2017
Slightly used. Nice quality. A bit of leather grease made them as good as new. The sizing seems spot on, at least for me.
1
0
I would recommend for a friend
Janne H.

14.01.2018
Loistava istuvuus, näillä onnistuu ampuminenkin todella hyvin.
1
0
I would recommend for a friend
Juho K.

14.02.2018
Muuten loistavat hanskat, mutta koot tuntuvat olevan normaalia isompia. Normaalisti hanskakoko 11, nyt tekemässä toista palautusta kun koon 10 hanskatkin ovat turhan väljät
1
0
I would recommend for a friend
Mika K.

23.02.2018
I would recommend for a friend
David F.

05.04.2018
I would recommend for a friend
TORSTEN K.

11.04.2018 (Edited 28.11.2018)
[UPDATE 05.11.2018] Can't change my review anymore, but these gloves are totally useless for any real military use outside of the warm summer months. They don't breath = becomes sweaty fast, and once they get wet they don't dry. They don't dry even a after a whole night hanging above to the heating stove inside the tent. They look cool and work ok when it's warm outside (if you don't mind wearing moist gloves), but leave them at home after September.
7
5
I would recommend for a friend
Juha L.

18.04.2018
Hemmetin hyvät hanskat muuten mutta tulevat tosiaan käytettyinä ja minulle ilmeisesti sattui hieman enemmän käytetty pari. Muutaman kerran olen käynyt radalla ja hanskassa jo iso reikä siinä kohtaa millä lataan rynkkyä, ja sormien päät alkavat rispaantua. Elikkäs juuri niinkuin luvattiin; hyvät johonkin peruskäyttöön mutteivät kestä kovaa käyttöä kovinkaan pitkään, halvemmaksi tulee ostaa kerralla kunnon hanskat kuin että olis uusia jatkuvasti tilaamassa.
3
2
I would recommend for a friend
Otso K.

22.04.2018
Hyvät hanskat aikalailla kaikkeen pyöräilystä airsoftiin. 5/5
2
0
I would recommend for a friend
Ladislav S.

05.06.2018
Fantastic pair of gloves, perfect fit even with my long fingers with the size I ordered. Mine also came in only slightly used condition, almost no wear or imperfections at all.
0
0
I would recommend for a friend
Joonas K.

22.09.2018
Ressuhommia ja retkeilyä varten tuli hankittua nämä ja nyt syksyllä pääsivät viikon kenttätestaukseen. Pitävät yllättävän hyvin kädet lämpöisinä myös märkinä, ja näiden kanssa on ilo käsitellä rynkkyä verrattuna PV:n jakamiin nahkahanskoihin. Itsellä normaalisti koon 10 hanska, mutta näistä tuli muiden arvioiden perusteella otettua koko 9,5 ja erittäin sopivat ovat.
1
0
I would recommend for a friend
Juho E.

23.11.2018
Parhaat hanskat mitä olen ikinä käyttänyt, hakkaa mechanix leikkihanskat tullen mennen!
2
1
I would recommend for a friend
Alex E.

30.12.2018
Ajavat asiansa asetta käsiteltäessä, ajoneuvoa huoltamassa ja monessa muussakin asiassa, mitä en juuri nyt muista. Itsellä kyseiset hanskat oli alkutalvesta käytössä ja vaununjohtajana kerron tipin. Alushanskat näiden alle, niin ei tule kylmä jos ulkona tuulee hirvittävästi. Ostakaa!
0
0
I would recommend for a friend
saj p.

01.02.2019
I thought the pair I got was perfect, until I put them on. The retard that tailored the gloves gave the right index finger a very awkward twist that doesn't align with any hand I've ever seen, and results in a really shitty trigger feel.

I will still recommend, because it's unlikely you get a pair made by the same tailor. That fuckface has no concept of what a normal hand looks like lol.
5
0
I would recommend for a friend
Aaron V.

11.04.2019
I've had these gloves over a year now, and so far I'm pleased with them. Easily the most comfortable gloves I've owned. I bought a half size below what I normally wear and I was glad I did. It gave me an extra bit of fine dexterity that allows me to pick up small items off the floor with ease. These gloves do wear out easily if you aren't careful, and they won't withstand hard use (already a small hole developing right where my ring is). They most definitely don't keep my hands warm, especially in below freezing weather. They do, however, make excellent liner gloves for my BW mittens. Great driving, flying, and shooting gloves. Horrible for scuba diving, snow shoveling, and picking your nose.
4
0
I would recommend for a friend
Vili M.

22.04.2019
Erittäin hyvä sopivuus, yhteen sormeen tuli reikä jo parin ampumarata reissun jälkeen.
20 Euroa on aika kova hinta uhkapelata saako uudehkot vai erittäin käytetyt hanskat.
Olisi mahtavaa jos leka rupeais valmistamaan saman tyylistä hanskaa uutena.
6
1
I would recommend for a friend
Oskari N.

05.06.2019
Jo kaksi paria ratkennut muutaman käyttökerran jälkeen etusormista, Nomexin ja nahan liitoskohdasta. Neula+lankaa=taasmennään. Kun ottaa isomman koon ja laittaa alle Särmän alushanskat, niin voi käyttää talvellakin.
0
0
I would not recommend to a friend
Miika R.

12.07.2019
Valitettavasti nyt en voi suositella. Omat hanskat tuli juuri valmiina homeisena, reikäisenä sekä täysin kuluneina, en edes kehtaisi itse myydä käyttökelpoisena kamana. Eli käytetyt -sen ymmärrän, mutta että myydään "täyteen" hintaan valmiiksi ilmastoitua kamaa ni on uskomatonta. Muuteha Lekalta tullu ihan moitteetonta kamaa.
0
0
I would recommend for a friend
Antti M.

09.10.2019
Näppärät hanskat. Lähinnä kesän ja välikelien käyttöön, mutta pirun mukavat kädessä. Suht tulenkestävät ja pitävät, eli sekä pilkkeiden tekeminen että niiden latominen nuotioon & järjesteleminen siellä käy lailla päällikön, eikä tarvi ottaa pois käsistä ihan jokaista pikku ylimääräistä näperreltävää varten. Olen ihan onnistuneesti käärinyt tupakkeja nämä käsissä.

Jos hajoavat jostain, niin saumoista. Ylijäämää kuitenkin.
0
0
I would recommend for a friend
Mattis E.

03.12.2019
Best gloves for military use ever. Had the same pair for 6 years. If you use them for what they are supposed to be used for, they will last at least 6 years. And I've handled saw barrel with them on, my finger got a blister but the glove held up nice.
0
0
I would recommend for a friend
Mikko Ö.

07.12.2019
Ostin hanskat kertausharjoituksia varten kuten suositeltiin. Puolustusvoimien jakamat "hanskat" jäivät varustesäkkiin ja harjoitus mentiin taisteluhanskat käsissä. Toimivat M05 kanssa hyvin, eikä kukaan kysynyt missään vaiheessa miksi käytän omia hanskoja. Ampumaradalla hanskat olivat erinomaiset ja ne takaavat erinomaisen varman otteen aseesta.

Hanskat ovat todella hyvin istuvat, mutta mahdollistavat silti L1 alushanskojen käytön. Plussaa etenkin pitkästä varresta, mikä mahdollistaa myös ranteiden suojaamisen. Miinusta taas siitä, että hanskat kastuvat hyvin herkästi ja kuivuvat hitaanpuoleisesti. Alushanskat kädessä tämä toki ei ole iso ongelma, mutta kuvittelin materiaalin kuivuvan nopeammin. Miinusta myös nahan ja nomexin välisistä liitoksista, joista sai heti liikkeestä ostettaessa paikata kaksi reikää ja heti harjoituksen jälkeen kaksi uutta reikää. Ompelemalla reiät toki saa korjattua.
0
0