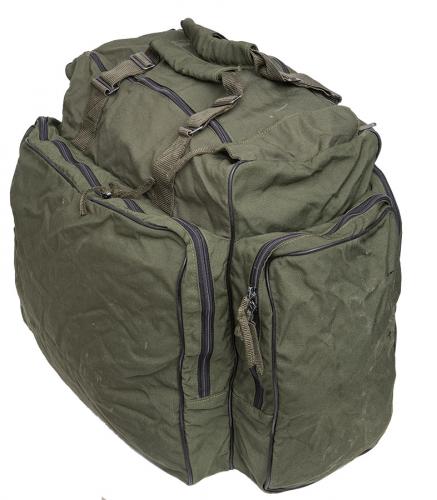 BW cargo bag, surplus
Price 36.99 USD excluding VAT
Flat Rate Shipping to USA $9.99
100 % recommends
Sold 1 pcs in the last two weeks
Trouble with the metric system? Try our converter: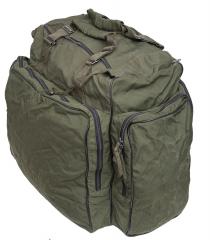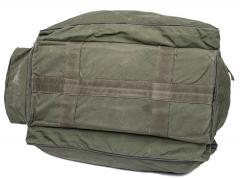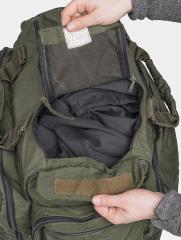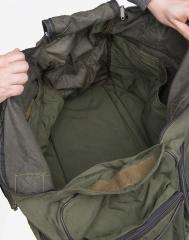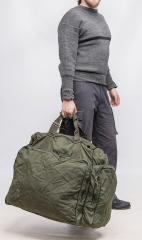 A very large bag for leaving in a hurry. It carries much more than your "A-kit", but is shorter than a traditional duffel bag.
The Germans have a different form for their duffel or cargo bags: instead of a long bag you can carry on your back, these are shorter and much taller. If you cover any distances on foot, it's really not a nice thing, but these pack much better into vehicles.
The construction is incredibly strong, as you might expect. The handle straps pass under the bag, so you can make the bag as heavy as you can carry. The bottom is reinforced with a polymer panel.
One of the side compartments has lots of organizing pockets, so you don't need to look for small items in a huge sack.
Measured info
Main compartment:
Length: 55 cm
Height: 50 cm
Width: 28 cm
Volume: approx. 77 litres
Side compartments:
Width: 55 cm
Height: 40 cm
Thickness: 7 cm
Volume: approx. 2x 15 litres
End compartment:
Width: 25 cm
Height: 37 cm
Thickness: 8 cm
Volume: approx. 7.5 litres
German military surplus
Built like a tank, used but serviceable condition. We have separated any broken ones we could find, so everything is in working order, just scuffs here and there from use are to be expected.
Recommendations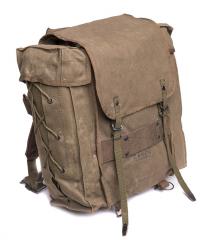 Italian daypack, surplus
32.99 USD
Viewed together.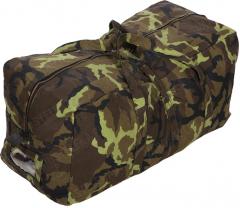 Czech duffel bag, camo, surplus
22.99 USD
Similar product.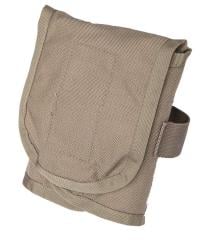 US IFAK insert, surplus
13.99 USD
Sometimes purchased with.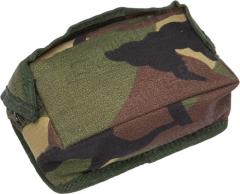 Dutch MOLLE general purpose pouch, tiny, surplus
7.99 USD
Sometimes purchased with.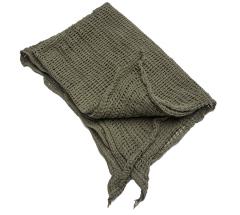 Belgian scrim scarf, olive drab, surplus
6.99 USD
Sometimes purchased with.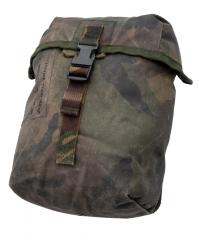 Dutch MOLLE pouch, general purpose, large, surplus
11.99 USD
Sometimes purchased with.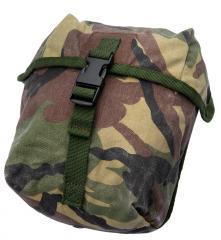 Dutch MOLLE pouch, general purpose, medium, surplus
9.99 USD
Sometimes purchased with.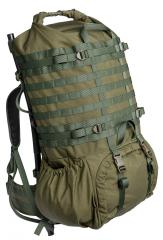 Särmä TST RP80 recon pack
459.99 USD
Might be of interest.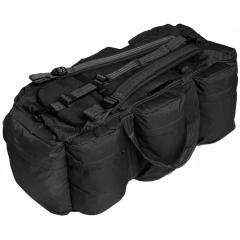 Mil-Tec duffel bag 98 l
64.99 USD
Similar product.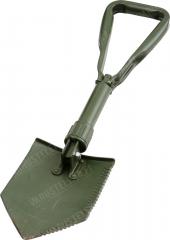 BW Tri-folding e-tool, with carrier, surplus
23.99 USD
Might be of interest.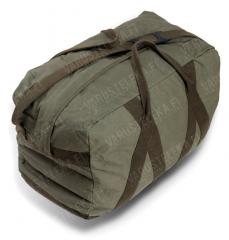 BW duffel bag, 100 l, surplus
22.99 USD
Similar product. Temporarily out of stock.
Reviews
You have already submitted a review. You can edit your text by clicking on it.
Log in and write a review.
Remove filter
Suomi
(3)
English
(9)
I would recommend for a friend
David F.

19.04.2018 (Edited 05.06.2018)
Great bag, very well made and indestructible nearly. Mine came basically new in great shape. This can haul more than you can carry and everything about this bag is robust. From the fat zippers and pulls, to the thick handles and pockets. I love it. I ordered two more, all are in great shape. Buy at least one.
3
0
I would recommend for a friend
Gareth B.

30.05.2018
Very well made and very strong. As the description mentions, one of the side pockets has a bunch of smaller sub-pockets for organising stuff, keeping the bits you need close at hand. You wouldn't really want to carry this any great distance, no shoulder strap etc, but the handles are very strong, it's great for things like car camping. Really happy with it, mine was nearly new, just a little bit scuffed on the base, but otherwise clean and ready to go.
3
0
I would recommend for a friend
Jani V.

03.06.2018
I would recommend for a friend
Pasi K.

30.06.2018 (Edited 01.07.2018)
Sopivan kokoinen leveydeltään iso-osa. Pituudeltaan mahtuu pari vaatenippua peräjälkeen. Kassin korkeus ok. Kantokahvat hyvät. Menee sopivasti auton takakonttiin. Toisessa isossa sivutaskussa on vielä kolme erikokoista taskua sisäpuolella. Isoimpaan menee IPad mini heittämällä ja mahtuu normi IPad suojakuorilla. Ovat läpälliset ja kiinnitys tarralla. Tais löytyä vihdoin hyvä laukku reissuihin.
7
0
I would recommend for a friend
Tatu L.

08.08.2018
Töissä ennen brittiarmeijan keikkalaukku toiminut mujusäkkinä, nyt tämä ajaa asian paljon paremmin, raskas liivi ja kypärä päätaskussa, päätytaskussa suojanaamari ja EA-tasku, sivutaskussa on vähän kuivamuonaa ja vaihtovaatetta. DIY pehmusteet piti vääntää suojaamaan ettei kovat levyt tai kypärä ota iskua, siksi 4/5
1
2
I would recommend for a friend
Aleksei K.

03.09.2018
I would recommend for a friend
Anders T.

11.12.2018 (Edited 11.12.2018)
I got my bag today and it was NEW. It has never been issued at all.

Great bag and for the price and condition is it a bargain. The only "negative" and here I am very picky is that one of the cloth tabs was a little bit frayed around the edges.

A few quick snips with a pair of scissors took care of that followed by a careful use of a burning matchstick.

Buy one you wont regret it.
0
0
I would recommend for a friend
Markus W.

02.03.2019
Well made and packs ALOT.
I use mine on a regular basis in work and mine came with alot of ware nothing critical but i will have to do some repairs in the near future.
Still worth the money!
0
0
I would recommend for a friend
saj p.

19.03.2019
Monster bag.
1
0
I would recommend for a friend
Tish T.

14.06.2019 (Edited 14.06.2019)
This is an excellent used cargo bag. I needed a cargo bag to pack field-craft / operations kit in a vehicle that would not take up too much floor space. I keep an empty Berghaus Centurio (about 60 L capacity when full) in the vehicle and plan to pack it as needed from the much bigger (but far less mobile) BW Cargo Bag. It is exactly as described. I can fit the load of a Berghaus Crusader (about 120 liters capacity) with far better organization in the main compartment. For example I can fit a Carinthia Defence 4, Jerven Extreme, heavy wool anorak, cook kit, tarp, a weeks rations, etc. There is also additional room for heavy tarps, wool blankets, etc. in the side pouches. One of the side pouches has very good sub pockets which are very sturdy for smaller items. Bag was very obviously used, with dust and some dried dirt. I have to think about putting it in the washing machine, but it isn't really necessary. This is a terrible bag to carry too far from your vehicle. It is more of a "base camp" bag, but it will fit all your essential gear in one place, and occupy very little floor space in your vehicle or work-space. Highly recommended as long as you realize it is more of a very sturdy "organizer" bag for all your essential kit than a "carrying bag".
0
0
I would recommend for a friend
Jeffrey M.

24.09.2019
One of the best duffle bags you could hope to buy! The compartments make it easier to sort and store smaller items instead of everything being just thrown in one giant compartment. The square shape makes for easier loading in a vehicle trunk and stacking with other items. Found it much easier to carry than the traditional one compartment tube style duffle bags. Great purchase. You won't be disappointed
0
0
I would recommend for a friend
Christian H.

20.12.2019
Very well built large organizer bag. This is one of the best pieces of luggage I have had the pleasure of owning. I literally can fit the kitchen sink and then some in this thing. So versatile where to begin. The large compartment has interior pockets...put your shoes boot here to stop them from moving around and getting your clothes dirty. The two side compartments I use garment folders to keep my suit and dress shirts. The end compartment for toiletries. The only thing missing is a shoulder strap. Regardless this bag is worth every penny and nothing a folding dolly wont assist with moving it distance.
0
0