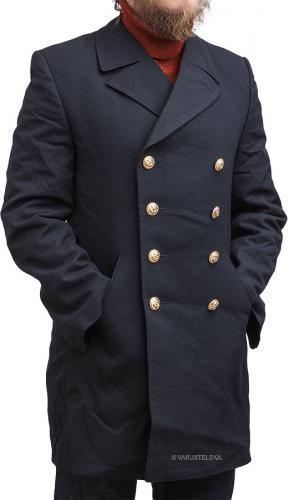 Bundesmarine pea coat, long, dark blue, surplus
Price 36.99 USD excluding VAT
Flat Rate Shipping to USA $9.99
82 % recommends
Sold 14 pcs in the last two weeks
Loading products...
Trouble with the metric system? Try our converter: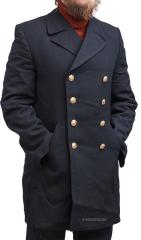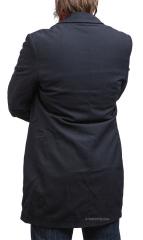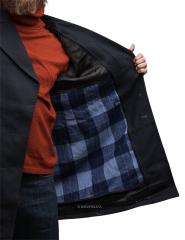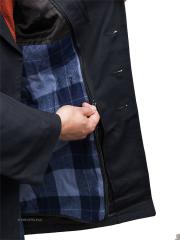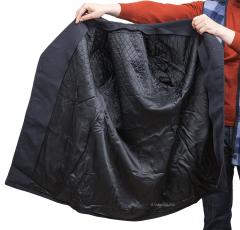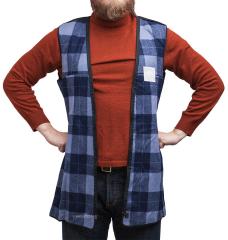 Not quite a greatcoat but not as short as a traditional pea coat, this German navy coat is made of very nice woollen gabardine style fabric and is complete with a zip-on liner and brass anchor buttons. Nice enough to wear at formal occasions, but not at all a bad choice for regular use either, just don't wear cargo pants with it! Superbly proper quality for cheap.
The coat is just a traditional Pea Coat but a bit longer, with diagnoal weave gabardine style fabric. This probably consists mostly of wool with some polyester mixed in for durability. In any case this is high quality fabric. Smooth polyester lining so the coat silps on effortlessly. The zip-on liner vest is made of wool flannel with polyester on the upper part. If you don't like the brass buttons, they are easily replaced, subduing the coat's look drastically.
Size info
Sized in the German parade garment system; first the BW size number, then user's recommended height and chest circumference in centimetres. These go both ways in 4 cm increments. If you fall between sizes (for example, if you're 176 cm tall and there's sizes 174 and 178 cm available), we would recommend picking the larger one.
Be advised, these are NOT feelgood sizes like too often seen these days, but accurate ones. By picking a size by your measurements, you will get a nice fitting coat - overall the fit is more like a suit jacket than a traditional pea coat. If you use inches, multiply by 2,54 to get the centimetre equivalent, or divide the centimetres to get the inch size.
We get these in random bundles and have no control over the size range, like often with surplus.
Our model is size 175/95 and wears size 178/96.
Genuine surplus
Made in Germany in the 80's, 90's and probably later too, from properly good materials, these aren't cheap department store crap. Although these are used, they haven't been worn in grimey conditions, which means the coats are overall pretty nice and clean, although a bit wrinkled after years of storage in bundles and there might be some occasional loose threads and stitch holes from old insignia. If there's anything worth mentioning, you should just in case check the buttons for any loose stitching and reinforce them, as we do not have extras.
Recommendations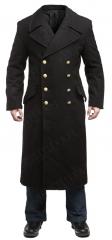 Mil-Tec navy greatcoat, black
110.99 USD
Similar product.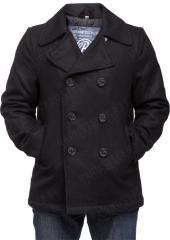 Brandit Pea Coat
64.99 USD
Similar product.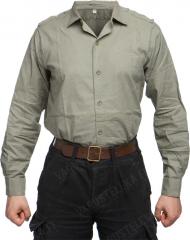 Czechoslovakian M21 service shirt, fully buttoned, surplus
4.99 USD
Viewed together.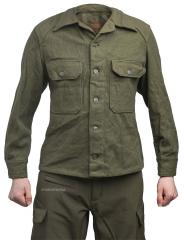 US M-1951 wool shirt, surplus
22.99 USD
Viewed together.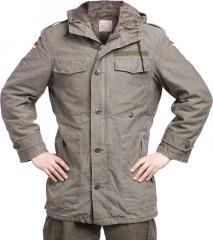 BW parka, olive drab, surplus
55.99 USD
Viewed together.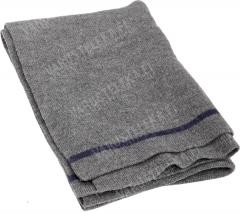 BW wool scarf, surplus
3.99 USD
Sometimes purchased with.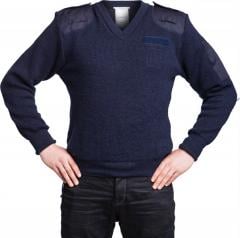 British jersey, men's, blue, V-neck, surplus
18.99 USD
Sometimes purchased with.

BW neck tie, surplus
2.99 USD
Sometimes purchased with.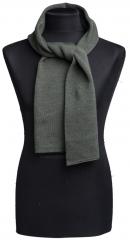 Särmä Merino Scarf
27.99 USD
Might be of interest.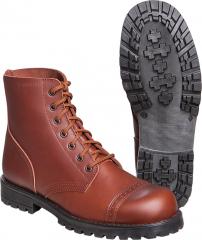 Särmä Ankle Boots
119.99 USD
Might be of interest.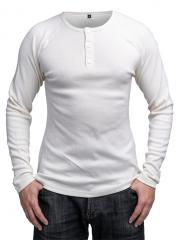 Särmä Henley Shirt, Merino Wool
64.99 USD
Might be of interest.
Mil-Tec sailor hat, white
7.99 USD
Might be of interest.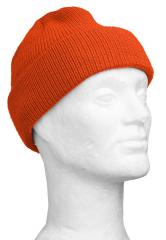 Särmä Merino Watch Cap
22.99 USD
Might be of interest.
Reviews
You have already submitted a review. You can edit your text by clicking on it.
Log in and write a review.
Remove filter
Suomi
(6)
English
(5)
I would recommend for a friend
Antti H.

06.11.2016 (Edited 18.11.2016)
Oma takki on 2008 tehty. 55% pes 45% villa. Vuoret jne. keinokuitua. Mukavan slimmi leikkaus vyötäröllä, överit olkatoppaukset. Pärjää -5C:llä ulkona ohuen fleecepaidan kanssa. Vasemman puolen napeissa oli jotain ihme lankasotkua ommeltu taskujen ym. läpi, niiden fiksailusta tähti pois. Vasurin napeissa on matalampi lenkki, jotta nappi on lähempänä kangasta. Oikean puolen napeissa on korkeampi lenkki.. näin hifiä designiä en ole missään nähnyt. Hihojen ja yläkropan toppaus on "rapeampi" 2008 kuin 1991 vm takissa, muita eroja en huomannut. Näin hienoja ja hyvin sopivia takkeja ei kaupasta helpolla löydä...

Väri on oikeasti lähes mustan sininen. Kuvan sininen on kaukana totuudesta.
2
0
I would recommend for a friend
Ville J.

28.11.2016 (Edited 23.05.2019)
Erittäin särmä ja hyvin istuva takki, ei mitään käytön jälkiä näkyvissä, taskutkin olivat vielä ratkomatta. Itselleni ehkä hieman liian juhlava ihan arkitakiksi mutta toisaalta kyllä joka miehen tulee omistaa tällainen vähän hienompi päällystakki ja dressmannilla saisi maksaa itsensä kipeäksi huonommasta takista. Väri on tosiaan käytännössä musta, jossain sopivassa valossa saattaa sinistä häivähdystä huomata. Napit vaihdoin "normaaleihin" kun en ole mikään amiraali. Jopa Varustelekan tuotteille ominainen varaston hajukin puuttui!
4
1
I would not recommend to a friend
Antero B.

03.11.2017 (Edited 03.11.2017)
Takki tuli tänään, sinänsä hyvin tehty ja tyylikäs, mutta ei kyllä parhaalla tahdollakaan muistuta kuvaa. Kuvassa on todella sininen takki, joka vaikuttaa villakankaalta ja on selvästi ulkotakki, todella kaukana kuvasta, tämä tullut takki muistuttaa enemmän puvun takkia ja käyttöalue on aivan eri kuin olin ajatellut. Kangas on lähes musta, vaikea havaita sinistä siinä ja todella kangas kuin puvun takissa, kelpaa ulkona kesällä lämpimällä säällä. Meni suunnitelmat uusiksi. Pitää jatkaa etsintää, tuli turha ostos, ei tosin ollut järin kallis, mutta kuitenkin.
0
4
I would recommend for a friend
Brian N.

25.11.2017
This pea coat (I think due to the length it's technically a "Bridge Coat") was an excellent buy for me--looks good and keeps you warm. NOT for active stuff, but goes well with a sweater on colder days. I already got one unsolicited compliment on it. If you can get one that fits you well, it'll probably be a great addition.
4
1
I would recommend for a friend
Wannes S.

23.12.2017
Excellent coat. Not for standing still in the cold, it's a little too thin for that, but great for everyday use. Provides good protection against rain, snow, and wind. Fit is indeed like on a suit jacket, so if you're tall and have long arms, these can be a tad short. I had mine lengthened a few centimetres (which is possible), and it fits great.
2
0
I would recommend for a friend
pasi r.

28.02.2018
erittäin hyvä hyvä ja pieni hinta toinen virma myy just samoja ja hinta yli 200e jotku niitä näköjään ostaa koska siellä tilapäisesti loppu
0
0
I would recommend for a friend
Frederik M.

18.03.2018 (Edited 20.03.2018)
Very high quality coat. I ordered 1 size wider than my actual size for a comfortable fit.

Careful, this jacket requires dry cleaning.
3
0
I would recommend for a friend
Calvin C.

19.09.2018
I'm 88cm at 167cm and ordered a size 01. The fit is good but it's not something to layer a sweater underneath without constricting your shoulders and upper arms. This is definitely worth sizing up one notch.
2
0
I would recommend for a friend
Alex T.

14.02.2019
Vai ei muka sovi reisitaskullisten housujen kera. Haistakaa paska sanon minä, aivan mahtava takki ruskeiden SADF -housujen kaveriksi! Koko on todellakin "tiukka paraatikoko," ja takki muuten on jonkin sortin ohutta riakonaalivillaa. Väri on todella todella laivastonsininen ulkona katsottuna. Ei siis täysin mitä odotin ostaessani talvitakkia... Mutta on kyllä vaikuttava näky messinkinappeineen.
0
2
I would not recommend to a friend
Mikko M.

11.09.2019 (Edited 11.09.2019)
Takki oli kuin uusi. Joudun kuitenkin tuotteen palauttamaan, sillä takin leikkaus ei sopinut itselle lainkaan käsien osalta. Voi olla maanantaikappalekkin, sen verta erikoiselta leikkaus tuntui. Takki ei mahdollistanut käsien liikuttamista. Jos käsiä koukistaa, tuntuu olkavarsissa voimakas puristava kipu. Myös olkapäiden sauma (se sauma jolla hihat on ommeltu vartalo-osaan) tuntui jotenkin puristavalta, ikäänkuin jonkinsortin panta olisi puristettu kainalon ympäri. Hihat vaikuttivat siltä että oikeankokoiseen takkiin olisi ommeltu oikeanpituiset mutta reilusti pienemmän halkaisijan hihat. Takki kyllä näyttää hyvältä, mutta sopii vain kädet suorina seisoskeluun. Ostamani takki oli myös seuraava pykälä isompaan mitoistani. Vieläkin isompi varmaan toisi enemmän käsitilaa, mutta en usko että se enää muuten sitten istuisi. Tätä kun muut on kehuneet, ei voi kuin ajatella että tämä kappale oli jollain tavalla poikkeava. Kyseinen takki omasi valmistuspäivän vuodelta 1990.
0
1
I would recommend for a friend
Stefan V.

07.11.2019
The coat is in really good shape. It needed dry cleaning, but that's understandable for a second hand item. One thing to keep in mind is that the color on the photo appears lighter than the actual coat. It's a great coat!
1
0