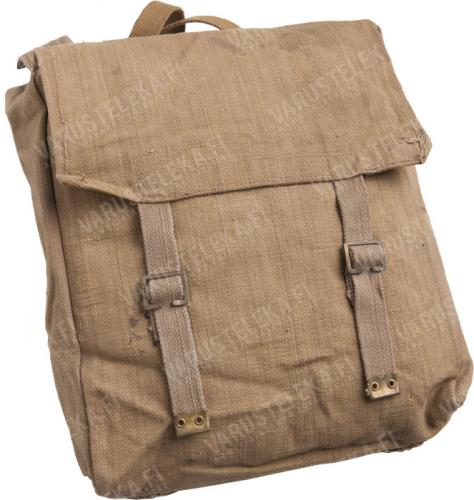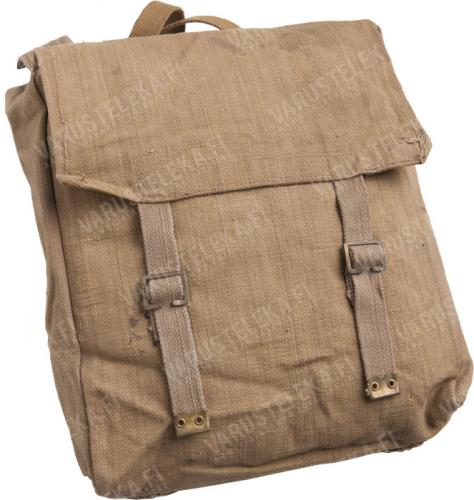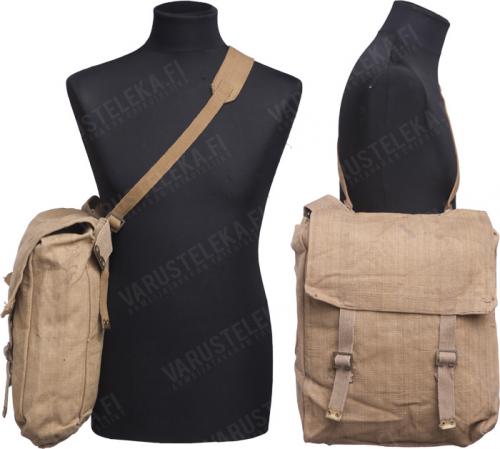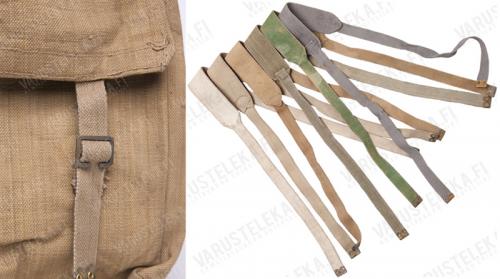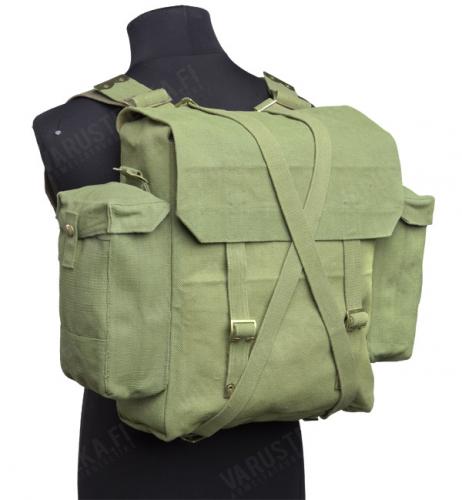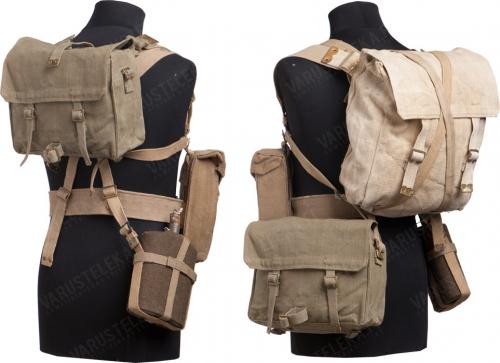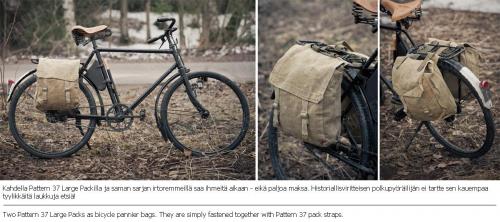 British Pattern 37 Large Pack, surplus
Price 12.99 USD
excluding VAT
The British Pattern 37 type large pack, made in some Commonwealth country (Canada/Australia/India/UK...). A shoulder strap is included for carrying the pack.
This product is unlikely to be restocked and will be hidden from our website once it's out of stock.
We don't know when this product will be restocked. With surplus the restock date is unknown due to sometimes poor availability. Request restock notification and we will email you as soon as this product is available.
Trouble with the metric system? Try our converter:





The British Pattern 37 type large pack, made in some Commonwealth country (Canada/Australia/India/UK...). A shoulder strap is included for carrying the pack.
This model dates back to times before the Second World War and very similar packs were actually used in the first one. It's as simple as can be: a rectangular pack made of indestructible canvas with a flap secured with two straps. The backside has buckles for attaching shoulder straps of your own, or you can use the included shoulder strap to carry this as a messenger bag.
Thick, tough cotton construction
Measurements approx. 32 x 32 x 11 cm (12" x 12" x 5")
A single, large compartment
Attachment points for both a shoulder strap and backpack-like L-straps (L-straps not included)
Commonwealth army surplus
Used but perfectly serviceable. Some are a bit scruffy, but everything is intact and works. These might be green, khaki, gray or bluish, or something in between. We don't differentiate.
Pro tip: see the modified pack in the extra picture - it's simply a Large Pack with extra basic pouches sewn on to the sides, and the whole pack is then blancoed with the nastiest colour shade available.
Recommendations
Loading products...
Reviews
You have already submitted a review. You can edit your text by clicking on it.
Log in and write a review.
Remove filter
Suomi
(1)
English
(4)
I would recommend for a friend
Eero M.

31.05.2016 (Edited 01.06.2016)
Mainio laukku, johon esim. saunareissun kamat mahtuvat heittämällä sisään. Helppo ja yksinkertainen käyttää, vahvoista materiaaleista tehty. Yli vuoden käyttökokemuksella voin suositella!
9
0
I would recommend for a friend
Jeremiah D.

14.05.2018
I just wrote a review on the Turkish Pack, and it was a lengthy review, but honestly, this is going to be short and sweet. The strap threads through two points on the back, I personally have the metal tabs facing inwards to give myself just a bit more room, but you do you. The bag doesn't really have that flap have enough attachment points to be 100% secure, so if you toss it around with small shit up top, be ready for the small shit to spread out on the ground. It is kind of large to be used as a haversack, but you eventually get used to it, and it would be ridiculously small for a backpack, so it may be a good thing the L-Straps are not included. I work outside, and the thing is basically large enough for my daily grinding supplies, like 3-4 canteens, pens, a small first aid kit, tourniquet, multitool, shemagh , pen light, and whatever else is necessary for the day. Not particularly quick to get into, so be aware of that as well. All in all, not bad, though mine does have stains from who-knows-what, and these are stubborn bastards, but I think it adds character, and makes it more macho.
2
0
I would recommend for a friend
Peyton B.

05.07.2018
I bought this from Varusteleka as a replacement for my old 1970 pattern SADF pack that I've had for 15+ years and is finally going to pieces. It's not really comparable, as the old SA pack has external pockets, attachment points, and a handy snap-close flap on the inside of the main flap to keep little things from sliding out. For the price, I figured it would do. And it does.

The model I received was a charming olive green with practically no discolorations or worn spots. I had previously purchased the small pack and received a less-than-great item with plenty of dirt, discoloration, and previous-owner markings. So, conditions will probably vary considerably from item to item.

My one complaint is that the large pack is large enough to sag like an empty flour sack when not packed completely full. Not really a problem when used as a cargo bag or backpack, but if you want to use it as a pannier bag for your bicycle, you will need to put some sort of reinforcement in it to keep it from flopping into your spokes.
1
0
I would recommend for a friend
Jason C.

12.07.2018
Tough and good-looking, this is a good shoulder bag for day-to-day, in-town use, like holding a laptop or some a few gym supplies. But I can't see a useful role for it in outdoorsmanship. Even if you jerry-rigged some shoulder straps, it would be very small for a daypack.
1
0
I would recommend for a friend
MARCUS S.

20.03.2019 (Edited 20.03.2019)
Just received my P-37 Large Pack today; this is my first purchase from Varusteleka and I am extremely pleased. The pack I received was fairly clean besides the usual surplus smell (kinda wish it had the L-straps but oh well, I can find some and sow them on). I got lucky and was sent a 1941 dated pack with a nice GB crown (painted, sprayed, whatever you call it) on the inner flap. The pack also had the rank (Sgt.), name, and serial number of the soldier that it was issued to. Awesome piece of history for a collector of historical items like me.
1
0