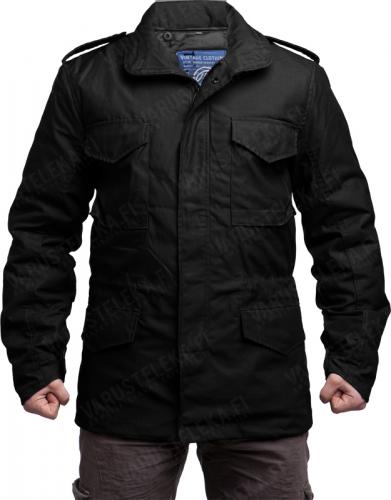 Brandit M65 field jacket with liner
Price 55.99 USD excluding VAT
Flat Rate Shipping to USA $9.99
Sold 25 pcs in the last two weeks
Loading products...
Trouble with the metric system? Try our converter: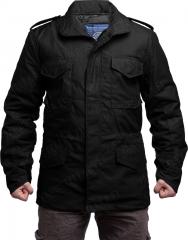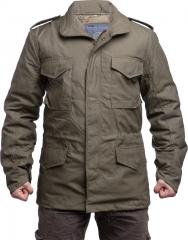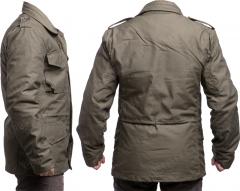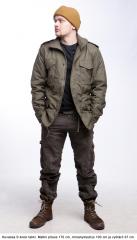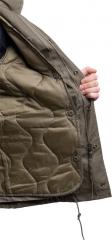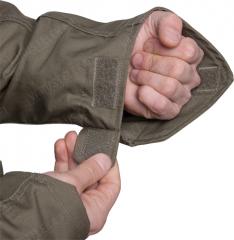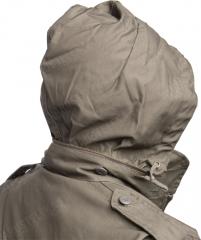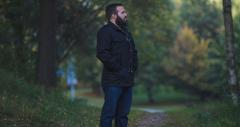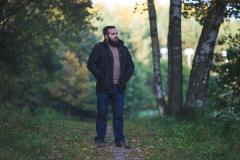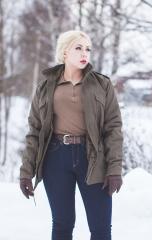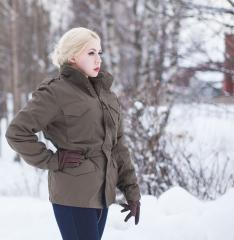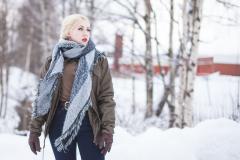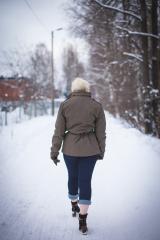 The US M65 jacket is a functionally and aesthetically pleasing classic. Here's a reproduction model, faithful to the original with a removable liner jacket. Large sizes (up to 5XL) available too!
Quite a few armies have made their own version of this field jacket. It was designed as the general purpose jacket around the northern hemisphere and apart from sub-tropical and tropical regions is suitable for use around the year: just remove the liner when it's not that cold.
Unlike many other civilian manufacturer offerings, these don't have funny prints, fake patches or pre-worn sections. These are not a fashion item.
Features:
Zipper & covered with a press stud flap.
Four large pockets with press studs.
High collar with a hood hidden inside.
Lightweight cotton lining.
Adjustments in the cuffs, hem, waist and collar.
A separate, warm polyester liner jacket, can be worn alone.
Material: Shell 65% polyester and 35% cotton, liner 100% polyester.
Size info
Sizes are given in centimetres, first up is user height, then chest circumference. If you use inches, divide the centimetre sizes by 2,54 or use our handy converter. The sizes run small, so pay attention!
Made by Brandit
Brandit is a German clothing manufacturer. They often combine military and civilian features, and this usually makes their products practical and good looking. Even though Brandit makes its stuff in China, they keep the quality consistent. These are perfect for casual everyday use.
Recommendations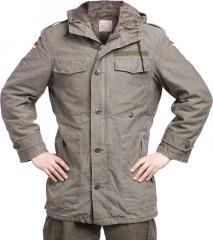 BW parka, olive drab, surplus
55.99 USD
Similar product.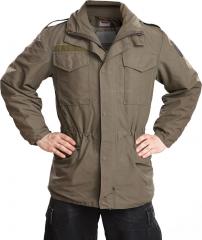 Austrian field jacket w. membrane, surplus
45.99 USD
Viewed together.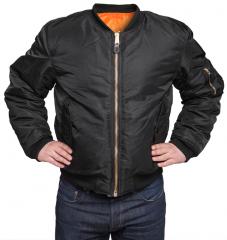 MFH MA-1 bomber jacket, black
45.99 USD
Viewed together.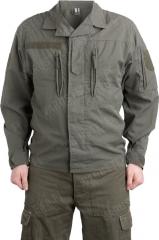 Austrian Anzug 03 summer field blouse, surplus
18.99 USD
Similar product.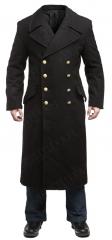 Mil-Tec navy greatcoat, black
110.99 USD
Viewed together.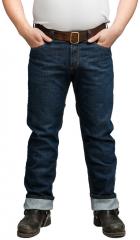 Särmä Common Jeans, blue
55.99 USD
Might be of interest.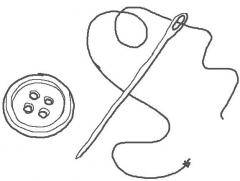 Sewing service, velcro patch for clothing or equipment
6.99 USD
Might be of interest.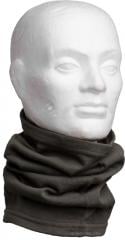 NVA wool neck tube, grey, surplus
9.99 USD
Buy also.
Reviews
You have already submitted a review. You can edit your text by clicking on it.
Log in and write a review.
Remove filter
Suomi
(18)
English
(6)
I would recommend for a friend
Duncan B.

27.10.2017
Perfect, I am a bit of a lump so had to order the 3xl but its a perfect fit, I have has several M65 style jackets and this is the best, well made and finished. I will definitely, be buying another.
3
1
I would recommend for a friend
Sami N.

04.12.2017
Pirun hyvä ja lämmin takki. Suosittelen vaikka tikkausten laatu onkin todella heikko. Alle 1viikon käytön jälkeen vasemmasta hihasta purkautui tikkaus, molemmat niistä. Muutenkin epämääräisiä langan pätkiä roikkui sieltä täältä. Onneks pysyy neulakädessä, palauttaa kun en jaksanut.
2
4
I would recommend for a friend
Peter E.

13.12.2017
It´s a good looking jacket that really keeps you warm. There could be more pockets though.
2
0
I would not recommend to a friend
Vesa V.

29.01.2018
Ensivaikutelma on lupaava. Kangas tuntuu hyvältä ja takki näyttää upealta. Sitten ne huonot jutut. Takin leikkaus on ihan käsittämätön, vyötärön ja lantion kohdalta leikkaus on todella slim fit. Olen harteikas enkä muutenkaan kuulu neuvolassa punnittavien joukkoon. Otin 3XL -koon vihreästä väristä ja se sopii hartioiden puolesta enemmän kuin hyvin, mutta jo rintakehän kohdalla alkoi ahdistaa ja homma paheni alaspäin mentäessä. Takin hihat olivat lisäksi todella pitkät, minkähänlainen gorilla (anteeksi gorillat) oikein pitää olla jotta hartioiden leveyden ja käsien pituuden suhde täsmää...?

Vaikuttaa materiaalien puolesta hyvälle tuotteelle, mutta minun ruumiinrakenteelleni se ei sovellu.
5
0
I would not recommend to a friend
Ilkka K.

17.04.2018 (Edited 17.04.2018)
Ostin tämän talvi- ja syystakiksi. Yleisilme on ok, ei ole se siistein takki, mutta toimii syystakkina ihan hyvin.



Syyt miksi en suosittele:



- Huolittelemattoman näköinen, langanpätkiä sojottaa sieltä täältä ja ompelujälki on vähän niin ja näin.

- Vuoren kanssa sietämätön käyttää, hiostaa todella paljon.

- Huppu on mitätön kangaspala, joka näyttää rumalta esillä ja jonka voi piilottaa kaulustaskuun, jolloin kaulus pullottaa ikävästi. Itse leikkasin hupun pois.

- Ratkesi puolen vuoden jälkeen kainalosta päälle laittaessa.
10
1
I would not recommend to a friend
Janne H.

21.04.2018
Takkihan on lämmin kuin perkeleen henkäys. Minua vaan ärsyttää nepparit ja niiden olemassaolo. Eivät pysy kiinni hetkeäkään. Ovat siis täysin turhat ja vitun ärsyttävät juuri sen takia. Kiinni-> poks auki, vaikket mitään tee. Käyttömukavuuden takia en tätä suosittele. Pikku viilauksella olettaisin olevan kuitenkin ihan käyttökamaa.
0
0
I would not recommend to a friend
Mikko M.

02.05.2018 (Edited 01.11.2018)
Hyvää takissa on istuvuus, näyttää särmältä ja kangas myös vaikuttaa kestävältä ja on paksua tavaraa. Siviilitakkeihin tottuneena olin yllättynyt takin suuresta painosta.

Sitten ne huonot jutut, eli ompeleiden kestävyys on samaa kuin markettitakeissa. Myös itselläni takki repesi kainalosaumoista lähes koko sauman matkalta ja langanpätkiä on siellä täällä pystyssä. Ratkeamien korjausta hankaloittaa todella ohut harsomainen kangaspala joka ommeltu takin sisäpuolelle kiinni. Sain kuitenkin ommeltua takin suurinpiirtein kasaan leikkaamalla tätä harsokangasta pois tieltä.
Pienet taskut ovat varsin esteettisen näköset, joskaan eivät käytännölliset. Lisäksi vuori on kokonaan muovia eikä hengitä lainkaan. Vuori on myös ohut eikä kovin valtaisaa lisälämpöä tuo ja itse olen sen jättänyt pois hengittämättömyyden vuoksi ja laittanut alle enemmän villapaitaa. Vuori on kuin ympärille sidottu muovipussi ja sen kanssa on joko ennennäkemättömän märkä hiki tai sitten kylmä ja edelleen sama hiki.

Pidän kuitenkin takin istuvuudesta / ulkonäöstä ja irroitettavan vuoren periaatteesta jolloin takki kävisi kesät talvet jos se hengittäisi, mutta kaikki murenee alta erityisesti ompeleiden laadun ja sen tuoman herkän hajoamisriskin vuoksi. Ostakaa jokin muu, oikeasti kunnolla kasattu takki ennemmin. Annan kuitenkin kaksi pistettä ulkonäöstä ja istuvuudesta. Ja erittäin halvasta hinnasta kilomääräisesti ajateltuna. Kyllä tästä kelpo takin kuitenkin saa kun saumoja aikansa korjailee ja heivaa vuoren menemään tai tekee hengittävästä materiaalista itse paremman.
6
0
I would not recommend to a friend
Pauli H.

25.09.2018
Ostin tämän pari - kolme vuotta sitten, kun faijalta peritty, 80-luvulla ostettu M65 alkoi olla jo kauhtuneessa kunnossa, joskin vielä ehjä. Olinkin jo hetken aikaa miettinyt vaateparren uusimista ja kun löysin Varustelekasta järkevään hintaan M65 takin, niin kylläpä ilahduin! Otin ja puin päälleni myymälässä. En ollut enää niin iloinen. Taskut ovat pienemmät kuin "aidossa" versiossa. "No mutta kyllähän sen kanssa elää" -ajattelin ja maksoin takin.

Ei sen kanssa sitten kuitenkaan elänyt. Esimerkiksi taskujen pienuus alkoi ärsyttämään päivä päivältä enemmän ja enemmän. Koska rotsissa ei ole povaria, on ainakin minulle rintafikka elintärkeä ja kun se oli pienempi, niin se oli perseestä käyttää. Myös takin varsinaiset taskut olivat paljon pienemmät. Kun faijan perintökalussa taskuihin meni mukavasti lapaset, pipo, tölkki bisseä ja vielä kädetkin lämmittämäään sitä bisseä, niin tässä uudessa teki jo pelkät pipo ja lapaset käsien kera tiukkaa. Lisää harmaita hiuksia aiheuttivat rotsin nepparit jotka olivat aivan järjettömän jäykkiä. Niitä kiinni painaessa olisi voinut helpottaa elämää pihdeillä tai vasaralla ja auki repiessä sai myös mukavasti hoidettua manikyyrin kun kynnet verillä aukoi jäykkiä neppareita. No neppariongelma ratkesi sillä, että jo parin kuukauden käytön jälkeen niitä alkoi ratkeilla irti. Rotsi alkoi jäädä enemmän ja enemmän narikkaan ja hautautua eteisen vaatesedimenttien alle faijalta perityn "old faitfulin" täyttäessä edelleen tarpeen kun M-65 rotsissa halusi John Rambona kuljeskella. Lopulta Rotsi päätyi sekajätteeseen, kun vanha kämppä myytiin ja uuteen kämppään muuttaessa se jossain määrin harmikseni löytyi vaatesedimenttien alta. Ei kehdannut edes Uffiin heittää tätä riepua. Hintahan tällä kokeilulla ei ollut paha (ja siitä iso plus), mutta harmitusta aiheutti lähinna se, etten tajunnut jättää rotsia kauppaan jo siinä vaiheessa kun sen ensimmäisen kerran vedin päälleni ja totesin sen olevan haalea kopio siitä mitä hain.

Valitettavasti tämän rotsin suhteen ei ole oikotietä onneen, vaan jos sellaisen haluaa niin lompakosta pitää kaivaa kolmatta sataa euroa eikä rotsia osteta silloin Varustelekasta. Sääli sinänsä, sillä onhan tää niin kurko rotsi jottei mitään rajaa! Mutta joku raja Kiinalaadullakin..
7
0
I would recommend for a friend
Joni J.

27.09.2018
Saksalais valmisteinen Rambo takki on varma nakki :)
1
0
I would recommend for a friend
Glenn

02.10.2018
I've got two of these, and I really really like them for autumn and winter. Below 10 °C, I suppose. I only wear it with the liner as it is a perfect fit. Without the liner it's a bit too big and I've got other jackets for warmer weather (the flecktarn parka, mostly!). I've got long arms, and this jacket is one of the few that has proper length arms. Good stuff.

Anyway, there are a few things that I don't like the velcro bits on the collar and the sleeves. They grab scarves, sweaters, and mesh shoulder straps and fuck things up, so I cut them off.

Mine have stood up to several years of urban wear, and a few outings in the woods. Nothing too demanding, but this thing does what it needs to.
3
0
I would recommend for a friend
Miika K.

27.11.2018
Hintaan nähden toimiva. Lämmin kuin mikä, ei hengittävyyttä kuitenkaan. Hommasin vastaavan Tru-Specin tosin myöhemmin. Syy siihen oli kankaan lysähtäminen todella pehemeäksi ja muodottomaksi. Viimeinen niitti oli kun spurgummat rupesivat morjestelemaan kuin kaveria.
Suosittelen, huomioiden hinta-laatusuhteen
0
0
I would recommend for a friend
Anonymous customer

23.01.2019
Pari viikkoa sitten ostin ja enpä voi kuin suositella. Aivan loistava takki. Käytännöllinen, mukava päällä ja lämmin.
0
0
I would recommend for a friend
Max H.

04.02.2019
Mulla on näitä musta sekä oliivinvihreä. Takki on erittäin tyylikäs, mutta ilmeisesti laadussa on suurta vaihtelevuutta - musta takkini on kestänyt n. 5 vuotta ilman että mitään on hajonnut tai ratkennut, mutta ostettuani oliivinvihreän, se ratkesi kainalosta alle kuukauden normaalin käytön jälkeen. Käsittämätöntä, koska ko. takki on vielä isompi kuin edellinen, eli ei sen kokokaan tee mitenkään tiukkaa.

Suosittelenko vai en? Vaikea valinta, mutta taidan mä suositella kun olen toisella pärjännyt sen viitisen vuotta. Tää voi olla todella hyvä takki jos se nyt vaan sattuu kestämään. Ai niin, ja huppu tässä on ihan turha kangaslärpäke joka näyttää hölmöltä eikä hirveämmin lämmitä. mutta ilman huppua on yleisilme hyvä.
0
0
I would not recommend to a friend
Tuomo R.

09.06.2019
Napit lähti hihoista viikossa ja tarrat hihoista parissa viikossa. Saumat ratkee alle vuodessa. Mut oli kai urpoo luulla et tolla hinnalla sais kestävän takin. En luule enää.
1
0
I would recommend for a friend
010karl010

04.07.2019
I've had this jacket for over a year and I love it. It looks superb on and it's my favorite cold weather jacket. However, the pockets are fairly small and the jacket has ripped in both armpits with normal use, so the stitching is not of much quality. The way it also tore the cloth makes me wonder about general last as well if I decided to go roll on the ground.
0
0
I would not recommend to a friend
Kimmo K.

30.08.2019
Aluksi hyvä tuntuma. Takissa irrotettava vuori mikä teki siitä monikäyttöisen.
Huomasin että kankaan laatu on todella surkeaa. Takki ratkesi selästä hihan vierestä
jättäen avonaisen repeytyneen aukon jonka takia jouduin heittämään takin pitkälle matkalle roskiin.
En suosittele enkä aio ostaa toista huonoa tuotetta joka ei kestä normaalia käyttöä.
Myös muissa Brandit-tuotteissa on ala-arvoinen kangaslaatu joka repeää ja kuluu nopeasti.
1
0
I would recommend for a friend
mobi

13.11.2019
I didn't purchase through Varusteleka, although I have always been a satisfied customer of theirs.

I have owned the olive coloured version of this exact jacket for about 7 or 8 years.
It has aged beautifully, it is faded but still looks great.
The only wear and tear being the DWR treatment is long gone.
The very bottom press stud popped out from the storm flap a few years ago but its not surprising really as its a high stress area but it has not been missed, its not an inconvenience at all and i could probably repair it if i wanted i just stuck the two press stud halves together it just looks like a brass button.
There's a small burn hole on one of the sleeves where i fell asleep with a lit cigarette in my hand after a night on the town. My fault lol but its been there for yours and not got any bigger or anything, its not noticeable.

I removed the hood after the first few months as it used to give a bit of a hunch back appearance and i never used it.

The jacket has held up remarkably well and is quite practical and versatile, spend a day fishing in it then go to the pub. Plenty of space in the pockets.

The liner is very warm and much appreciated in the winter, though in the warmer months i like to remove the liner and fold the cuffs over once for a shorter, neater looking sleeve. If you do this with the liner in the liner sleeve pokes out.

Probably the best jacket ive ever owned in terms of value for money, appearance and practicality.

The material keeps the breeze off nicely but isn't exactly windproof, although its probably a good thing when the liner is in as it breathes well. It works well and looks nicer without the liner, i just chuck it on over a woolly jumper most of the year apart from the height of summer or particularly bitter weather in winter ill pop the liner in.

I use it as an everyday jacket, all year around. It gets worn very regularly, probably more than any other item of clothing. I like the stand up or fold down collar and the sleeves.

Used it for all sorts, fishing, camping, hunting, hiking, dinner dates, nights out on the piss. Etc.

The zip on the collar can sometimes squeak which has tripped me out a few times trying to figure out what that noise is haha
RELAX, IT'S ONLY PARANOIA!

9/11 good jacket, was thinking of getting another one cos i love it so much but there's no point because this one is still going strong and is as good as ever. A lot of memories made in that coat.
1
0
I would recommend for a friend
Ville L.

25.07.2016 (Edited 26.07.2016)
Ei ehkä kaikkein särmikkäin takki mutta erittäin käytännöllinen. Oon itse asiassa tykännyt aika paljon pitää ilman vuoritakkia välikausina. Isot taskut plussaa, en tykkää jos joutuu pitämään laukkua mukana.

Plussaa siitä, että kun olin pikkupoika niin isommilla pojilla oli tämmöset. Nyt on minullakin, ja kuvittelen olevani yhtä cool.
18
0
I would recommend for a friend
Anssi P.

10.11.2016 (Edited 23.01.2020)
Vähän sai uudelle takille näyttää saksia ku saumanpäitä hapsotteli sieltä täältä, myös pari vuoritakin napinreikää joutui puhkomaan auki kun olivat tehtaalla vetäneet umpeen.

Erittäin käytännöllinen ja monikäyttöinen takki, vuorin kanssa pärjää semmoseen -10 kivasti ilman ylimääräsiä vaatekertoja, ilman vuoria nollakeleistä ylöspäin. Huppu on tosi ohut mutta suojaa tuulta ja kevyttä sadetta vastaan hyvin.

Vuoden ollut nyt käytössä ja hyvin on kestänyt, hintaisekseen erittäin hyvä takki.
0
0
I would recommend for a friend
Harri K.

24.11.2016 (Edited 28.11.2016)
- hyvin istuva, hillitty takki jo värinsä puolesta (voi hyppiä häistä hautajaisiin), hintansa väärti
- koosta sen verran, että vaikka rinnanympärys 100cm, pistän alle kerraston, maastopaidan, sekä paksun villapaidan
ja koko on silloin xl; eikös ollutkin niin, että talvella reilumpi koko?
- nuo hihojen velcrot voisi muuttaa tehtaalla neppareilla säädettäviksi
2
0
I would recommend for a friend
Terence S.

09.12.2016 (Edited 20.12.2016)
Lähdin hakemaan siistiä, hyvää ja mukavaa päälläpidettävää talvitakkia ja sen kyllä sain! Koot olivat reiluja ja ei talvitakin kuulukkaan olla justi. Pitää lämpimänä 20 asteen pakkasessa ja selkä kastui ihan vain kävellessä. Ainut miinus parin viikon käytön jälkeen on alareunan kumilanka, vaihtakaa siihen kunnon naru.
3
2
I would recommend for a friend
Tuomas K.

20.12.2016 (Edited 22.12.2016)
Toimii edelleen useamman vuoden jälkeen. Nyt loistoa tosin himmentää Varustelekan Särmä Windproof Smock, joka on vähän sama mutta parempi. Vuorta ei siinä tule mukana, mutta Smockin taskut ovat paremmat, vetoketju on parempi, leikkaus on (omasta mielestäni) parempi... ja fleecen voi ostaa erikseen.
0
1
I would recommend for a friend
Dustin C.

29.01.2017 (Edited 29.01.2017)
This is a great jacket. The lining is warm and is put in with buttons as opposed to a zipper or the socket buttons, I'm 193cm and ~90kg. I prefer my jackets at my waistline and my sleeves right at my wrists and this in large size fits perfectly. The epaulets are not as raised as in the picture which is a plus to me as well, they're more flush with the jacket. The zipper is good quality and not plastic. My only complaint is the wrist part on the sleeve is a little busy, but if you do it all up you can make it look like a normal tight rounded off cuff without looking too thin compared to the arms.

This is a really good jacket for the price and if you need a size comparison I got a large at my size and it fits me perfectly, if you're a bit shorter probably go with a medium if you don't want this past your waist
3
1
I would recommend for a friend
Tuomas K.

20.12.2016 (Edited 22.12.2016)
Toimii edelleen useamman vuoden jälkeen ja voin suositella. Kannattaa kuitenkin katsoa myös Lekan Särmä Windproof Smock, jossa on omasta mielestäni paremmat taskut, parempi leikkaus, parempi vetoketju jne.
0
0
I would recommend for a friend
Juho H.

08.02.2017 (Edited 09.11.2017)
Plussat
-hyvä hinta/laatu suhde
-mukava päällä, kestävä, ei sotaisan näköinen
-muokattavuus: tätä voi käyttää niin paukkupakkasilla, kuin lämpiminä kesäpäivinä.
-erittäin lämmin vuoritakin kanssa

Miinukset
-pienehköt taskut(jos vertaa Smockiin)
-pakkasella lämpö valskaa vetoketjun kohdalta
-huppu on aika mitätön
-pikkupakkanen + vuoritakki päällä + liikunta= kauhea hiki. Maastoon/vaellukseen fleece + windproof smock parempi.
1
0