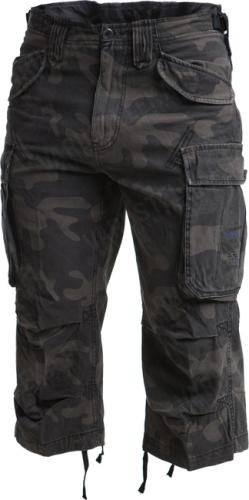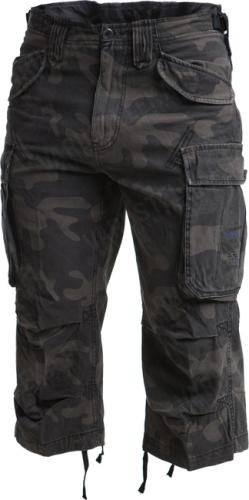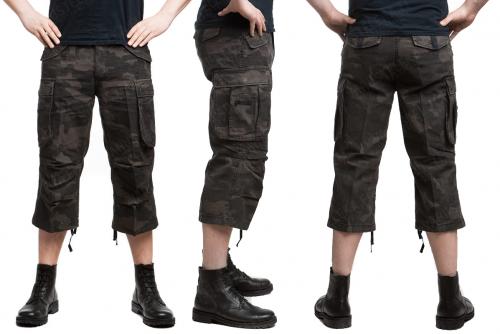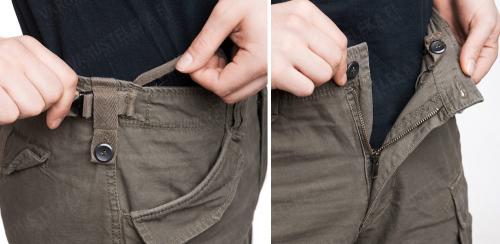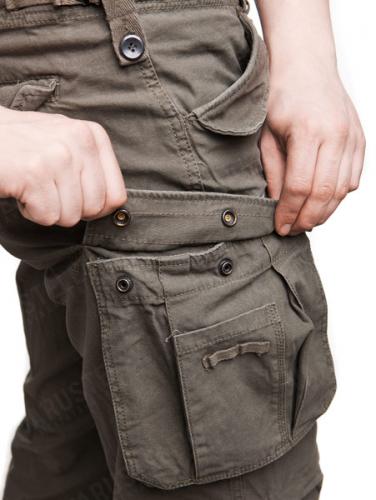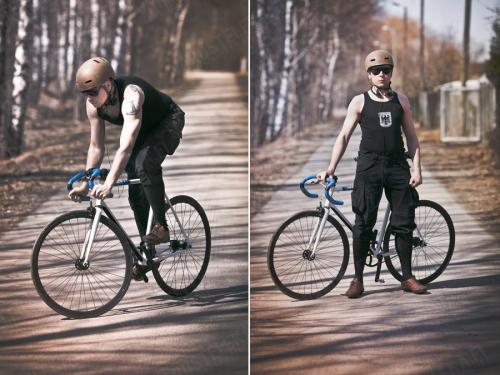 Brandit Industry 3/4 shorts, Dark Camo
Price 41.99 USD
excluding VAT
Some like shorts that go over the knee. Here be some, based on the good ol' M65 trousers. Cyclists like knee pants. These are good for that too!
Loading products...
Trouble with the metric system? Try our converter: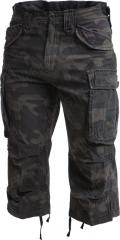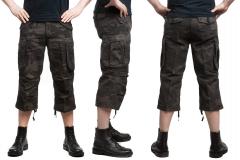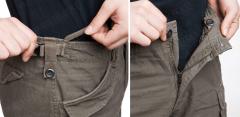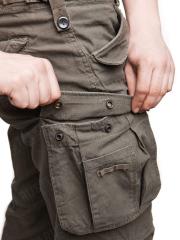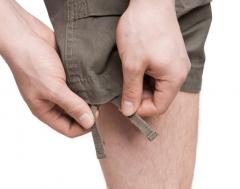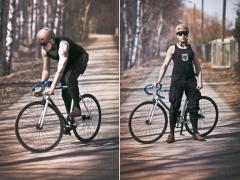 Some like shorts that go over the knee. Here be some, based on the good ol' M65 trousers. Cyclists like knee pants. These are good for that too!
This is Brandit's shorty version of the legendary M65 trousers. Along with some length off the pants, these are also full cotton and have civilianlike features that are only for looks without any function, but the latter isn't enough to ruin a good set of shorts.
Really comfortable cut. These have bellows on knees, which enable you to do hurdles, not that we've tried. Anyway, there's no restriction of movement with these, so if you're an urban ninja, these are perfectly good for you.
Two side pockets, two back pockets, two big cargo pockets. One external pocket atop each cargo pocket.
Back and cargo pockets close with press-button flaps. The side pockets have them flaps too, but the flaps are only for show (!) and the actual access to the pocket is behind the flaps. Good choice, we do not know why they left the flaps.
Belt loops, tightening thingies on the sides and loops for hook suspenders.
Zipper fly
Brandit has had the good sense of keeping the M65 trouser liner buttons, so if you want to use the M65 quilted liner, go ahead - the liner stops where the pant ends stop. We've been wondering why there are no warm lined winter shorts available, but now there's no need to look further! You have to buy the liner separatedly, though.
Tightening cords on pant ends.
Pro tip! These are actually pretty good cycling trousers. Couple these with knee socks and you've garbed your whole lower body. These shorts/knee pants allow for free leg movement, and won't obviously snag on the chain.
Sizes run pretty small, we've given the largest waist circumference in cm after every size. Don't take any bit too small! Measured 5 cm below your navel.
Fabric is 100% cotton and these are stone washed, like with stones. Because of this, be sure to shake off the sand remains from the pockets before you get your expensive-as-hell smartphone all scratched up.
Made by Brandit
Brandit is a German clothing manufacturer. They often combine military and civilian features, and this usually makes their products practical and good looking. Even though Brandit makes its stuff in China, they keep the quality consistent. These are perfect for casual everyday use.
Recommendations
Loading products...
Reviews
You have already submitted a review. You can edit your text by clicking on it.
Log in and write a review.
Remove filter
I would recommend for a friend
Marko L.

24.07.2017
Loistava leikkaus. Buenot pöksyt!
3
0
I would recommend for a friend
Mark M.

18.09.2017
Juuri sopivan pituiset housut myös hieman viileämpäänkin kesäsäähän!
Taskuja riittää ja niihin mahtuu myös se isoinkin älyluuri ilman ongelmia. Nappitaskut pelkkää plussaa.
2
0
I would recommend for a friend
Kalle S.

28.07.2018
Lekan 3/4 housuista ne paremmat. Leikkaus toimii, pikkutavarat pysyvät taskuissa, ja nepparinapit ovat riittävän jämäköitä etteivät aukea itsekseen. Huonona puolena että näitä ei ole varastossa just silloin kun edelliset hajoavat.
0
0
I would recommend for a friend
ville-matti v.

01.06.2019
Hyvän oloiset pöksyt muuten mutta, housun sepallusnappi irtosi melko vähillä pukemiskerroilla ja vyötäröllä olevat säätölekin eivät pysy säädöissään.
Napin suosittelen pistelemään itse kunnolla karhunlangalla ja väljän vyötärön avuksi vyötä tai (ja) henkseleitä.
0
0
I would not recommend to a friend
Mikko W.

07.06.2019 (Edited 08.06.2019)
Mulla on ollut kahdet tällaiset pökät käytössä kuukauden sisään. Ekoissa irtosi sepaluksen nappi heti kättelyssä, mutta nielin tappioni ja ompelin sen kiinni. Aika pian sen jälkeen reisitaskun sauma lähti aukeamaan ja vein housut vaihtoon.

Sain uudet tilalle.

Niissä sama juttu. Sepaluksen nappi irtosi tokana käyttöpäivänä ja yhdeksäntenä päivänä takapuolen kohdalle repesi 20 senttinen kurkistusluukku pöllönsilmälle.
2
1
I would recommend for a friend
Aapo R.

09.09.2019
Hyvin istuvat housut ja plussaa taskuille. Koko ei ollut niin nippanappa kuin tuotekuvaus antoi ymmärtää (tai sitten tapahtui käyttäjäperäinen mittausvirhe). Pikakiristykset eivät yksinään pidä joten vyötä kehiin (henkselitkin sallittu) mikäli siis semmosia tarvii. Silmää miellyttävät pöksyt!
0
0
I would recommend for a friend
Aleksi K.

22.06.2020
sepaluksen nappi irtosi heti, saattoi johtua juhannuksen jälkeisestä turvotuksesta, muuten 5/5 housut.
0
0
I would recommend for a friend
Anonymous customer

04.08.2020
Hyvät housut, selauksen nappi irtosi 3 päivässä
0
0
I would recommend for a friend
Juhani A.

27.09.2020
Mainiot pöksyt, kangas on tukevaa ja esim. merinovillapolvisukan kanssa mukava ulkona syksylläkin. Puntin suun saa kätevästi kiristettyä suppuun siinä olevalla nauhalla, jolloin puntti pysyy polven alapuolella kaikenlaisessa liikkeessä. Vyötäröllä on niin ikään kätevät kiristysremmit lantion sivuilla, joten erillistä vyötä ei ole tarvinnut arkikäytössä pitää.

Miinukset tulee ompeleiden laadusta. Nappi irtosi toisena päivänä paketin saapumisesta, ja pöksyjen saumoista repsottaa milloin mistäkin joku purkautuva langanpätkä. Kangas tosiaan itsessään on aika vahvan tuntuista, mutta saumoistaan tämä ratkeaa ennemmin tai myöhemmin. Vinkki Varustelekan ompelimoon - näistä saisi aika paljon pidempään kulutusta kestäviä, jos napin kiinnittäisi jo siellä teillä uudelleen karhunlangalla.
0
0