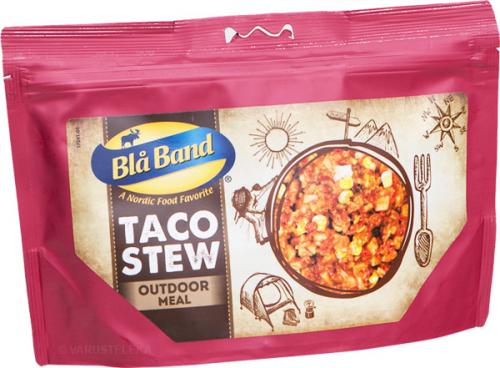 Blå Band Outdoor Meal freeze-dried food, campaign
Price 0.00 USD excluding VAT
Flat Rate Shipping to USA $9.99
Trouble with the metric system? Try our converter: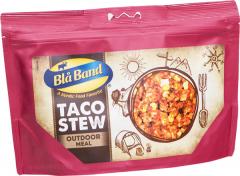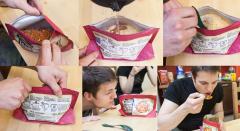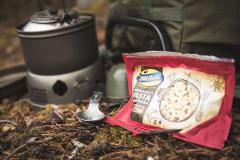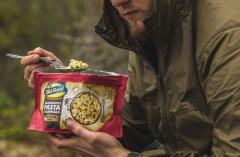 Limited edition! 50% off from select tastes for until sold out!
Freeze dried food - if you're into carrying light, this is for you. These are properly sized portions and pretty tasty too!
Freeze dried food is good when potable water is available so that you don't have to carry it, like when trekking in Finland. Blå Band stuff has the usual modern features - it doesn't require cooking after adding water, and you can eat it straight out of the bag.
Normally the Blå Band food has a shelf life usually for two years. These won't turn bad after that, though. These particular campaing discount portions are probably a year away from the official expiration date.
Despite the Swedish name, the food itself is actually made in Germany.
Instructions
Tear off the top of the pouch where marked and pull out to make a bottom.
Add boiling water up to the marking (about 3,5 dl) and stir. You can also use cold water.
Fold down the edge of the pouch and seal with included tape. Let rest for about 10 min, or 30 min if you use cold water.
Stir and eat.
Ingredients and nutritive values
Creamy pasta with chicken
Pasta [63 %] (durum wheat flour, salt), palm fat, chicken [6,4 %], modified potato starch, flavouring (contains milk), cheese powder, sugar, cream powder, maltodextrin, salt, parsley, whey powder (from milk), turmeric, rice flour.
| | | |
| --- | --- | --- |
| Nutritive value | Per 100 g* | Per portion (approx. 545 g)** |
| Energy | 430 kcal | 650 kcal |
| Protein | 17 g | 26 g |
| Carbohydrate | 60 g | 90 g |
| Fat | 13 g | 20 g |
| Salt | 3,5 g | 5,3 g |
Parsa-Kanarisotto
Rice [51 %], palm fat, chicken [8,9 %], green asparagus [6,1 %], cream powder, apple, modified potato starch, salt, onion, flavor, parsley, cayenne pepper.
| Nutritive value | Per 100 g* | Per portion (noin 550 g)** |
| --- | --- | --- |
| Energy | 450 kcal | 650 kcal |
| Protein | 15 g | 22 g |
| Carbohydrates | 60 g | 86 g |
| Fat | 16 g | 23 g |
| Salt | 2,8 g | 4 g |
Itämainen couscous-kana
Couscous 35% (DURUM WHEAT flour), vegetables (carrot, tomato, green pepper, green beans, onion), palm fat, chicken 7,8%, apple, apricot, salt, CRÉME FRAICHE, maltodextrin, potato starch, spices, yeast extract, orange, flavouring, SKIMMED MILK powder, MILK PROTEIN, rice flour, preservative: SULPHUR DIOXIDE.
| Nutritive value | Per 100 g* | Per portion (noin 550 g)** |
| --- | --- | --- |
| Energy | 431 kcal | 616 kcal |
| Protein | 16 g | 22 g |
| Carbohydrates | 51 g | 73 g |
| Fat | 17 g | 24 g |
| Salt | 2,9 g | 4,2 g |
* Dry food.
** Fully prepared portion.
Reviews
You have already submitted a review. You can edit your text by clicking on it.
Log in and write a review.
Remove filter
I would recommend for a friend
Thomas L.

02.08.2017 (Edited 16.08.2017)
Alone in the house with the wife and kids on holiday. Hungry. Nothing in the fridge. Survival mode on. Can't order pizza every day, my CS95 smock is already a bit tight over the stomach. Perfect opportunity to try the cheese-broccoli pasta. Wow, this actually tastes great. Add some salt and pepper, and this is a really tasty outdoor meal. One of the better outdoor meals I have tried, only beaten by Norwegian combat rations. Far better than Mountain House for example. Rating 5/5. The bag packs down very flat and compact compared to other brands, an excellent space saver in the ruck. The bag is rectangular and opens on the long side, very practical and stable. You should also open the bottom completely flat, rip it slightly on the sides. This is not obvious, and not so visible in the product pictures. It makes a big difference in stability and also helps when you mix the water and food. The label says "outdoor meal" so I had to eat it on the balcony. A bit annoying since it was raining, but hey, food always tastes better outdoor. Get some extra salt and pepper the next time you go to your favourite hamburger joint, and keep them in a small plastic bag, ready for your next outdoor meal. Yes, I'm poor. Too many kids... It seems a bit tricky to make the broccoli soft without overcooking the pasta, next time I will wait a few minutes more. The portion is quite large, I couldn't finish it all so I saved some for the evening snack. The broccoli was perfect a few hours later. I was just missing the freeze-dried beer. Expiry Feb 2018, good enough considering the price.

*** Update 03.08.2017: Tried the Couscous Chicken. Rating 3/5.
Not bad but a bit too spicy for my taste. Too acid aftertaste. I have lived in Eastern Europe and arab countries, so I do like spicy food more than the average guy, but this was not my cup of tea. There must be some chicken inside, because the label says so, but you need a microscope to find it. Too bad I bought 10 of these. These also expire in Feb 2018. Still a good stomach filler for the price.
6
0