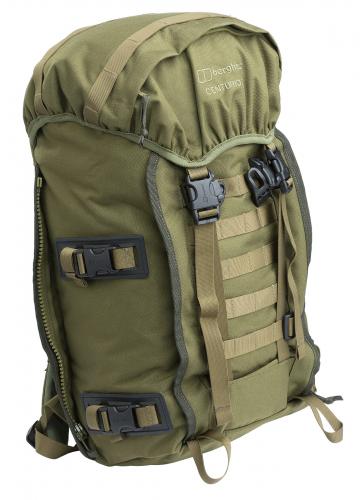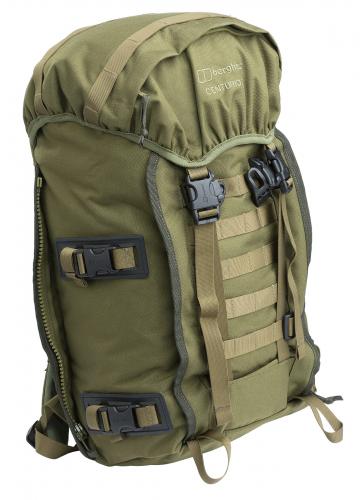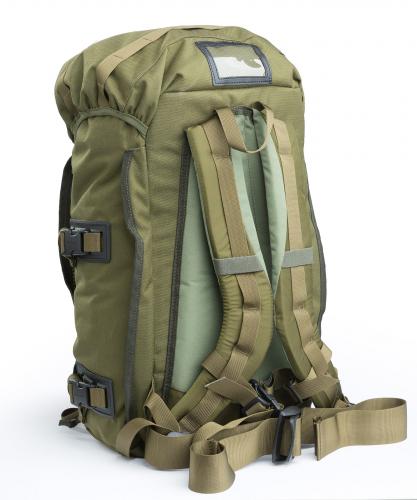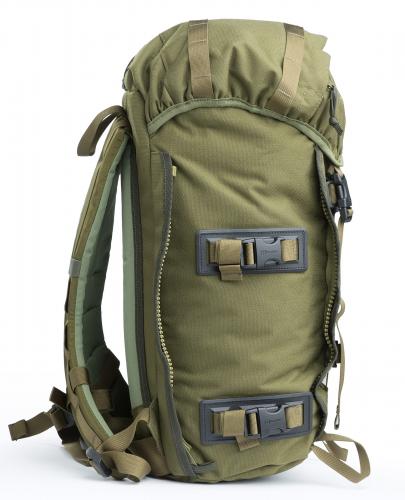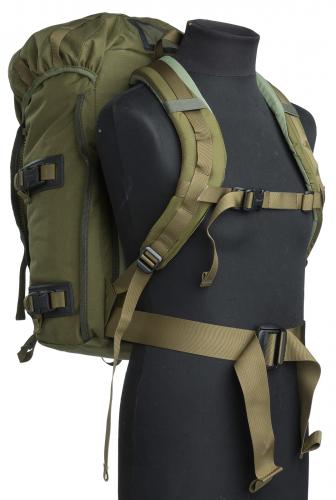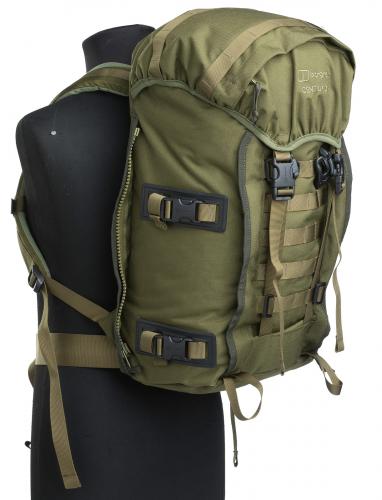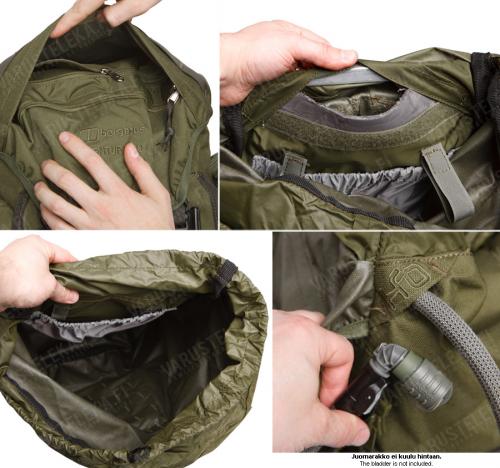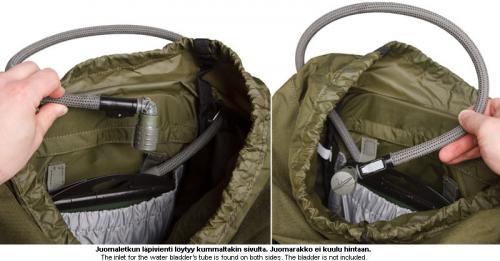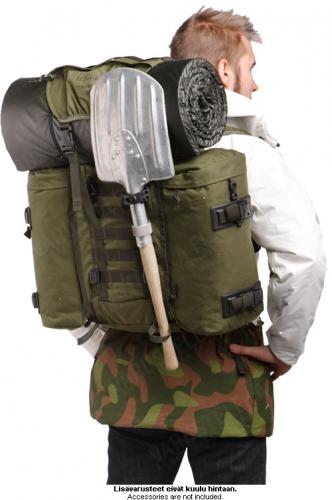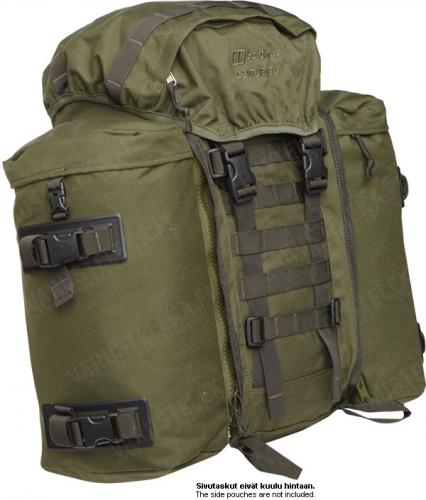 Berghaus Centurio II 30 Backpack
Price 115.99 USD
excluding VAT
A very versatile medium-size military backpack, highly adaptable, works equally well as a smaller daypack or for hauling enough kit to keep you going for a few days. Compatible with Berghaus MMPS side pockets!
Loading products...
Trouble with the metric system? Try our converter: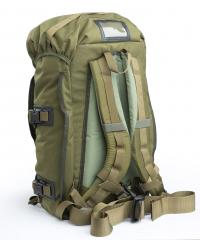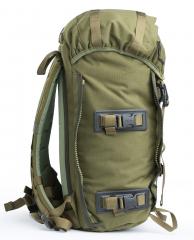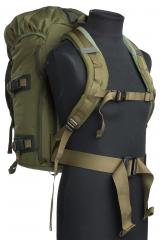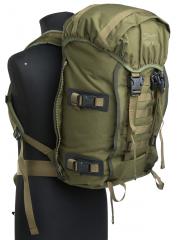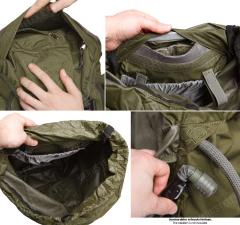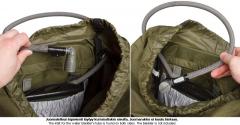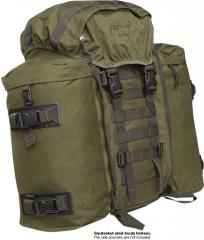 A very versatile medium-size military backpack, highly adaptable, works equally well as a smaller daypack or for hauling enough kit to keep you going for a few days. Compatible with Berghaus MMPS side pockets!
The Centurio is larger than a small assault pack, but still clearly smaller than a large bergen, this is basically the definition of medium size when it comes to military backpacks. The 30-liter capacity can be further enhanced by attaching a pair of MMPS side pouches, attaching a sleeping bag or mat on the top, etc. The comfortably padded shoulder straps and back makes carrying heavier loads perfectly doable. The Centurio is a great, versatile choice for a multitude of uses!
External measurements approx. 54 x 34 x 31 cm (21" x 13.5" x 12"), excluding the side pouches.
Roughly 30 liter capacity (1830 cu in), by adding the MMPS side pouches you can up the capacity to a total of 50 liters (3050 cu in).
Weight 1.25 kg (2.75 lbs).
One large main compartment, covered by a large flap and a drawcord collar.
A pocket for smaller stuff inside the flap.
Hydration bladder compartment.
Removeable general-purpose utility straps on the sides.
Well padded, sturdy shoulder straps, just like those on the larger size Berghaus rucksacks.
Adjustable hip-belt with a sturdy plastic buckle of Berghaus' own design.
All materials used are high-quality, combat-proof polyester and nylon, YKK zippers, and Berghaus plastic buckles.
Made by Berghaus.
Recommendations
Loading products...
Reviews
You have already submitted a review. You can edit your text by clicking on it.
Log in and write a review.
Remove filter
Suomi
(7)
English
(3)
I would recommend for a friend
N.N.

28.06.2016 (Edited 03.08.2018)
Ainut miinus on soljet jotka ei kestä pakkasella.
Ja kun löytyy isompi rinkka noilla sivutaskuilla, niin voi varustaa mielensä mukaan.
3
0
I would recommend for a friend
PettuLeipä

11.02.2017 (Edited 31.05.2021)
Loistava reppu, johon saa vielä "Isoveljen" sivutaskut kiinni. Suosittelen!
4
1
I would recommend for a friend
Sami K.

21.11.2017 (Edited 31.05.2021)
Oikeastaan ainoa "puute" on pehmustamaton lantiovyö. Tämän kokoisessa repussa se ei kuitenkaan ole minusta mikään välttämättömyys ja repusta löytyvä 50mm vyötäröhihna jakaa painoa aivan siedettävästi. Vähän yllättävästi pohjassa ei ole paikkoja esim. makuupussin kiinnittämiseen irtohihnoilla, toisin kuin monessa muussa saman kokoisessa repussa - itselleni tämä ei kuitenkaan ole mikään puute, koska en ole juuri koskaan käyttänyt niitä muissakaan repuissa, sillä kaikki repun alaosassa roikkuva on aina tiellä. Kantosysteemi on oikein toimiva ja mukava, eikä noin 10 kilon lasti tuntunut oikeastaan missään.

Yksinkertainen ja kestävä perusreppu ilman kaikenlaisia enemmän tai vähemmän turhia taskuja ja lokerointeja, jota saa tarvittaessa jatkettua Berghausin isompien rinkkojen sivutaskuilla. Jos siis omistat jonkun Berghausin (uudemmista MMPS-sarjan) isoista rinkoista ja kaipaat oheen vähän pienempää päivärepuksi tai viikonlopuksi, tämä on oikein hyvä valinta. PLCE-repunkin taskutkin käyvät tähän periaatteessa - vetoketjut ovat saman kokoiset, mutta ne ovat toisin päin, eli PLCE-taskut roikkuvat tässä suu alaspäin.

Vinkki Lekalle: tuokaa markkinoille tähän sopiva vain PALS-kujastoa sisältävä insertti; markkinoilla näyttäisi olevan vain valmiita taskuinserttejä, jotka ovat aina väärinpäin siinä repussa mihin haluat ne laittaa - pelkän PALS-kujaston kanssahan olisi saman tekevää miten päin se insertti kiinnitetään...
3
0
I would recommend for a friend
Andreas P.

02.01.2018 (Edited 31.05.2021)
I would recommend for a friend
Mikko H.

18.01.2018 (Edited 31.05.2021)
Reppu tuntuu napakalta selässä, eikä laadussakaan ole moittimista. Modulaarisuutta tuo erikseen liitettävät taskut jotka tulevat saman valmistajan rinkan mukana. Kannan itse reppua lyhyitä matkoja kerrallaan ja kevyillä kuormilla. Sen vuoksi jäin hieman kaipaamaan irrotettavaa lantiovyötä. PALS-kujaa saisi olla myös kyljissä, sillä pidän kovasti liitettävistä pikkutaskuista.

EDIT: Karrimorin PALS-kujalliset sivupaneelit käyvät suoraan tämän vetskareihin. Ainoana miinuksena vain, että vetoketjujen eripuolisuuden vuoksi panelit tulevat ylösalaisin, mikä hieman hankaloittaa paneleiden taskujen hyödyntämistä.
0
0
I would recommend for a friend
Aleksi H.

27.05.2018 (Edited 01.06.2021)
Just sopivasti omaan makuun tota MOLLE-kujastoo tossa edessä. Itellä ollu välillä SA M05 yleistasku mini ja Särmä TST IFAK ensiaputasku peräkkäin/päällekkäin tossa edessä. (Toisessa taskussa joutuu yhen kujaston välin skippaamaan, sitten mahtuu hyvin.) Välillä sitten ollu teltta tai makuualusta kiinni siinä kujaston päällä parilla remmillä. (Taskut tietty tässä kohtaa otettu veks.)

Hyvät vaikutelmat repusta. Kannettu pari kertaa ihan ääriään myöten täyteen polttopuita yhtään saumoja säälimättä ja tiputeltu vielä siihen päälle. Ei oo reppu säikähtäny kohtelua vielä. Reilu 12kg selässä ei tunnu juuri miltään. Ranka tukee riittävän hyvin. Ja lantiovyön lukko on ihan huippu! Paljon paree vertaa normi pistosolki.

Vielä kun sais noita sivutaskuja erikseen pentele :/ Suomesta ne haluaisin hankkia pelkisteen, mutta pitääpä varmaan briteistä asti tilata, kun ei oo näkyny.
4
0
I would recommend for a friend
Antto H.

21.10.2020 (Edited 06.06.2021)
Mil-Tecin ja Lekan vastaavankokoisia reppuja kantaneena voin sanoa että tämä on syystäkin hieman kalliinpi. Todella jämäkän oloinen ja maastossa kävellessä ei heilu ja liehu jokaisesta tuulen hönkäyksestä. Lantionvyön solki on hyvän tuntuinen, mutta vielä kun saisi ne remmien päät jollain tavalla nätisti vyöhön kiinni. Nyt typerästi heiluu kävellessä.
0
0
I would recommend for a friend
Juho L.

09.05.2021
Ostin repun aikoja sitten, ja nyt ollut käytössä noin neljä-viisi vuotta. Olen tähän reppuun turvautuen ollut liftaamassa Islannissa muutaman viikon ja 60 km vaellus on sujunut tämän repun kanssa myös leikiten. Yllättävän tilava, ja molle-kujastoa ja paria irtoremmiä hyödyntäen kapasiteetti lisääntyy mukavasti. Ainoa miinus on olkaviillikkeet- ne ovat omaan makuuni hieman liian kovat.
0
0
I would recommend for a friend
Matt L.

30.06.2021
Very nice pack, durable and very functional. The Source WLPS is a great system, and I would 1000% recommend someone to get it with the UTA. The British Osprey IFAK fits perfectly on the MOLLE on the front of the pack. I just wish that I could find some MMPS side pouches that don't cost more than the bag itself.
0
0
Kierto Circular Economy
Return this product used but clean and unbroken, and you'll receive half of the product's original price as Varusteleka credits. Service is available only in Finland. Only Registered users can make Kierto returns. See more information about Kierto.