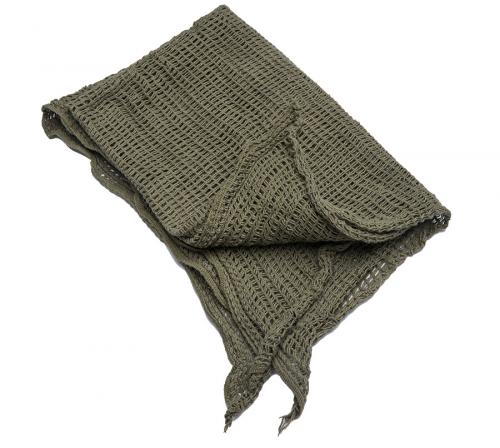 Belgian scrim scarf, olive drab, surplus
Price 6.99 USD excluding VAT
Flat Rate Shipping to USA $9.99
82 % recommends
Sold 12 pcs in the last two weeks
In stock 97 pcs. Also available in our walk-in store.
Trouble with the metric system? Try our converter: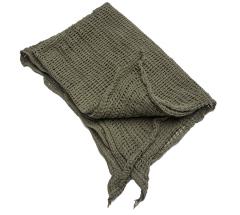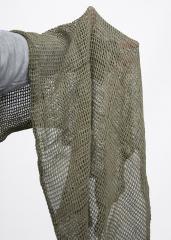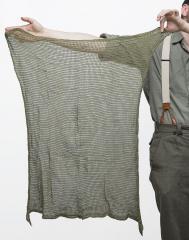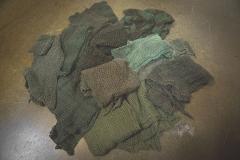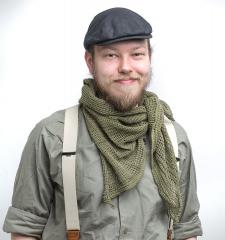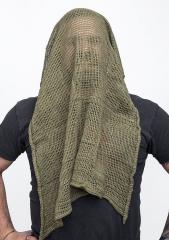 Scrim scarves are a timeless classic both in military and civilian use. They offer breathable protection around the neck, can be tossed over your head for concealment, worn as a bandana, or tied as a swag bag.
This here is an excellent Belgian specimen: a robust and smelly military item from some decades back. Made of cotton, probably. Air well and wash by hand before use. If you are sensitive to the stench of Belgians, buy a new scarf instead.
A very rough size approximation is 80 x 60 cm. See the pictures too. These come in different shades and some are even camouflaged. We won't pick.
Pro tip: you can cut this into strips and wrap them around your rifle or equipment.
Belgian army surplus
Used and stored for a long time. In a perfectly OK condition, just a bit smelly and the colours and sizes vary.
Reviews
You have already submitted a review. You can edit your text by clicking on it.
Log in and write a review.
Remove filter
Suomi
(3)
English
(8)
I would recommend for a friend
David F.

01.05.2018 (Edited 05.06.2018)
Both came in great shape. These do smell pretty funky/moldy. Air em out and a few good washings you should be fine. Great piece of gear for cheap.
3
0
I would recommend for a friend
Harri J.

07.05.2018
Oma huivini oli loistavassa kunnossa. Vähän tuuletusta ja käsinpesu, niin valmiina käyttöön.
0
0
I would recommend for a friend
darryl b.

21.06.2018
seems just fine, no overwhelming stench.
1
0
I would not recommend to a friend
Kim S.

08.08.2018
Ordered these for post-apocalyptic costume project with bunch of other stuff. Smell is deadly, visibly they are fine but apparently infested with mold. Some other items in the same shipment had the same problem and the stench had stuck to other, new items too. Have to return the moldy ones, me and family members got actual symptoms like running nose, red eyes and itching.
3
2
I would recommend for a friend
Robin K.

27.08.2018
Great scrim scarf. Mine was slightly mended, but the very small stitching only added to the scarfs character. Came in a very nice green shade. Didn't smell all that much, but I for one love the smell of old surplus equipment, so what little odor it has doesn't bother me in the slightest.
0
0
I would recommend for a friend
Meat M.

06.09.2018 (Edited 17.05.2019)
excellent stuff gentlemen, believe me, you can wear this and not look like some hipster faggot, but people might think you might be a BOMBER. regardless, a very nice item, very comfortable. The two I purchased came with a stench because they had been sweat in by the previous users, wash these once you get them.
3
0
I would recommend for a friend
Philipp B.

13.11.2018
I can quote Darth Vader for this sarf. "The smell of Belgians is strong with this one".
But dont worry, you can take it as a feature! it does keep mosquitos, beggars and your nervewrecking little sister away from you, it disguises your odour for dogs (so you snipers wont be caught by a doggo) and you do not need to spend huge ammounts of your hard earned monney for parfum since nobody will smell your fragrance anyways.
But thats not all! Here comes another feature! The smell rubbs off to everything that comes in contact with it! That is great since you can now enjoy your new scarf even if you are not wearing it.

I reccomend not only washing it once, or twice, or even three times. It should be soaked in a clorine-wather-solutinon, than thrown into boiling-wash and maybe burned afterwards.
Mine lost its smell after the boiling wash for the second time.
After all this treatment, this lovely (ex)smelly little pice of netsarf is not only freaking practilally but even fashionable and realy versetail. As part of your daylie hipster outfit is makes itself usefull as a scarf, as part of your tactical sniper outfit you can sew it to your jacket and use it to fix camouflage on you, and finaly as part of your survival backpack it could be used as a firestarter. (Dont you forgett of all the other uses like some kind of fetish-wear, a fishing net or even an improvised bag!)
10
1
I would recommend for a friend
Jeffrey M.

20.02.2019
Great little Scarf, does have that old surplus smell, which I love, but I also love cosmoline, so maybe I am weird
1
0
I would not recommend to a friend
Miika K.

31.05.2019 (Edited 31.05.2019)
Tuote on kyllä verkkohuivi. Toimii ja näyttää siltä. Omani haju tosin oli kosteusvaurioinen mökki potenssiin 10. Pesin omani kaksi kertaa käsin, sitten vielä koneessa 95 asteen ohjelmalla ja haju vain lieveni. Joten kloriitin kanssa ämpäriin ja kloriittia pesukoneeseenkin - koska haju oli tarttunut koneeseenkin.



Jos aiot pitää tätä vain ulkona poissa kosketuksista ihmisiin tai olet valmis pesurumbaan, suosittelen kyllä tuotetta. Muuten kannattaa ostaa uusi tuote
2
0
I would recommend for a friend
Bjornar M.

16.06.2019
Oh man, I can only agree with the other reviewers. This gotta be the strongest smell of surplus I've ever tried!
Other than that it is great for what it is, a simple warmish scarf for the price of a cheap belgian beer, what is warmer?
0
0
I would recommend for a friend
Marcin G.

08.11.2019 (Edited 08.11.2019)
I'll start with an acknowledgement - I ordered one of these and added a note, where I humbly asked for the scarf's colour to be as similiar to 'foliage green' as possible, because the shop states that 'these come in different shades and some are even camouflaged'. And I, in fact, received the scarf in a very nice tone, just as I wished. To whoever prepared my order - I love you. Also the DHL Express shipment was faster than expected, even faster than DHL themselves expected.
As for the scrim scarf itself - it's hella smelly, I must admit, but extremely convenient and useful. Blurs human figure well when put on one's head. A handy piece of apparel in airsoft. I adore this thing. And yes, you can see pretty well through it.
0
0