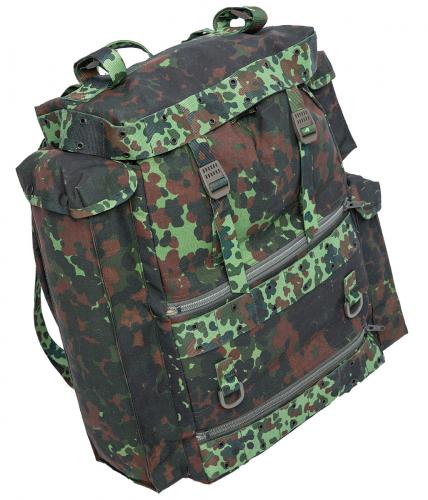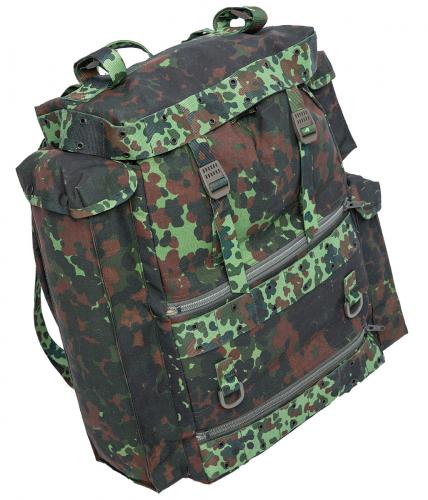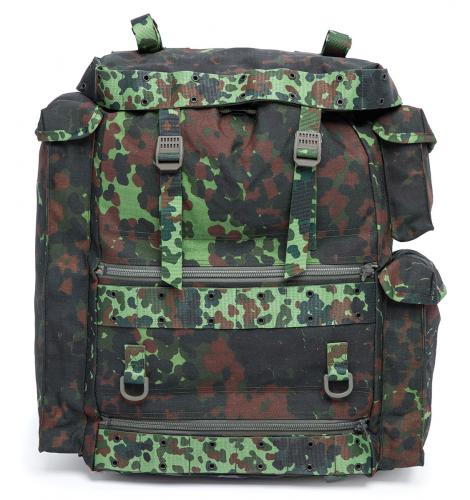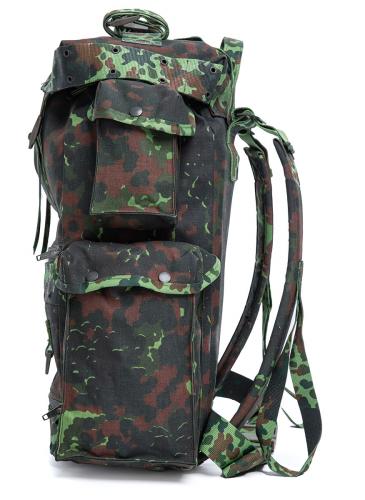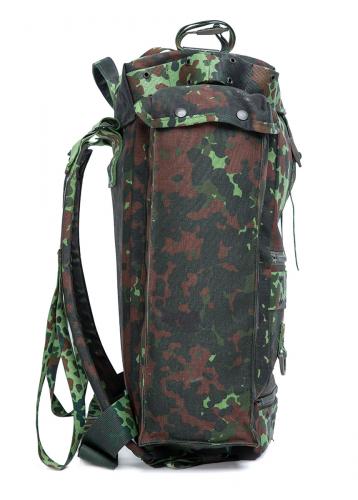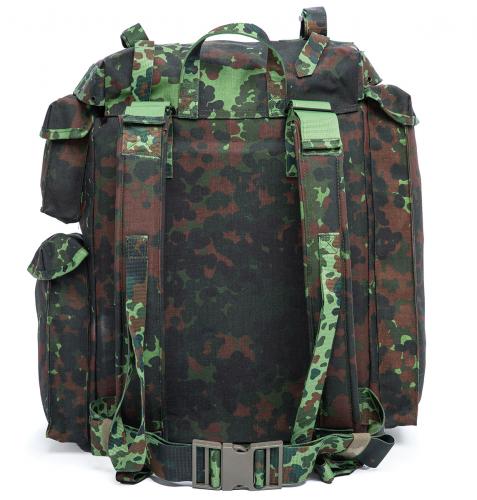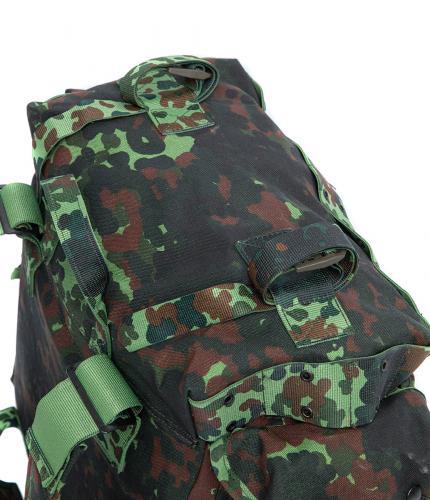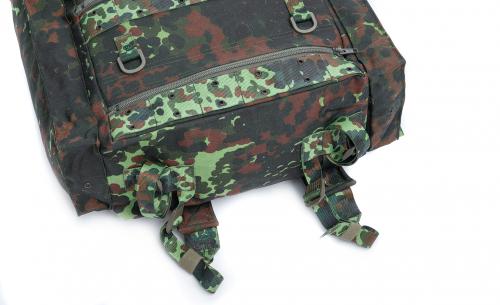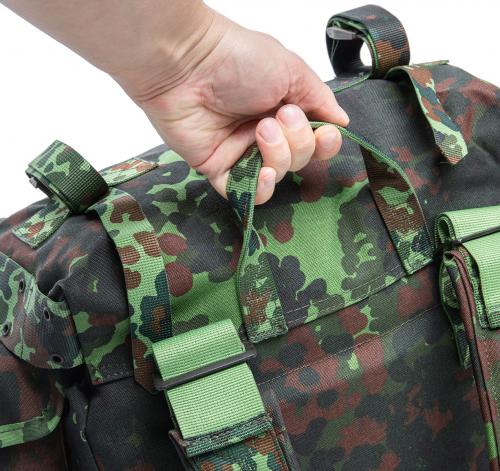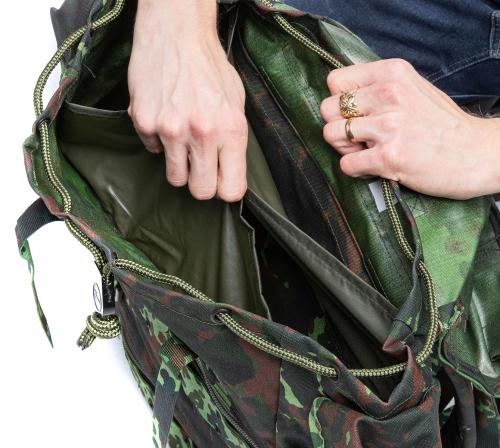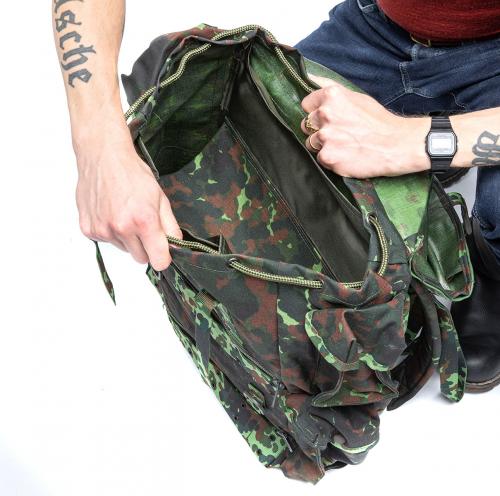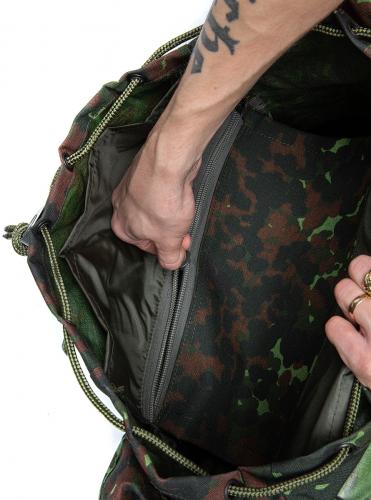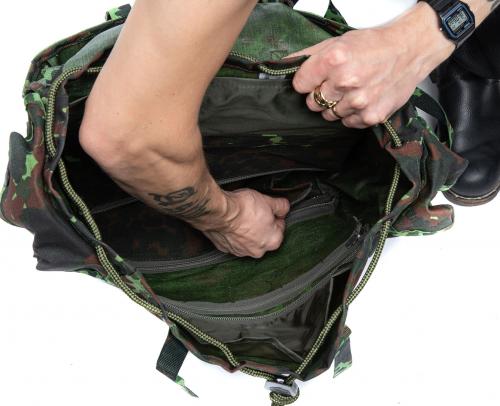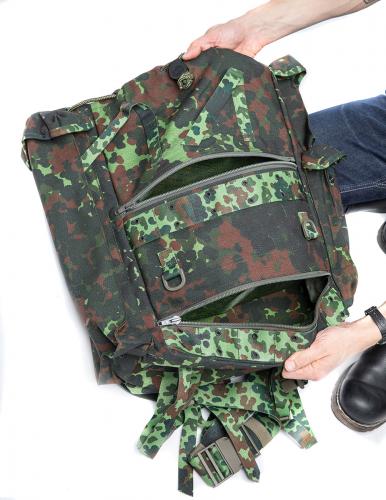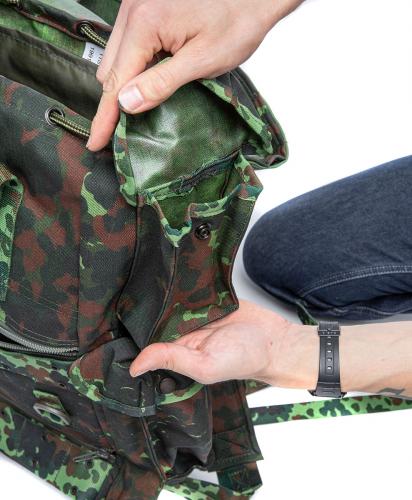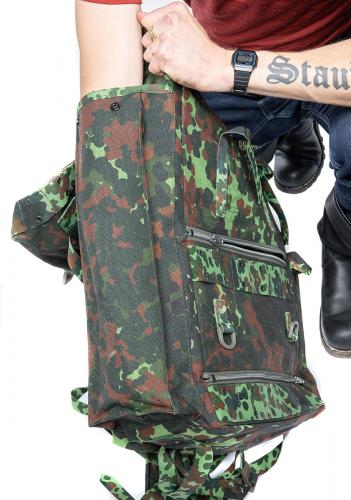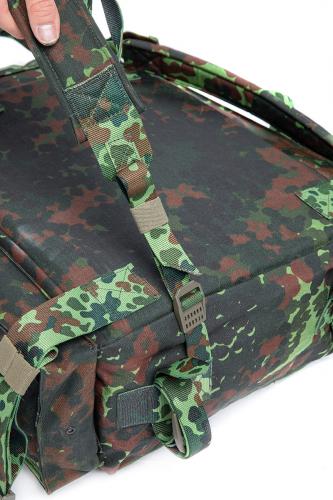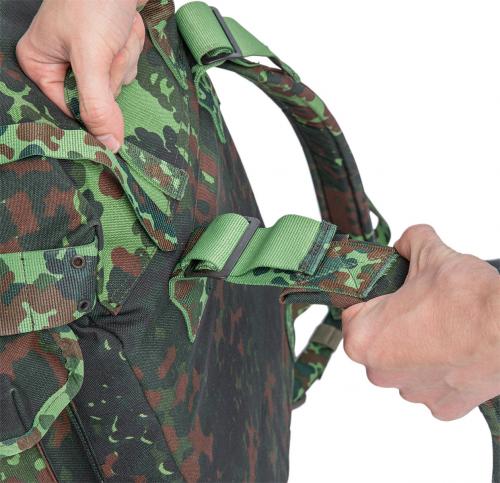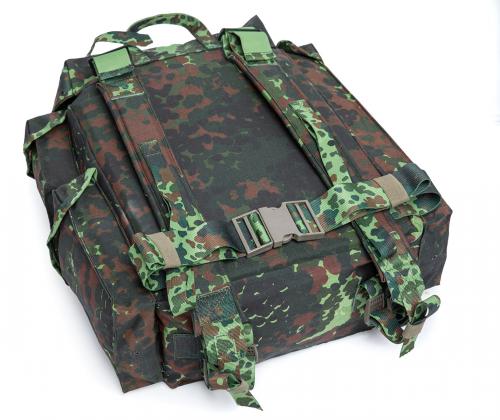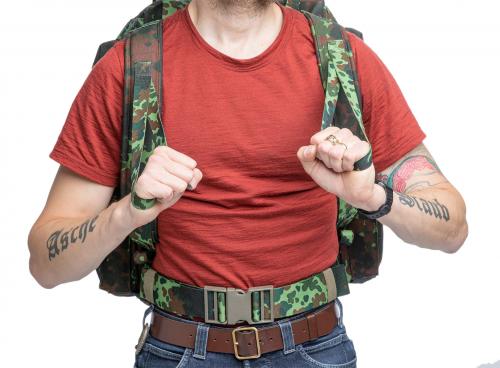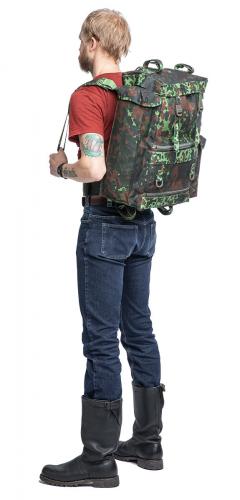 Belgian Paratrooper Pack, Flecktarn, Surplus
Price 52.99 USD
excluding sales tax
The Belgian armed forces had an affair with Flecktarn in the '90s. Legend says the public didn't like the view of German camo in their country so they were phased out. These backpacks are from those days and this is a single batch of packs that were never issued.
We don't know when this product will be restocked. With surplus the restock date is unknown due to sometimes poor availability. Request restock notification and we will email you as soon as this product is available.
This product has used and returned variations. Used are washed and unbroken. Heavily used are also washed but might be missing buttons, have tears, main zipper can be broken etc. Read more about Kierto.
Trouble with the metric system? Try our converter: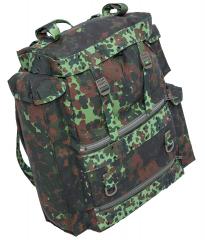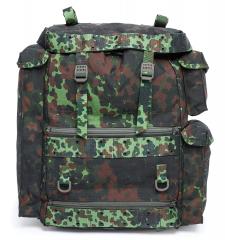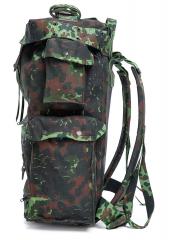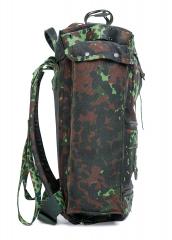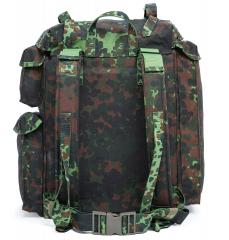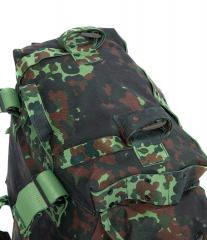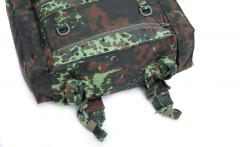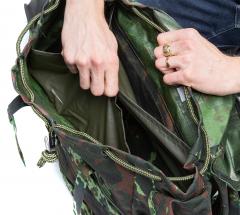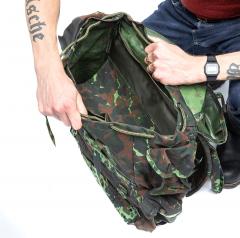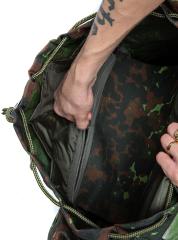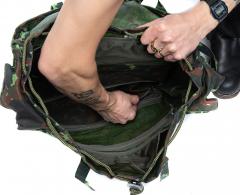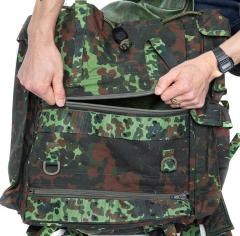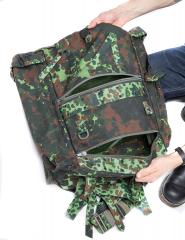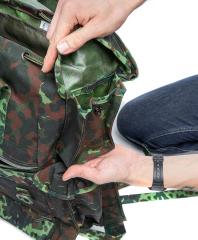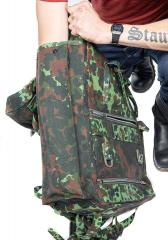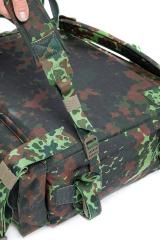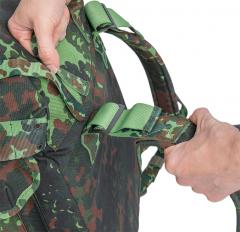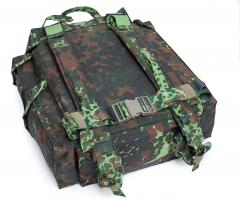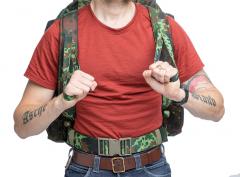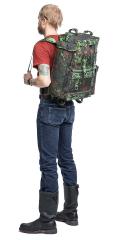 The Belgian armed forces had an affair with Flecktarn in the '90s. Legend says the public didn't like the view of German camo in their country so they were phased out. These backpacks are from those days and this is a single batch of packs that were never issued.
Features
Apart from the slightly psychedelic colors of the Belgian Flecktarn, the pack is based on previous iterations of their Para Commando backpacks. The appearance is very blocky, the Cordura-like fabric seems bombproof and has deniers to spare.
The shoulder straps are padded but otherwise quite Spartan, not suitable for flipflop-wearing scallywags. They attach to sturdy steel buckles at the top and can be removed if necessary. The pack has no frame but a fixed closed-cell foam padding, rectangular in shape, of course.
At first sight, you would think the backpack has a single big compartment. And it does, but it can also be divided into not just two, but three separate ones! This is achieved with two sturdy dividers and zippers on the inside. But that's not all! After everything is separate (maybe equal, too) you can access any of the lower sections via zippered openings on the back of the pack.
On the outside, one side has two pouches on top of each other while the other side has a single tall one. It's excellent for carrying a tripod or small camping chair, or other long items.
The exterior also has webbing and grommets compatible ALICE and 1910 systems for your vintage pouch collection. The top and bottom also have the usual pairs of 76 cm (30") straps for extra gear. The straps are removable and camouflaged on both sides.
Measurements
| | Metric | Imperial |
| --- | --- | --- |
| Volume | 55 liters | 3356 cu in |
| Height | 55 cm | 22" |
| Width | 50 cm | 20" |
| Thickness | 20 cm | 9" |
| Weight | 1.9 kg | 4.2 lbs |
| | Metric | Imperial |
| --- | --- | --- |
| Upper side pouch | 15 x 10 x 5 cm | 5.9" x 4" x 2" |
| Lower side pouch | 25 x 16 x 5 cm | 10" x 6.3" x 2" |
| Tall side pouch | 44 x 15 x 5 cm | 17.7" x 5.9" x 2" |
Condition
Unissued. Stored for a long time, so some metal pieces may have a patina on them and the fabric is stiff.
Recommendations
Loading products...
Reviews
You have already submitted a review. You can edit your text by clicking on it.
Log in and write a review.
Remove filter
Suomi
(3)
English
(9)
I would recommend for a friend
Simon H.

28.11.2020 (Edited 06.06.2021)
This is a very nice piece of kit. I'd been in the market for a new daily backpack for awhile (replacing a P37-style backpack), so when these popped up, I figured it was time.

Pros:
-incredible quality. Completely new (the 1991 date almost defies belief; it's weird to think that these are actually older than Space Jam)
-versatile; all the pockets and zippers come in very handy. Unlike my old single compartment pack, you can get what you need without having to unpack the whole thing.
-Comfortable. Mind you, I have yet to wear it for long periods, and I can see the spot that goes up against your lower back being a bit uncormfortable after awhile, but for what it is it's a lot better than the description made it sound.

Cons:
Size - for a daily backpack, it's a bit big. Probably better for camping and traveling (this one is 35 liters; compared to the 40 liter one I usually travel with, this one is much better in virtually every way), but it will do.
Waist belt not removable - I suppose one could go in with a seam ripper, but it doesn't bother me enough to do so.
-inside pockets have no zippers or fasteners - nothing has fallen out, but it feels like the designers simply tacked on the small storage pockets as an afterthought; more and better storage pockets would be nice.

Overall, I could see people paying three times the price for something like this at a sporting goods store. Even if it's not perfect, in my mind, it comes close, and I think this backpack will be with me for many years to come.
7
0
I would recommend for a friend
Rauno P.

30.11.2020 (Edited 06.06.2021)
Seriously solid bag, thick material, built like a tank. Zippers are stiff at the beginning and has a musty smell, but that will dissipate. On the downside, the inner smaller pockets are not zipped and spill their content, but that's about it.
1
0
I would recommend for a friend
Aaron C.

07.12.2020 (Edited 06.06.2021)
Good proper bag. 91 dated. Seems very tough. The only noticeable issue is that the waterproof coating is flaking off quite a bit in certain areas (primarily the lid). If you experience a chemically smell from it that's probably what it is. This is not a huge bother as it ought to be expected of any 30 year old bag, but I do wish this had been clarified in the "condition" section of the page for those who don't know to expect the coating will be short lived. For anyone else buying, if yours is also flaking, you may want to touch it up with some seam grip or consider carefully removing it by cleaning the bag with a mild cleaner that doesn't damage nylon and a brush, then replacing it and possibly using waterproofing/dwr to the outside to bring her back to life.
0
0
I would recommend for a friend
Mark L.

17.03.2021 (Edited 24.06.2021)
Great Rucksack.
0
0
I would recommend for a friend
eetu s.

20.03.2021 (Edited 24.06.2021)
täydellinen reppu eikä tapa lompakkoakaan mukava selässä vaikka on sullottu turpoamis pisteeseen erä kamoilla ehdottomasti nr1 reppu TÄYTYY OSTAA!!!
ps: mukana tulee 4 flectarn kuvioitua lisähihnaa.
1
0
I would recommend for a friend
Donovan G.

01.04.2021 (Edited 30.06.2021)
I like it. Being unissued, it is of course in excellent condition, and the internal dividers are a pretty neat touch, although smaller items tend to fall down the sides. The snaps on the external pockets are a bit stiff, but I'll just attribute that to the long-term storage unless it persists well into the bag's life. I appreciate the padded back, and I'm sure the lashing points at the top and bottom will hold extra items admirably. The adjustability is fairly good and has a decent range, the flecktarn is lovely, and the whole affair feels quite sturdy- like most old military surplus gear, it is entirely likely that it will outlive me. I have three chief complaints, however. I find that the corners of the bottom dig into my back. I'm unsure if this is poor design, stiffness from storage, or just that I am, quite frankly, fat. The long compartment on the side is a bit small, too, so it can be difficult to get my hand inside. Lastly, I'm not terribly fond of the string closure, as it feels a little too loose even at its tightest. In spite of these flaws, though, I can say so far that I recommend the pack for short hikes, and believe it can serve well as an overnight bag.
2
0
I would recommend for a friend
Andreas S.

01.04.2021 (Edited 30.06.2021)
Look and feel bombproof, this baby can take a beating.
Way to big for a daypack, more of a camping trip bag. Not realy tested with heavy load yet but feel comfortable so far.
"Brand new" bag (probably only been in storage since 91) only minor is that the waterproofing flaking a bit on the inside but thats to expect from a 30year old bag.
2
0
I would not recommend to a friend
Sami K.

02.04.2021 (Edited 21.08.2021)
En tiedä miksi sotilaita on vielä 90-luvullakin kidutettu paskoilla kantosysteemeillä, kun silloinkin on ollut jo kohtalaisen mukavia siviilisysteemejä kopioitavaksi. Olkaviilekkeiden istuvuus ja säätäminen on tässä onnistuttu tekemään sellaiseksi, että siinä on otettu ihan hyvät perusainekset ja sitten onnistuttu tekemään silti hiukan epämukavasti istuva ja hankalasti säädettävä reppu. Valituksesta huolimatta, reppu on tukevaa tekoa ja sopii hyvin siihen tarkoitukseen mihin sen ostinkin, eli työkalujen ja kalastustarvikkeiden ronttaamiseen päivän aikana - repun hauska lokerointisysteemi on sellaisessa käytössä ihan ok, vaikka reissurepussa menee tässä tilavuusluokassa vähän överiksi. Käy varmaan myös reppureissaamiseen, päiväretkille yms. toiminnassa jossa reppu ei ole jatkuvasti raskaassa lastissa selässä. Pitkä varastointi näkyy paikoittaisena vedenpitävän pinnoitteen kulumisena repun sisäpuolella ja siinä, että nepparit ovat saattaneet hapertua (varmaan lojuneet jossain homeisessa varusvaraston kellarissa sen 30 vuotta).

EDIT: käytettyäni reppua kesän ajan, täytyy sanoa, että tämä on melko paska reppu. Kantosysteemi on epämukava ja hankala säätää etenkin repun ollessa päällä, eikä sitä parhaimmillaankaan saa kuin ainostaan hiukan vähemmän epämukavaksi. En siis ihmettele että nämä ovat olleet käyttämättöminä varastossa, ei näitä varmaan kukaan sotilas ole vapaaehtoisesti käyttänyt - käytettyäni tätä kesän ajan kalareppuna päätin itsekin heivata tämän mäkeen tämän kesän jälkeen.
1
1
I would recommend for a friend
Mike G.

14.05.2021
Excellent pack. As new condition and as they say, bombproof. It is every bit of 35 liters if not more. Comfortable and unique, just the way I like my gear. I combined this with a matching web set and have a great set up for Bushcraft or just ruck training with something different. Buy one if they come back into stock for the bragging rights if nothing else!
0
0
Kierto Circular Economy
Return this product used but clean and unbroken, and you'll receive half of the product's original price as Varusteleka credits. Service is available only in Finland. Only Registered users can make Kierto returns. See more information about Kierto.