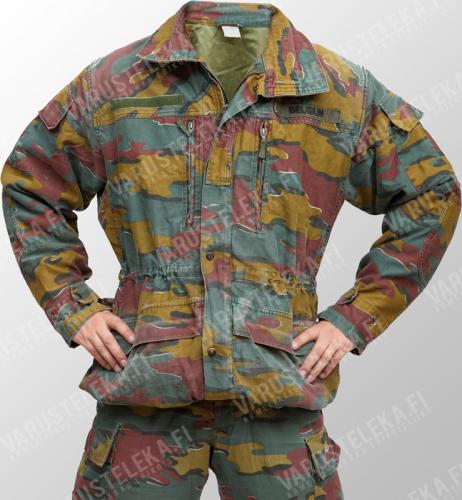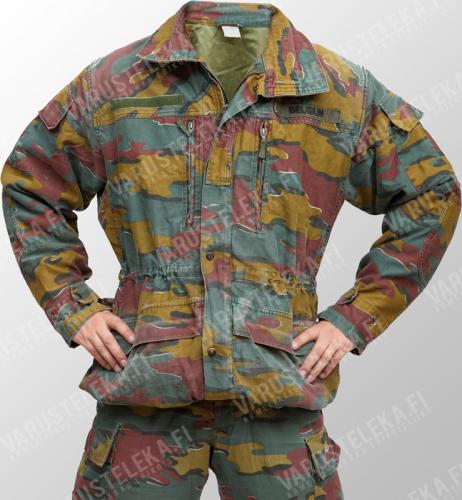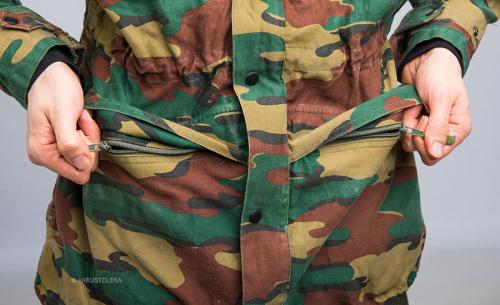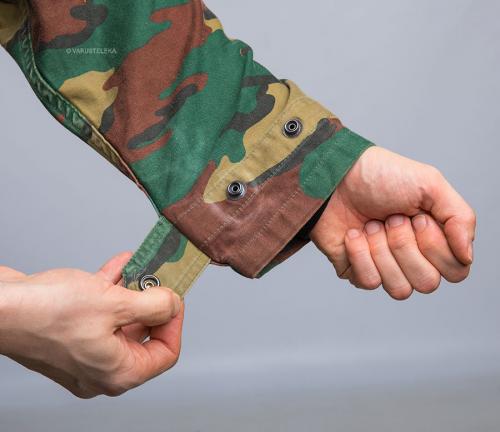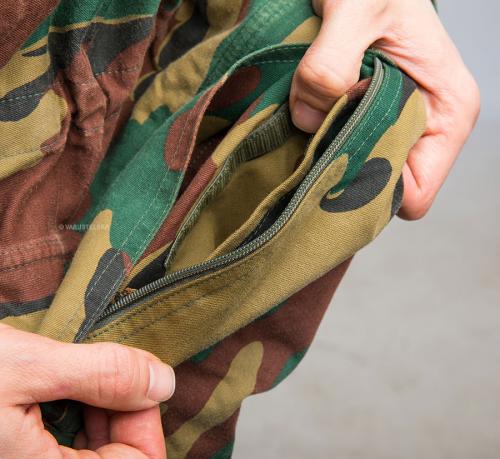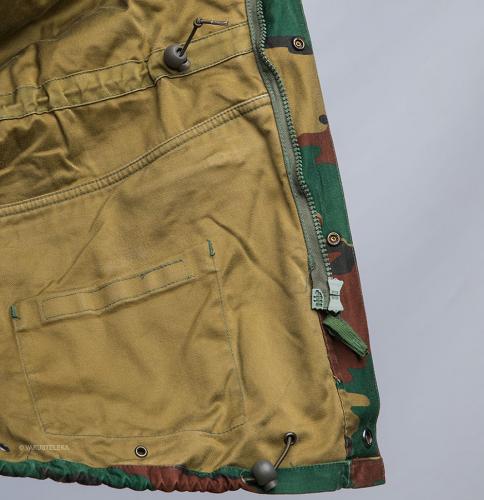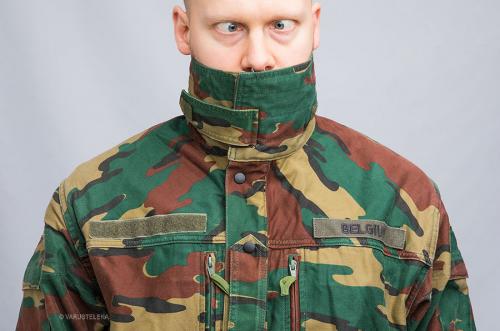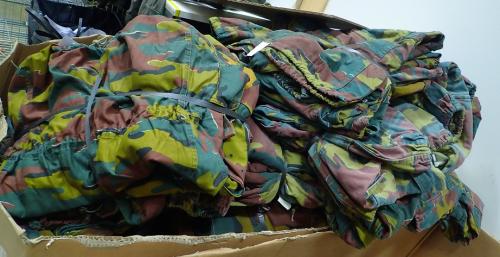 Belgian M90 field jacket, Jigsaw-camo, surplus
Price 15.99 USD excluding VAT
Belgian Army issue field jacket with the wacky "Jigsaw"-camouflage. Apart from the camo, these are pretty good jackets!
Loading products...
Trouble with the metric system? Try our converter:







Belgian Army issue field jacket with the wacky "Jigsaw"-camouflage. Apart from the camo, these are pretty good jackets!
The jacket features a zipper and snap fastener closure, drawstring hem, reinforcing in the elbows and small ventilation holes in the armpits. Six pockets altogether; four front pockets and two sleeve pockets. The material is comfortable polycotton blend. The overall design is not too far from the famous US M65 and British CS95 jackets.
The camo pattern is another thing. Belgians used to come up with really nice and down-to-earth designs starting from the 50's, but this 90's design is a clear departure from that school of thought. Who knows, maybe the colours of the Belgian nature have corroded to acid shades because of all the evils of that country. If you happen to be a bit eccentric and like "unique" camouflage patterns, here's your chance.
Sizing
Belgian size system is like that of most armed forces, but please note these are not US sizes. Sizes are indicated as follows:
Total height of the user in centimetres
Circumference of the chest in centimetres
Used Belgian army surplus
Used, but in serviceable condition. Any patching and fixing is done with love & skill.
Recommendations
Loading products...
Reviews
You have already submitted a review. You can edit your text by clicking on it.
Log in and write a review.
Remove filter
Suomi
(4)
English
(22)
I would recommend for a friend
David J.

24.06.2016 (Edited 27.06.2016)
I bought one thinking I might try dying it, but now I have it I think I'll just wear it as is. The camo is pretty wacky but I'm starting to like the look. I'm 180 cm, around 95-100 cm chest. Medium Long fits really well, room enough for a hoody or jumper underneath but not too loose. The lower pockets have flaps that are sewn down at both sides, and close with a zip. Inside each of the lower pockets is another pocket that closes with velcro. Chest pockets are roomy, much like the ones on the UK windproof smock. Fabric is quite thick, seems to have a high cotton content. Jacket is a little heavier than I expected but still pretty light. This one had the waist and hem adjustment cords removed, but I would have removed them anyway so that's fine.
10
1
I would recommend for a friend
Santeri K.

19.11.2016 (Edited 23.11.2016)
Tää on kyllä tosi kiva takki. Kaksisuuntainen sulkuvetoketju(ainaki omassa takissani) on aika hauska ratkaisu, mut sillekin varmasti joku käytännön selitys löytyy. Kauluksen saa nostettua aika korkealle, joka sitten varmistetaan velcrolla. Taskuihin mahtuu mun mittapuulla pirusti tavaraa. Helmakiristyksen poistin, koska se on itselle turha, ja maastokuvio on mun mielestä piristävän erilainen. Tykkään.
11
0
I would recommend for a friend
David S.

27.01.2017
Hi I ordered large-long, I am ~178 cm tall, chest ~110 cm. It fits well with room for a thick sweater, also arms are quite long (cool!), exceeding my closed fists, also it is long and covering butt and upper legs that is perfect! Pattern is like on the first picture not like on the other pictures (perfect!). Feels comfortable for outdoor/forest work, especially for shoveling dirt and cutting trees - or whatever intense activity - the long arms are perfect! it is quite thick material, seems good for hiking. Long story short, perfect jacket for outside.

Overall in good condition, stiching is perfect. No visible damage on the jacket, everything is functional, zippers, buttons, etc. Has a very slight warehouse odour, not too much, it needs good windy summer sunshine to air it out. Has a slight faint of the dyein on the back where the backpack rubbed the jacket of the previous owner, not a big issue, typically I will wear it with a backpack too.

As another reviewer wrote I am too thinking about dyeing the jacket to black, but actually I like the jigsaw camo more and more. Will see what to do. :-)

I would recommend it for European weather, excluding winter. Good for spring/autumn with a thick sweater, good for late spring without sweater, early summer with long armed cotton t-shirt.

Surprising quality for this price! Nice to have one!
8
0
I would recommend for a friend
Haakon W.

21.07.2017 (Edited 21.07.2017)
Achievement Unlocked: Peculiarly Dressed Bloke. I'm 190 cm tall, 100cm chest. Ordered a large-long. Hem comes to my upper thigh. Loose-enough fit I could wear several layers underneath. Collar's high and wide enough to wear a decent scarf underneath. Cool little mini-pockets inside the front pockets. Pocket on either shoulder, big enough for a smartphone. Only way I know it wasn't fresh out the box are about six small repairs above the left cuff. Going to see if I can't do an alteration to mirror the 85/90 British Jacket, and get a poacher's pouch. I'm actually counting the days for the weather to get bad enough to wear this.
2
0
I would recommend for a friend
Marc-Andre K.

28.07.2017
Friggin' Belgian Jigsaw Jacket!

Awesome piece!

I've fallen in love with the Belgian Jigsaw camo pattern. I enjoy wearing this and it can be funny when some ppl have this sort of puzzled look on their face when they see it. Totally worth it!

Anyways, back to the actual product. I ordered a few of these, because the first one I got was too small (my fault for not following the size recommendations), and that one was pretty much like new. No repairs, no tears, no missing buttons/zippers/tie-strings and no fading! But the ones I got in my size we're slightly faded, one had major repairs to it, and very visible.

I'm not complaining though, for the amount of barely used stuff I get from Varusteleka, I have to expect some surplus to look like surplus right!? I kept the nicer jacket.

What I like about this jacket is the high collar. Seriously, on a cold windy winter day... I wouldn't want to go out without this jacket (and some nice big sweater underneath). The collar is really a great feature. On the flip side, sometimes I'd wish this had a hood.. but that's when I start with the comparisons between my Flecktarn parkas and these.

I'm used to the German military stuff, I'm the biggest fan of the Flecktarn Parka (enough that I own 3, from different years and color tones and for different reasons), and what I enjoy about the Bundeswehr clothing, is the fit. They fit snug, not too tight, but not on the baggy side. The belgian jackets are on the baggy side, especially in the sleaves under the armpits, unless you are wearing a big sweater, or you have arms the size of a sumo wrestler, they are a bit big. Kepping in mind, I am not a big guy.

In any case, that is nitpicking, because this is awesome surplus that is hard to find and at a more-than-reasonable price!

Thank you Varusteleka!
3
0
I would recommend for a friend
Alexander R.

09.08.2017 (Edited 09.08.2017)
Just got mine. Fits perfectly. One press stud on the storm flap is warped and won't snap and there's a small repair to the inside of the jacket, but otherwise no visible damage and looks and feels well-made. It's faded just the right amount to be fashionable and smells a lot less surplus-ish than most of my other stuff, actually it smells like it's been recently washed rather than like it's been absorbing cosmolene vapour for several years. Most would consider this a plus but I don't mind either way, Eau de Stockage Militaire has grown on me.

The camo is absolutely absurd and I love it. If I ever find myself invading an alien planet I'll be well-concealed.

Design of the jacket is practical, the pockets are a good size and in fact the chest pockets remind me of the cams I was issued, about the same size too. Design is fairly lightweight compared to, say, a liner-less M65 but still not quite British Army Soldier-95-or-later tier. Interesting they used bungee cord for the drawcords and I can imagine the plastic toggles/stoppers being a serious annoyance under LBE or a plate carrier, but as I won't be wearing either of those things with this or crawling around on my guts, not a problem for me. Normal string tied off as needed as per the British system is a better way to do things in my opinion.

Overall, a neat and unique-looking jacket that I'll be wearing quite a lot, I think.
2
0
I would recommend for a friend
Patrice B.

11.08.2017
A perfect jacket for adventures in woods. Strong , and comfortable , it's very good !
2
1
I would recommend for a friend
Milla V.

06.10.2017
Tämä oli hyvä takki, mutta vyötärön kuminauha puuttui joten lisäsin sen itse, hiat olivat myös liian lyhyet mut neki korjasin ompelemalla reosrit
1
0
I would recommend for a friend
Kyle S.

04.12.2017
At first I thought it was to light to use during the Fall, but it was all I needed throughout most of Fall, and as it has gotten colder, all I have to do is ware one sweatshirt under it, and it keeps me pretty warm. Dirt comes off it pretty easy as well.
1
0