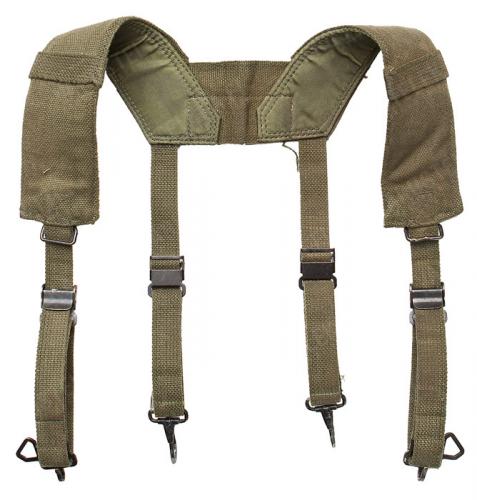 Belgian M-1971 suspenders, surplus
Price 9.99 EUR including VAT
In stock 17 pcs. Also available in our walk-in store.
Sold 12 pcs in the last two weeks.
Trouble with the metric system? Try our converter: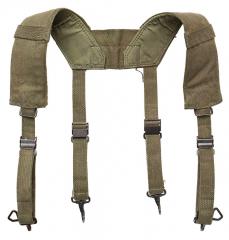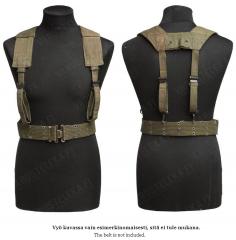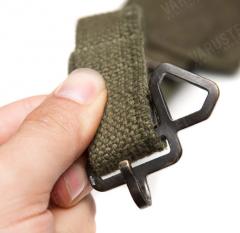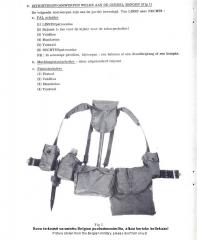 Copied rather directly from the well proven American M-1956 design, these suspenders are compatible with most of 20th century US made webbing. These also fit tall people, no need to hunt for size Long US M56 suspenders!
Before the M-1971 kit came along the Belgians fielded WW2 vintage British Pattern 1937 kit, alongside domestically made copies of the same stuff. With the cold war hotting up even Belgium needed to update: the M-1971 webbing consisted of these suspenders, a US style belt with a British style bucke, ammo pouches, a US style entrenching tool etc. All pouches were made from rubber, as was the style at the time, to be easily decontaminated after the atom bombs would start falling.
Fully adjustable, with hooks for attaching to the belt, buttpack or magazine pouches. The upper back features an attachment point for US M1910 "wire hanger" pouches.
These are all in pretty damn nice shape, most seem to be unissued, but with the odd used ones in the mix we are selling these as used. Even the unissued ones have laid in storage for a looong time, which make them a bit grubby. All are still in top shape and ready for use!
Log in and write a review.