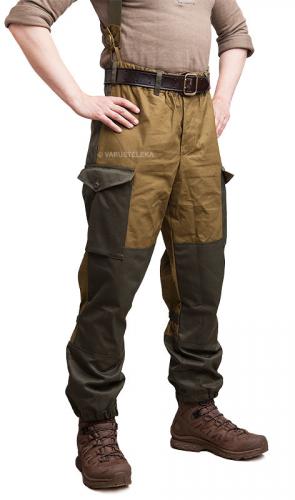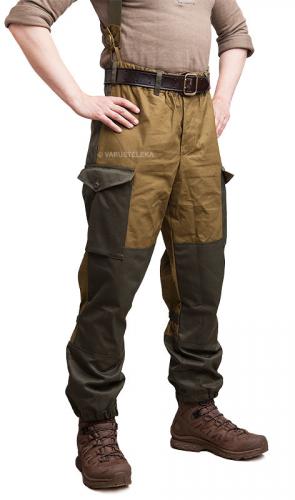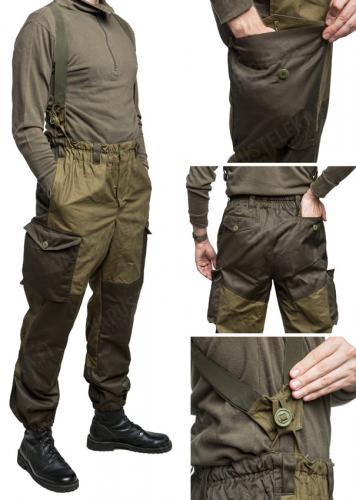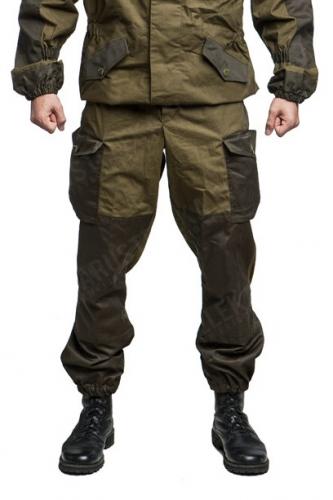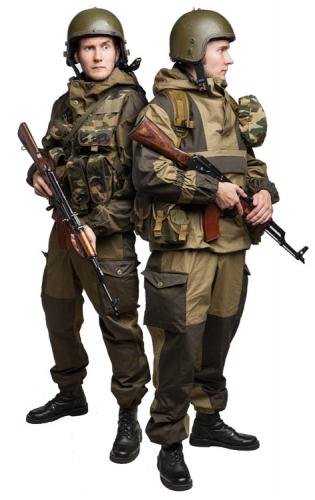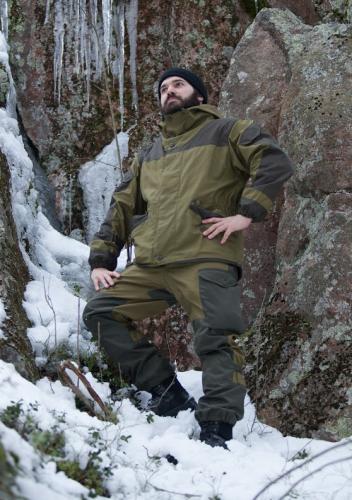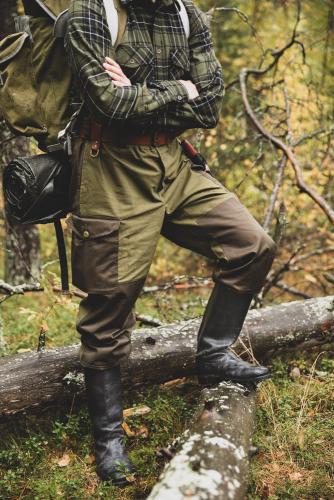 Bars
Bars Gorka field trousers
Price 69.99 USD
excluding sales tax
The loose fitting Gorkas are a commonly used by Russia's more elite fighting units. These are not made for the parade grounds, but developed to be purely practical. We sell the jackets and trousers separately, here are the trousers.
Loading products...
Trouble with the metric system? Try our converter: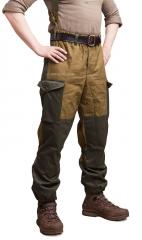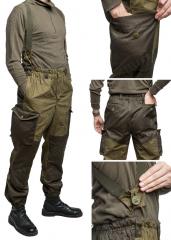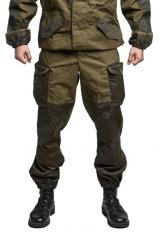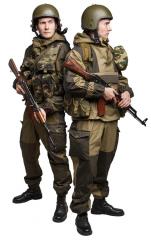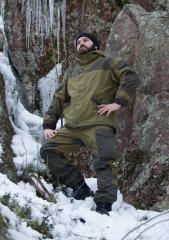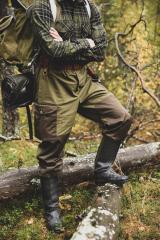 The loose fitting Gorkas are a commonly used by Russia's more elite fighting units. These are not made for the parade grounds, but developed to be purely practical. We sell the jackets and trousers separately, here are the trousers.
Gorka trousers are probably among the best field trousers we've seen, and especially fit for people who like simple, durable stuff. These are very popular in Russia among all kinds of outdoor-types besides the military, and for a reason!
Features
Roomy cut for unrestrained movement.
Button fly, large belt loops and suspender loops. Elastic suspenders included. These are very much like the US M-1950 model but without any metal on them.
Reinforced knees, seat and shins.
Elastics on the waist and around the calves.
Two large cargo pockets, two back pockets and normal slash pockets on the sides. A notable feature is the loss-proof cargo pocket closure system where the pockets folds in a way that it closes the mouth completely.
All in all there isn't a thing you couldn't repair if you own buttons, a needle and thread!
Materials
The Gorka is made from a base layer of cotton, in the style of the old Plash Palatka rain capes. The Gorka is water repellent to some extent when new, but not a straightforward rubbery rain suit, thus it breathes well. Still, do not treat this as a waterproof garment - it isn't one.
All hard wearing areas are reinforced with a strong poly-cotton blend, either ripstop reinforced or not, this varies from one pair to the other. Machine washing in 40 degrees Celsius (104F) is fine, please note that the base colour fades a bit over time, just like memories of better times.
This suit is meant to protect the wearer from wind and weather, it's not lined in any way which makes it wearable both in the summer and winter. It's recommended to wear appropriate layered clothing or a field uniform underneath.
Sizing
First the traditional Russian size, then the same converted to centimetres - first height, then waist circumference. It's not the end of the world if you pick a size larger than you'd normally wear. Likewise if you're a few cm off from the recommended height to any direction, don't worry, it'll fit.
All Russian made
The vast majority is made by a company called Bars, but once in a blue moon there might be some others mixed in as well (Siluett or Blok-Post etc.). All are virtually the same. But in 99% of the cases you'll get a Bars made product.
Availability
Availability is a bit unpredictable - we can't give any estimates of restock. Likewise, no idea about the sizes we get. What we do know is that the amounts are small.
A word from our staff about the whole Gorka uniform
The Gorka 3K outfit is perfect for the outdoors and trekking. The material is sturdy, especially the reinforcements (which are in all of the right places), while still being relatively light. As an outer suit for winter trekking it can handle snow quite well; however, you'll need some extra layers underneath since there isn't much in terms of lining. The colour of the original Gorka (olive green and dark greenish-brown reinforcements) means that it can get quite dirty without actually looking dirty. I've wiped my dirty hands on it plenty of times while handling ashes, etc, and it doesn't look bad at all. In general it's quite a nice suit - "foresty" without being covered in camo, well-fitted, and sturdy to boot. The coat and the trousers work well together or as stand-alone garments.

The cut of the coat is quite nice. There isn't a lot of extra material that would lead to baggy arms or a "tent"-like feeling, or a hood that feels like you have your head in a cavern. The collar is quite high which adds extra warmth around a neck gaiter or scarf, and the hood has plenty of adjustments to get the fit just right. I originally took the size 3 (I'm 173), but the sleeves felt a little short ending just above my wrist, so I've gone up to a size 4 for longer sleeves. Front pockets are decently spacious, and even with the button open things don't fall out easily. The sleeve pockets are a tad small, but they'll easily hold tiny trinkets such a lighters or matches.

The trousers are probably my favourite part of the whole suit. The fit is nice while still being roomy. The legs have elastic around the calves and ankles, as well as reinforced fabric, leaving less loose fabric to get caught on whatever you might encounter in the forest (or battlefield?). The seat is reinforced, which came in handy when I slid down an icy hill in the early spring. Well, it was either that or risk walking down (and probably end up sliding down anyway). It comes with belt loops and suspenders, but personally I use a belt since I can hang a knife and canteen from it. It's nice to have options though. The trousers also have plenty of storage space. There are largish front pockets as well as cargo pockets. The latter have a nice closure system in which the pocket mouth folds over onto itself, making a seal to ensure that losing something will take one hell of an effort. Especially if you have to do some extreme hill sliding.


Michael


All products: Bars
Recommendations
Loading products...
Reviews
You have already submitted a review. You can edit your text by clicking on it.
Log in and write a review.
Remove filter
Suomi
(5)
English
(4)
I would recommend for a friend
Varusteleka V.

Varusteleka employee

14.10.2016 (Edited 18.11.2016)
I would recommend for a friend
Reed M.

19.06.2017 (Edited 31.05.2021)
Fits very well, fits and feels like sweatpants but looks much better! Mine looked brand new and are currently the most comfortable pants I own.
1
0
I would recommend for a friend
Otto S.

Varusteleka employee

09.01.2018 (Edited 22.07.2019)
Gorka, voi ristus mitä tavaraa!

Muistot liukuu vetistelevien silmien ohi kun muistelee kaikkia ryyp.. siis metsästys ja samoiluretkiä gorkat päällä.
Omistan kolme kokonaista asua, sekä toppaversion anorakista ja kyllä, nämä ovat vuosien saatossa valikoituneet niiksi GO TO-kamppeiksi kun lähetään rypemään mehtuulle.

Gorkat on rumasti kauniit. Kukaan värikarttoihin ja trendeihin uskova ei löydä mitään viehättävää näiden väristä, mutta käytännön ihmiset yleensä arvostaa juuri sitä väriskaalaa, missä paska ei näy.
Kamppeiden leikkaus onmyös tuhdimpia muotoja tukeva ja kokotaulukosta uskaliaasti "vähän pienet" kamppeet istuu juuri sopivasti päälle, jättäen tilaa kerrastoille.

Mitään vettähän nää ei pidä. Kuivuu nopsaan ja hengittää, joka on hikoillessa tosi mukavaa. Jos haluaa vedenkestoa niin ruiskuttele joku kyllästeaine pintaan, omiini en laita.
Pieni ripottelu ei haittaa mutta ihan oikeassa sadekelissä kannattaa vaihtaa vaikka sadeviittaan.

Taskuja on juuri riittävä määrä. Noottia voi antaa housujen sivutaskujen materiaalista joka on jotain kertaalleen käytettyä gulag-univormun kangasta. Eli ei kestä avainnippuja eikä taittoveitsiä eikä oikein muuta kuin sormia.
Auttaa kun vaihtaa taskupussit.

Housujen korkea vyötärö tuntui aluksi hassulta, mutta ensimäinen koeajo henkseleiden kanssa avasi tämän satukirjan. Aah mikä vapaudentunne pöhöttyneellä vyötäröllä.
Lahkeiden suun lumilukko toimii kivasti myös punkkiansana, laitat kesällä kangaslärpättimet resorien alta kenkien varsiin sisään ja mettäreissun jälkeen kun kurkkaat lukkokankaan ja lahkeen saumaan, sinua odottaa (borrelioosipitoinen) yllätys. Niksi on ehkä vähän lämmin, mutta kuten aikasemmin mainittua, nää hönkii ja kuivuu hyvin. Ja mieluummin hikeä kun aivokuumetta.

Vyölenkit ja nappien kiinitykset kantsii vahvistaa ite jos jaksamista löytyy. Se on joku venäläisten salaliitto olla ompelematta näitä kunnolla kiinni ja niiden irtoaminen on takuuvarmaa.

Ylipäätänsä nää kamppeet on vähän niinku uhrimetalli, tuhoa atomeiksi asti ja sitten ehkä vois laittaa toiset. Ja kolmannet. Ja vähän anorakkia. Ja voi hyvä sylvi ku kaikki rahat palaa.
19
4
I would recommend for a friend
Lowell H.

05.10.2018 (Edited 01.06.2021)
Sizing was a huge concern for me, I fall in around 6'3" and have about a 32" waist. Closest size was was the 48-6 which runs a bit short to my height, thankfully they fit great, just right with the suspenders, maybe even a touch long without as they sit lower then.

Really looking forward to testing them out in the Canadian winter as they seem to cut the wind great.
9
0
I would recommend for a friend
Sami K.

15.10.2018 (Edited 01.06.2021)
Ainakin Barsin pöksyissä näyttäisi olevan tavalliset kylkitaskut läpivientien sijaan, toisin kuin kuvauksessa mainitaan - minusta tämä on hyvä asia, koska se laajentaa näiden käyttömahdollisuuksia, kun alle ei tarvitse pukea toisia housuja vain taskujen vuoksi. Omistin aiemmin myös sittemmin hajonneet Post-Blokin pökät, joissa kyllä oli läpivienti, joten näissä on hiukan suurpiirteisyyttä. Väriltään omani ovat pikemminkin tumma oliivi metsänvihreillä vahvikkeilla kuin ruskeat, joten eri erienkin välillä on varmaan vaihtelua.
3
0
I would recommend for a friend
Anon

10.11.2018 (Edited 02.06.2021)
Omistan Bars´in Gorka 4 housut. Niistä puuttuu sisälahje joka taas on Gorka 3- mallissa. Sen sijaan niissä on jalan alle tuleva lenkki jolla lahkeen pää tulee kyllä tarpeeksi kengän sisään. Lenkki on napitettava eli sitä ei tarvitse käyttää jos ei halua. Takataskuissa on nappisulku ja sivutaskuissa taskupussit. Kangas on tiukkaa telttakangasta eli jos vertaa Tactic9 -housuihin niin nämä ovat enemmän tuultapitävät. Gorka 4 & Gorka 3 eroavat mitoitukseltaan toisistaan jonkin verran Bars`in mallistossa.


Vahvikekankaat ovat ripstoppia ja koska housujeni väri on vihreä ovat vahvikekankaatkin samaa värisävyä.

Näiden kanssa voi olla polvillaan lumessa eikä kosteus tule läpi ja jos lämpökerros allakin on hyvä niin eipä tule silloin kylmäkään läpi. Sama pätee tietty myös anorakkiin.
14
2
I would recommend for a friend
Tuomo P.

26.12.2018 (Edited 02.06.2021)
Yksinkertaisesti mukavimmat ja istuvimmat housut mitä oon ikinä omistanu, ei raaskisi riisua ees sänkyyn mennessä. Ollut melkein jokapäiväisessä käytössä heti tilauksen saapumisesta. Tulee varmasti tilattua toiset ja kolmannet ja neljännetkin tulevaisuudessa.
4
2
I would not recommend to a friend
Jaakko N.

27.07.2019 (Edited 05.06.2021)
Vaikka Gorkat ovatkin kenttävaatteiden aatelia, niin BARSin Gorkat ovat työnlaadultaan ja leikkaukseltaan sieltä alhaisimmasta päästä. Ei esim. vedä vertoja SSOn Gorkille.
2
9
I would recommend for a friend
dan r.

20.09.2020 (Edited 06.06.2021)
I've had a pair of these trousers for about 18 months now, and they are probably one of the best outdoor gear purchases I've made for a long time. I initially used them for fishing trips, walking the dog and doing outdoor stuff in the woods, during the UK winter months. But I found them to be so comfortable with braces that actually keep your trousers up, that I ended up wearing them nearly of the time. So they are also great for shopping trips, going to the cinema, the pub, band practice, visiting relatives, dress down Fridays , I even wore them to the restaurant, however my partner has now banned them from social occasions. They are warm and robust I first used them on a Emergency outdoor first aid course in Snowdonia during February, I received many admiring glances from fellow students asking where i got them from. In fact they so cozy and comfy while playing a 'casualty' waiting for rescue I fell a sleep! I've treated them with wax to give them a little more water resistance, I've not used them yet for climbing the UK mountains as our mountains are wet and windy not snowy and windy, I found them perfect for bushwhacking across moorlands, they are wind-proof and they also go rather well with my Baikal shotgun. I've not given them 5 stars as I cant wear them to the restaurant anymore, but otherwise they are brill.
5
1