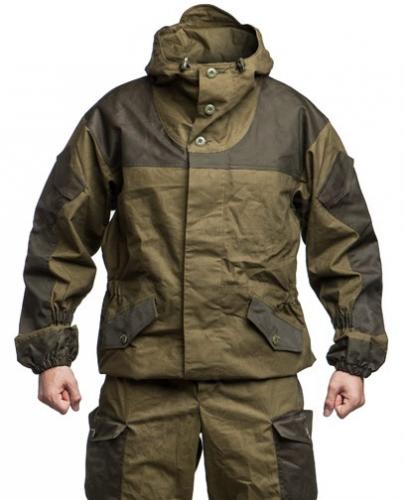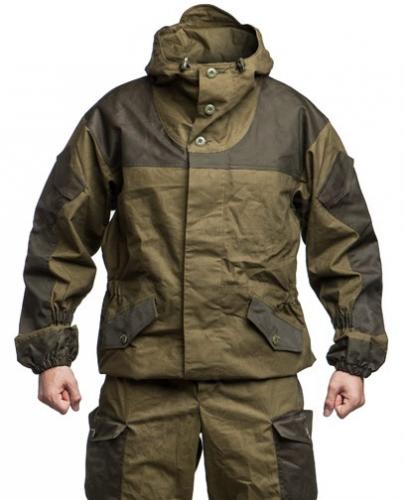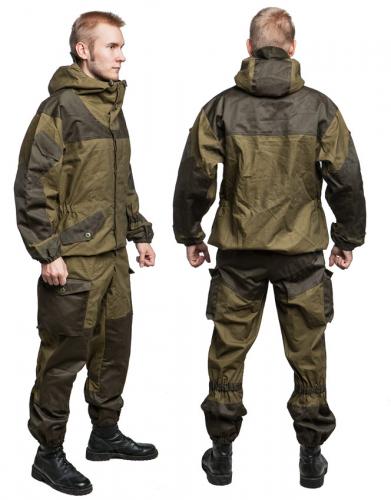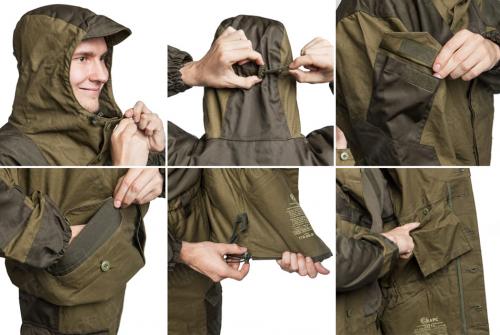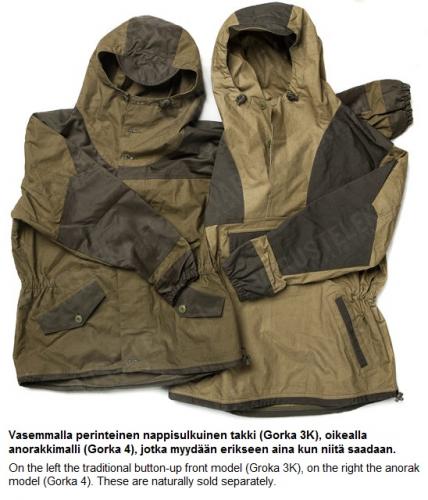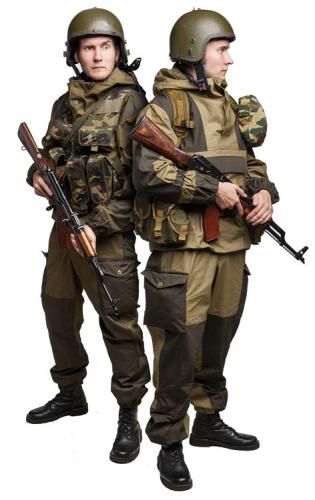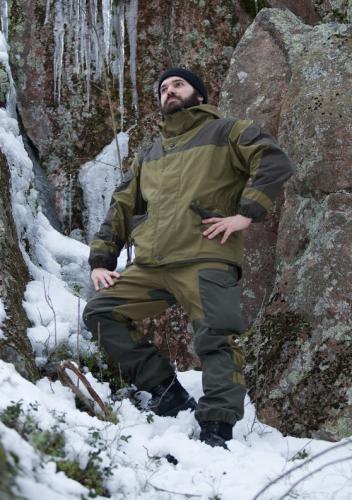 Soviet Union and Russia
Bars Gorka 3K Mountain Suit Jacket
Price 74.99 USD
excluding sales tax
The loose fitting Gorkas are a commonly used by Russia's more elite fighting units. These are not made for the parade grounds, but developed to be purely practical. We sell the trousers and jackets separately. Here's the jacket.
Loading products...
Trouble with the metric system? Try our converter: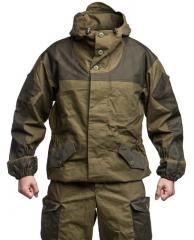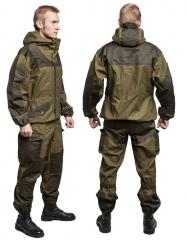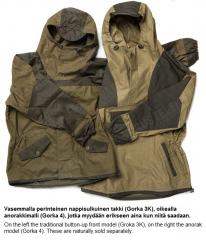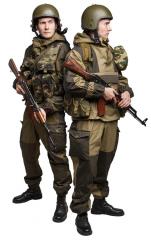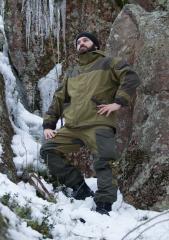 The loose fitting Gorkas are a commonly used by Russia's more elite fighting units. These are not made for the parade grounds, but developed to be purely practical. We sell the trousers and jackets separately. Here's the jacket.
Hugely popular in Russia among all kinds of outdoor types, not just military, the Gorka should serve those well who are looking a simple, robust garment for field use.
Roomy cut for unrestrained movement & extra clothing.
Materials used are cotton, nylon and a mix of both.
Buttons up at the front, a storm flap on the inside offers extra protection when needed.
Pockets, wrists and elbows are reinforced with an extra layer of a hard wearing nylon blend.
Elastics on the sides and wrists.
Five pockets, two on the hem, two on the sleeves and one inside pocket.
Roomy hood with well adjustable tightening cords.
All in all there isn't a thing you couldn't repair if you own buttons, a needle and thread!
Materials
The Gorka is made from a base layer of cotton, in the style of the old Plash Palatka rain capes. The Gorka is water repellent to some extent when new, but not a straightforward rubbery rain suit, thus it breathes well. Still, do not treat this as a waterproof garment - it isn't one.
All hard wearing areas are reinforced with a strong polycotton blend, either ripstop reinforced or not, this varies from one suit to the other.
This suit is meant to protect the wearer from wind and weather, it's not lined in any way which makes it wearable both in the summer and winter. It's recommended to wear appropriate layered clothing or a field uniform underneath.
Sizing
First the traditional Russian size, then the same converted to centimetres or inches - recommended height and chest circumference. The cut is generous both length and widthwise, so don't sweat it when picking sizes. A size 50 (Medium) person should do well with anything from 48 to 52.
All Russian made
The vast majority is made by a company called Bars, but once in a blue moon there might be some others mixed in as well (Siluett or Blok-Post etc.). All are virtually the same. But in 99% of the cases you'll get a Bars made product.
Availability
Availability is a bit unpredictable - we can't give any estimates of restock. Likewise, no idea about the sizes we get. What we do know is that the amounts are small.
A word from our staff about the whole Gorka uniform
The Gorka 3K outfit is perfect for the outdoors and trekking. The material is sturdy, especially the reinforcements (which are in all of the right places), while still being relatively light. As an outer suit for winter trekking it can handle snow quite well; however, you'll need some extra layers underneath since there isn't much in terms of lining. The colour of the original Gorka (olive green and dark greenish-brown reinforcements) means that it can get quite dirty without actually looking dirty. I've wiped my dirty hands on it plenty of times while handling ashes, etc, and it doesn't look bad at all. In general it's quite a nice suit - "foresty" without being covered in camo, well-fitted, and sturdy to boot. The coat and the trousers work well together or as stand-alone garments.

The cut of the coat is quite nice. There isn't a lot of extra material that would lead to baggy arms or a "tent"-like feeling, or a hood that feels like you have your head in a cavern. The collar is quite high which adds extra warmth around a neck gaiter or scarf, and the hood has plenty of adjustments to get the fit just right. I originally took the size 3 (I'm 173), but the sleeves felt a little short ending just above my wrist, so I've gone up to a size 4 for longer sleeves. Front pockets are decently spacious, and even with the button open things don't fall out easily. The sleeve pockets are a tad small, but they'll easily hold tiny trinkets such a lighters or matches.

The trousers are probably my favourite part of the whole suit. The fit is nice while still being roomy. The legs have elastic around the calves and ankles, as well as reinforced fabric, leaving less loose fabric to get caught on whatever you might encounter in the forest (or battlefield?). The seat is reinforced, which came in handy when I slid down an icy hill in the early spring. Well, it was either that or risk walking down (and probably end up sliding down anyway). It comes with belt loops and suspenders, but personally I use a belt since I can hang a knife and canteen from it. It's nice to have options though. The trousers also have plenty of storage space. There are largish front pockets as well as cargo pockets. The latter have a nice closure system in which the pocket mouth folds over onto itself, making a seal to ensure that losing something will take one hell of an effort. Especially if you have to do some extreme hill sliding.


Michael


Remove Russia
Our old product descriptions include ironic praise of our eastern neighbor and it used to be good fun. Does it piss you off? We understand and agree. However, we won't whitewash the old product descriptions. Instead, we have decided to stop buying Russian products. We sell what we have in stock and that's it.
All products: Soviet Union and Russia
Recommendations
Loading products...
Reviews
You have already submitted a review. You can edit your text by clicking on it. You can filter the reviews by clicking on the elements of the summary.
Log in and write a review. You can filter the reviews by clicking on the elements of the summary.
Remove filter
Suomi
(3)
English
(4)
I would recommend for a friend
Viktor S.

15.12.2016

Verified purchase
I would recommend for a friend
Tuomo P.

26.12.2018

Verified purchase
Erinomainen takki ympärivuotiseen ja joka päiväiseen käyttöön. Pitää pienet tihkut sekä tuulet ulkona ja lämmöt sisällä. -26 tuulisessa kelissä pelkkä lampaanvillapaita alla tarkeni mainiosti. Tyylinsä puolesta kelepaa sekä mettään että kaupunkiin.
16
0
I would recommend for a friend
Clement C.

15.07.2019

Verified purchase
A really good outdoor jacket. It is not warm by any means, so don't rely on it alone, for cold seasons I would advise to put a good shirt underneath it.
The fabric is thin but strong like the one used for tents and does a pretty good job at protecting you from the wind and light rain, but also thorns.
Very comfortable to wear, and allows enough space to wear a sweater under it.

The great amount of pockets is handy, the side pockets have a strange flapper extension/reinforcement that folds. A bit confusing at first, you can have hard time finding the hole. But in the end it makes the whole thing sturdy.
The plain coloring is good enough for camouflage and not too "military" looking for occasional city use.
5
2
I would recommend for a friend
Kylar B.

17.10.2019

Verified purchase
Great jacket, I bought one from here a year or two ago and it's served me well.
My only gripe with it is the fact that Varusteleka has brown in the title of the jacket but the one I got was green. Not really a big problem but it'd be nice to be able to know what color it'll be so I can match the rest of the outfit in the same color. Other than that it is strong, durable, good looking (eyes of the beholder), and functional.
+ The pockets are great for keeping things in and are spacious. I can carry a knife that's about 6 inches in length in them because of their wide bottoms (not recommending you do this but just for some size reference).
+ Adjustable strings help keep everything the size and tightness you want.
+/- The buttons can be replaces easily unlike a zipper but sometimes can take some time to button up (gloves can be an issue to button up with).
+ The upper part of the front has extra space to tuck your face into when it's windy, this has really helped me during fall, winter, and spring.
+ Durable material with reinforcements has kept mine in pretty much perfect condition. Breathes well enough for the material but is not good for wind and cold. Recommend wearing a windbreaker underneath for 30-40 degrees F and below (Wore mine throughout the winter with an Adidas jacket under and was kept remarkably warm.
+ /- The brown version can be worn in public and not raise any eyes however the green one does stand out a bit more. Both are great for outdoors aesthetics though.
+/- Hood is adjustable and not too spacious. However, in my opinion, the visor flap on the hood is intrusive and not good looking (works well for its intended use though).
2
2
I would recommend for a friend
Alessio W.

30.11.2019

Verified purchase
I would recommend for a friend
Lassi T.

02.12.2019

Verified purchase
Gorkaa parempaa investointia ei varmaan olekkaan. Jos ei Vostokin rannekkelloa ja Kalashnikovin pistintä lasketa.
Ehdottomasti suosikkituotteeni koko Varustelekan valikoimasta, vaikka kansanfarkut ovat kovana kakkosena.

Hyvä puoli Gorkassa on se että sehän sopii aivan kaikille ja kaikkialle!
Esimerkiksi naisille, miehille ja Putinin virheille miehille. Sekä mukavaan ulkona oleskeluun kuten retkeilyyn, patikointiin tai naapurimaan miehitykseen.

Sovita kuitenkin ennen ostoa ja perehdy hieman GOST-kokojärjestelmään, auttaa paljon ensimmäisellä kerralla. Tähtää hieman löysään jotta saat varmasti välikerrokset kylmällä.
Gorkan leikkaus on tarkoitus olla ilmava ja mukavasti istuva. Ei välttämättä sovellu kesäkäyttöön, mutta sinä olet aikuinen ja sinun kuuluu tehdä oma päätöksesi.
8
5
I would recommend for a friend
Markku L.

15.02.2022

Verified purchase
Lekassa aina loppu eika lisaa ole tullut. Joten tilasin suoraan Krimin niemimaalta. Gorka 3 BARS on paras vaellus/maastopuku mita omistan. Telttakangas on samaan aikaan taysin tuulenpitava, ja vettahylkiva, etta tarpeeksi hengittava. Ja materiaali on todella vahvaa. Olen mennyt suoraan lapi teravien oksien ryteikoista ilman mitaan jalkea takissa tai saman sarjan housuissa. Gorka kannattaa ostaa pukuna, eli samalla kertaa takki ja housut.
1
0